Everything You Need To Know About Canvas Photo Prints
June 23, 2023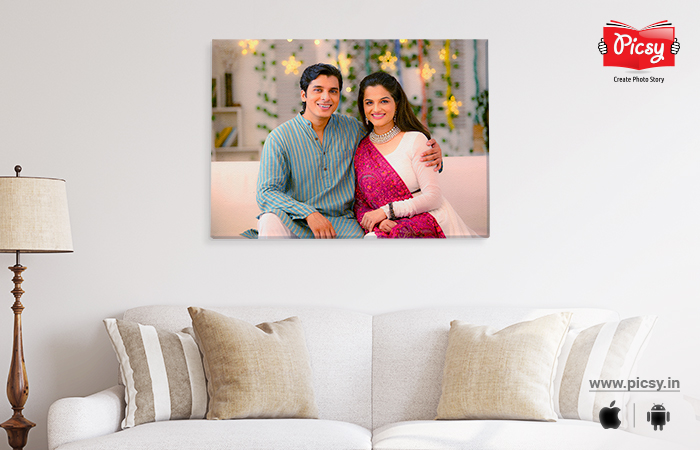 We love to give an exciting makeover to our space. But with so many beautiful decorating items available around us, makes the journey quite overwhelming. I get it, and I have faced it a zillion time. And that is why today I am here to help you out and talk about one of the best home decors: canvas photo prints.
They not only enhance the beauty of your space but also helps you to relive your best moments with your loved ones. If you are wondering what a canvas print is, this blog will help you to know some insights. So, without any delay, let's read.
Revamp Your Home Décor
Redecorate your home using Picsy's exclusive range of home décor items. They look elegant and chic. Check them out.
Skip to...
What Do You Mean by Photo Canvas Print?
Canvas prints are simply pictures that we print on a canvas. The canvas is scratch resistant that is stretched and wrapped over a frame. At Picsy, we wrap the picture over the frame to add a professional touch to the canvas print. We frame the pictures after printing them on the canvas sheet. There are some people who wish their wall canvas prints as non-framed. For them, they can opt for frameless canvas prints.
What is a Canvas Print Made of?
Canvas is simply a durable, water and termite-resistant fabric made of polyester, cotton or hemp. Each of these materials carries its own advantages and disadvantages. But one thing I can vouch for is the quality of canvas prints despite the material used.
Cotton canvas has an artsy feel due to ink that seeps into its fibers. Usually, cotton prints are preferable. On the other hand, polyester and hemp canvas prints are durable and pocket friendly.
Picsy offers canvas thickness of 1 inch with four different wrapping styles: image, mirror, black and white. So, you can choose the one that suits your choice.
Canvas Photo Print Ideas
There are multiple ways of reliving your memories using photo canvas prints. Let us check them out. Here are some canvas print ideas. Choose the one that suits you the best.
Love Birds' Privacy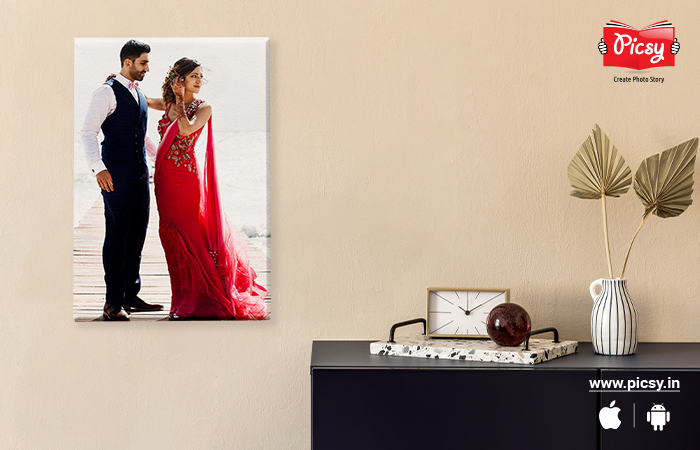 If you have a picture of you and your partner, it should go directly to your bedroom. However, the portrait is recommended but as it is your personal keepsake, you can ditch all rules. It looks good in the imagination, right? It will look even better when you own it. Select the mushy shot that you have with your significant other and transform it into a large canvas wall art to liven up your lovely memories.
Flaunt Your Furry Friend
You might love your furry friend a lot. Then, don't you think it is a great idea to include your pet's picture as framed canvas art? It will help you to create a galaxy of memories with your goofy lab or drama queen kitty. So, don't hesitate to flaunt the pictures of your cute little pet. Let others also know how much you love them.
Motivational Quotes
If you are someone who loves to get inspired by quotes, then owning an art piece that keeps you motivated toward your goals is a great idea. Get your favorite quote printed and feel motivated whenever you feel life is getting tough for you. Create canvas print online and be motivated to hustle.
Landscape Print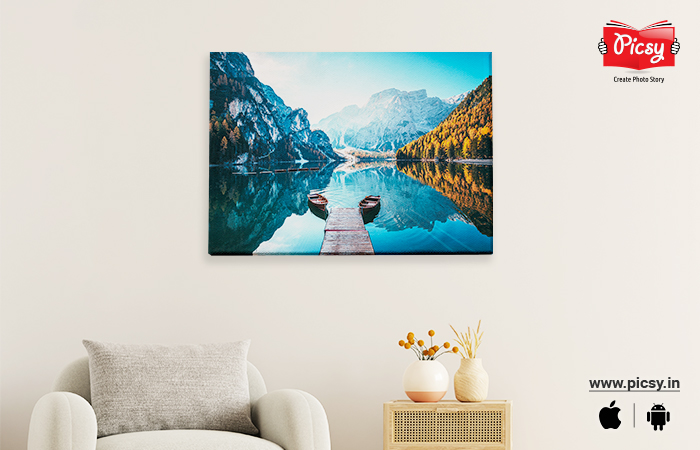 Nature never fails to inspire us. So, get a framed art piece peppered with nature's beauty. You can place it in your living room and feel the positive vibes. Whether you go for the waterfall picture or the picture of mountains, they will give you a serene feeling.
Embrace the beauty of your living room using Picsy's Wall Decors.
A Family Tree
It is a great feeling when you glance at your family smiling. It will induce a flair of positivity when things are not right in your life. Select a happy picture where everyone is having a cheek-to-cheek smile on their faces.
Whether it is the picture of your wedding or the one of your parent's anniversary. Picsy helps to preserve your memories for a lifetime.
A Vacation Portrait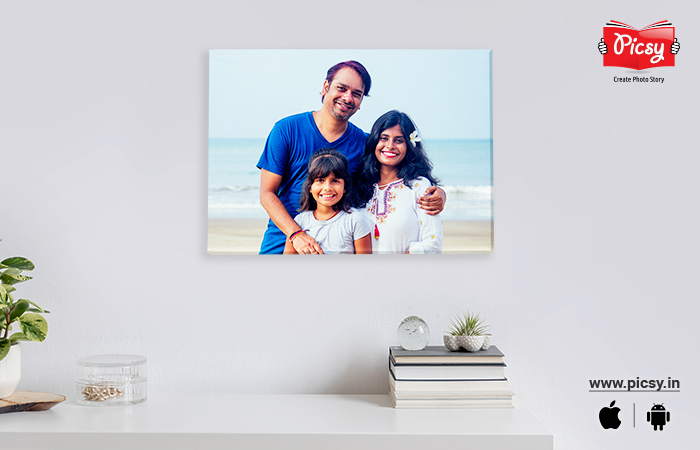 You might have had a good vacation with your beloved. And you both might have been missing it and longing to go on one. We have got your back. Relive your vacation memories with the help of Picsy's vacation canvas print. Print art on canvas and relive your vacay memories.
Get you hand on Picsy's Photo Prints to flaunt your memories!
How To Order Canvas Photo Prints Online?
The steps to order canvas print online are quite easy. Are you wondering, how? I have enlisted the steps for you. Check them out.
Upload the Picture
Uploading the picture is the initial step. It is important to ensure that you have the right photo for canvas print. However, one thing you need to take care of is that the picture is in high resolution. Hazy or blurry shots will spoil the charm of the print. So, before uploading the picture, please make sure the pictures seem perfect for your canvas wall hanging.
Customize the Picture
Before clicking the print button, select the size of the canvas print you wish to own. Ensure you drag and adjust the print area. It will avoid any sort of patch on your canvas picture prints.
Print Quality
As you are selecting the canvas print, ensure that it is of good quality. It should comprise of frame thickness, the design of the frame, as well as the wraps.
Place the Order
I know you might be excited to own your canvas print. So, without any delay, place your order. And you know, one of the best things is, Picsy delivers your art piece to your doorstep.
Download the Picsy app to order your Canvas Print!
Substitutes of Canvas Prints
Although, framed canvas prints have the potential to take your heart away. But if you are looking for its substitutes, we have some reliable options as well. Check them out.
Vinyl Prints
Vinyl prints are the conventional way of placing a picture on display. It is an aesthetic art piece that is popular. They are durable and waterproof. One of the undeniable advantages carried by the framed prints is that they look quite aesthetic. They are quite affordable.
Acrylic Prints
An acrylic print is yet another substitute of the canvas prints. They are quite sturdy and are perfect for giving a glossy finish to your pictures. It is up to you which one you choose, canvas prints vs acrylic prints. As both hold the power to lure us. Acrylic prints are absolutely perfect for high quality pictures. The best thing about them is that the refraction. It gives a lively appearance to the picture.
Floater Frames
Floater frames are also successful in getting along with the market trend. A floater frame is canvas art, when we put a frame in order to give a floating effect to our picture. One of the best things about them is that you can mount them on the wall of your space using tape or a hook. And they are durable, so they efficiently take care of our memories. These frames reflect 3D look, that is how they take our hearts away! The debate is which is better. Canvas vs framed prints.
Benefits of Canvas Prints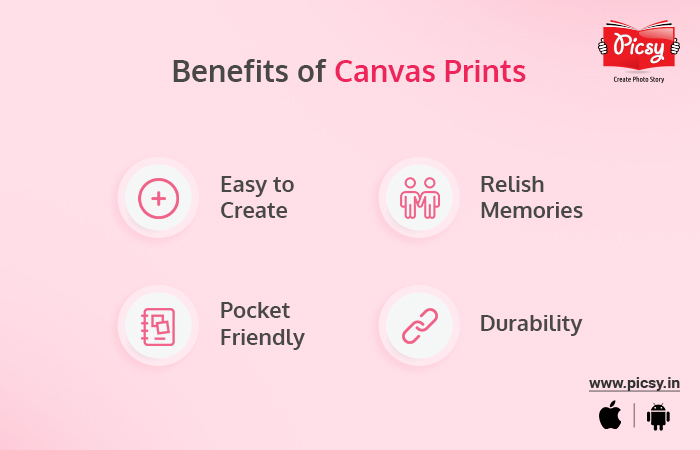 Everyone is going gaga over canvas prints. So, let us figure out about the benefits of canvas prints and where we can place them. Let us get into it.
Easy to Create
Creating a canvas print is not rocket science. You can easily create canvas prints online using Picsy app. Trust me, it won't even take two minutes. Yes, you saw it right! Within 120 seconds you can create your canvas print. And we cannot wait for our placed order to get delivered to us as soon as possible. Here as well, we have that advantage. This beautiful art piece will be delivered to your doorstep within a span of a week.
Relish Memories
Try this activity- you take out your childhood album where you are playing with your favorite pet. It took you on the nostalgic lane, right? And we cannot carry the album every time to our living room. So, create a canvas print where you have your baby canvas photo and place it in your living room. It will help you to relish your childhood memories. And be ready for the childhood tale discussion whenever your maasi, or bua pay a visit to you.
Relive your memories using Picsy's premium quality Canvas Prints!
Pocket-Friendly
We Indians love to own something that is attractive and not so heavy on our pockets. Canvas prints are the keepsake that you can cherish. They are affordable and enhance the beauty of your space. Get your hand on a canvas print for wedding and place it in your bedroom. It will serve as a daily dose of romance for you two.
Durability
Durability is one of the most attractive benefits of canvas prints. Get a canvas print for bedroom where you both are smiling at each other. The durability of this beautiful keepsake will keep the love fresh amongst you.
Closing Words on Canvas Prints
So, my dear readers, now you got a complete understanding of how to beautify the walls of your house and relive your memories. And don't worry about the reliable platform for canvas prints.
Picsy offers the best canvas prints, and they are pocket friendly. So, what is stopping you from owning yours? Download the Picsy app and get your hand on this wonderful keepsake.
Make Your Memories Permanent Using Picsy
If you wish to make your memories permanent, get your hand on Picsy's photo products. Check them out.
FAQs Related to Canvas Print
How Should I Frame My Photos and Artwork in Canvas?

To frame the photos, you just have to download the Picsy app and you can get it framed in a few minutes.

Are Photo Canvas Prints Worth Your Money?

Canvas prints are worth investing in. They are long-lasting keepsake that helps you to relive your memories.
Ready to hold your memories in hand?