Let's Make The Perfect Photo Canvas Print For Your Home
July 08, 2021
When we take some time to visualize a canvas, we image an older man in the cold streets of Japan painting the sweet pink cherry blossom in a canvas (or something similar), right? Mostly, we imagine someone painting with great details. But a photo canvas should not be confused with a piece of artwork. You must be wondering then what photo canvas is? Well, we are here to tell you exactly that!
What Is Photo Canvas?
Technically, a photo canvas is a fabric surface where you can print any picture. The image is printed onto the fabric from an inkjet printer and is generally stretched onto a frame to display. But we prefer to call it the perfect jewelry for your home. It is a wonderful decor idea that highlights the warmth of memory hidden in the image. Some people go for frameless photo canvas, and some like to secure their memories with stretcher bars of the frame. Ordinarily, photo canvases are hung on a wall , but as it comes with plenty of sizes, a few fanciers like to decorate their room by keeping it on top of a corner table as a trinket.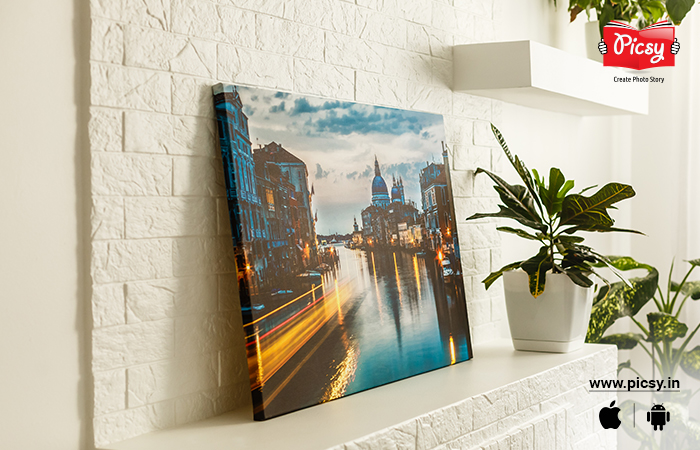 Photo Canvas is often confused with canvas painting. Canvas paintings are hand-drawn, sometimes with oil paint, charcoal, and the list goes on. In comparison, the main purpose of photo canvas is to preserve a picture putting emphasis on the memory captured in the image. Style it your way - put a wooden frame if you like the rustic old look, add a black frame if you are decorating in a greyscale; the options are plenty. But before deciding on which photo canvases would be best for your room, believe it or not, it is important to understand how to make a photo canvas and print photos on a canvas that is your favorite. Are you coming with me on this ride?
How to Make Your Own Photo Canvas?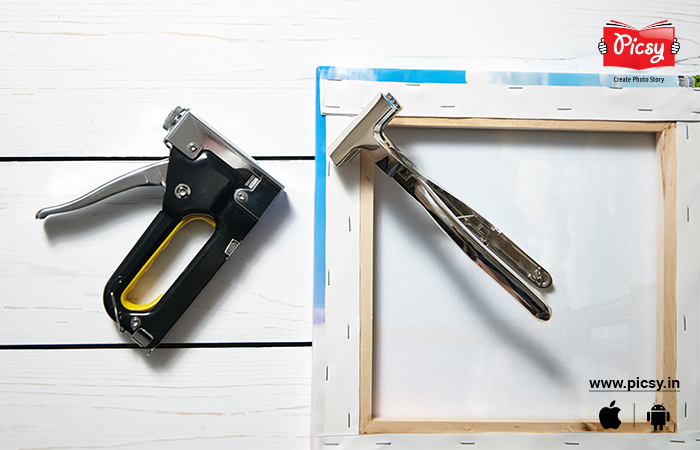 Hang a lone masterpiece or make a photo story, these photo canvases are highly pliable, and hence it is not hard to guess that you might get overwhelmed while deciding how to decorate your room. Let us break the process into three simple steps to make it easier for you to decorate your walls with perfect photo canvases effortlessly.
Step 1 - The Placement and Size of The Photo Canvas
The main answer to the question, "how to print the picture on canvas," lies in the first step. The transpose picture to canvas starts with where you want to put the photo canvas. Is it a corner table? On the wall above the bed? You need to come up with the ultimate choice. A large photo canvas can be an artistic statement. In case you cannot choose between all your favorite images, you can also cull out a handful of small photo canvases hung on the wall. Are you wondering if you can keep photo canvases on a bookshelf or a desk? Let me tell you; you can keep it anywhere you think the nostalgic frame suit your room. Now that you have decided, you need to select the best photo canvas online service and get your images delivered.
Step 2 - Photo Canvas Ideas to Make a House Feel Like Home
Though there are a plethora of options, and you can festoon the space in your house just the way you like, yet we will share a few out-of-the-box photo canvas ideas to give your house a unique look.
The Perishing Nature - are you someone who is concerned about the Global climate and support sustainable development? Then this photo canvas art is for you! Click a picture of a fallen dried leaf and hang it in a place where it will be the primary focus. Let the world know you are aware of where we are heading. Let your house speak that the world needs mankind's attention.
The Gradient Geometric Triangle - Modern abstract artwork that radiates the gradient of two or more colors. This type of photo Canvas looks best on a solid-color wall. It has recently come with the gradient of a single shade; for example, the color teal looks unimaginably soothing to the eye. It gives that hint of aquatic nostalgia lost in the ocean.
The Hand-drawn Line Art - line art is the depiction of the core elements in a single line. Just one line does not mean it has to be geometric. It can be a picture of a person's face, a woman holding a rose, or two lovers entangled in each other. Line art is actually known as a visual expression that artists have used throughout the history of art.
Step 3 - Personalizing the Canvas Prints
Who said to decorate the photo canvases, you just need to decorate the image? Embellish your art pieces with the flow of your imagination. For example - you can attach a small hat to the side of a photo canvas print from a day at the beach. Try different trinkets with your photo canvases and elevate the style of your room.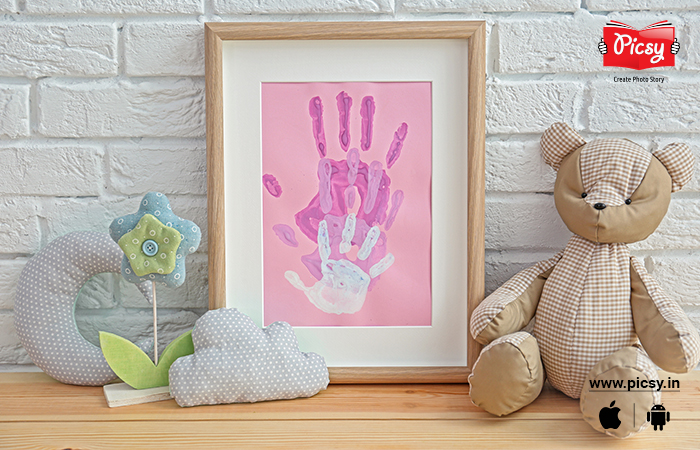 Could we help you with your answers? Are you convinced yet? The possibilities with photo canvases are tremendous. If you still think maybe photo canvas prints are not a good idea, we have a few points to tell you.
Benefits Of Printing Photos On Canvas
When it comes to pros and cons, will like to keep the decision on you. We rather believe in providing facts and figures. So here are a few facts about printing photos on canvas:
i. Canvas prints have a matte finishing that does not glare when light falls on them, keeping it absolutely soothing for the viewers, causing no reflections in a bright room.
ii. Photo Canvas lasts for a long time; in other words, they are tenacious and durable. If you are sure about the pictures you want to hang on the wall, there is absolutely no pressure to straining for its life. The durability is almost like a human lifetime.
iii. It is affordable and preferable. If you want to buy a piece of art, it can put a hole in your pocket. But with photo canvases, you can easily fill the room with rewarding memories without spending much.
iv. The dynamic color of photo canvases makes any photo look beautiful. Choosing a photo for the canvas , you do not need to scrap out your favorite images for the sake of any so-called color restrictions.
Let's Compute:
A photo canvas can bring out the actual essence of the family members in a house. If you are thinking of decorating your empty walls on the corner of your house, nothing can be better than two canvases. I true home decor with multiple stories behind the lens. With Picsy's countless custom photo prints and canvas prints templates, decorate your walls to showcase your stories without telling them. Download the Picsy app from the e-store and do not hesitate to order a photo canvas today. Download now!
Ready to hold your memories in hand?