Seven Practical Benefits of Personalized Canvas Prints
Oct 25, 2019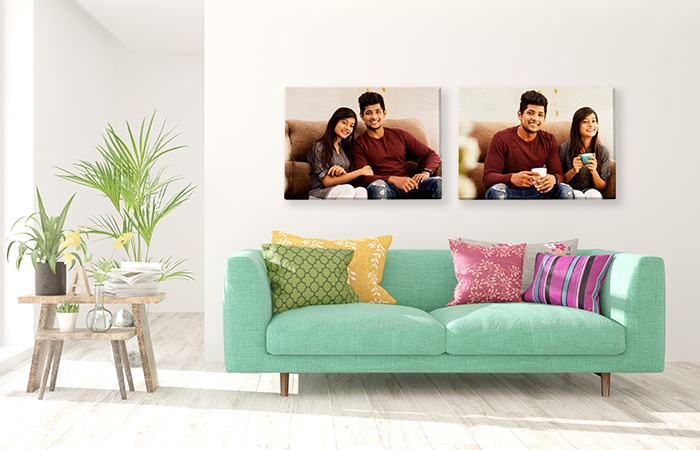 There's nothing quite like a feeling of looking at your beautifully printed photo [happy] and you can see it all day long, every day. Coming straight to the jolly point of cherishing your special memories. How? The question is not what will you print but where will you put it. How about a personalized Canvas Print of your super favorite photo? Sounds Canvasy!
To everyone [very few] who don't know what it's like to hang burst of happiness on wall – it simply means that the photo will be put on canvas just like a painting as opposed to a glossy paper.
Know what are different benefits of Canvas Printing and you will instantly hang one your happy moment on wall.
Professional Appearance
As the name suggest itself, it has no high gloss i.e. every color and line of Canvas Print come out in a different way. Personalized Canvas Prints make your house 'home' and when you see it on the wall, it doesn't look like random normal poster. It looks no less than a piece of art if the selection of size and photo is accordingly proportionate.
Ease to Create
With Picsy app, it won't even take 2 minutes – Yes, in less than 120 seconds, all you have to do is pre-select and pre-decide the shape, size and desired photo. The Printed Canvas will be delivered at your doorsteps within 7-10 working days. This is one of the smartest benefits as it is saving time and energy. You don't have to go to a local photo printing vendor anymore. That's an advantage beyond bonanza.
Durability
Canvas Prints have sturdy materials (Picsy guarantees). While digital photographs are less seen after a year or so after we upload them in our drives or lock them in laptop, Canvas Prints, because of the durability can be touched and experienced for decades. This is the reason why Canvas paintings found in art galleries have been in existence for centuries.
Cherish Memories
Try this – You see your 10 years old photo, feeling happiest because you're playing with the puppy sitting right next to you. Every family member is looking at Cutest-You. What would make more impact? A large size landscape Canvas Print or a 1020*1020 Instagram Post? When it's about to cherish and celebrate happy memories, nothing can replace print form Period.
Cost Effective
One of the most appreciated and practical benefits of canvas printing is the affordability. Picsy app is free to download and you pay only when you order printed form.
No Humidity
Don't worry about the humidity in atmosphere. Although, many of your photo frames and wall hangers have been spoilt due to it and you are now more cautious about it. Picsy offers robust and humidity-resistant material. That's not it. Picsy Canvas Prints ensures that the photo doesn't lose its originality while printing on canvas material. Rain, rain, come, come!
Life-size and Lifelike
Canvas Prints is a big brother of photo frames. Your wall becomes lifelike when your life-size canvas is hung on the wall. This is not a life lesson but a décor idea for your home.
Do you still more practical benefits? Wait no more and Download Picsy App – Create Your Stunning Personalized Canvas Prints.
Ready to hold your memories in hand?