Canvas Prints vs Acrylic Prints: Which is Better ?
March 14, 2023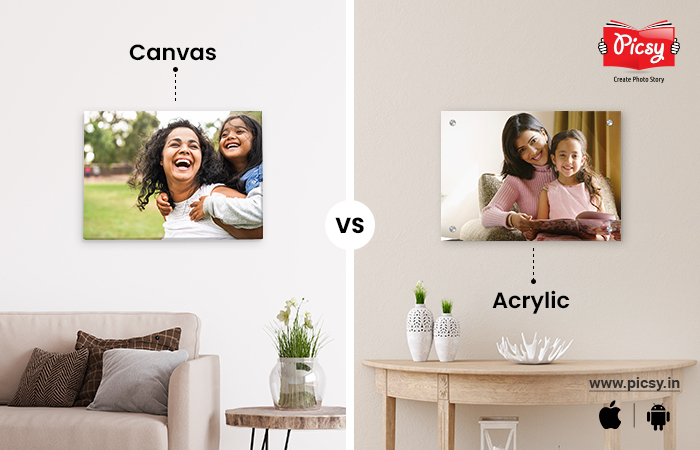 We love to redecorate our pace and give a beautiful makeover to the boring walls of our space. In such cases, we generally get confused about which one to go for; canvas prints or acrylic prints.
Both look amazing and affordable. We understand your concern, and this is the reason why we prepared this write-up for you. It deals with acrylic prints vs canvas prints. It will surely guide you about which one to opt for. So, let us figure out more about each of them.
Beautify Your Space Using These Art Pieces
To beautify your boring walls, get your hand on these pretty pieces by Picsy. They elevate the appearance of your space.
Skip to...
What is a Canvas Print?
Canvas prints are basically images printed on fade and scratch resistant canvas and then stretched onto a frame. The most common technique is gallery wrapping where the image is wrapped over the frame adding a professional finish to the canvas print. This is the most common method of making a canvas print however canvas prints can also be framed.
What is an Acrylic Print?
An acrylic print is created by printing an image on photographic paper. This image is then put between two sheets of plexiglass. Acrylic prints are quite sturdy and if you are looking for a glossy finish for your prints, then acrylic prints are a good option.
However, upon comparing canvas prints and acrylic prints, canvas prints evoke the best artistic feel given how similar their aesthetic is to oil paintings.
What is a Canvas Print Made of?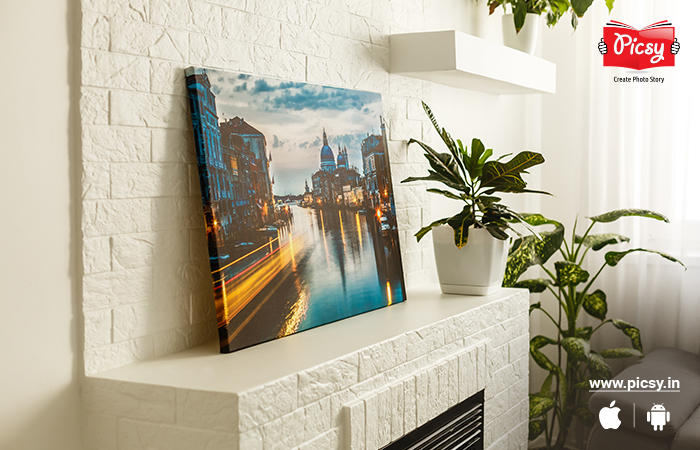 Canvas is a strong and durable fabric created with polyester, cotton or hemp. Each of these canvas materials have their own pros and cons.
While a cotton canvas has the most artsy feel thanks to the ink seeping into its fibres, canvases created with hemp and polyester last longer and are more vivid in color since the ink remains on the strands of the material. Cotton prints are considered to be higher quality, yet polyester and hemp canvas prints are much more affordable and durable.
What is an Acrylic Print Made of?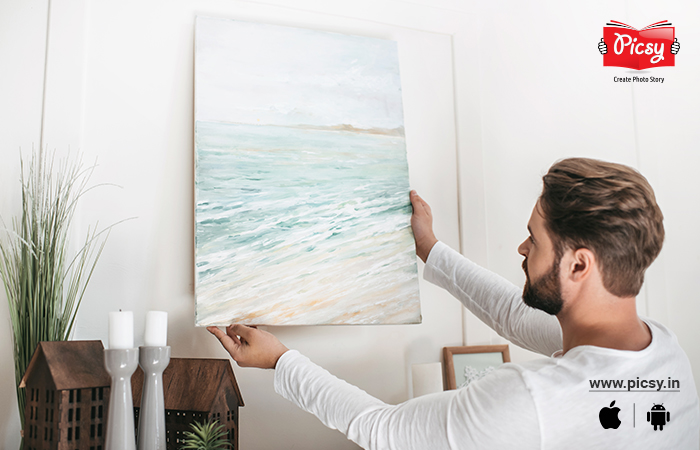 Acrylic Prints can be made using two methods. In the first method, your images are printed directly onto an acrylic sheet and sealed with a coating. As for the second method, your image is printed on photo paper and then heat sealed in between two acrylic sheets.
For the first method, the shop just needs to own a printer that can work with acrylic sheets. The second method requires a tad more craftsmanship given that before the print is sealed in the plexiglass, even a single speck of dust could ruin the print.
Just like canvas prints, there is a wide range of quality available for acrylic prints where some vendors offer a highly appealing end-product while others fall short of an acceptable product.
Popular Designs for Canvas Prints
Enlisted below are the popular designs for canvas prints that you surely should give a try. Let us figure out about them and give a flair of beauty to the boring walls of the house.
Maps
Map designs and prints are another famous choice for custom canvas prints.
Modern
Printing photos on canvas frequently centre around intense tones, extraordinary shapes, and other modern designs..
Abstract
Abstract designs are ideal for the living spaces in a home with modern or moderate insides.
Inspirational/Quotes
Many families love adding a significant statement to an embellishing canvas, which help light up any room of the house..
Pets
Families with particularly photogenic pets may incline toward hanging a canvas or two highlighting their textured dearest companion. Getting their pet to stand by for a photoshoot is another matter.
Popular Designs for Acrylic Photo Prints
Enlisted below are the popular design for acrylic photo prints. So, let us figure out about them. They are not restricted to acrylic prints. They work as your canvas print ideas as well.
Family Portraits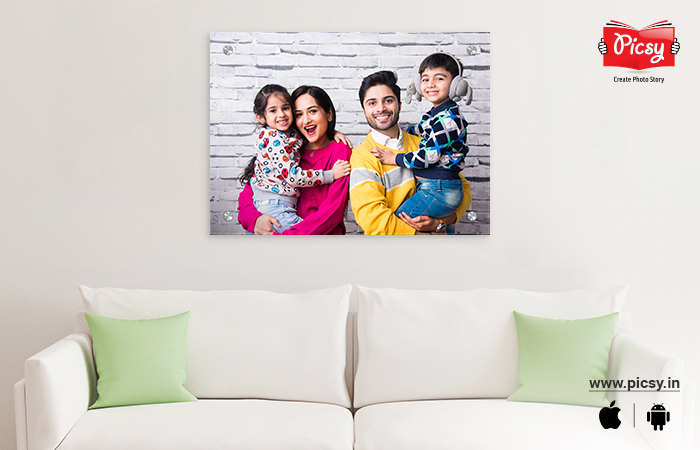 It is indeed a great idea to display the beautiful memories of your family members in your living room. This way, you can add a flair of memories to your boring walls. You all can relive the happy snippets of time. Select the photo where all the family members are present and smiling. It will definitely induce that flair of happiness and will shun your gloomy mood instantly.

Landscape
A classic art piece is a go-to choice to decorate the space. And trust me, the landscape looks absolutely amazing. Get your hand on the large acrylic prints wherein the vast scenarios help to make a statement. You can place them in the living room.
And if you want to experiment with colors, then pick scenic cityscapes. Acrylic prints enhance the beauty of the picture. Use thicker acrylic frames.
Food Art for Kitchen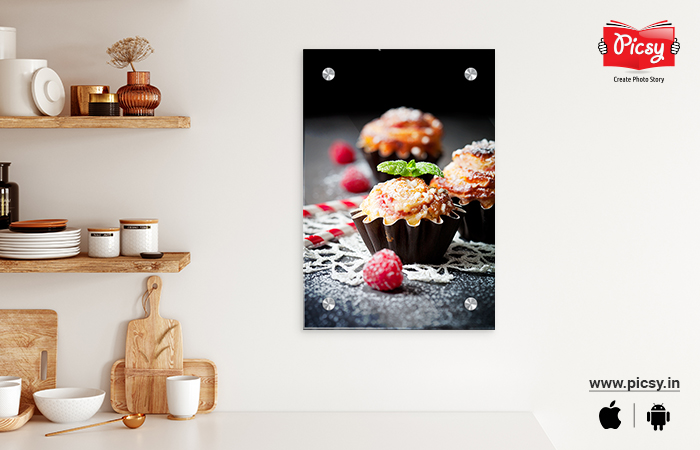 If you are a foodie, then having food art pictures will definitely encourage you to cook delicious delicacies. So, get your favorite dish imprinted as acrylic print.
Mushy Moments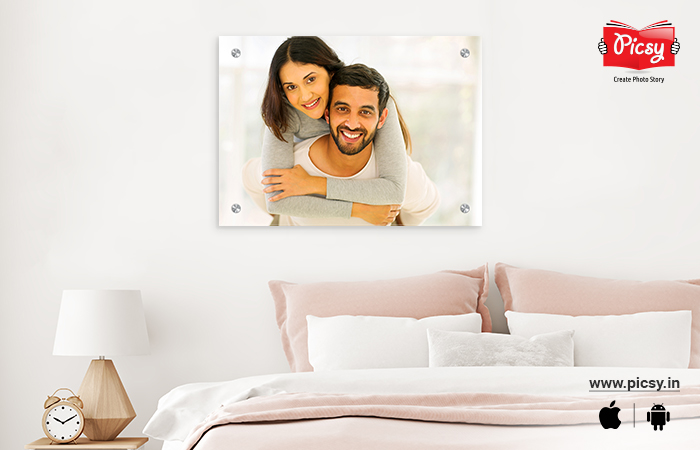 This is absolutely for your bedroom. Select a cute, mushy shot with your partner that you can display in your bedroom. The moment you wake up, you will be filled with a romantic aura. And more importantly, it will induce positivity in your day and will prepare you to work for the whole day. You can select your wedding picture or the picture you clicked when you both first met.
Pros of Acrylic Prints
Before buying acrylic prints, it is important to know the pros and cons of acrylic prints.
Acrylic prints are absolutely perfect for high-quality pictures. The refraction it has also gives out a 3D appearance, resulting in a lively appearance to the image.
Not only this, but acrylic prints offer longevity and resist moisture, UV light, humidity, etc. That is how they are durable and display your images even in harsh environments. Along with all this, they are perfect for families who move and pack frequently.
And if we talk about the design, they are sleek and frameless that hold the capability to make the pictures appear clean and beautiful. Also, they are the appropriate addition to your space.
Cons of Acrylic Prints
As everything has some or other disadvantages, so as acrylic prints. The main disadvantage that they carry is that they are prone to scratches if they are not handled with proper care.
Pros of Canvas Prints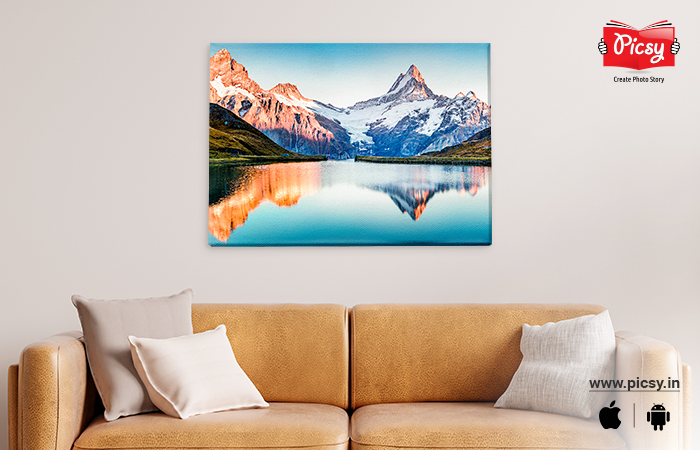 While choosing canvas prints, ensure to know about the pros and cons of canvas prints. One of the most important benefits canvas prints carries is that they are pocket-friendly. As we all love to decorate our space but do not wish to make it feel heavy on our pockets. In such cases, the canvas print is a perfect choice. They are affordable and make the space appear beautiful.
Another benefit of personalized canvas prints carry is that they are easy to create. With the help of Picsy, your beautiful canvas print can be created within minutes. You just have to select the shape and desired photo from the Picsy app, and you are good to go.
Download the Picsy App to explore a wide range of Canvas Prints.
Cons of Canvas Prints
However, canvas prints look absolutely amazing, but one disadvantage they carry is that they are not as durable as acrylic prints. It is one of the important things to consider before buying canvas prints.
Difference Between Acrylic and Canvas Prints
We are well aware that the two products are pretty confusing. So, let us make you aware of the differences between the two, canvas vs acrylic prints. Here is a breakdown of the differences between acrylic prints and canvas prints. So, let us figure out more about them.
Print Surface
Acrylic Prints are made using acrylic glass, so the surface of the print is smooth. While on the other hand, canvas photo prints are made with a thick cotton canvas with a beautiful textured weave.
Hanging and Framing Options
Acrylic prints hold quite different hanging options that are not available with canvas prints.Moreover, you can also opt for the no frame for your acrylic print, which is quite effective for hanging. On the contrary, canvas art does not have such options.
Relish and relive your beautiful memories with the help of Picsy's premium quality Poster frames.
Durability
However, canvas prints are sprayed with UV protection, which allows them to be durable for some time. But when we talk about acrylic prints, they win the bet in terms of durability. They have better durability compared to canvas image prints.
Uniqueness
Even though canvas wall art resembles canvas oil paintings. On the other hand, acrylic prints stand out in terms of uniqueness. They look absolutely amazing whether you hang them in your bedroom or living room.
Appearance
When it comes to appearance, both are on a similar page. Both hold the power to beautify the space. So, in terms of appearance, both hold similar positions.
Transportability
Transportation is also a factor that comes into play while choosing between canvas and acrylic prints. In simple terms, acrylic prints are difficult to transport while canvas prints are lighter and much easier to transport and mount. Canvas prints emerge as the better option when considering transportability. Rest assured that you can easily indulge in hanging a canvas print on your wall with minimal effort.
Substitute for Canvas and Acrylic Prints
There are always alternatives that replace something with better. Enlisted below are the alternatives for canvas pictures and acrylic prints.
Floating Frames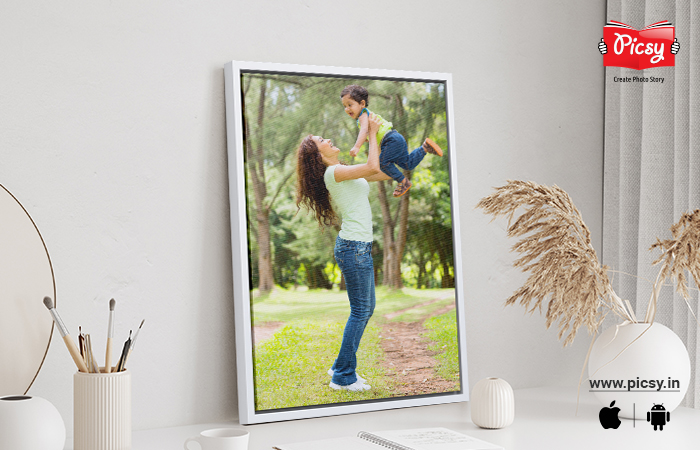 The perfect alternative for canvas and acrylic prints is a floating frame. They help to redefine your walls in the most beautiful way. And they look so amazing that they will become your favorite addition to your house. They are gorgeous and long-lasting. And make your pictures all the more beautiful.
Vinyl Prints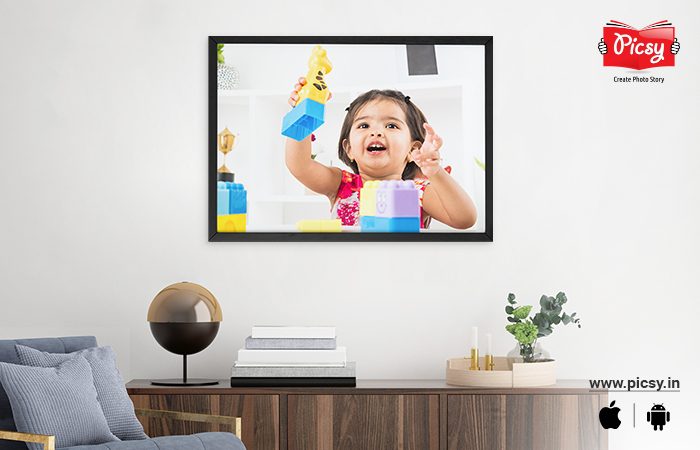 Relive and relish the hues of the good old days that you captured and transformed into vinyl prints. They hold the responsibility to adorn your walls as well as fill you with positivity. Moreover, they also have custom sizes for extraordinary space. So, select a family vinyl print for the living room and a wedding vinyl print to enhance the beauty of your bedroom.
Closing Words on Canvas Prints vs Acrylic Prints
This brings us to the conclusion of the debate between canvas prints and acrylic prints. Both have respective pros and cons. However, both look beautiful and give life to the boring walls, and allow us to relive our best memories.
Please don't worry. It is not a tiresome task. You just have to download the Picsy app and leave the concern of creating a wonderful keepsake. Also, remember to click more pictures to create more keepsakes.
Picsy's Photo Gifts to Relive Your Memories
As you are redecorating your space and inducing life to your boring walls, gift these memory-keepsakes to your loved ones. Check out Picsy's exclusive range of photo gifts.
FAQs
1. Why should you prefer Picsy for canvas and acrylic prints?
Picsy is known for offering top-quality canvas and acrylic prints. Moreover, they are affordable. That is why Picsy is worth giving a try.
2. What are the prices for canvas and acrylic prints from Picsy?
On Picsy, the price of canvas prints starts from ₹620.00 only, while it starts from ₹1130.00 only for acrylic prints.
Ready to hold your memories in hand?