Canvas Prints: Makes You Fall in Love with Your Bedroom Décor
Dec 25, 2019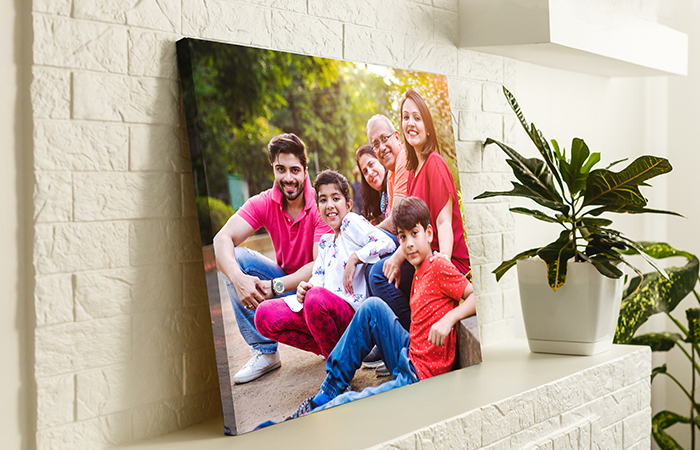 The decor in your room reflects your aesthetics, it is your soul's mirror image. Room decor is very important to make your living space more fulfilling and happy. It makes a powerful impact on your day to day lives and makes your home look striking too! A canvas print with your picture on it can uplift your interior design and make your home look good. Picsy Canvas Prints serve both as an interior decor item and as a personal memory.
There are many questions that strike the mind when it comes to canvas print - Why only canvas prints? Will they go with the existing furniture? What type of prints should I choose? Will it look great on my wall? Isn't it too expensive?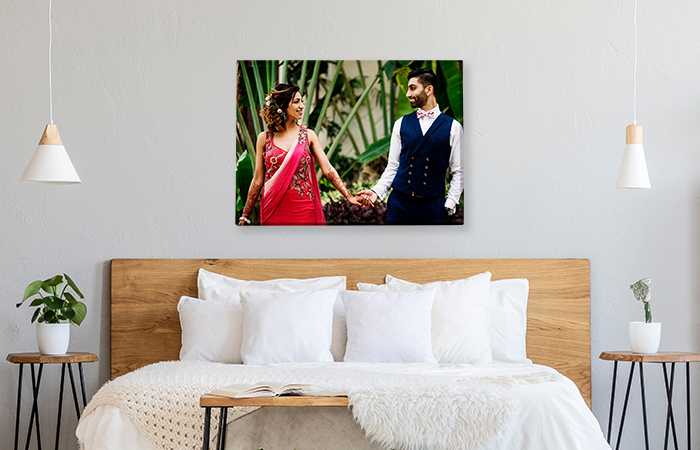 Let's settle this for once and all by getting the answers to any such question. Canvas prints are the best form of wall décor and here's why:
Canvas Prints Are Classy Yet Modern
Do you want photo frames in your bedroom, but that is out of fashion now! Here's the solution to your problem, canvas prints are the new trends. Be it the study table, the bedhead or cupboard doors, a canvas photo print fits in well in every corner. Canvas prints give a classic painterly look to your wall.
Make it a showpiece or hang on the wall- it fits everywhere
We absolutely love this idea of using a wall to hang the prints but you aren't bound to adhere to it. You can experiment with the placement pattern of the canvas be it on a shelf or on the door. What one needs to take care of is its impact. Choose the space that does maximum justice to the photograph printed on your canvas.
Canvas Prints are of Superior Quality
There are four types of photo prints available- one on the paper, the other on synthetic paper type or textile. Then are the ones printed on canvas and lastly the prints on metallic sheets (these are costly!). Canvas prints thus come out to be a star with the best quality and affordable budget.
They do not have any size Constraint
Your canvas can be as small as a cut out or as large as your complete wall. The trick here is whether you want to place a single statement piece or a timeline or storyline with multiple frames.
Canvas Prints Produce Better Colour and Appearance
Not only the quality of the product is superior, but canvas prints also dominate when it comes to colour reproduction and overall appearance. The colour absorption in canvas is much better than that of paper, giving them a softer and pleasant look. By using thick ink and high-quality canvases, the art offers an accurate reproduction of original art.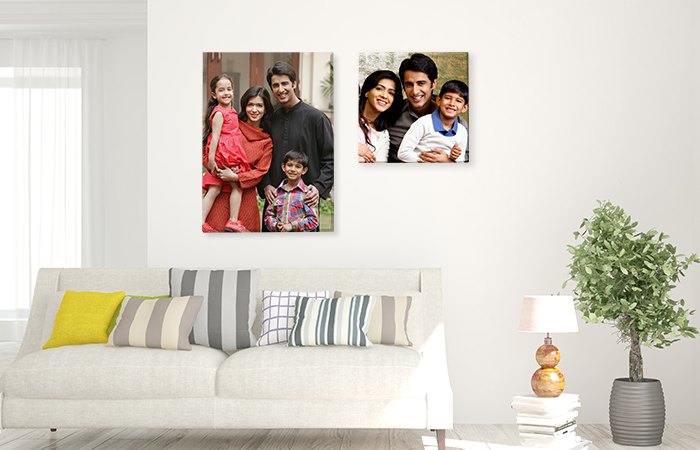 Canvas Prints Are Easy On Décor
Canvas prints are an easy and affordable way to transform your walls. They are the perfect way to lift the mood of the bedroom. They make up a focal point art piece on the walls and easily blends with almost all types of interior design. With no mats or borders, the art piece gives a unique visual appearance.
Canvas Prints Are Low Maintenance
Canvas prints are easy to maintain because cleaning canvas prints are very easy. To remove any dirt particles- you can simply use a lightly damp cloth or an artist brush, which becomes hectic and risky with paper-based prints. Alongside this, they also have a water-resistant coating that protects the art from harmful UV rays and to a certain extent from dust and other atmospheric particles, even your fingerprint smudges. Hence proved again, canvas prints are a better buy for your wall.
Feel of The Real
The canvas prints are based on advanced 12-colour ink printing technique so they look almost like original paintings. One could even feel the brush strokes, because of its textured look. The textured look with a matte coating gives a glare-free view. An original painting and a canvas print are identical to an extent that when kept side by side, it would be difficult for the viewer to recognize which one is original and which one is not.
Add Spark to Your Plain Bare Walls
You can make a wall of fame or create a timeline of events, creating a story on a wall. Having a story wall elevates and uplifts your room vibe, adding a nostalgic shade to it. Surge the level of your bedroom decor by ordering these with canvas prints online.
They are durable & long-lasting
Searching for a buy that will last long? Canvas prints are the perfect match for your requirements. That's not just the only advantage of canvases, they don't even fade away like printing on normal paper does. (Canvas prints can last up to 100 years!)
Canvas Prints complete your decor
An artwork adds finishing touch to your personal space. Canvas wall art has become popular over the last few years with more and more people are taking the dive to opt for some curated piece with the touch of your personality and the drama of design.
Lastly, Canvas Prints are Super Affordable
Every art loses attention when it is accompanied by a high budget. Canvas prints are the new choice to millennials with their low maintenance, low investment, and high quality and high impact. Artefacts and showpieces are usually 5-15 times more expensive than photo canvas. So, if you are looking for an affordable solution to decorate your wall, you're in the right direction already. Getting a canvas print online renders you with no stress to bargain for prices with different vendors. We at Picsy guarantee you the lowest of all prices you'll ever get whether online or offline.
Here are some insider tips you should consider while finalizing a canvas print for your bedroom:
Personalize your Canvas Print by putting up your best shot
Choose high-resolution pictures for the best results
Do not forget to match it with the wall colour and existing artwork & furniture
Your personalized canvas print is just one click away. Download Picsy App from PlayStore or Appstore and create now.
Ready to hold your memories in hand?