Canvas print ideas to dive into your pool of memories
Dec 27, 2019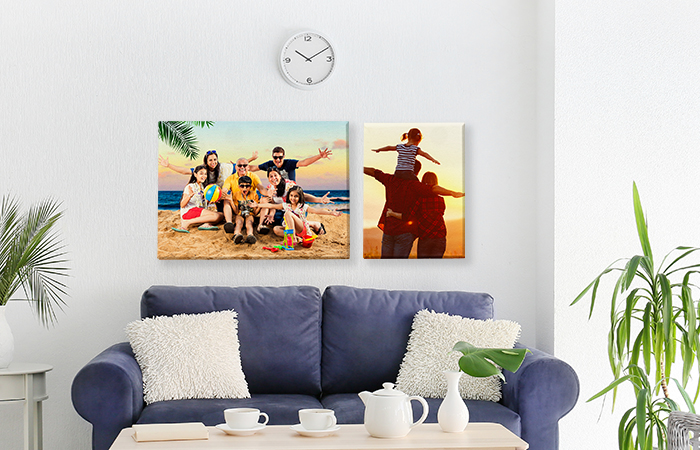 Whether it is your holiday trip, a family gathering or your college days with friends, every picture needs to be cherished with love. Getting a canvas print of your pictures makes them stay forever in your living room. Apart from memories, they are a great way to decorate your living space with such artistic canvas prints. Canvases pour out a rich look than a casual photo frame with its texture and intensity. Canvas prints are easy to get printed and also has come up as an essential element when it comes to wall art. However, the photos of any kind can be printed on canvas including some artwork or doodling as per the decided theme of the interior plan of the house. You can also get the canvas prints online at photo apps.
There are ample of canvas print ideas you can use to decorate your living space and get the artistic feels with photos on canvas. With these creative ideas in mind, we have come up with a guide for canvas print ideas if you are short of them. But before that let's first have a quick overview on what canvas prints are and how do we choose its fabric. Picsy is the perfect platform for you to create your own canvas as it lets you to play with all the themes and colors. While designing a canvas print in Picsy, you get 4 different size options along with landscape, portrait or square options and 4 wrap styles making it easier for you to create your own combination of art.
Clearly there's a lot of difference between a canvas painting and printing. So it's better not to get jumbled. A canvas printing is an image printed from an inkjet printer into a canvas fabric. The fabric of the canvas is sturdy and long-lasting. These are mostly made up of cotton, linen and sometimes polyester when you buy it for your home. While we distinguish between the two, polyester prints are more vivid and also are an affordable option with colorful prints. On the other hand, cotton prints are higher in quality and are long-lasting. Canvas can be sprawled over a frame while few people opt for frameless border. So it totally depends on the kind of pictures you are putting on, for the canvas to be framed or frameless.
1. A Collection Of Family Photos
If you are a family person or staying away from your family, you are most likely to decorate your walls with the memorable photographs of family gatherings or the holidays you spent together. Special gift to mom, moments spent with siblings and gossip sessions with grandparents are the best way to display the photographs with utmost beauty. Whether it be anyone's birthday, anniversary, baby shower or pre-maternity. Picsy helps you to preserve those moments without making much efforts.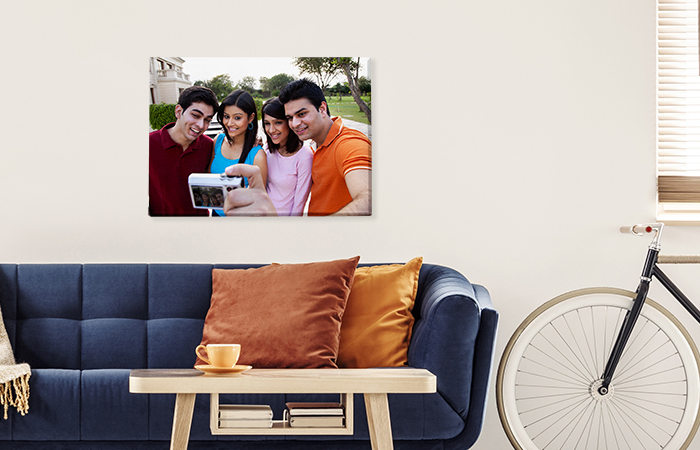 2. A Picture Full Of Your Adventure Tales
Everyone should know your love for travelling. Show off the pictures of your fun trips printed on the canvas and make the living space even more delightful. Those adventure filled pictures deserve to be as your wall canvas displays. Picsy will turn your imagination into a reality and making it fun for you while you create it with various size and shape options to rearrange the pictures of your choice.
3. Show Off Your Pet Love
As you tend to put up the canvas prints of your loved ones on the wall and make your living space a pool of memories. Pets are one of them. And displaying them as the canvas prints are a great way to express your love for them. Only if they are still enough to be in the photo with you.
4. Display Your College Memories
Put on your favorite moments from your graduation days all into one frame by creating your own canvas. Let your canvas print full of memories make you relive your old days with the twist of vibrant shades and funny themes. Picsy is the best stop for you to arrange the pictures in the layout of your choice along with beautiful covers.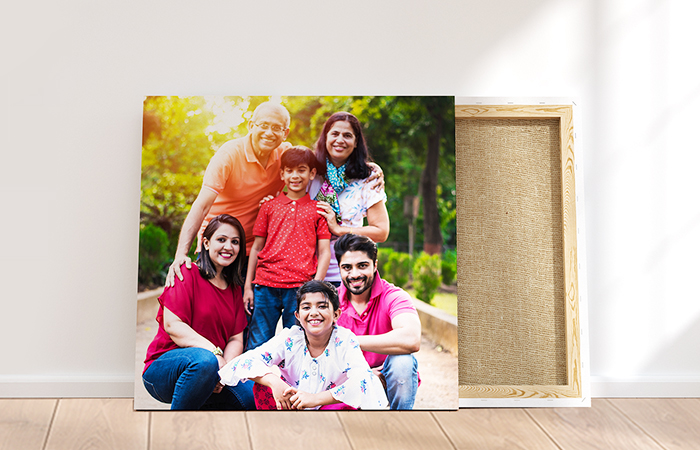 5. Hang Your Favorite Landscape Prints
A subtle and calm canvas prints on your wall are the blend of elegance and peaceful mind. Soothing hues canvas are the great way to instantly transform your mood and unroll the positivity all over the house. Talking about colors, if the landscape canvas prints are displayed then the colors you choose should be mild and calmative. With its different shape options, Picsy lets you to reform your favorite landscape images accordingly.
6. Get Your Favorite Quotes Printed On Canvas
Another great way to show off your inner thoughts and convictions are the ones you get printed on the canvas. You can also put up some popular quotes or phrases from the famous personalities. A combination of meaningful quotes and decorative canvas can be one awe-inspiring corner of your living room.
7. Print a Collage Of Your Loved Memories
Making each moment a memory and pouring every memory on the canvas is the best approach to hold on your lifelong occasions. Create a collage with photos of your every special occasion and getting it print on a canvas is the great idea to show off your love and affection towards your loved ones. Whether be it an occasion or a fun trip with friends or maybe the photos of your favorite places, you Can put them all under one frame. You can get various options of shape and wrap styles in Picsy just in case you have sorted a lot of pictures.
8. Show Off Your Photography Skills
There are so many out there, who love to capture everything they witness. A beautiful creature, a soothing sunset, a calming landscape or maybe someone they love. You can portray all of it made into canvas prints and make your living space soulful to live in. Collect all your best clicks into one place with the help of Picsy without any extra efforts.
9. Put On Your Hobbies On Canvas
Show off your hobbies and interests by transforming it into a canvas and let everyone know your skills and point of interests through canvas prints on the wall of your lounge.
10. Nature Pictures
If you are a nature lover, then you can also hang some of your favorite nature shots on the canvas. The vibrant colors and depth will intensify the beauty of your room. The bright and natural shades add charm and hue to your living space making you to connect more with natural hues and tones.
11. Black And White Prints
Monochrome has always been magical. There's something about black and white prints that captures all the attention from everyone more than colors could do. Monochrome has more impact and alluring. So you can even revamp your room or gallery with a group of black and white pictures on canvas prints. Picsy lets you create your favorite classic pictures in a life size wall art.
Ready to hold your memories in hand?