Best Ways on How to Create Canvas Prints Online
August 04, 2021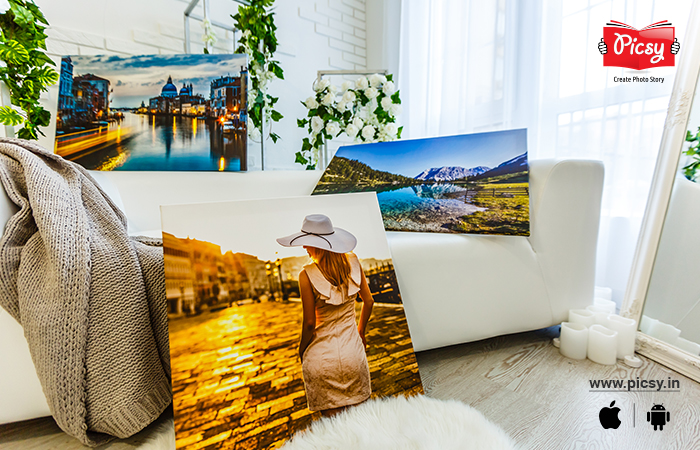 Ready to create beautiful Canvas Prints for your home? We have penned down a complete guide on creating an awesome wall gallery with canvas prints.
Creating Canvas Prints Online might sound doubtful. But with the following mentioned 'how-to's, you will have an artistic gallery to yourself. The first trick is to choose the right canvas printing service like Picsy. Are you aware of any such services? Because we are about to help you create magic in your walls. Are you ready?
Canvas Prints Online – What is it all about?
Of course, you have heard about it, we know that, but do you know about it? Because online canvas photo printing has huge potential. Just for the sake of clarification, canvas prints are not paintings, but they are pictures printed on a canvas. It is an artistic statement that adds vibrance to your walls. Do you know why you should make a canvas print online over a painting? Because you can print anything on a canvas print, even a painting! But with a painting, you cannot do so; it totally depends on the artist. So, when it comes to wall décor, think of canvas printing online. It effortlessly changes the composition of the room.
Various Types of Canvas Prints
While choosing the perfect home decor, you will find various options, which can be overwhelming, but that is the benefit of canvas prints; the options are endless!
We have explained a few types of canvas prints in detail so to help you detangle all your dilemmas, and you can create canvas prints online.
Hand-stretched or Gallery Wrapped Canvas Prints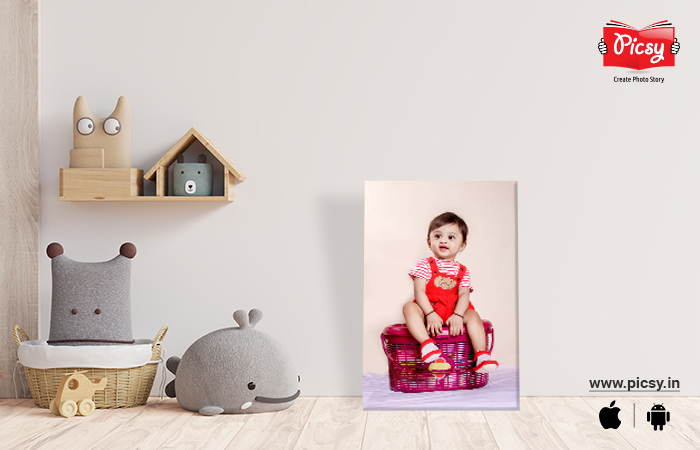 This one is the most adored canvas print type, where the image printed on the canvas is stretched to the sides of the frame so that no cringe or wrinkles appear. The picture is usually stapled on the frame to keep tightly secure the focal point.
Expect tip: Try to choose an image where the subject is in the middle or not at the edge. If the focal point is near the edge of the canvas, the essence (or the subject) might get lost while wrapping it.
Framed Canvas Print
When it comes to framed canvas prints, there are various options. You can choose the color of the image, the type of the frame – be it metal or wooden, the thickness of the frame; you can personalize the product your way.
Expect tip: If you want to hang the framed canvas on a subtle colored wall, choose a darker frame. Or, if you are looking for a minimal décor, go for a wooden frame.
How Are Canvas Prints Printed?
Usually, it is told canvas prints are printed with inkjet printers. But, in layman's terms, it is printed with aqueous inks, as in solvent. To blend the ink, it is brushed with cotton buds. It makes the canvas print long-lasting and vibrant.
Sometimes, canvas prints are blended on a polyester sheet apart from cotton as it is cheaper and absorbs the ink way better.
We hope we could convince you to buy the canvas print online because we are about to start telling you how can you do that.
Steps to Create a Canvas Prints Online
A few elements that you must ensure before hanging those wall jewelry:
a. Choosing the picture:
As simple as it sounds, choose the right photo for your canvas prints. While selecting the right image, try to go for the images with enough room at the edges. Apart from that, the image looks better if it is sharp and evokes emotion. The pictures should reflect happiness and more about how you want to feel when you enter the room.
b. Adjusting the Right Size: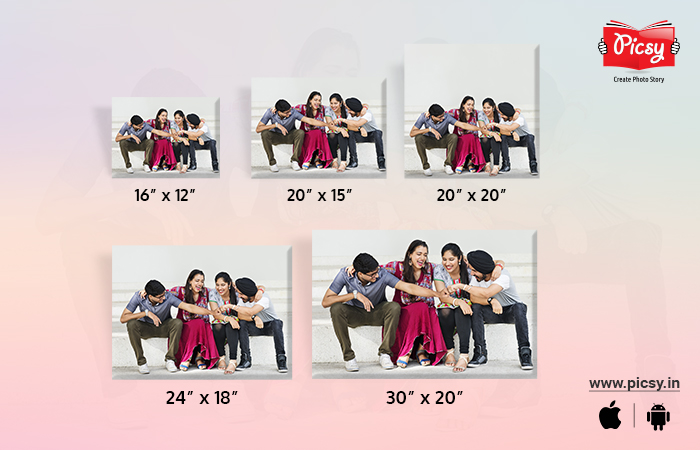 Approximate measurement is not the right idea. Get your mechanic-hat on and a measuring tape. With the perfect estimation of the canvas size, your walls can reflect an elegant vibe.
Thanks to technology, canvas prints come in various sizes ranging from 8x10 to 36x36.
c. Mounting Effortlessly:
Sure, you can keep it on shelves and tables as well. But if you are mounting the beautiful beast, make sure to polish the wall with a wet cloth. The placement of the canvas prints is usually preferred in the middle. If you are hanging above a couch, try to keep nothing adjacent to it. Keep some room so that your visitors' eyes fall directly onto the subject displayed.
How to Order Canvas Prints Online?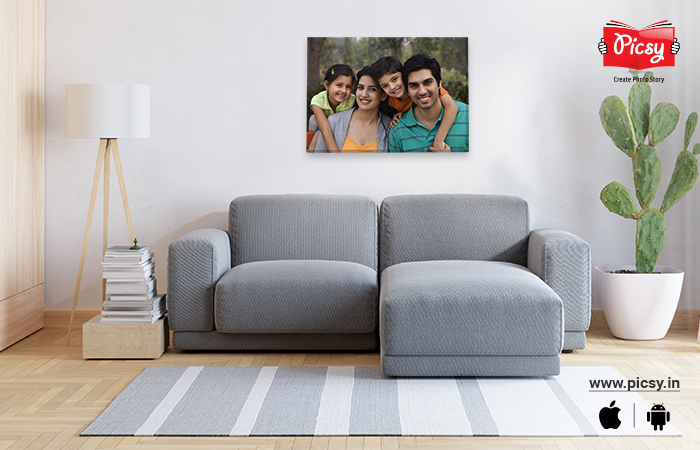 We all have a few images saved in a different folder which evokes a kind of happiness we cannot define in words. We sit and look at those images for hours with a constant smile on our faces. Does it happen to you?
Do you think it's justified to let those happy images rot in a digital device? Look for a feasible app to download and order a canvas print online now!
When it comes to the procedure of ordering canvas prints online, every service has its own set of requirements. However, we have mentioned a few general steps to help you order a custom canvas print online.
Step 1: Choosing the Material of the Canvas Print
As mentioned earlier, there are different types of canvas materials – be it choosing the color shade of the canvas or the type, choose what you think would look perfect on your walls. If you are looking for a cheaper option here, polyester non-framed canvas prints come at the lowest cost. However, if budget is not a constraint, you can also go for a metal framed canvas which can bring a rustic look; it suits best in cafes.
Step 2: Preparing the Image Before Uploading
Editing elevates the colors and style of the image. Choosing a professional for photo editing is not required. However, since canvas prints are durable and something that would be displayed widely, you can definitely look for an editing or photo retouching expect. If you do not want to hire one, forget we said that. All you need to check in the image are:
- The edges have enough room so that when the image is stretched and wrapped, the subject does not cut out.
- The resolution of the image should be high. Canvas prints are usually bigger than photo print. If the image is stretched and the resolution is not high, chances are it is going to pixelate.
- The orientation of the image should be equivalent to the size of the canvas. Do not make the mistake of choosing a landscape canvas size and a portrait image.
Step 3: Uploading the Image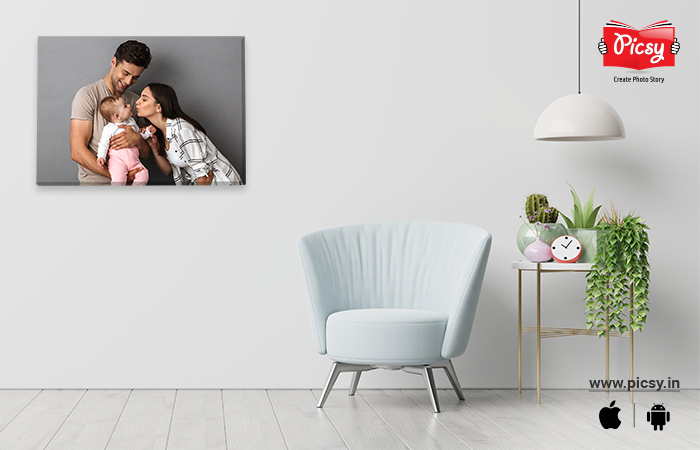 Now that you are all set with your images, are you ready to upload the images on the app you have chosen? With a few simple clicks, you can add your favorite images and create a gallery for yourself.
Naturally, it takes lesser than a week to deliver the canvas print to your doorstep. So, hold your breath cause when the canvas prints arrive, you will be screaming out of happiness.
Wrap Up
Now that you are convinced with creating canvas prints online, why not choose Picsy – the perfect platform to create the best canvas prints online. It also offers other customizable gift options to awe your loved ones. Hurry up! Your walls are longing for the canvas prints already. Download Picsy App now.
Ready to hold your memories in hand?