3 Brilliant Baby Photo Canvas Ideas
August 7, 2020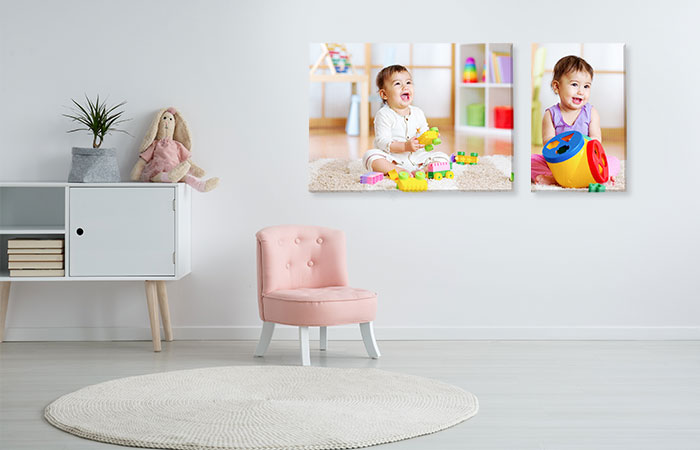 Your baby is the most precious to you. Your baby's smiles, the first time she or he sat up, your baby's first words, all of these are precious memories to cherish for a lifetime. But sometimes photographs stored in digital mediums like your phone gallery don't make the cut. But we have a solution. Picsy presents Baby photo canvases, which are fade-proof, waterproof, and sturdy enough to stand the test of time. Not only that, our baby photo canvases make fantastic décor pieces for your home. Especially when you put the new born baby names on the canvas prints.
Presented below are 3 Baby Photo Canvas Ideas that you can use to cherish the memories you make every day with your baby.
1. The photo story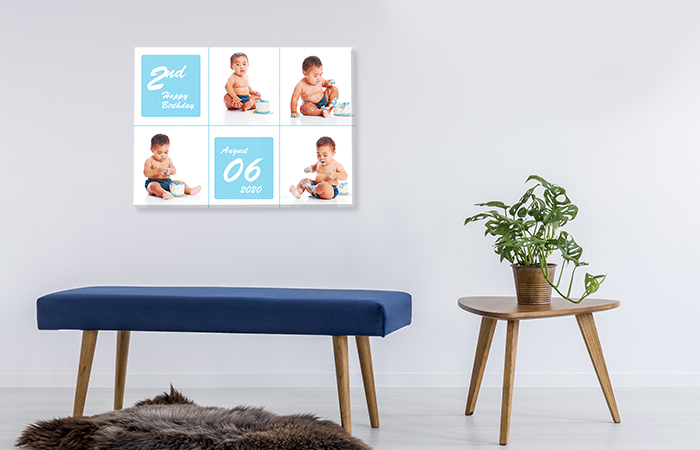 A fun day when you and your baby are enjoying together can make a fantastic photo story for you to convert into a collage of baby canvas prints. For a greater aesthetic appeal, you can use a larger canvas in the center with smaller canvas prints arranged around it. Not only is this an amazing photo story of a fun-filled day, but it is also a brilliant way to add a dash of color and vibrancy to the space where you wish to display your baby canvas prints.
Tips:
Candid pictures are always the best, so don't overwork the setting up of the photos you are going to take.
Clicking pictures of your baby when he/she is asleep can also make for some fabulous photographs to convert into baby canvas prints.
Hearing your baby laugh is the most beautiful sound. It also makes for a truly great picture, capture moments when your baby is laughing and spread the joy amongst friends and family who visit your home.
Always keep your camera close at hand because every moment with your baby is unique. Make sure you don't miss any of the magic.
Read More : 20 New Born Baby Photoshoot Ideas
2. The seasons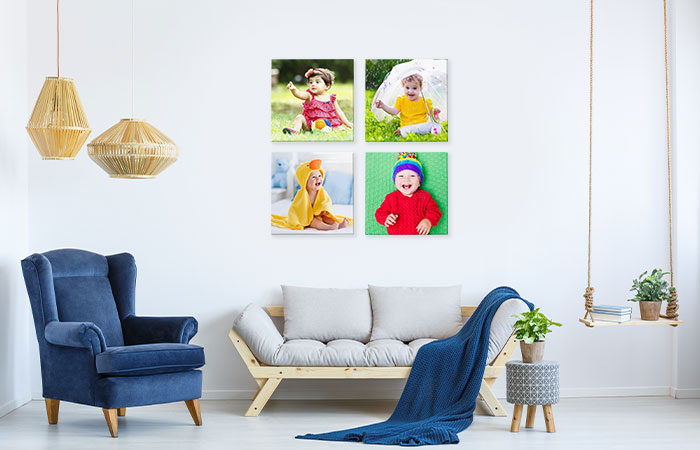 Show off the star quality of your baby in a baby canvas print collage depicting the four seasons. You don't even have to step outside. You could pose him/her near a window to get the full effect of the season.
Tips:
In your baby canvas ideas, you can use situation-specific props to accentuate the image. You could dress up your baby in clothes that depict the seasons.
You know when your baby looks the cutest. Try and create situations in which your baby is at his/her best for your baby canvas ideas.
Babies younger than five months cannot sit up on their own. So if your baby is younger than five months, you could try taking pictures while he/she is lying down, and the camera is above her/him.
3. Photo bursts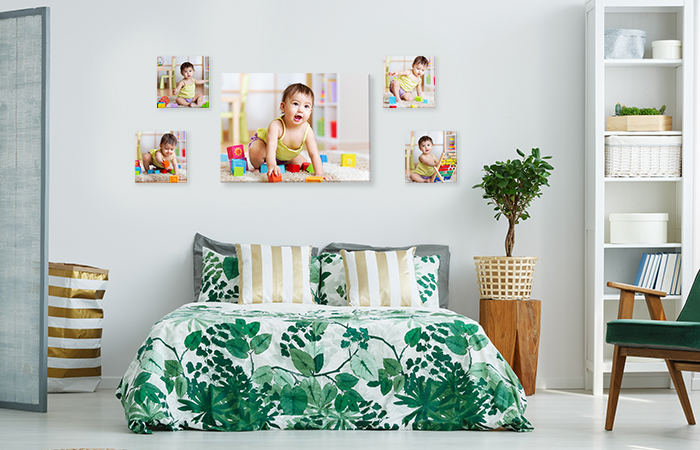 Select burst mode on your camera and take sequential photos of your baby. It could be him/her laughing, playing with a toy, or your pet. Yawns, sneezes, and cute expressions make for amazing photographs for your baby canvas ideas. The motive is to create a film-reel aesthetic that is super fun and attractive.
Tips:
To get the right frames of images to print, you will need to take a lot of photographs. If you aim to create five baby canvas prints, the least amount of pictures would be about twenty.
Remember to place the camera at your baby's eye level to minimize distortion and draw attention to your baby instead of the background.
Read More : How To Choose The Right Photo For Your Canvas Prints
So there you have it, three brilliant baby photo canvas ideas. All you need to do to get started on your baby canvas prints is download the Picsy app, choose from our themes and layouts or create one of your own, add your photographs, text, stickers, etc. and have the perfect baby canvas prints delivered to your doorstep. Picsy wishes you happy snapping.
Ready to hold your memories in hand?