8 creative ideas for timeless wedding canvas print
Jan 17, 2020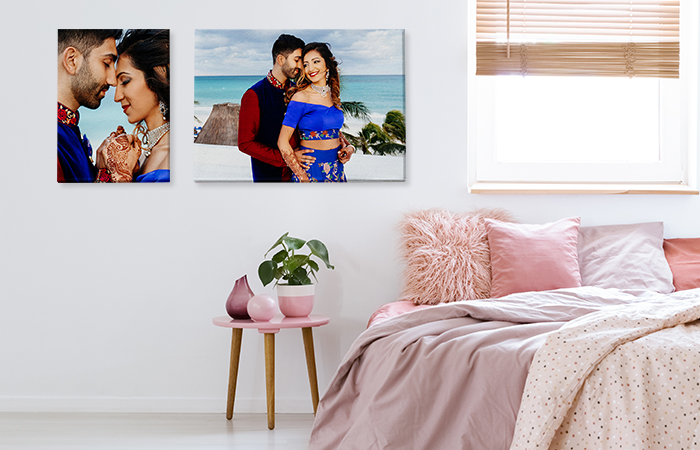 Choosing the right gifts, feel like challenging at times; Whether you have to pick an exceptional gift for a recently wedded couple or you are that couple who just got married and you are looking for some memorable gifts to express your everlasting love and devotion forever. Explore our extensive range of products along with your wedding day prints on canvases.
The wedding day is the most important day of one's life and who wouldn't want to cherish those moments throughout life? Deciding on what makes a perfect wedding day gift for your family and friends while treasuring the wedding day memories is now made simpler with Picsy. Wedding canvas prints are the most stylish yet romantic option while picking a wedding day or anniversary gifts that they can hang on their walls and add a sparkle to the aesthetics of the living room or bedroom.
Picsy lets you artistically personalize your canvas prints with several color choices. It also offers you several wrap styles, colors, standard sizes & shapes, along with premium printing quality, long-lasting canvas material, and on-time delivery. Create your stunning life-size wall art for your bedroom using your favorite wedding pictures with us.
Planning to create 'Wedding Canvas Print'?
Do it with Picsy - a smart and superfast app to create beautiful Canvas prints.
All you have to do is:
Select 'Canvas Prints'
Choose Favorite Photo
Select Desired Shape & Size
Preview & Order
Don't let the memories fade away from the biggest day of your life. Showcase all your precious pictures from your wedding day or your pre-wedding shoot or your courtship days including your favorite moments with wedding canvas prints. It's now quick and easy to print by choosing your colors and designs.
1. Perfect Gift For The Couple
Superior quality wedding canvas prints are one of the ideal wedding day gifts for your loved ones. Looking at the beautiful photos on canvas is something the receiver will cherish forever. Design and create custom canvas printing in such a way that suits their personality and interests. Let them relive those precious moments every time they look upon that wall art. Picsy puts an end to your endless search for a perfect gift because wedding day canvas prints is as simple and good as it can be. Let's hope they will be happy receiving a gift just ready to hang in their bedroom full of romantic and full filled pictures from their wedding.
2. Pre Wedding Spark
Up your wall art game by creating canvas prints online with Picsy. Pick the perfect picture and then play with different colors and styles to give it a unique yet elegant look. Wedding canvas prints are the perfect way to display the moment you two looked into each other's eyes and said yes. Get your engagement pictures print on canvas and turn those precious memories into beautiful wall art. Preserve all the favorite pictures from your courtship, make it a collage and cherish them throughout your love tale.
3. Bachelorette or Hen Party Fun
"Last fling before the ring"; The Bachelorette party or hen party is the craziest night you have before you marry. Putting together all the craziness on a wedding canvas prints make it even more epic and long-lasting. Show off your favorite people from that night and let those memories and people in them stay forever with you. Picsy lets you look back at all those hilarious moments from that night and turn it into a canvas. Gathering all those whoopee pictures and hanging them all on a wall makes that night that day even more memorable.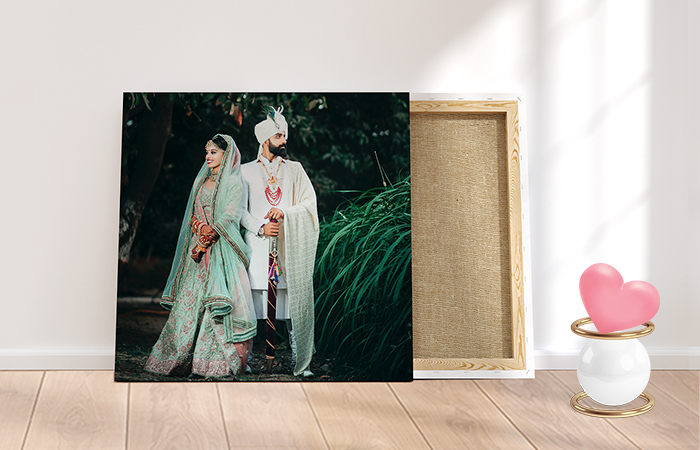 4. Family Bunched Together
Relive those magical moments where not only you two but families united as well. Experience feelings of delight again by getting your long-lasting memories engraved on a canvas. Capture the real emotions of the families at that moment into those wedding canvas prints. You can also add some of the dancing pictures of your mom or dad or you. With the help of Picsy, Infuse those real-time affections on the wall of your living room and let love spread its aroma. It offers you an array of printing styles, filters, designs and helps you add some visual interest to your canvas prints.
5. Treasure Your Wedding Vows
Memories flourish back into your head whenever you memorize your wedding day as those moments hold a special place in your heart. Wedding vows are a cherishable treasure of your life. Revitalize your wedding vows through the canvas prints and relive those promises, you two made to each other and cherished them forever by turning them into beautiful wall art.
6. Feel The Love Via Canvas Prints
Make your custom canvas printing more special by adding a personal touch to it. Printing out those stunning wedding pictures into wall art is the best way to replenish those moments every time you see it. You can also add your important dates, nicknames you call each other by or some song lyrics you want to dedicate them. Picsy has taken the hassle out of searching the perfect frame for your printed photographs as all you have to do is upload your favorite pictures and let it do the thing.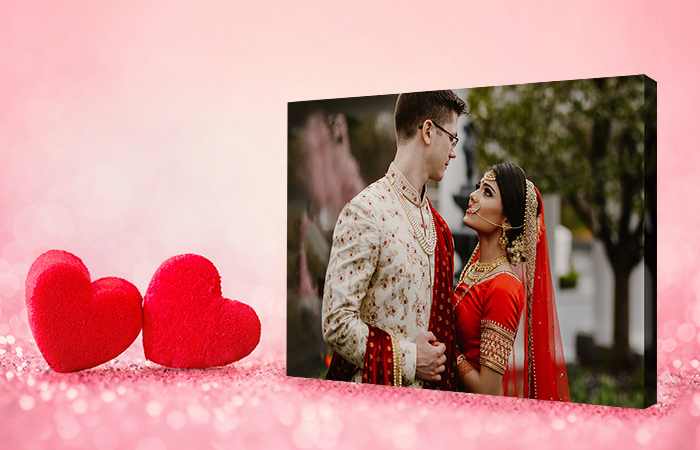 7. Spill Your Wedding Out
Hold on to the most important day of your life and turn your wall into a cherishable treasure by creating these canvas prints online from Picsy. Put on the pictures from all the ceremonies including your close friends, family, and your partner. Your wedding day is your start to the new beginnings and no moment should be left out; so create a stunning collage of all the winsome pictures from those days.
8. An Ideal Gift For Anniversary
Put on all those candid shots from your wedding day into a canvas. You can also add pictures from your special occasions that will help you to memorize the start of your new life together. Deck up your walls with an array of superior quality custom canvas printing, from Picsy which lets you take your pick of sizes, printing styles, and design options.
We hope this post helped you get through some wedding canvas print ideas and inspirations and make the best out of all those pictures filled with emotions.
Celebrate love and turn them into a beautiful wedding gift with Picsy.
Ready to hold your memories in hand?