Types of Canvas Wrap that Work as a Safeguard for Your Art
March 7, 2023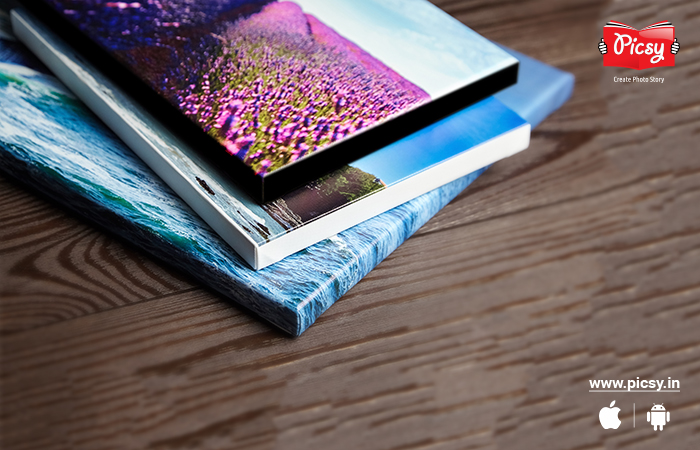 People or artists bind their memories, art, and paintings. When people think something is valuable, they try to take care of it and increase their life. And canvas prints come with various wrap options to safeguard your treasured art or memories. And that's our topic for today's article so that when you buy canvas prints online, you know exactly which canvas wrap you should choose.
But before that, we will take a quick look to understand the specifics of custom canvas prints.
Classy Wall Décor Products for Your Precious Memories
Decorate your house with fancy wall decors from Picsy! They are durable, elegant, and one-of-a-kind. Check out the products and get one for your space.
Skip to...
What are Custom Canvas Prints?
In simple words, high-quality digital pictures printed on canvas are known as custom canvas prints. The print has a gallery-wrapped appearance since the canvas is stretched over a wooden frame. Every type of picture, including digital art, graphic designs, and personal photographs, can be utilized to create a personalized canvas print.
Since they provide a distinctive, textured effect that is not feasible with conventional paper prints, canvas prints are a popular option for decor. These are a wonderful option for high-traffic areas and rooms with humidity because of the canvas material.
You can get varied canvas sizes, from tiny desktop prints to huge wall prints. To give the print the ideal look and feel, several wraps are used. Yeah of course to help its longevity too.
What are Wrapped Canvas Wraps?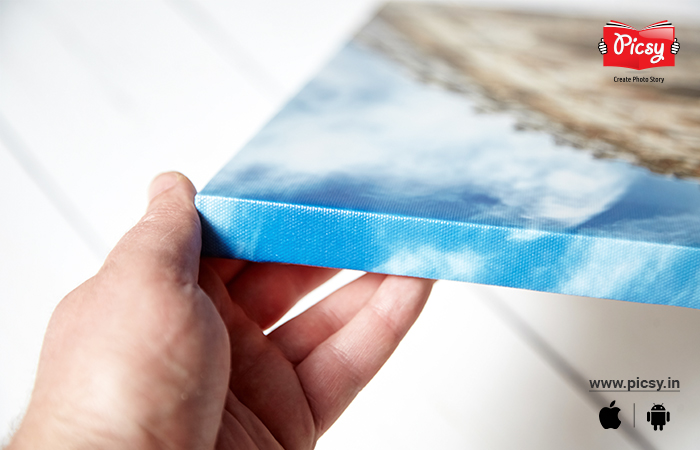 The canvas material is printed with a digital image and then wrapped tightly around the frame, with the edges of the image continuing around the sides of the frame.
Wrapped canvas wall art is a popular choice for displaying artwork and photographs because they create a unique and modern display that doesn't require a frame. The wrapped edges give the artwork a seamless appearance, creating a clean and contemporary look.
Canvas-wrapped photos can be customized with a variety of sizes and finishes to fit the desired space and style. They can be printed in black and white or full color and can be finished with a matte or glossy coating. They are a great option for creating a striking display in any room or space.
Bored with traditional photo frames? Buy Picsy's Poster Frames! It's sleek, durable, and gorgeous.
How Can You Benefit from Canvas Wrap Frame?
There are several benefits to put wrap around canvas prints to display your artwork or photographs:
No Need for Framing
Because the canvas is stretched and wrapped around a wooden frame, there is no need for additional framing. This makes wrapped canvas photo prints a more affordable and convenient option for displaying artwork.
Three-Dimensional Appearance
Canvas wraps have a three-dimensional appearance that gives the artwork depth and texture. This can make the artwork more visually interesting and engaging. Hence, wrapping is one of the brilliant canvas print ideas to give your memories a new and interesting look.
Durability
Image wrap canvas are made from a sturdy material that is resistant to fading and damage, making them a durable option for long-term display.

Versatility
Wrapped canvas pictures can be customized with a variety of sizes and finishes, making them a versatile option for displaying artwork in a variety of settings and spaces.
Easy to Hang
Canvas wraps come with pre-installed hardware for easy hanging, which makes them a convenient option for displaying artwork without the need for additional tools or supplies.
As I mentioned above, there are various benefits to personalized canvas prints and wrapping them. Are you convinced yet to choose one of the wrap types and decorate your wall?
Let's look at the types and help you choose one.
Types of Canvas Wrap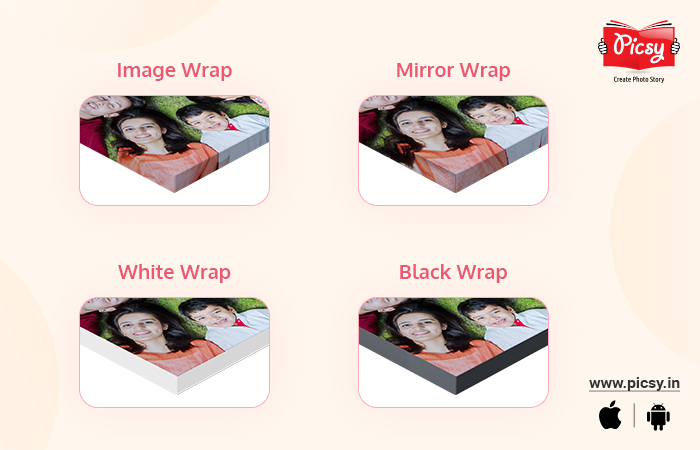 Canvas wrap refers to a technique of stretching a canvas over a wooden frame to create a finished artwork that is ready to hang. There are several edge options for canvas prints, each with its unique characteristics and purposes. Here are some of the most common types of the canvas wrap.
Gallery Wrapped Canvas
Gallery wrapped canvas prints are when the canvas is stretched tightly over the wooden frame so that the edges of the canvas are wrapped around the sides of the frame. This type of canvas wrap is commonly used in art galleries and museums, as it gives the artwork a clean, modern look without the need for a frame.
Museum Wrap or Studio Wrap
A museum wrap is similar to a gallery wrap, but the edges of the canvas are folded back over the wooden frame rather than wrapped around the sides. This type of canvas wrap is typically used for larger artworks or pieces that require more support.
Keep your journeys safe and the memories safer.
Download Picsy App and make every memory count!
Standard Wrap
A standard wrap is when the canvas is stretched over the wooden frame, but the edges of the canvas are not wrapped around the sides or folded over the frame. Instead, the edges of the canvas are left exposed, and the artwork may need to be framed or displayed with a mat.
Floater Frame
A floater frame is a type of frame that is used with gallery wrapped canvas prints. The frame has a gap between the edge of the canvas and the frame itself, which gives the illusion that the artwork is floating within the frame.
Wrapped Canvas Edges
Some canvases are printed with an image that extends over the edges of the canvas, creating a seamless image that wraps around the sides of the frame. This type of canvas wrap is commonly used for photographs or digital prints. It comes in colors - black wrap canvas or white wrap canvas.
Mirror Wrap
If you are wondering how to make a canvas print if you want to hang your family memories, this is the type of wrap you should choose. Mirrored edge canvas is a type of gallery wrap where the edges of the canvas are wrapped around the wooden frame, but instead of continuing the image onto the edges, a mirrored portion of the image is repeated on the edges of the canvas. This creates the illusion that the image is reflected in a mirror, hence the name "mirror wrap."
Conclusion
In conclusion, the type of canvas wrap you choose will depend on the type of artwork you have and the look you want to achieve. So, which one are you choosing?
And if you are not feeling sure about the wrapped canvas prints you can also check out other personalized photo products from the Picsy App. From acrylic prints, and photo books, to calendars, everything is available.
Take Good Care of Memories with Picsy's Adorable Products
Whether it is your kid's first slide ride or a family gathering, memories are what we are. Keep them intact with Picsy's photo products.
FAQs Related to Canvas Prints
1. What Should You Consider before Buying Canvas Prints?
You should consider checking the size of the canvas print. Whether it's going to fit your wall properly. It is always the rule number one while briefing how to order canvas prints online.
2. What canvas photo print sizes does Picsy offer?
The sizes Picsy offers for canvas prints are 16x12, 30x20, 24x18, 20x20, and 20x15.