To New Beginnings: Thoughtful Housewarming Gift Ideas
August 07, 2023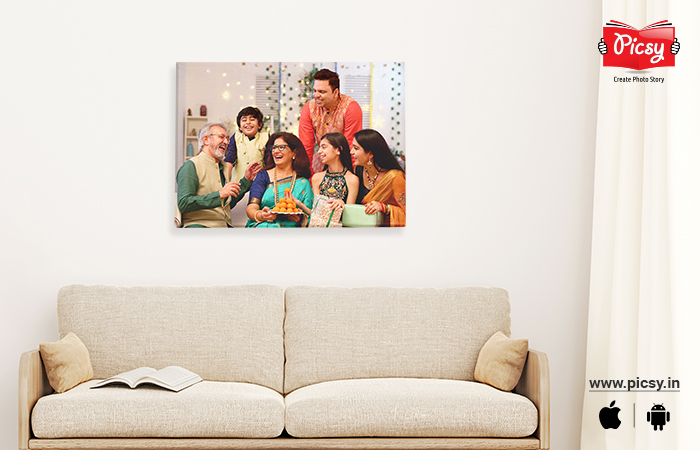 Moving to a new house? The feeling must be magical. The excitement, anticipation, and slight sadness sitting in the corner of the heart for leaving the current place. Whether you are moving to a new place in the heart of the city where you will find dozens of faces each day or a small cottage in a remote place, it holds the promise of new memories. And what can be better to celebrate this special event than with hearty and simple housewarming gifts?
Even if it's not you who is moving out, but your family or friends, expressing goodwill with little housewarming gifts can hurt none. So, I have listed all the possible housewarming gift ideas I could gather for you. Check them out and decorate (or help decorate) the new house.
Make the New House A Home with Picsy
The memories make us what we are. Decorate your new house with little photo products for your empty walls from Picsy and feel at home.
Skip to...
Housewarming Gift ideas for Couples
Are you going to a housewarming party where a couple takes the leap into a new chapter by moving into their first shared home? Then it, definitely, calls for a celebration. Honor their love story and their first house with unique housewarming gifts for couples. I have got a list for you.
Canvas Prints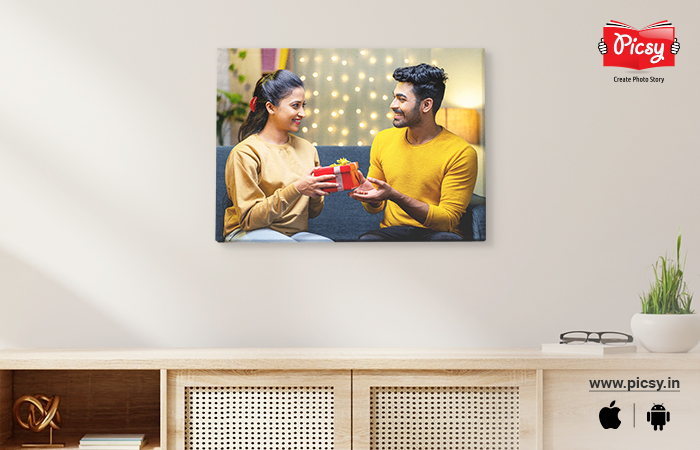 The best thing that you can gift a couple is their romantic photo framed on a canvas print for their bedroom. It is perfect! One of the best housewarming gifts so far. It can never go wrong.
Warm Lights
Warm or yellow lights make a space look festive. Whether it's a festive season or not, the warm light will make them feel cozy, warm, and homely.
Essential Oil
If you are looking for unique housewarming gift ideas, essential oils are small, affordable, and pretty sweet. Go for scents that are not too strong but smell 'welcome-y,' like lavender or lemongrass.
Small Acrylic Prints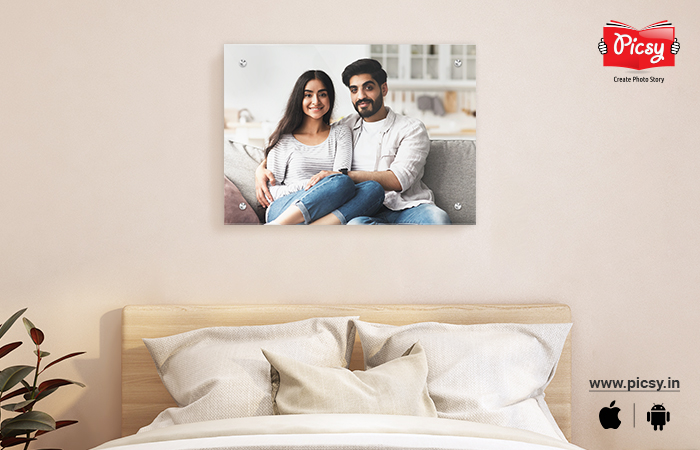 Tagging along little sweet memories in every corner of the house. Doesn't it sound lovely? Give little acrylic photo prints as gifts for new homeowners. They will love it.
Throw Towel
If you are looking for unique housewarming gift ideas for a couple a throw towel is awesome. They can keep it on a chair or spoon on a sofa. Make sure the color goes well with the wall color.

Housewarming Gift Ideas for Friends
Are you looking for gifts for a housewarming party that your friend is throwing? I have the perfect list of good housewarming gifts that you can give. Check them out.
Coffee Table Photobook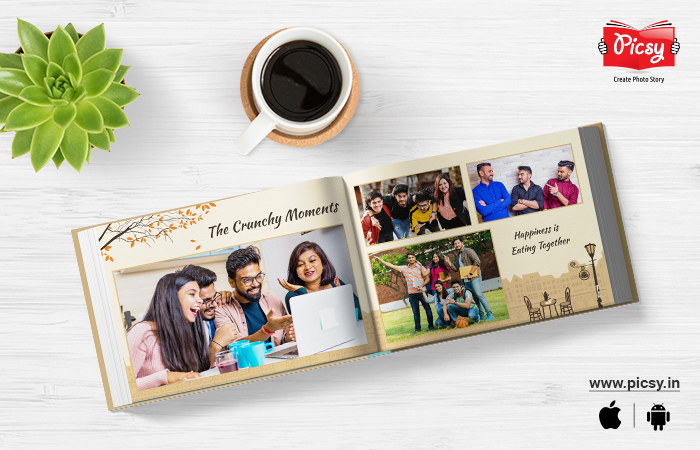 Choosing the right housewarming gifts for friends can be daunting. I do get it. But a photo book with all the lovely and funny memories attached is a fool-proof gift. There are several delightful photo album ideas you can choose from. Get creative.
Music System
Does your friend like fancy gifts? Get luxury housewarming gifts like a music system and surprise him or her. So, the next time you guys plan a party you know where to go.
Aesthetic Flower Vase
Does your friend appreciate artistic home decor? An aesthetic bohemian flower vase will be the perfect housewarming gift. Whether your friend keeps artificial flower, real flowers or keeps it as is, it will change the look and make the place look artsy.
Photoprints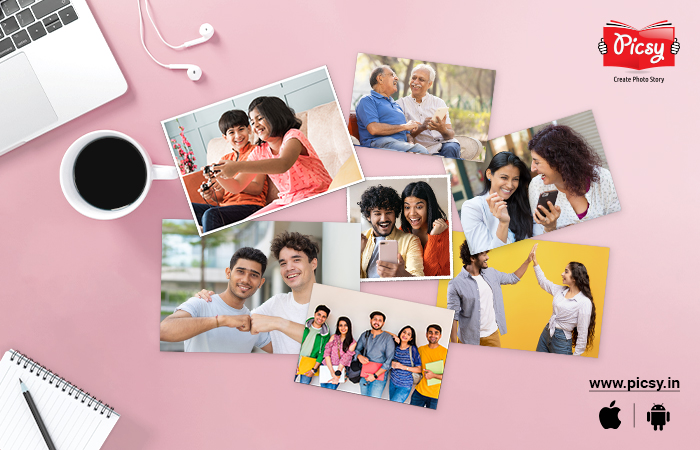 Capture and preserved stunning photos of your friend and get photo prints for housewarming gift. He or she can hang them in their new bedroom and recall all the happy memories.
Japanese Tea Set
Everyone fancies a cup of tea, especially when you get a cup of matcha. Give a Japanese tea set as a housewarming gift so that whenever a guest comes to your friend's house, they can take out the special set to impress.
Don't settle for less. Get exclusive housewarming gifts from Picsy. Download the app now.
Housewarming Gift Ideas for Family
Someone from your family is moving out to a new place? Make sure to give them useful housewarming gifts. I have created a list; in case it inspires you.
Floater Frame
Floater frame might not sound so useful right now, but these little touches of nostalgia make a house turn into a home. So, a floater canvas frame with creative photo ideas can never be a bad gift.
House Organizer
Now that they got a new house, they would need to organize the place from scratch. As useful housewarming gifts, you can look for house organizers online and present them. Whether racks for the wardrobe, separators in the kitchen cupboard, or trays for the fridge. These little things make the place run smoothly.
Stylize the new house with durable canvas prints from Picsy's range of photo products
Wall Clock
It is very much possible, that the new house owners forgot to get a wall clock. As now have phones all the time, we often forget how wall clocks can be influential. When time ticks, and we see the time in front of us, managing time gets easier. So, why not get one wall clock for a housewarming gift?
Family Gallery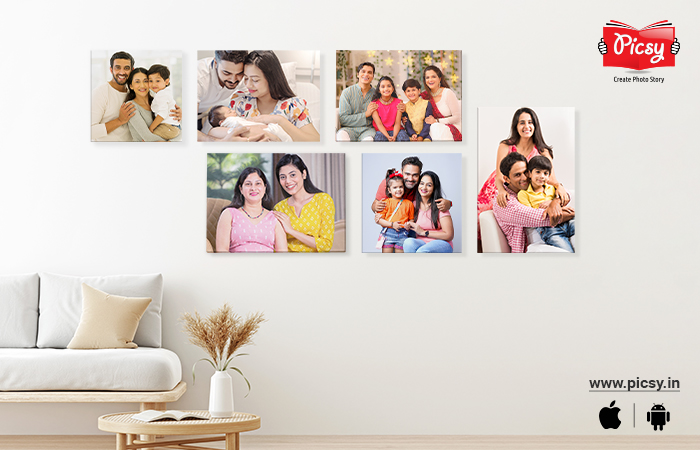 Another idea would certainly be a creative family photo wall. A family wall gallery makes the place look homely and chic. It is a perfect housewarming gift idea. Trust me on this and go for it.
Gift Ideas for Men and Women
If you are looking for unique housewarming gifts, there is plenty to share, and the list would never end. But the best gifts are when they are thoughtful. Check out my list of housewarming gift ideas for Men and women that you might find useful.
Housewarming Gift Ideas for Men
Let's start with housewarming gifts for men which I find are perfect for them other than the ones I have already mentioned above.
Chair Pillows
If the man is a remote worker and is working from home, they need to check their posture for good. Hence, get chair pillows. Those are also called coccyx pillows, easily available online.
Personalized Calendar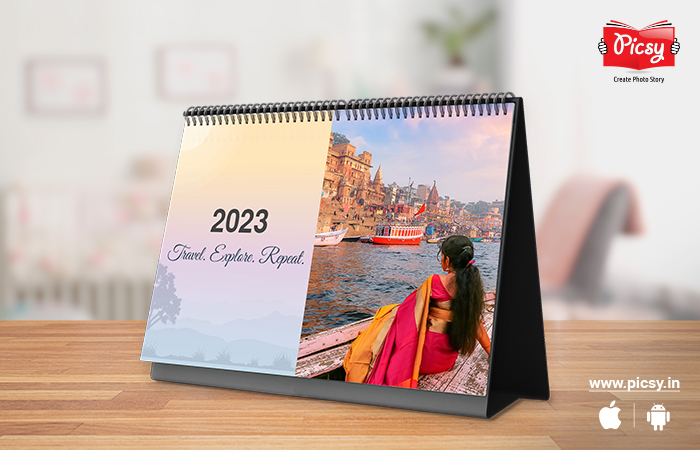 A personalized calendar is a unique customizable product for housewarming gift. They can print any images of their choice and keep them on their desk. Every month can have different pictures – whether travel photos, wildlife, or simply family photos. Personalized calendars make the perfect gift.

Housewarming Gift Ideas for Women
Women look for useful housewarming gifts. So, if you are searching for housewarming gifts for women, it better be good. Take my list for example.
Indoor Plants
Women, even when they look for decorative ideas, they go for plants. It purifies the air, makes the place look fresh, and pampers the gardening hobby too. See, one item and three solutions.
Gift Card
Sometimes, we can never guess what one might want. But we want to help them in any way possible. If the woman is close enough to you and won't mind if you hand them money directly, then gift cards are the best. Choose the platform that you might think would help her, Amazon, Pepperfry, or Picsy whatever may seem the best.
Housewarming Gift Ideas For Coworkers
I did not miss out ideas on for housewarming gifts for coworkers. Here is my custom list for you.
Wall Decors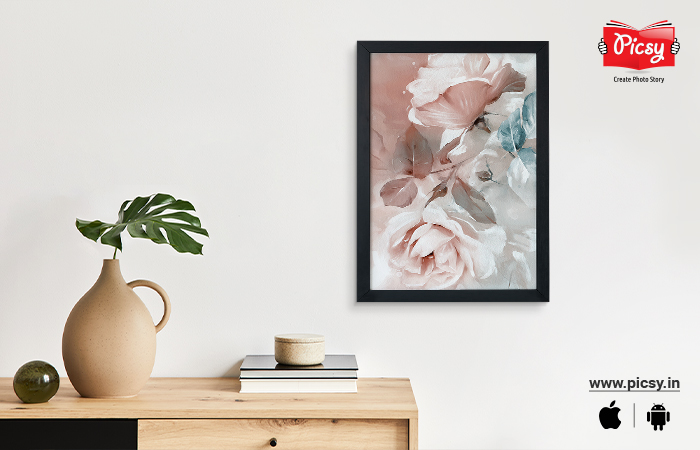 Starting with the wall decors. Decorative canvas print for home are perfect to stylize and make your coworkers talk about your gift to the entire office.
Air Fryer
Another awesome addition to the list is an air fryer as a housewarming gift. For busy and fast-paced life, an air fryer can be very useful in a new home. If your coworker is health conscious, you might want to choose this.
It's Wrap
There you have it! I am done with my housewarming gift ideas. I hope you liked them and perhaps choose one too. Did I tell you about Picsy? The perfect photo gift store? Whether you want return gifts for housewarming ceremony or one for the ceremony itself, at Picsy you can get a lot of options. Before deciding, browse the app. I am sure you will love it.
Make the Housewarming Extra Special with Picsy
Entering into a new house and starting a new life is special. Make it extraordinary with the touch of Picsy's treasured photo products.
FAQs Related Housewarming Gift Ideas
1) What is the best gift for a housewarming occasion?
To give a new house the homely feeling, it requires the touch of memories. So, for housewarming gifts, try to keep it thoughtful, useful and personal. For example, canvas prints make the best gift for housewarming occasion.
2) What are traditional Indian housewarming gift ideas?
Traditionally people bring fruits and sweets, but to make it special we also give gifts that would be useful in the new house. For example, photobooks – memories of the time spent in the old place can be a pleasant housewarming gift.
3) What is a lucky housewarming gift?
Lucky housewarming gifts are those gifts that are considered lucky. Money plant is a very good example or a turtle showpiece. There are lot more. Check the list to see which one you like the most:
Tulsi plant
Statue of Lord Ganesha
A horseshoe
Aloe vera plant
Money plant
Turtle showpiece
4) What should be the gift according to 'Vastu› for housewarming ceremony?
Just like lucky housewarming gifts, vastu gifts are also considered as lucky gifts. And they make the best gifts for a housewarming occasion. Heres' a list of vastu housewarming ceremony gift ideas:
Gomati chakra tree
Figure of elephant
Water fountain
Laughing Buddha
Ready to hold your memories in hand?