Keep Your 'Happy Days' Alive Always with Best Friend Photo Albums
January 13, 2022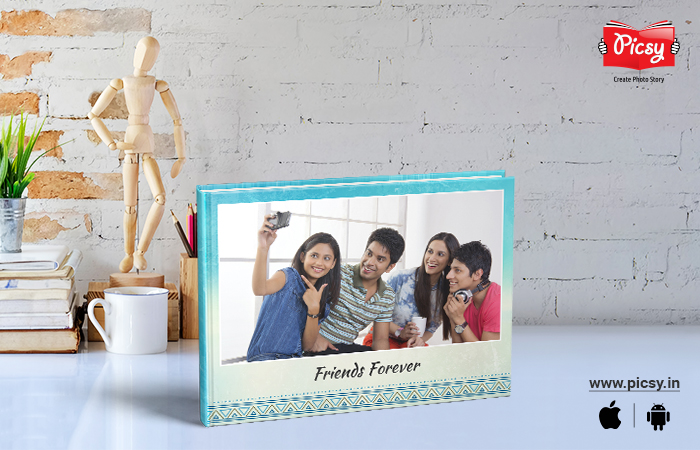 Everything is better when you have friends around you. If you are having an adventure, having your best buds around just intensifies the experience. Birthdays are more fun when you have your friends to smear cake on, and if one can only be a wingman if you have friends to put on the spot.
15 Best Friend Photo Album Ideas
Our friends have stuck with us through thick and thin, and the best way to cherish your 'happy days' with your buddies is by creating a best friend photobook. Read on as we detail the top 15 Best Friend Photobook ideas that you can create right now!
1. Then and Now
It has been years since you first became friends. Everyone in your gang has been through ups and downs in their life, but thankfully you stuck together. The years may have changed how you look, but it hasn't changed the magical bond you share. Create a 'Then and Now' best friend photo album scrapbook with your friendship photos for all your friends that has pictures from when you first met to the present to reminisce over.
2. Fashion and Faux Pas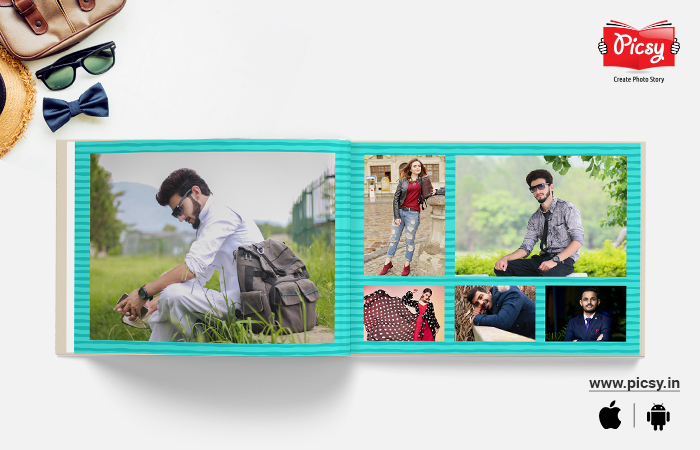 Just like the movie stars, your fashion sensibilities have changed over the years. Create best friend photo albums that include snaps of you and your friends dressed up in fashion statements from your favourite era. Polka dots, torn jeans, bellbottoms, tie-dye and bandannas, the choice is yours.
Stun everyone with a friendship photo gallery of fashion and sometimes fashion faux pas statements that you and your friends have rocked.
3. The Fantastic Four, or Five, or Six
What do you and all your friends love? Superheroes, of course! In this fun best friend photo book idea, ask your buddies to line up with posters and other memorabilia of their favorite caped crusaders.
Whether you like Marvel or DC, relive your childhood dreams of soaring over the rooftops like your favourite vigilantes with this idea. Pssst…. You could even try cosplay and step into the boots you and your gang love so much.
Want to cherish your beautiful memories that lasts forever? Download Picsy App and Get Started!
4. Foodie Fantasies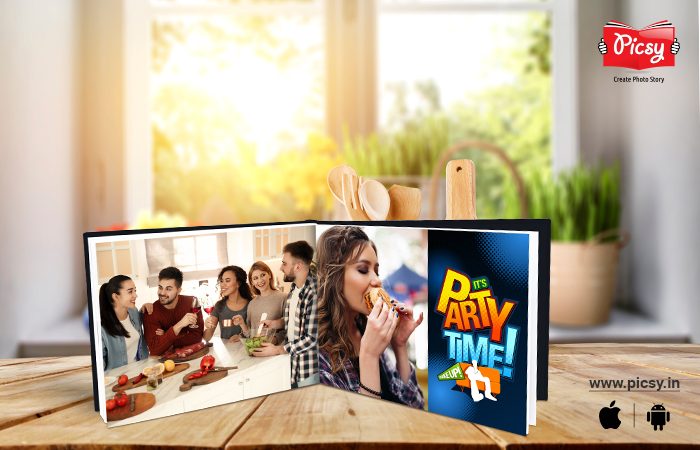 If there is one thing you and your gang can agree on, it would be how much all of you love Pizza. Remember the days when you rode around town looking for the best food joints to indulge your taste buds? Create a best friend photo book with pictures of you and your childhood friends gang out and about, enjoying delicious dishes. If someone in your gang loves to cook, you could also include pictures of them posing with their gourmet.
5. Crazy Crushes
We've all been there. You were pining like Romeo or Juliet for our secret crush. Sometimes our love is returned, and sometimes it remains unrequited and one-sided. Whatever the case, you can create a fun my best friend photo album of all your friends posing with their crushes.
For all the soup boys out there, take heart! Perhaps it was your awesome hairstyle that scared your crush away. Now you can try winning them back with unique photo gift ideas for your friends.
6. Adrenaline Adventures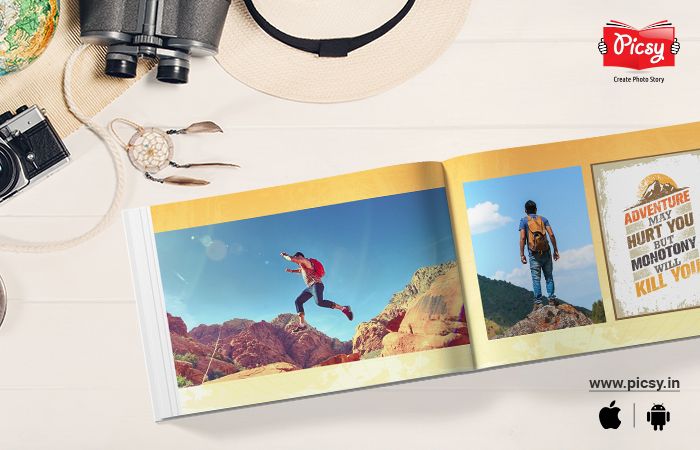 Remember the last time you went out for an adventure with your gang? Whether hiking in the mountains or river rafting over frothing waters, your adrenaline pumping adventures deserve a place in your best friend photobooks. Take your gang's adventures and turn them into a coffee-table flip through to revisit those heart-thumping times with Dosti photo albums.
7. Furry Brothers
No gang is complete without their beloved furballs. The epitome of unconditional love, your furry four-legged brothers and sisters deserve a Goldspot in your photobook. You can include pictures of their paw marks from when they were babies until the hulking hunks they are now. Do you see that look they are giving you as you read this article? You better take a my friend photo of them quick before they come to smother you with their wet noses.
8. High School BFFs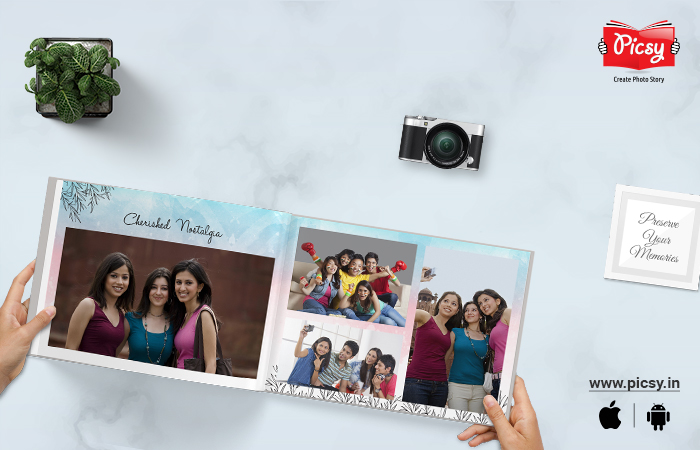 High School is a whole world in itself. You have your jocks, goths, emos, nerds, geeks…. The list goes on. It doesn't matter which clique you belonged to, and your BFF was right there beside you as you navigated through the corridors of that magical kingdom. Dedicate a photo album to your best friend as you evolve from timid middle schoolers to homecoming kings and queens and besties forever. If you two were also each other's prom dates, this BFF photo album idea is perfect for you.
Looking for something to gift your BFF?
Picsy's Friends Forever Album is all you need!
9. The Love of Your Life
Now let things take a romantic turn—what better photo album idea than to dedicate a photobook to your ultimate best friend, your better half. You share more than just your heart with them, and you share your life. And they have always done everything to keep you happy and loved. Create a friends photo album to chronicle all the magical moments you have shared with the love of your life.
10. Sibling Escapades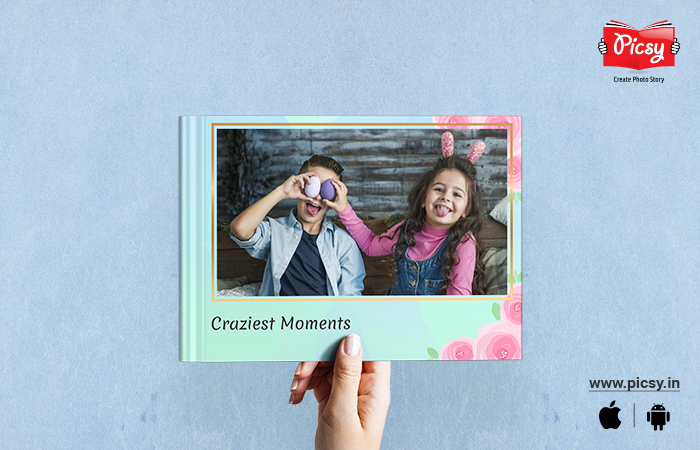 Don't forget your carbon copy, your sibling. They are your best moments, and your worst nightmares all rolled into one. Remember all the fun you and your sibling got up to when you were kids? The stolen treats, the late-night movies, the failed attempts at cooking in mom's kitchen and long discussions of how much you loved that senior at school.
The moments you have shared with your sibling (your biggest supporter and number 1 fan) are magical. So cherish these moments of sibling brotherhood with a best friend photobook of your sibling escapades.
11. Sports Freaks
Remember the person on the other end of the pitch while you hit that massive boundary? Or the person who was cheering till his voice went hoarse when you went to watch a game? Or the person who ate boatloads of popcorn (spilling most of it on your couch) while you two watched the world cup?
Now revisit all the love you and your best friends share for your favourite sport with a sports-themed best friend photobook and best friend photo ideas to try.
12. Your Parents Are Your First Friends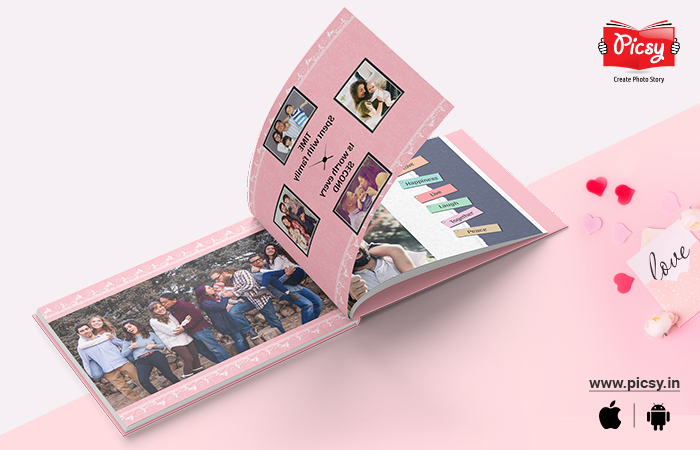 Who knows you better than your first best buds, your parents. They were there when you learned to talk, walk and subsequently wreak utter havoc around the house. Whether it's your mom chasing you with a spoon or your dad cheering you on while you made that game-changing goal, create a best friend photo album with all the special memories you have spent with your parents.
Read More : 25 Cool Ideas to Display Your Family Photos
13. Office Buddies
How many times have you heard this person ask you, "How's the workload?" and felt like hurling a paperweight at his head. How come you are buried in files while your workplace best bud flits between the water cooler and the canteen? I guess it is just luck. But that doesn't mean that this person doesn't have your back. Create a best friend photo book of all the fun you have at the office with your workplace best bud. This idea is also a great idea of books to gift your best friend.
14. The Band
"These chicks don't even know the name of my band, but they're all on me like they want to hold hands." The great Em schooled us on why all of us wanted to be in a band. The love of music, of course! What did you think? Remember those crazy times when you drove around the city playing gigs wherever you got the chance, like playing "Nothing else Matters" at a Garba event? Well, if you do, then your band deserves its very own photobook.
15. Year in Review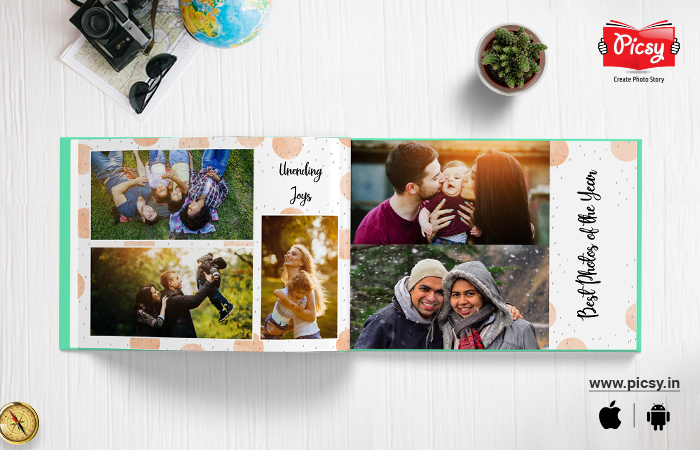 The year is coming to an end, and with all the changes the world has been through, making a year in a review photo book of your besties will be fun. You could include pictures of how your buds looked during the lockdown, given that they had nowhere to be and could just wear whatever they liked and eat what they liked. Crash diets, muscle-ups, work from home selfies and munchies at their work desk can make for a hilarious year in review photo book.
Read More : 5 Spectacular Year in Review Photo Book Ideas
Wrapping up
The gift of friendship is a treasure that can be the defining factor of our lives. The joy, support, and love our friends give us from the support structure enable us to face the world. These amazing customised photo album ideas are an awesome way to tell your friends how much they mean to you.
The best part is that you don't have to pore over a photobook, spending hours and hours deciding how to make it or get it made. With a wide variety of pre-designed friendship themed templates, top-notch quality and lightning-fast delivery, Picsy is your one-stop shop for all your photo book needs. So what are you waiting for?
Download the Picsy app now and get started on the best friend photobook of your dreams. Happy Picsying!
Ready to hold your memories in hand?