Are Acrylic Photo Prints Right for Your House?
Last Updated : Sept 14, 2022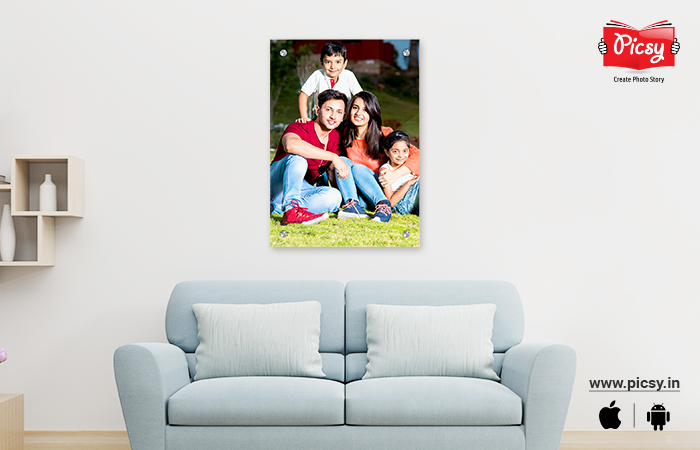 You might have many queries if you have not chosen acrylic photo prints before. And I totally get it. Any decorating item should not make your house look dowdy and cluttered. Hence, this is a complete guide on acrylic prints that serve as one of the best space decorating items.
What are Acrylic Photo Prints?
It is one of those questions which are dropped quite often. Acrylic photo print goes by various names; some call it acrylic frames or acrylic glass prints, whereas others call it just acrylic. Now the question is, what is it? Or, what to choose: canvas print or acrylic print?
I will try my best to explain in simpler terms – When an image is printed and displayed on the back of the acrylic glass, giving the image a 3D effect and durability, you can call that an acrylic print. But, again, a few services print the image on paper and then display it behind the glass, whereas some directly print it on the glass material.
Why Should You Choose Acrylic Prints?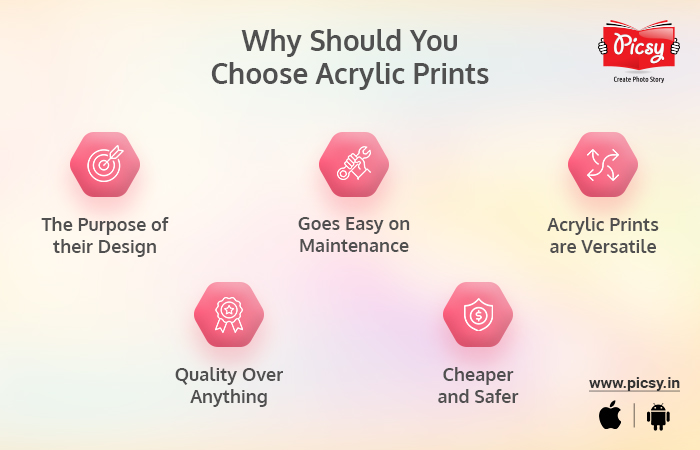 You might wonder, there are so many canvas print types; why should you pick acrylic prints anyway? Well, the choice is going to be yours. I will just give you the advantages and disadvantages. Let's start with the advantages.
1. The Purpose of their Design
Acrylic prints are designed for their durability. The acrylic glasses are not ordinary fragile material but solid fibre-like material. It is UV resistant and waterproof. So, whether you hang it in your washroom or garage, the durability won't be questioned.
2. Goes Easy on Maintenance
Since these prints are made with waterproof acrylic glass, it is also easy to maintain. For example, if you have kids and they put dirty hands on the glass, you can use a cleanser to wipe it off without a second thought.
3. Acrylic Prints are Versatile
Those are simple images on the acrylic glass; how can they be versatile? Right? Well, it offers various mounting options. You can mount on your wall and create acrylic wall art or keep it on shelves placed on acrylic stands.
4. Quality Over Anything
If you are thinking of mounting something on your wall that would reflect quality, I can vouch for acrylic wall art. They look very pretty and give an edgy look. It looks best on abstract art, landscape images, or family photos.
5. Cheaper and Safer
It is cheaper and safer than actual glass. Glass can break instantly because this plastic coating won't break so easily. It is said that acrylic prints are two times stronger than custom canvas prints. So, comparing with glass is out of the question.
Do Acrylic Prints Have Drawbacks?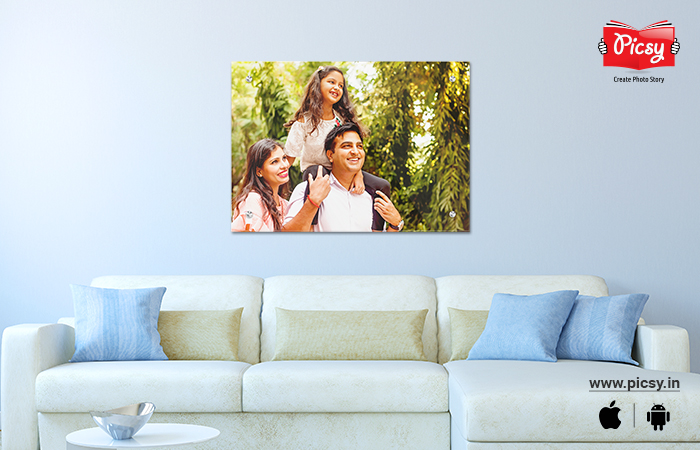 We know that every rose has its thorns. Do these glass acrylic prints have any drawbacks? Let's find out. We have covered the part of durability, quality, versatility, and maintenance. So, what is left that can make you say 'No, not buying this? To be honest, I did not find any. Few might find it on the costlier side, but it is worth buying. After all, quality and durability don't come for free. Even if you think of making canvas photo frames in your garage, it won't be for free – you will need an inkjet printer, canvas sheet, and A LOT OF YOUR TIME. Speaking of acrylic photo prints, product-wise, I do not have anything to complain about. It offers all the three criteria I look for while buying a product –
1. Is it serving the purpose?
2. Is it durable?
3. Does it offer customization?
Download Picsy App and give your memories the platform it deserves.
Availability of Acrylic Prints: Platform and Size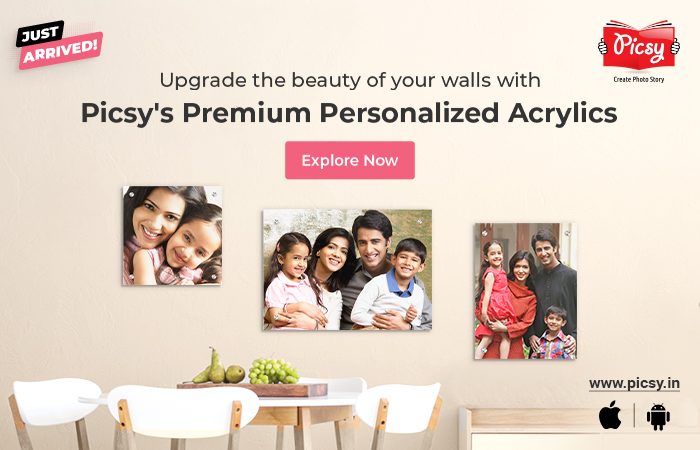 You can find acrylic prints online, both through web apps and mobile apps. However, before ordering from any online store, I recommend checking their reviews and product samples online. Coming to the sizes, it offers a variety - 12x16, 16x20, 18x24, 20x30, 12x36, 14x42, 24x36, 36x46, 30x40, 10x10, 12x12, 16x16, 20x20, 24x24, 30x30, 36x36, 40x40. It might look overwhelming at first, but to choose the right size, you need to measure your wall or the place where you want to put the Acrylic Print.
Simple Steps to Make Your Own Custom Acrylic Print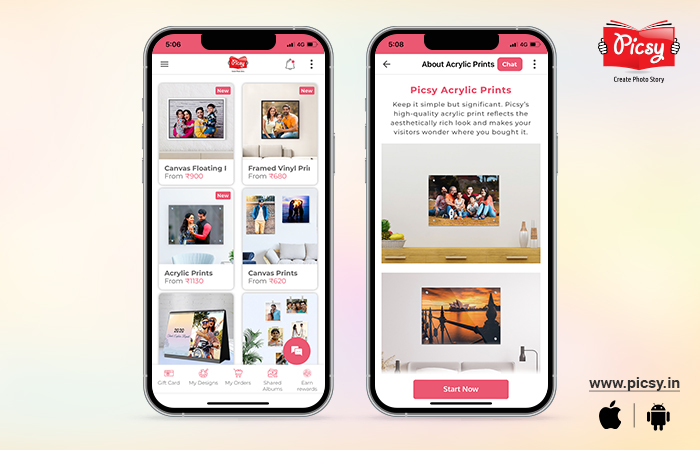 So, if you have decided to get your own acrylic print, you would want to know how you can get one or make one for your space. Isn't it? Here are some simple steps:
Step 1: Download an app, such as Picsy App, to create your acrylic photo print.
Step 2: Upload the image or images that you want on your acrylic print.
Step 3: Customize the image as you please and preview.
Step 4: Select the custom size of the acrylic print.
Step 5: Place the order and leave the rest on the service.
Why Should You Choose Picsy to Order Acrylic Photo Prints?
They provide quality products, and if you are buying something for your space or your loved ones', I think we wouldn't want to compromise on the quality. Size, colour, and even image can be compromised, but the quality is the only thing we should look forward to – not only while buying acrylic prints but anything at all. From durability to versatility, Picsy has won my heart. Give it a chance to win you too.
Are you ready to bring a quality product home? Order Acrylic Photo Prints from Picsy!
End Note on Glass Acrylic Prints
Without beating around the bush, I intended to convince you to buy an acrylic photo print. I have bought it, and my space looks phenomenal. And I feel everyone deserves to feel they live in an uptight space, and acrylic prints do exactly that; they make your home look extraordinary.
Order one from Picsy – the hub of personalized photo products, and let your space say, "Look, I am beautiful." Until then, keep Picsying and browse all the products they offer you. My favourite is the photo album books. See what melts your heart!!
Ready to hold your memories in hand?