Creating couple canvas prints for beautiful bedroom decor
December 11, 2020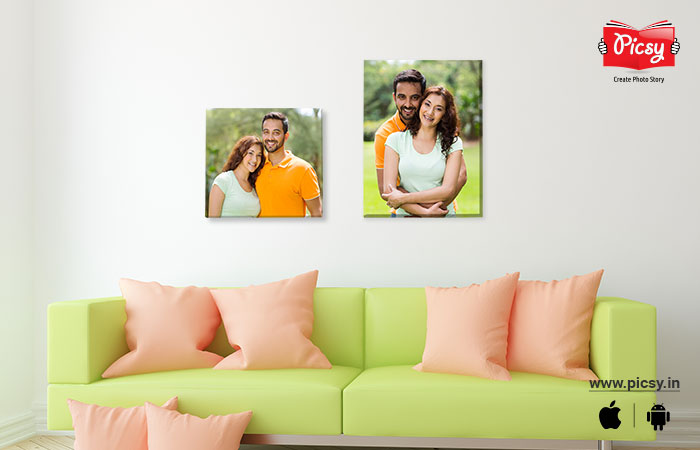 Canvas prints not only liven up your space but also take you on a trip down memory lane. The moment it catches your eye, you freeze along with your memories associated with it. It is an artistic way to customize your living space. Be it a gift for your loved ones, or a special surprise for your wife; canvas prints are always worth the hype. They are an ideal solution to brighten up your walls with the splash of colours and joy.
Want to liven up your living room? Do you want to fill your bedroom walls with your love journey? Or are you planning to surprise your beloved partner on your anniversary?
Picsy has got you covered with all of that. Our 12-colour ink superior quality canvas prints will make you go in awe with your bedroom space. It will make you indulge in the reminiscence of your old school romance. Along with its premium quality, Picsy offers you a wide array of canvas shapes and styles that will enhance the charm of your bedroom by aligning with its décor.
Couple Canvas Prints Shapes and Styles
Picsy lets you design your canvas prints online by choosing your selection of appearance. All you have to do is, upload a picture, from your gallery that you want to print on a canvas, customized it the way you want to and you are done. Therefore, here are a few simple options that Picsy proposes to you for your customized couple of canvas prints:
1. Canvas shapes: Choose the type of shape that you'd like to create your wedding canvas print in. Picsy offers you 3 shapes for your canvases that include Landscape, Portrait, and Square. Align your canvas shapes with your wall décor and relive your love every single day!
2. Canvas sizes: We have got you covered with every single size you'd want to create your couple canvas prints in. The more the bigger size, the more it will appear lively; the more the smaller size, the sweeter it will appear. Whatever be the size, memories will anyway be memories that will always be eye-catching.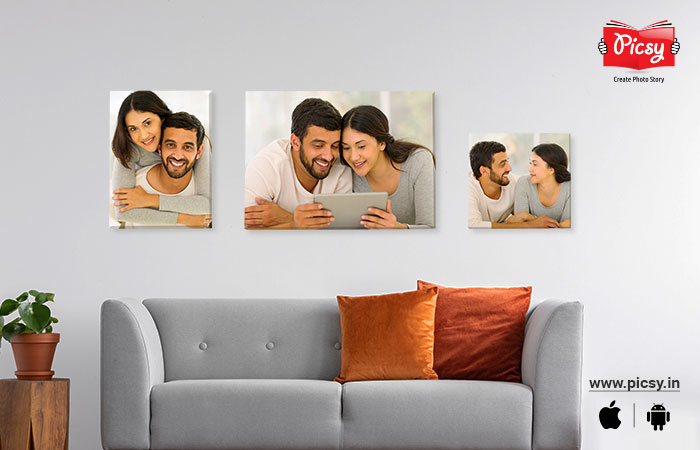 3. Canvas wrap style: Choose your selection of wrap styles and make an impact on the memories you will cherish. Picsy app offers you a wide array of wrap styles that include, Black wrap, White wrap, Mirror wrap, and image wrap by making your canvases much more captivating.
4.Picture editing options: Apart from shapes and size, the app also offers you to crop, resize and add filters to your pictures. Give your canvases a vintage look with the filters and go back to your courtship days.
Read More : How To Choose The Right Photo For Your Canvas Prints
Couple Canvas Prints Ideas
We know how special it is to adorn your bedroom, so we have got a few couple canvas prints ideas for you to get your canvas prints online from Picsy with just a few steps.
1. Couple canvas prints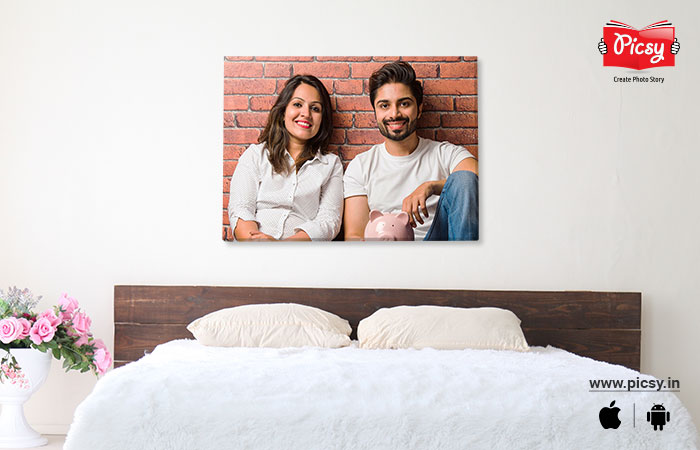 Couple canvas prints add a more versatile approach to your bedroom walls. It is a transport of delight when you create a couple canvas for the bedroom; because it takes you and your partner straight to the times when love bound you two together for life. Therefore, we at Picsy, craft your love and togetherness with great care. Our excellent team makes sure that they get your joyous memories delivered at your doorstep across the globe.
2. Wedding canvas prints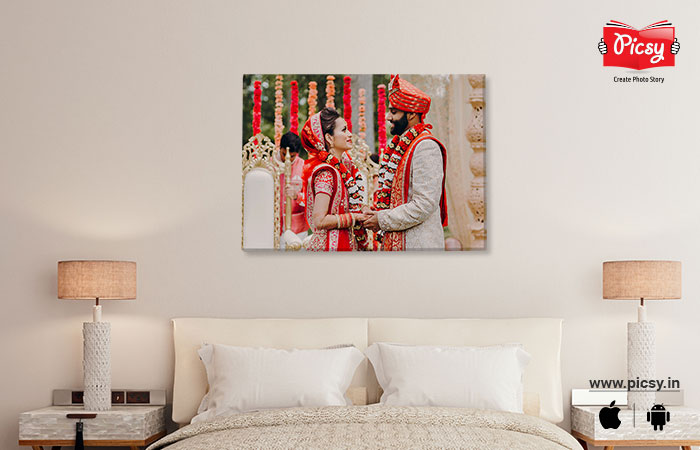 Wedding day is the most special day of a couple's life and one should freeze the memories of your day. The ideal alternative for it is to get it print on a canvas and beautify your bedroom wall with it. Surprise your partner with this unique keepsake from Picsy, by having your own choice of shape, size, filter, and style.
Read More : 8 creative ideas for timeless wedding canvas print
3. Get your love story printed
Every day you get up in the morning, the first thing you will memorize is your love story. Add the sweet details of the journey of your love with your partner to make it extra special. You can also incorporate those special words you want to express to them.
4. Nostalgia of the "Firsts"
What better than this perfect souvenir to gift your adored partner. Create a treasured keepsake with all the memories of your "Firsts" with each other by making a collage of all those pictures. Include all the little details of your first date, and then the first trip together to make it extra special.
Be it couple canvas prints or wedding canvas prints, each of our canvas print is created with great love and care by our skilled production team. Our products have been a huge part of our customer's lives and we are proud to be doing that since years now. Our app offers you a quick and easy way to design your couple canvas prints and we will get you delivered at your doorstep.
So what's the hold up? Download the Picsy app now and get started on your couple canvas prints.
Ready to hold your memories in hand?