Making the Right Choice: Acrylic vs Metal Prints
March 22, 2023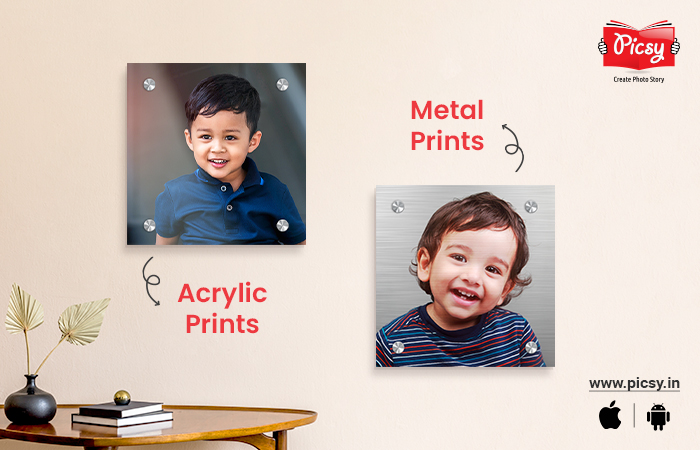 Are you wondering which type of wall art is best for your home or office space? Acrylic print vs metal print are two popular options, but which one is best for you? In this blog post, we'll explore the pros and cons of each option so you can make a sound decision and print photos of the product that suits you the best.
Let's start with acrylic prints.
Get Your Favorite Photos Printed on Picsy's Durable Products
If you are here for custom metal prints and acrylic wall prints, you might want to take a quick look at these durable, trending, and upbeat photo products from Picsy!
Skip to...
Why and When Should You Choose Acrylic Prints?
Are you looking for a modern way to decorate your wall? Look no further than metal or acrylic prints! Not only do they offer a visually stunning option, but their vibrant colors and glossy finish make them a superior choice to metal prints.
Now if you ask, which is better acrylic or metal prints, I will say - when comparing the two, acrylic photos come out on top due to their ability to showcase brighter and more vivid hues. But that is my opinion. Also, the glossy finish. How can I forget about that? It lends a sleek and polished look to any room.
How Are Acrylic Prints Made?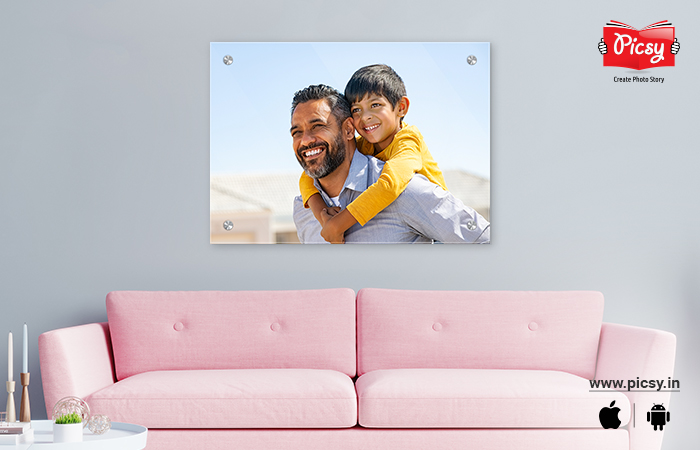 Acrylic prints are made by printing an image onto high-quality photographic paper and then mounting it onto a sheet of clear, high-grade acrylic. The acrylic is then polished to give it a smooth and glossy finish.
The process of making an acrylic print involves several steps.
The first step is to select the image or artwork that you want to print. The image should be high resolution and of good quality.
The image is printed onto high-quality photographic paper using a special inkjet printer.
Once the image is printed, it is mounted onto the acrylic using a special adhesive. The adhesive is applied to the back of the paper and then the paper is carefully aligned with the acrylic.
The print is then polished to give it a smooth and glossy finish. This enhances the colors and gives the print a high-quality look.
The final result is a stunning, high-quality print that is durable, scratch resistant, and easy to clean. If you are thinking of buying it, you should also acknowledge how to maintain acrylic prints.
When buying acrylic wall art, there are a few key things to keep in mind. First and foremost, you want to ensure that the print is mounted securely and with the correct hardware. This will help prevent any damage or accidents that could detract from the buyer's enjoyment of the piece. Additionally, you should consider the longevity of acrylic prints and how best to care for them over time. While these prints are stunning and durable, they can be prone to discoloration if not properly maintained.
Advantages and Disadvantages of Acrylic Photo Prints
If you're looking for an eye-catching addition to your home decor, consider acrylic wall art. Unlike traditional paper prints, acrylic prints offer a level of vibrancy and depth in the color that can't be matched. But it's also essential to be transparent about any potential downsides. Let's look at them both.
| | |
| --- | --- |
| Advantages of Acrylic Prints | Disadvantages of Acrylic Prints |
| High quality | Limited framing options |
| Durable | Sleek |
| Lighter | Requires cleaning |
| Scratch-resistant | Reflections can be distracting |
| Easy to clean | Limited material type |
Want a reliable app to order Acrylic Prints? Download Picsy App and get durable products.
Why and When Should You Choose Metal Prints?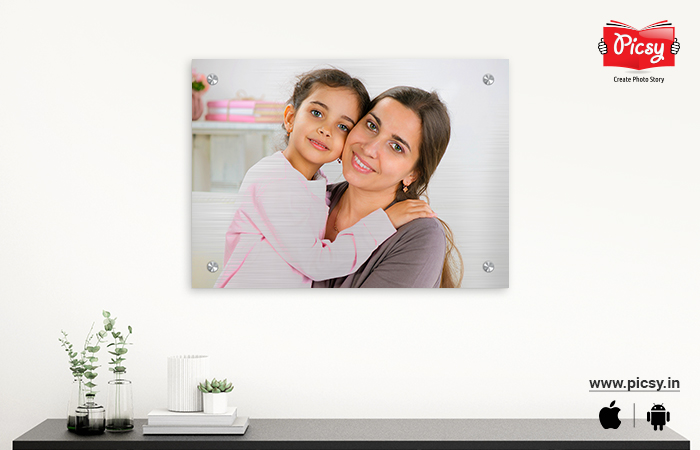 Metal prints are a popular choice for photographers and artists who want to display their work with a modern and unique look. Metal prints and acrylic prints are both popular choices for home décor. While acrylic prints have their unique look and feel, metal prints have a special quality that sets them apart.
The metal surface of these prints gives them a distinct luminous luster that adds a touch of modernity to any room. The high-quality finish of metal prints cannot be replicated by other mediums like acrylic. Metal prints make for great wall décor as they offer a sleek and contemporary look that is both eye-catching and elegant. However, it is important to note that acrylic prints also have appeal and come with their own unique set of benefits. Now, metal prints vs canvas is again a whole different story.
Ultimately, the choice between metal and acrylic prints will depend on personal preferences and the specific needs of the buyer.
How Are Metal Prints Made?
Metal prints are made using a printing process called dye-sublimation. Here's how the process works:
First, a special ink called sublimation ink is used to print the image onto a transfer paper. The image is printed in reverse, as it will be transferred onto the metal surface.
The transfer paper is then placed face down onto the metal sheet, typically made of aluminium. The paper and metal are placed into a heat press and held under high pressure and temperature.
As the heat is applied, the ink on the paper turns into a gas, and the pores of the metal open up to receive the ink. The ink then fuses with the metal, creating a permanent bond.
Once the process is complete, the transfer paper is removed, leaving behind a vibrant and durable print on the metal surface.
The result is a unique and contemporary print that is resistant to fading, scratches, and water.
Advantages and Disadvantages of Metal Prints
While hanging metal prints may seem attractive for their sleek look, they can be easily damaged if not properly handled, making them a less practical choice for long-term display.
Let's read about the advantages and disadvantages of metal prints.
| | |
| --- | --- |
| Advantages of Metal Prints | Disadvantages of Metal Prints |
| Vibrant colors | Expensive |
| Modern and sleek | Heavy |
| Durable | Reflective surface |
| Popular | Limited texture |
| Easy to clean | Rigid material style |
Looking for a variation in wall decors? Canvas Prints can never go wrong! Create one for your space with your memories. Let your room tell your story!
Comparing Acrylic vs Metal Prints
Both mediums have their unique advantages and disadvantages. Ultimately, it's important to consider your needs and budget before making a decision on which is better acrylic or metal prints. Let's look at the other criteria.
Where Can You Display Acrylic and Metal Prints?
Acrylic and metal prints are versatile and can be displayed in various settings to enhance the visual appeal of a space. They are great home interiors, perfect for restaurants or cafes, you can also use them in offices, galleries, and exhibitions.
What Style Are You Looking For?
Chic and zen fit the acrylic photo frame style guide. However, both photo products are modern, sleek, and durable. If you are looking for a minimal style, both acrylic framed art and metal art prints are great as both don't have any borders. And, if you want something on a lighter note for your office wall, acrylic print is more suited and metal prints are heavy and it might affect the wall, depending on the construction.
What Are the Price and Size Options?
Both acrylic prints a metal print has varied sizes and the prices depend on the size as well. So, the range is broad. However, acrylic is cheaper than metal prints. So, if you are looking for something glossy, sleek, and affordable, large acrylic photo prints for home can be your go-to. Because large portraits make a space look uptight.
Final Considerations for Metal vs Acrylic Prints
When you will buy acrylic prints, there are a few things to consider before you get started. Firstly, you'll want to take a look at the different types of inks and coatings available to ensure that you're using the best quality products possible. It's also important to understand the differences between original and fake acrylic, as this will impact the overall look and feel of your prints.
One common question that arises when buying acrylic prints is whether they're better than metal prints. While both options have their own unique advantages, acrylic prints are often preferred for their vibrant colors and glossy, modern appearance. Plus, they're typically more lightweight and easier to hang than metal picture prints.
Ultimately, the decision of whether to buy acrylic or metal photo prints will depend on you. Whether you want something glossy and sleek, or heavy and durable. However, by taking the time to research and understand the different options available, you can ensure that you're buying high-quality products that will make your space look adorable.

Since ordering from printing photos from a phone is easier than going to a place, you can download Picsy and have your photos printed.
It's A Wrap!
If you are looking to buy acrylic photos, understanding the importance of print quality is crucial. UV-cured prints offer greater durability and longevity, which is vital when selling acrylic photos. These prints are able to withstand the test of time and maintain their quality, ultimately will give you a product that they will cherish for years to come. Be sure to evaluate all the pros and cons before making your final decision so you can choose the best option for your space!
And if you are still searching, you may want to look at other photo products too. Visit the Picsy website or download the Picsy App and check out all their photo products. Canvas Prints, Vinyl Prints, Photo Albums – they have a wide range. Why don't you spare a few mins, before you decide?
With Picsy's Absolutely Charming Products, Preserve Memories
We are made of memories, whether they be from a family reunion or your child's first trip down a slide. With the help of Picsy's photo products, take good care of them.
FAQs
1. What better metal or acrylic prints?
Both are great. Metal prints are however expensive and heavier so, some might prefer acrylic prints. But both are durable enough to keep the photos safe.
2. What is the difference between metal and acrylic?
Metal prints are made of metal and acrylic prints are made of a glass-like material called acrylic.
3. What is the advantage of acrylic printing?
Acrylic prints are cheaper than metal prints, sleek, easy to maintain, and also easy to mount as metal prints are comparatively heavier.
Ready to hold your memories in hand?