Canvas Prints vs Metal Prints: Which Suits Your Wall?
May 21, 2021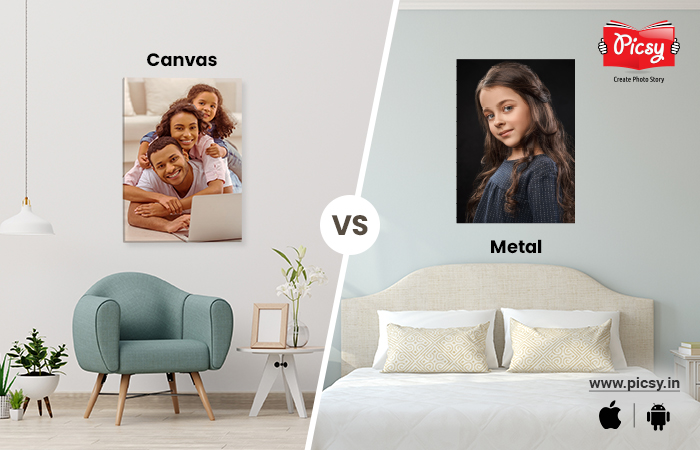 If you want to print pictures, there are bountiful options, which is brilliant! But, you have to agree, it gets overwhelming to choose which is best from the options. Moreover, when we get a catalog full of options, we can barely figure out the features of each available option. Yes, we all face that!
In today's roster, we will discuss two of the most popular photo print products for you - Metal and Canvas. Two at a time, we do not want to go overboard and forget ALL the features.
Before that, both personalized canvas and metal prints are excellent, made using premium quality ink that gives crisp and sharp output. This article will help you decide which is the best option for you - metal photo prints or photo canvas?
What is Photo Canvas Print?
When we think of a canvas, we think of a painting. But, a canvas print should not be confused with the artwork. Custom canvas prints are easy to get printed that gives exquisite décor to your interior. The images are printed from an inkjet printer onto the fabric of the canvas. It comes almost in every imaginable size to make it easier for you to frame them just the way you want. We absolutely understand if you are still confused; hence we have the ultimate canvas print guide just for you.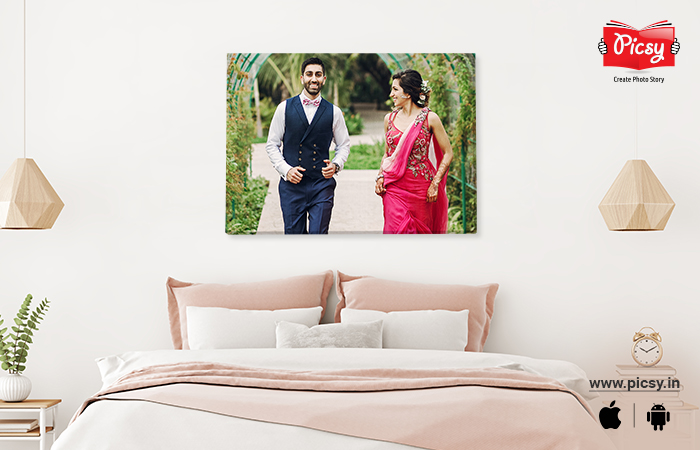 How Are Canvas Prints Made?
Before choosing the best material for you, it is important to know how to make canvas prints. If your image is not dust-free, you can barely hear the end of it. You might be wondering, "dust? I will just dust it off, if so." No, this dust means acne on the face, garbage on the lawn, or simply an unwanted blemish. That is because the color of the canvas prints is dynamic, and the flaw might get enhanced. For those who are new at the printing game, one of the essential parts of the canvas print is choosing the perfect application for printing photos from a phone .
Once the image gets printed, it is readied for stretching. Then comes the creation of the wooden frame. Every great company uses a wooden frame to intact the canvas for more than decades down the line. In places like Tamil Nadu, West Bengal, or Goa, where the weather is humid, don't opt for glue but staples or brads to stick the image. Canvas prints look aesthetic in any setting. If you consider yourself a person of art, you can blindly go for it.
What Is a Metal Print?
Here metal defines a plain layer of aluminum. It is modern and sophisticated, a perfect art piece for aesthetic décor. Unlike canvas prints, personalized metal print uses a different technique to print your treasured memories. Instead of adopting the lithographic idea of printing, it involves a unique process called dye sublimation. In this process, the ink is infused into the metal surface and sealed with heat for durability. It gives a contemporary sense to a modern or rustic surrounding, controlling the mood of the photo you pair with.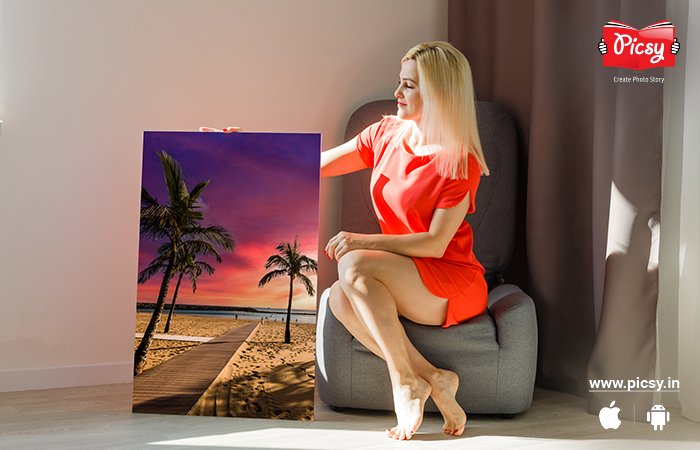 How Are Metal Prints Made?
Metal photo prints is an excellent way to display all your adored images in HD quality. They turn out to be head-turning and precisely what you are looking for. So, now, if you are ready to show off your incredible shots, let's understand how metal prints are made.
In the first step of metal art prints, the company needs to print the image on paper. But, remember, the printer should be a giclee printer with requisite sublimation inks. The result won't look much different from a regular color print, but it is required to use the specified printer for the further process.
The image is then placed on a blank metal sheet to infuse colors on the aluminum layer. When the heat is pressed upon, the ink transforms into a gas. As the ink metamorphoses, the gas gets absorbed in the polymer coating through the pores. After the painting cools down, the pores close, and the metal stabilizes, making the aluminum sheet a waterproof image! How wonderful is that?
Canvas Prints or Metal Prints: Which One Should You Use?
That is completely on you. If you are more of an elegant and minimalistic type of person, you might like the metal print better. But if your soul craves art, go for the canvas print. It can give you the original, artistic, and rustic look to your interior.
Now that you have all the specifications with you, we hope it has become easier for you to choose between canvas prints vs metal prints. You might wonder, both sound good, artsy, and can enhance the outlook of your walls. Don't worry; we are not leaving until you are deciding. Hence we have listed down a few Pros can Cons of both the type of prints.
Pros and Cons of Canvas Print
Pros:
It is pocket-friendly - The budget of the canvas print is way lower than the metal print. So, if you want to decorate your walls with a minimal amount, choose reasonable application to elevate your interior style.
It is artistic - Like we mentioned before, this is basically for art lovers. Canvas print gives a hint of oil painting in the image.
Easy to make. All you have to do is upload your images on software or application, and that's it. Rest will be taken care of. The perfect canvas prints will be delivered in no time.
Cons:
Not waterproof - Canvas prints do not have many cons, so to say, but just like how you can't wash what you draw, the same concept applies here. A canvas print is not waterproof.
Durability - Canvas prints are durable, just not like metal prints. Hence, it is partially a con but not entirely.
Read More : Canvas print ideas to dive into your pool of memories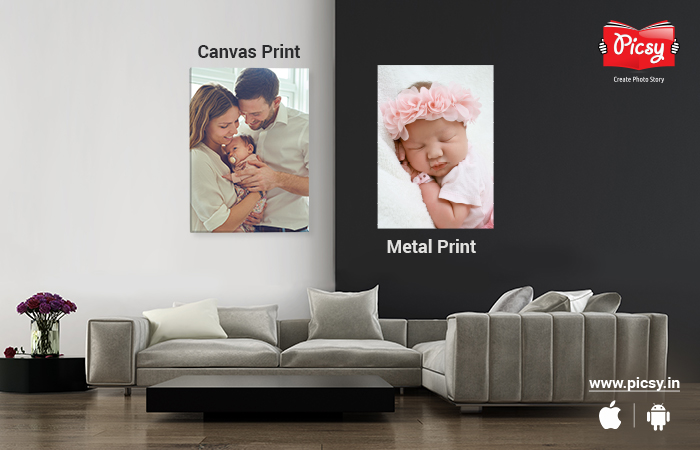 Pros and Cons of Metal Print
Pros
Waterproof - Wash it, grease it, brush it, no worries because it is entirely waterproof. If you are planning for a personalized metal print, you never really have to worry about cleaning it.
Durable - Get a metal print, and you don't have to think about making another one. Well, not unless you want more or a different image. It is THAT durable.
Cons
Offbeat - Metal prints might look a little out of place in a homely setting. The sophisticated look of the images goes really well in an office or hotel.
Expensive - Metal prints are highly expensive. It doesn't tell you not to go for it. Remember, it is durable.
Not for all photographs - If your image has dynamic and vibrant color, metal prints work just fine. But it would be best if you made sure before giving your picture for a metal print that it showcases the best light in the image. If not, the aluminum sheet won't be able to infuse all the colors.
Conclusion
Now that you know, metal prints are everlasting but expensive, would you go for it? Or you would rather look for a high-quality and reliable company like Picsy to let the process be smooth and easy to elevate the look of your house? Picsy can offer immeasurable sizes of Canvas photo prints . All you have to do is - install the Picsy app, upload the image and enjoy the service. Are you still here? C'mon, go to your digital store and download the app now!
Ready to hold your memories in hand?