Your Ultimate Guide on How to Make Canvas Prints
May 07, 2021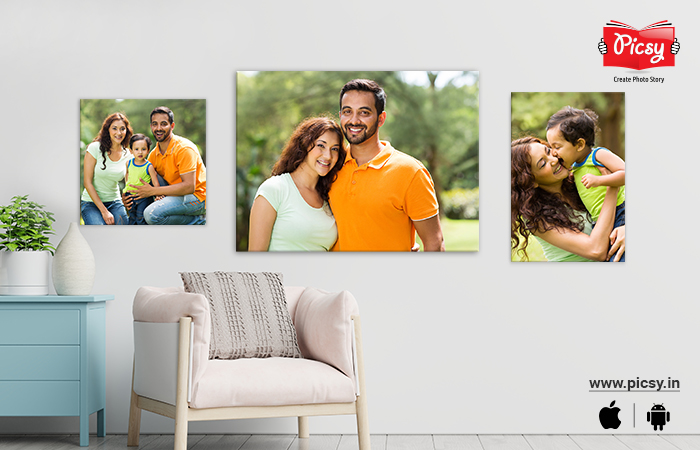 Graduation or a wedding, turning memories into a canvas print is a beaming way to give them life. It is a uniquely artistic way to upgrade your room. When the photos are applied to the canvas, the product is a work of art. But, remember, a canvas print is not a canvas painting! Canvas prints are easy to get printed, which give 'that x-factor' to intensify your home. In Picsy, you will find a plethora of canvas ideas to decorate your space with four different sizes and wrap styles. The combinations make it easier for you to decorate your house just the way you want. But, you must be wondering, what is canvas prints? To guide you on this path, we have answered a few exclusive questions just for you!
What is Canvas Print?
Canvas prints are images printed onto the canvas from an inkjet printer. After the photos are printed on canvas, they get framed. If consumers prefer non-framed canvas prints, they may opt for frameless canvas prints as well or may use the gallery wrapping technique. You might be wondering what the gallery wrapping technique is. It is just a process where the canvas is wrapped around the edges to secure the frame.
People often get confused between acrylic print and canvas print . But, acrylic paint is very different. It prints an image on photographic paper and places it between acrylic sheets. Did you know acrylic sheets are also called plexiglass?
You may wonder, then why should you choose a canvas print over acrylic. When compared, canvas prints deliver an artistic feeling. They are very similar to oil paintings.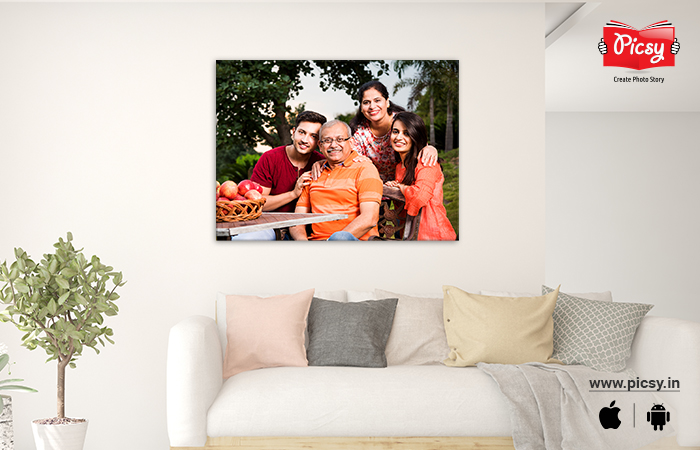 Types of Canvas Print Layouts
That depends on your wall, which means you make your own canvas print however you want to decorate your home !
However, it is better to check out a few conditions.
Single Photo Canvas : If the size of the wall is not too big, and multiple canvases can make the decor look crowded, it is advisable to go for a single canvas.
Multi-panel Photo Canvas : If the size of the wall has consumed a larger space and you have plenty of room for fitting more than 2 or 3 canvases, you can create a multi-panel layout. If you need guidance on the same, visit the Picsy website to learn how to create a multi-panel design that is tailored to your wall!
Canvas Prints Shapes and Sizes
If you are looking for the perfect canvas prints size, we are here at your rescue. Don't worry there are ample amount of variations in canvas prints online .
1. Square
No, we are not explaining what a square looks like; don't worry. You can choose the square shape of the canvas print if you are thinking of creating grids on your wall.
2. Rectangle
If your walls have an unequal amount of space, you can use rectangular canvas prints to fill the gaps.
3. Hexagon
Just for a quick maths lesson recall, a hexagon is a six-sided polygon. Though it sounds uncertain, but works wonderfully as a clustered album.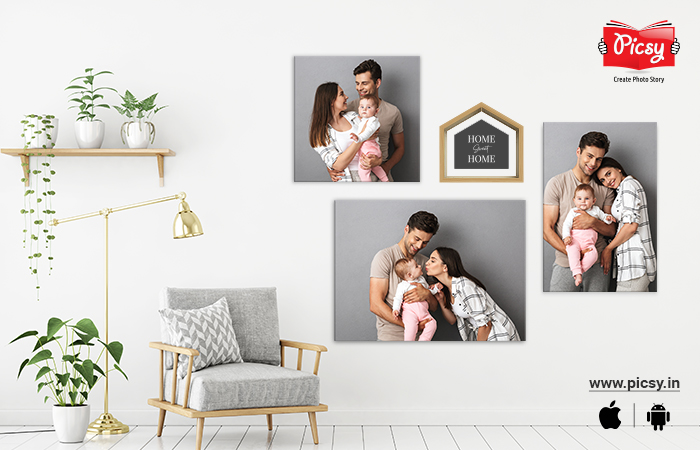 4. Mini-sized
You cannot disagree on the fact, things which are mini are cute. This type of canvas print is perfect for filling up those tiny spaces with warm memories. They come in four sizes: 4x4, 4x6, 6x6, and 5x7.
5. Medium-sized
It is the most common canvas print size. With a medium-sized canvas print, it is easy to create multi-panel albums in large rooms. This way, you do not have to compromise and choose only one of your many favorite photos. They are available in six sizes: 8x10, 10x10, 10x20, 11x14, 12x12, and 14x16.
6. Oversized
This size is perfect if you have abundant wall space. If you want to portray your 'that' favorite picture just above your bed, you are recommended to go for a 'little extra' with oversized canvas prints. It comes in six different sizes: 20x20, 20x24, 24x24, 24x36, 30x40, and 36x36.
Selecting Photo for Your Canvas Prints
These days, technology does it all. But, it is still advised to be selective. Here are a few guidelines:
1. Quality Photos
Photo editing software can restore or enhance a picture. However, even after applying the best of the best efforts, images with poor quality can be challenging to be used on a canvas print. Hence, it is crucial to choose right photo for your canvas prints . Images which have a higher resolution or pixel count is a great example. A clear shot with the subject being the main focus of the image works best for canvas prints. If you want to take it to the next level, you can also ask your photographer to adjust the lighting to regulate the aesthetic of the image. That doesn't mean it rightly has to be a picture clicked on a DSLR.
2. Printing software
Search for the perfect software or application where it is easy to create a custom canvas prints. For example, with Picsy, you can upload a range of photos and create a collage just the way you want. A smart photo printing software will lead you throughout the process wisely by helping you to create an eye-worthy album.
Creative Canvas Prints Ideas and Inspiration
Indeed, it totally depends on you what you want to put on the canvasses. However, here are some pro tips for you:
1. Family photo
If it is a special gift for your mother or about a particular holiday moment, a family photo helps to preserve those beautiful moments.
2. Showcase your pet
Displaying pets on canvas prints is a great way to express your love for animals. Showcase the mighty creatures on your wall and create a galaxy of memories.
3. Landscape prints
Imagine a winter morning, the fresh and warm small of tea, and a mesmerizing view of the mountains from your bedside window. We all want to capture that image in our memory, so why not capture it in a canvas print?
4. Are you a quote person?
"Miles to go before I sleep" evokes motivation. Quotes framed on the wall are one the most common canvas prints ideas . So, pick up those lines from your 'mind palace' and decorate the walls of your home.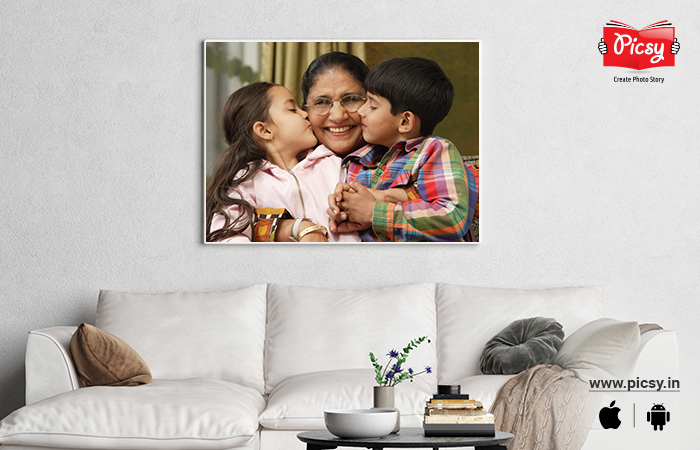 Creating Your Own Canvas Print from Photo
Last but not the least, let's quickly revise how to make canvas prints. This is one of the greatest benefits of canvas prints , they are easy to customise.
Upload a picture : Before uploading the photo, as mentioned earlier, check the resolution of the image. Also, check the file format of the image that the software or the application is asking for.
Customize the image : Before you click on the 'print' button, check the size of the canvas that you want for your wall. Drag and adjust the print area thoroughly. You definitely won't like a patch of white space on your eagerly awaited canvas print.
Quality of the print : A canvas print is something you want to showcase, so choose the quality of the canvas wisely. It includes the frame thickness, the frame design, and the edge design.
Now that you have gone through every corner of the information gallery regarding a canvas print, you must be really eager to customize one. Try Picsy to tell all your tales with exquisite personalised canvas prints. Download the Picsy app now and get started on your photo story.
Ready to hold your memories in hand?