15+ Creative DIY Ganpati Decoration Ideas for Ganesh Chaturthi 2023
September 11, 2023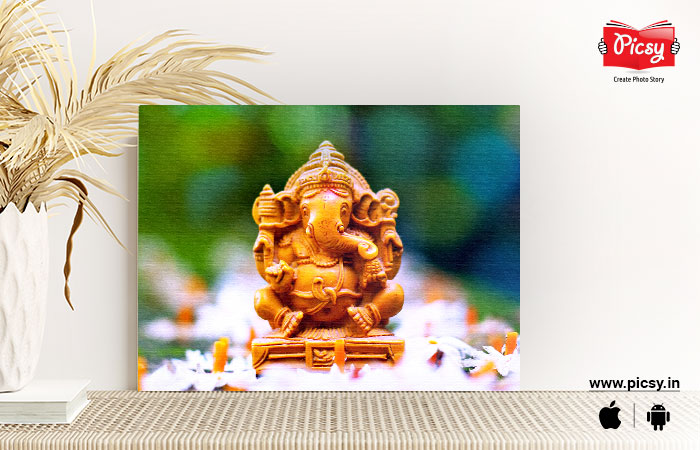 As we are moving towards the Ganesh Chaturthi 2023, let's make sure everyone in the house can take part in decorating the house. After all, festivals are meant to celebrate together. Ganpati decoration 2023 should not just be welcoming but your children should take part too.
Ganpati celebration is a celebration of euphoria and great bliss all over India. And Ganapati decoration ideas 2023 will have a huge role to play. Even foreigners visit our country to feel the magnificent enthusiasm of the people during this festival. Hence the Ganesh decoration ideas have become a vital part to showcase creativity every year. Whether with lights, flowers or colors innovative ganpati decoration ideas for home is mandatory. So I have added the best ganpati decoration ideas for you. Before that, let's take a few moments to understand the importance of this festival.
Decorate Your Home This Ganpati Chaturthi with Picsy
Want to make your space look gorgeous and welcoming for Ganpati Bappa? Try decorating your space with Picsy's photo products. Ranging from floating frame to canvas prints, we have a lot to offer.
Skip to...
What is the Significance of Ganesh Chaturthi?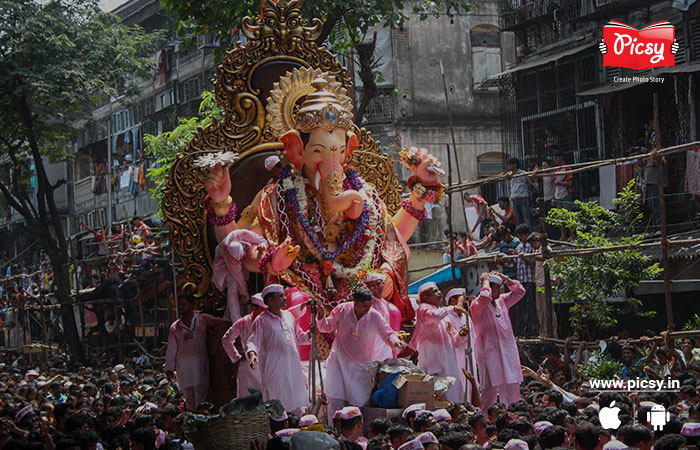 To celebrate the Ganesh Chaturthi celebration, otherwise called Vinayaka Chaturthi, devotees bring home idols of Lord Ganesh to worship the divine. That's a part of the festival, it also includes eating delicious food, mingling with loved ones, friends, and family and eventually when the festival is over we submerge the idol. Furthermore, households offer prayers petitions and send out desserts, mostly modaks (of such a great variety that we could have an article devoted to it) because it is Lord Ganesh's top pick. Lord Ganesh is viewed as an image of wisdom, composing, travel, business, and favorable luck, and we Indians leave no stone unturned while celebrating Ganesh Chaturthi. The importance of Ganesh Chaturthi is that it signifies a fresh start and a new beginning.
How to Decorate Your Home for Ganesh Chaturthi?
Whether you are looking for Ganapati decoration ideas with flowers, or eco-friendly ganapati decoration ideas at home, I have the perfect list for you. So, be ready this 19th of September, because this year, Ganapati celebration is going be full on with mind-blowing decoration and delicious food. Celebrate happy moments with your family this Ganesh Chaturthi because I have added below top ganpati decoration ideas at home 2023 to make your place more welcoming and alive.
Top DIY Ganpati Decoration Ideas 2023
The following are a few materials that can be utilized in the Ganpati decoration theme 2023 to make your festival feel and look amazing.
1. Sparkle Lights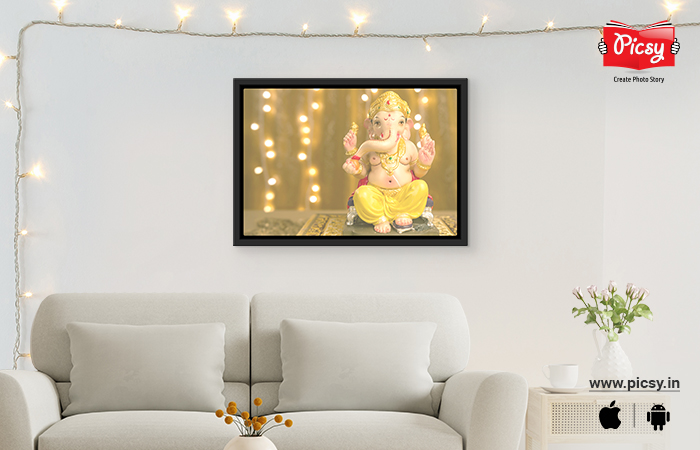 Sparkling lights of various shadings can be utilized to decorate the seat and arrangement of Lord Ganpati. These lights are the main components of the Ganpati celebration and are discovered worldwide in various styles.
2. Colorful Flowers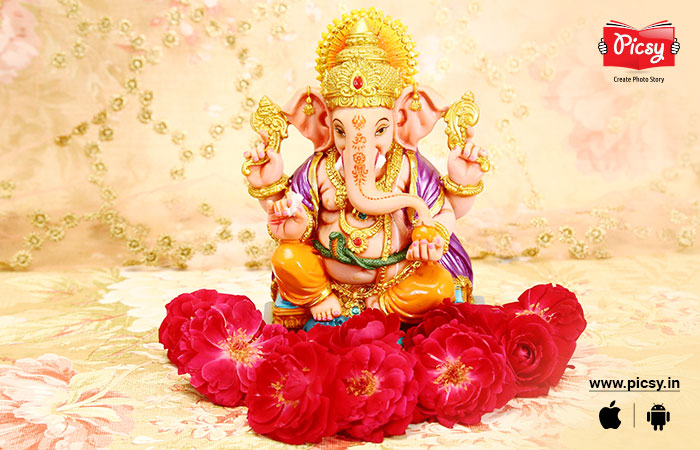 Bright flowers, both genuine and synthetic, are typically utilized in homemade Ganpati decoration ideas. Flowers are easily available and are a highly alluring thing one of the home decor ideas.These can be utilized to decorate the Ganpati decoration at home, adding an extra layer of beauty to your mandap.

3. Dupattas and Drapes
Dupattas or drapes can likewise be utilized as a decorating material for the Ganpati arrangement. These also form a great way of adding volume and color to your Ganpati Mandap, making it all the more attractive.
4. Decoration of Paper Flowers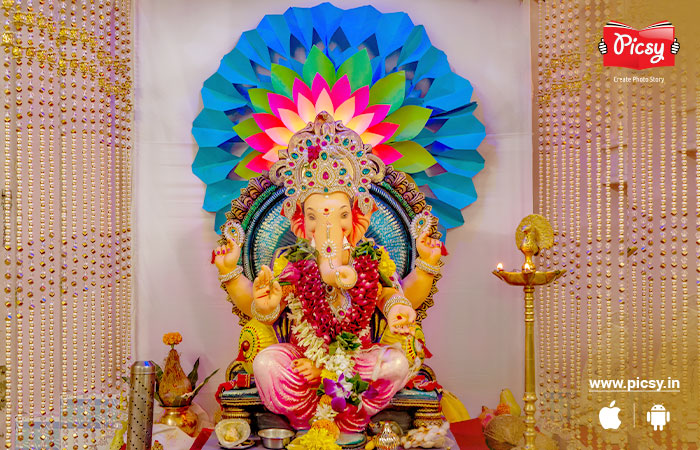 To decorate the Ganpati idol arrangement, you can likewise utilize paper flowers rather than genuine flowers. These are similar to counterfeit flowers made of plastic and look extremely appealing around the Ganpati idol.
5. Creative and Classy Hand Fans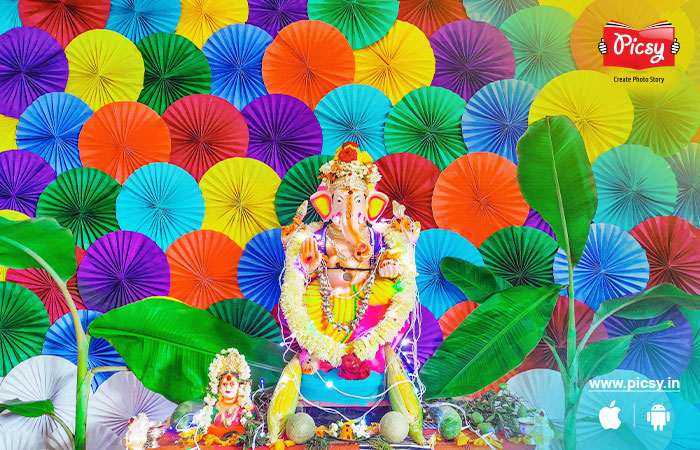 Innovative and tasteful hand fans can be utilized to craft a creative Ganpati decoration without leaving the genuine warmth of the Ganpati Mandap in your homestead.
6. Artificial As Well As Real Puja Accessories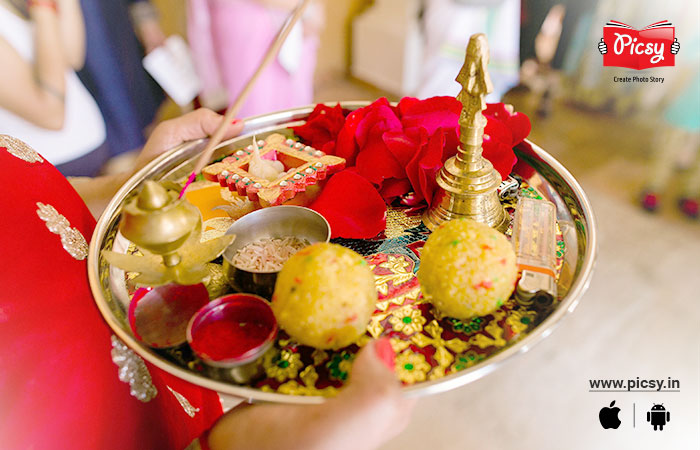 Ganpati celebration incorporates Ganpati puja two times per day. This puja is finished with exceptional embellishments or articles normally accessible in a lot on the lookout. Be that as it may, synthetic puja embellishments can likewise be utilized alongside the genuine ones because of the pandemic time frame.
7. Canvas Photo Prints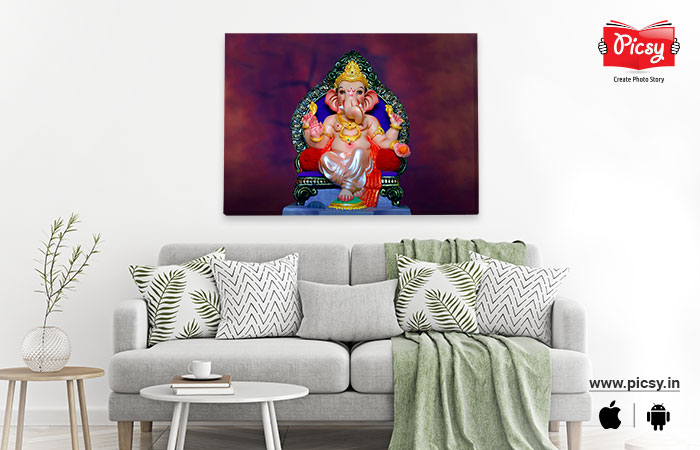 Yet another alluring way of decorating your homestead during Ganesh Chaturthi is with custom canvas photo prints. Turn family photos into canvas prints this year at Ganesh puja. It is the perfect home décor item for any occasion. You can now get your favorite images printed on high-quality canvases and add to the festive decor of your home.
Read More : Your Ultimate Guide on How to Make Canvas Prints
8. Ganpati Decoration at Home with Threads
Presently, you can style your Ganpati with strings and reels. For Ganpati, this is truly outstanding, straightforward yet imaginative thought as you will get a chance to see various shades of strings and reels to make it look occurring and eye-getting.
9. Ganpati Decoration with Papers and Mirrors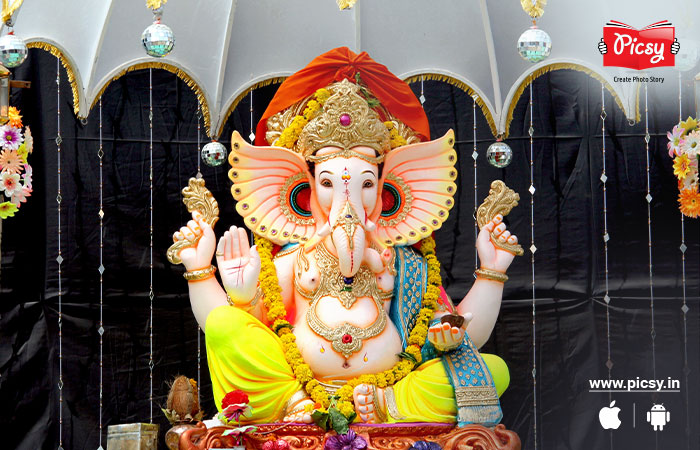 Along these lines, take out those vivid outline papers from your locked shelves, make some authentic flower examples and shapes, and afterward adorn it with the mirrors to add excellence to your inventiveness this Ganesh Chaturthi.
10. Ganpati Decoration at Home in Lotus Theme
What might be said about the great lotus Theme in Ganpati decoration at home? The lotus subject for Ganpati is astonishing and rich in the Ganesh Chaturthi celebration. You can make various plans in lotus flowers with the hued papers to design the divider and Ganesh murti.
Describing festival memories runs out of words. Keep them safe with Picsy's Photo Books.
11. Ganpati Decoration Ideas: Thermocol and Makhar
You can plan a portion of the delightful flowers on the thermocol alongside the fluorescent sheet tone to make it look alluring. To command the notice of the guests on this Ganpati celebration, you can go with the eye-getting and inventive flowers made with thermocol and shaded sheets.
12. Ganpati Decoration with Paper Pinwheels and Lights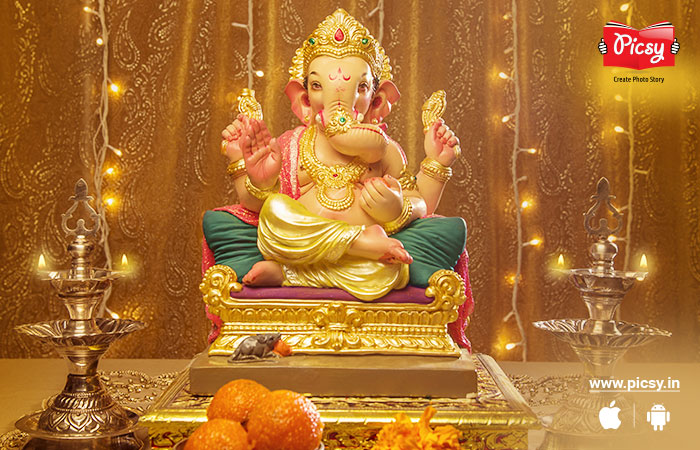 The bright and appealing pinwheels produced using papers are unquestionably a very good thought on Ganpati style thoughts. Play with vivid fluorescent papers and sheets to make individuals alarm over the pinwheels, enlivening thought. Adding on to this magnificence, you can likewise enliven it with the excellent lights. The blended mix of pinwheels and lights on Ganpati decoration makes the best pair.
13. Ganpati Decoration with Banana Leaves and Flowers
It's an ideal opportunity to enrich and adorn your home with various flowers alongside banana leaves. This imaginative blending of flowers and banana leaves is ideal for inviting the Lord Ganesha to your home. On the off chance that you haven't attempted this mix yet, this time explore different avenues regarding the banana leaves and flowers to stylistic theme your home and Ganpati Darbar.
Eco-friendly Ganpati Decoration Ideas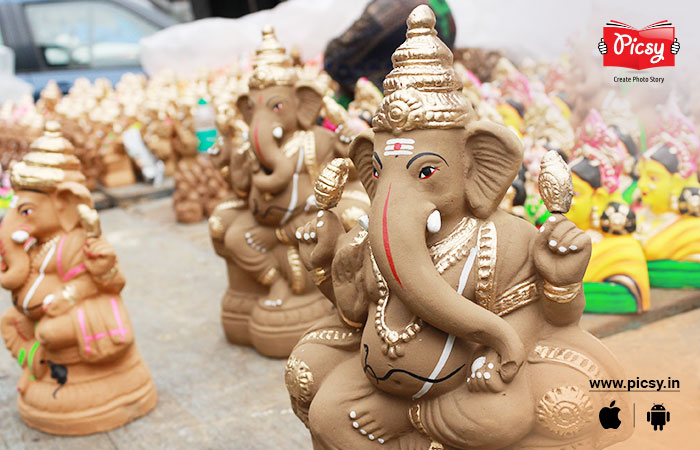 These are effectively accessible materials even in the lockdown time frame, and the paces of the equivalent are additionally exceptionally restricted. Like this, everybody can utilize these materials as per their inventiveness to make their Ganpati decorations one of a kind.
Eco-friendly is currently the new ordinary and the need of our occasions. Ganesh decoration at home presently can be a conscious choice that you make for the climate. So here are a couple of eco-friendly and simple Ganpati decoration ideas for home.
1. Coconut Decorations
Coconuts are an integral part of Ganpati decoration. 100% eco-friendly, easily available, and cost-effective, coconuts can be used to decorate your home Mandap in a completely eco-friendly way. From the above mentioned, this gives a perspective on the roof, while it gives a sensation of a delightful floor covering from the base.
2. Ganpati Decorations Using Plants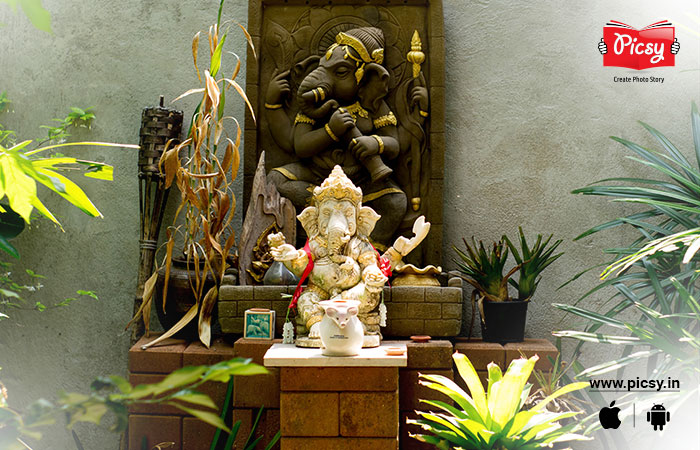 Plant decorations don't require excessive exertion from individuals' sides and look extremely attractive. You can use your favorite houseplants to decorate the surroundings of your Ganpati Mandap.
3. Rangoli Ganpati Decorations
Every individual who knows how to make imaginative Ganpati rangoli plans can benefit from these decorations. If you are good at making rangoli designs, you can utilize this ability at the passageway of the mandap.
4. Ganpati Decorations Using Mount and Cardboard
Assuming you bring a little Ganpati idol to your home, you can utilize this technique. Carboards and mount boards can be cut into intricate shapes not just for decorating your mandap but as the mandap structure itself. Both materials are 100% bio-degradable.
Ganapati Decoration Ideas for Office
Ganesh Chaturthi is not only celebrated at homes and localities but offices as well. After all offices need to prosper too, isn't it? So here are a few ganpati decoration ideas for office that you can do in no time.
1. Decorate the Place with Acrylics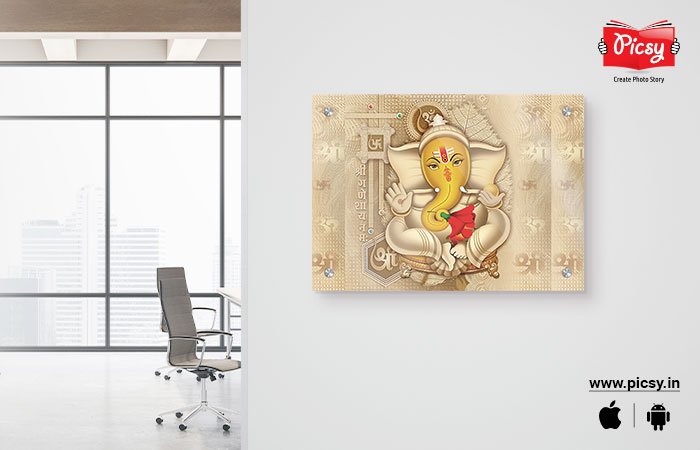 Acrylic Prints are always a safe wall décor option when it comes to offices. Fill the places with the images of Ganpati Bappa and together with your office colleagues worship wholeheartedly.
2. Ganpati Banner 2023
If anything, Ganpati Bappa likes colors and flowers other than modaks. To celebrate the festival and decorate the office, go for Ganpati banner 2023. If it is sounding crazy, you must understand you have to keep things minimal at your office and banners are a great idea.
Ganpati Decoration Ideas for Mandal
For mandal decoration at ganesh chaturthi you need a lot of people working on it. Though not a rocket-science job, for requires hard work. Here are some ganpati home decoration ideas that you can apply on mandals too.
1. Thermocol and Lights
To decorate a huge safe thermocol is a great option. If you do not know what a thermocol is, it is a white colored foam board often used as reflectors for photography.
2. Umbrellas and Ribbons
Another idea is to decorate the place with little umbrella and colorful ribbons. Search on the internet for a few images that you may like and replicate the same design in your mandal.
Ganesh Chaturthi Decoration Items
For the decoration of the merriments of Ganesh Chaturthi, you don't require numerous things, get creative family photo ideas and hang them everywhere. Also you can use the below listed simple things to make your ganapati home decoration ideas 2023 successful.
String Lights
Custom Canvas Prints
Thermocol
Fevicol
Glitter
Cardboard
Colorful paper
Balloons
Flowers
Clay
Saree
Wrapping Up
Homemade Ganpati decorations are an amazing way of infusing happiness and enthusiasm and a time to look to the future and a new beginning.
The celebration of Ganpati carries fun, togetherness, and wisdom. As the loving and beautiful God Ganesha places his feet in your home, welcome him with good nature, a clean house, and heart-warming decorations.
Speaking of decorations, Picsy offers a wide variety of photo products, from online photo prints to canvas prints online, to add to the festive spirit of your home decor. Now level up your Ganesh Chaturthi decorations with Picsy. Download the Picsy app now.
Keep Your Ganesh Chaturthi Memories Safe with Picsy
Don't let these beautiful Ganesh Chaturthi memories go in vain. Safeguard them with Picsy's photo products. They are durable, mobile, alluring and the perfect gift for any occasion.
FAQs Related to Ganesh Chaturthi 2023
1) What are some unique Ganpati decoration ideas?
To decorate your home this Ganesh Chaturthi you can decorate your walls with several decorating items such as:
Wall paintings
Canvas floater frame
Wall planters
Wall stickers
Photo frames
2) How will you keep the Ganpati Decoration background?
Ganpati decoration also includes the background. It can include adding led lights, hand paintings or Ganpati decoration ideas at with dupatta looks wonderful too. If nothing awes you, try Picsy's photo products in the background.
3) What are the best Ganpati wishes in Marathi?
Here are some of the best Ganpati wishes in Marathi:
आपल्यावर नेहमी बाप्पाचा वरदहस्त राहो, कोणतेही संकट आपल्यावर न येवो. आपली भरभराट होवो हीच प्रार्थना – गणेश चतुर्थी शुभेच्छा!
आजपासून सुरु होणाऱ्या गणेशोत्सवाच्या तुम्हाला व तुमच्या कुटुंबीयांना हार्दिक शुभेच्छा! बुद्धीची देवता असलेला गणपतीबाप्पा आपणा सर्वांना सुख, समृद्धी व यशप्राप्तीसाठी आशीर्वाद देवो, अशी त्याच्या चरणी प्रार्थना… गणपती बाप्पा मोरया!!
बाप्पाच्या आगमनाने आपल्या जीवनात भरभरून सुख समृद्धी ऐश्वर्या येवो हीच गणरायाकडे प्रार्थना! गणेश चतुर्थीच्या तुम्हा सर्वांना खूप खूप शुभेच्छा!
4) What are the Ganpati Captions for Instagram?
Here are some Ganpati captions that you share on Instagram:
"Wishing everyone a Vinayaka Chaturthi showered with choicest blessings of Bappa."
"May Ganpati is always there to guide us through good and bad times. Happy Ganesh Chaturthi."
"May Gajjanan bless us with wisdom and knowledge to make it a beautiful life for us."
"Let us offer our prayers and modaks to Lord Ganesha to celebrate Ganesh Chaturthi."
Ready to hold your memories in hand?