Unique Ideas for Christmas Home Decorations and Gifts
November 22, 2022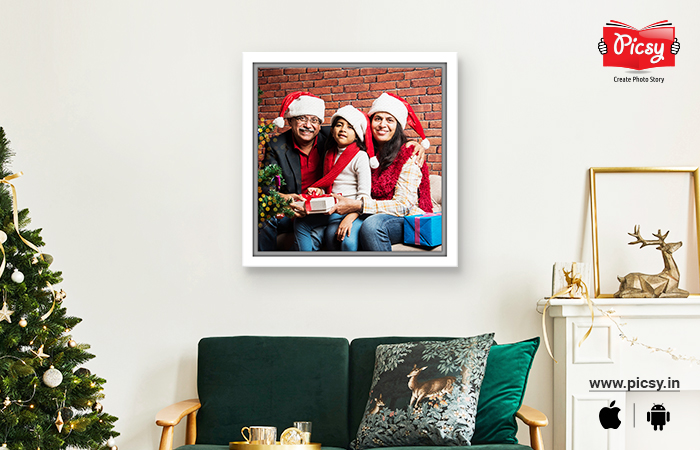 To all the people for whom Christmas holds great importance, it is approaching in just a few days. Christmas falls in that beautiful season when everything is filled with lights and decoration. And for the time being, when you might be wondering what we should gift to our dear ones to make their festival memorable, we should not forget to make this Christmas eve special.
Amidst the cleaning of the house, as well as the arranging the gifts, do not let the home decoration for Christmas be kicked to the side. We understand it gets quite confusing to deal with Christmas room décor. To ease out your task, we have curated a trendy list. It will help you to transform your space into a wonderland this Christmas eve. So, let us get started with the decoration ideas.
Christmas Home Decoration Ideas
There are various Christmas decoration ideas. We have shortlisted the best ones for you. So, let us pace up the decoration game.
1. Deck Up the Door
The door is the first thing that someone notices. That is the reason why your entrance should appear the prettiest. So, whenever someone enters your place, they know what special efforts you have made for your Christmas house decorations.
A basic way to decorate the doorway is to hang red ribbons, and potted plants to reflect a warm and inviting look. These little touches and tweaks to the boring entrance of your house will make them appear absolutely amazing. After all, a perfect ambience makes the celebration of the festival even merrier. So, be prepared to welcome love and happiness into your home.
2. Vinyl Poster Frames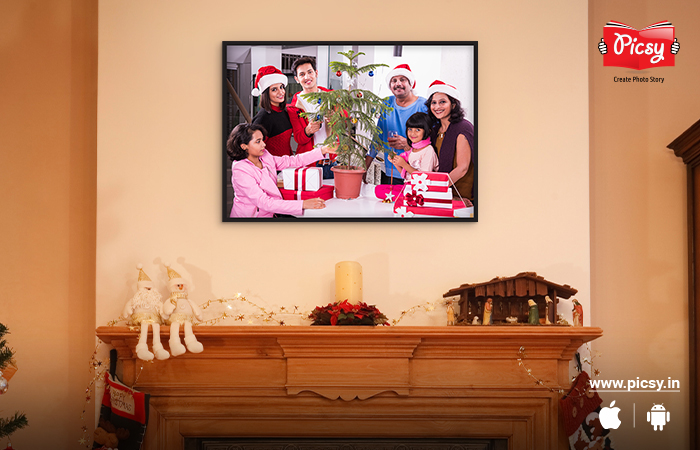 If you are planning to give an interesting yet classy decoration to your home, then you should definitely try your hand on the eye-catching vinyl poster frames. You can order from Picsy, if you may. They offer premium quality vinyl prints.
You can use a family picture, transform it into a vinyl poster frame and display it in your living room. It will surely amp up the beauty of your space. So, it is a win-win situation wherein you can not only decorate your space but also relive your beautiful memories.
3. Decorate the Christmas Tree
We cannot forget about the Christmas tree while decorating the house for Christmas. This year, execute all your Christmas tree ideas. Accumulate those cute little gifts and mini decorative and hang on the Christmas tree. Along with this, you can even beautify it with cute-little ribbons and little pine cones. They will accentuate the beauty of the decorated Christmas trees.
4. Create a Starry Atmosphere
One of the best ways to decorate your home is by using the stars. Give your entire space a starry touch this Christmas. It will simply add the touch of minimal yet extra efforts made by you. And these Christmas décor items anyway hypes up the excitement of the festival.
You can get your hand on the twinkling lights to make your space appear attractive. And anyway, it is believed stars are associated with heaven. So, let your Christmas home décor make you experience a heavenly feel.
5. Acrylic Prints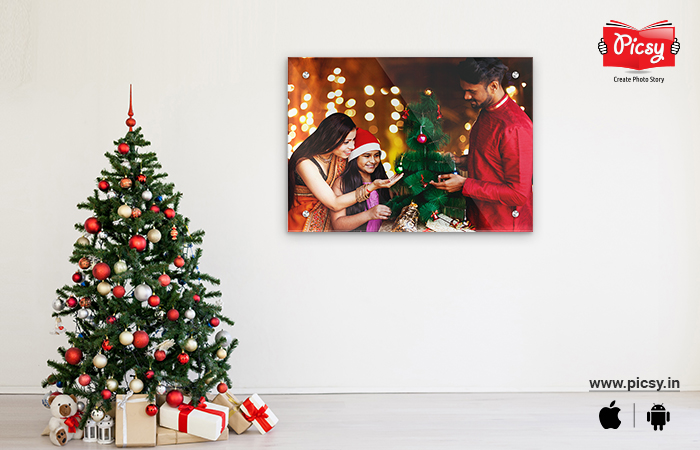 In the current scenario, a lot of people are falling head over heels for acrylic prints. The reason for that is they are extremely durable, and they look absolutely flawless when hung on the wall. And the cherry on the cake is that they give a 3D effect to our beautiful memories. So, if you want to relish the happy times by decorating your space, then getting your hands on acrylic prints is surely a great idea. These prints serve as one of the most efficient living room wall decor ideas.
Why do you have to worry about Acrylic Prints when Picsy is at your rescue?
6. Canvas Prints
One of the best ways to relive your best memories is by transforming them into beautiful canvas prints. These prints hold the capability to make your home look beautiful. You can add pictures of the previous year's Christmas celebration to let that feel be carried further and opt for the best wall decoration for Christmas.
They will not only help you to relive your best spent moments but also add beauty to your space.
Download the Picsy App to get the top-quality canvas prints!
7. Prep Up the Space with Fairy Lighting
When Christmas is just around the corner, it is a perfect time to prep up your space with fairy lighting. It is one of the best Christmas home décor ideas to try. They look absolutely amazing, and they serve as a happiness doze on your gloomy days. And who doesn't like to experience the royal feeling? So, to get that flair of royal feeling, decorate your space using fairy lighting.
8. Holiday Wreath
While decorating the space for Christmas eve, we cannot miss the wreath. So, get your hand on beautiful holiday wreaths and use them to beautify your space. There is a plethora of options available for the wreath. Select the best one that complements your home and make a statement.
Christmas Gifts for the Loved Ones
Christmas brings a bundle of happiness along with it. So, it is the perfect time to let our loved ones know what they mean to us. And along with the Merry Christmas wishes and letter samples, send them wonderful gifts to make the festival merrier for them.
Here are the best Christmas gifts 2022 ideas that you can incorporate.
Merry Christmas Photo Books
What is better than accumulating all the beautiful memories that you can relish whenever you want to? So, assemble all your best moments spent with your family and pack them up in a Merry Christmas Photo Book, whether you gift them to your mom, dad, or siblings. They all are surely going to love it. They can flip through the pages and will constantly be reminded of the love you possess for them.
Cozy Sweater
Christmas brings chilly winters along with it. So, how about gifting cozy and cute sweaters to your loved ones? And as the color theme of Christmas is green, red, and white, select something from this color combination in itself. You can even get pictures of Christmas decoration to be printed on these cute sweaters.
Customized Photo Calendar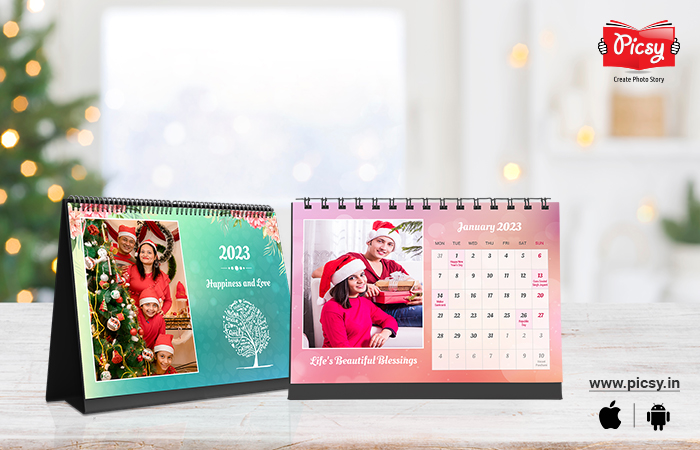 If you are annoyed at your loved ones for not keeping track of the dates, then gifting a customized photo calendar will surely help them. Select the best twelve cutest pictures of your loved ones and gift them a photo calendar. It will also serve as a lovely piece for Christmas table decorations.
Closing Words on Christmas Home Decoration
Woohoo! We have now so many ideas to decorate the home for Christmas, be it Christmas wall décor ideas or gifts for our loved ones. So, why delay when we have a lot of preparations lined up? Select the decoration that suits you the best for this Christmas eve.
Download the Picsy App to get all the photo-related decorations and gifts for this Christmas. And don't worry. Picsy delivers it to your doorstep so you can indulge in other preparations. Happy Snapping!
Ready to hold your memories in hand?