21 Creative Diwali Decoration Ideas for Home
October 12, 2023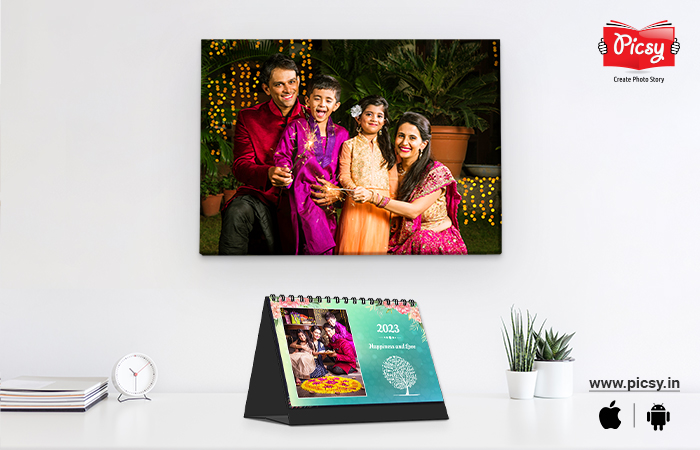 A week or so before diwali arrives, we Indians go into hyper-drive cleaning and sprucing up our homes. Diwali is an occasion full of lights, fireworks, mithais, and tons of fun. But another essential aspect is Diwali home decoration. Presented below are 21 Diwali decoration ideas to brighten up your home.
Gift Something Thoughtful This Diwali from Picsy
Looking for the best Diwali gift ideas? Picsy is full of thoughtful photo products that you can share with your loved ones. Whether wall décor items, photo books or calendars, you will find it all here.
Diwali Decoration Ideas for Home
There are several Diwali home decoration ideas but the one that's my favorite would be filling the place with aromatic dried petals. You can also call that potpourri. The aroma stays for long, and you can make a design with it too. Make a design of diya with dried leaves like a welcome mat before the main door. If you are not into aromas, I have some other ideas too. Keep reading.
1. Diwali Decoration with Rangoli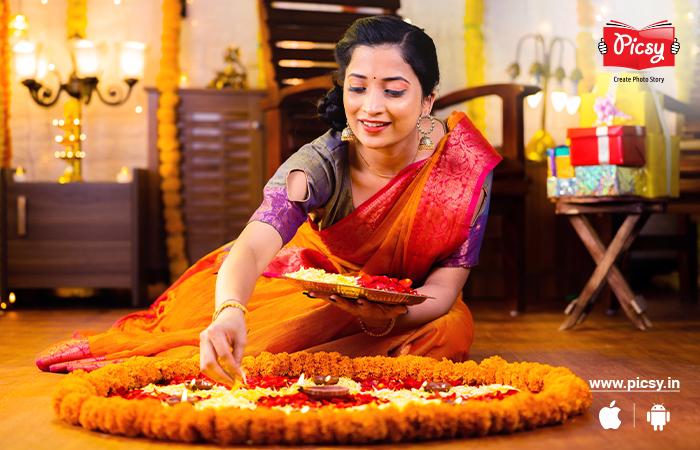 Colorful Rangolis are a tradition for most Indian households. This year, make Diwali 2023 extra special with creative Rangoli designs. How about batman's emblem? Or the logo of your business. You could even embellish your rangoli design even further with diyas, candles, and floral arrangements.
2. Bangle Lampshades
Bangles glued to each other and placed over a diya make for an absolutely mesmerizing decor idea. Glass bangles are your best bet as they can handle heat well and also allow for a level of translucency adding to the overall effect.
3. Diwali Table Centerpiece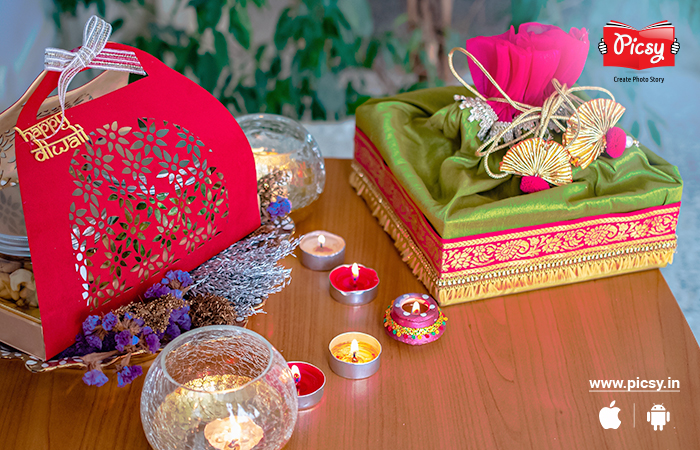 We all have tables at our home and we wonder 'How do we decorate the table when we have occasions like Diwali?' Let me tell you there many Diwali table centerpiece ideas that make your space look luxurious. For example, keep an herb basket, of lemons and thymes. Or you can color old bottles in golden and keep them on the table.
Read More : 15 Ultimate Living Room Wall Decor Ideas
Diwali Decoration Ideas for Living Room
The best way to decorate living room is to fill the place with diwali personalized photo products. Whether add photo prints on the wall or add big wall decors with happiest memories, photo products are the best way to light up your living room this Diwali. Here are some ideas that include photo products to decorate your living room.
4. Wall Décor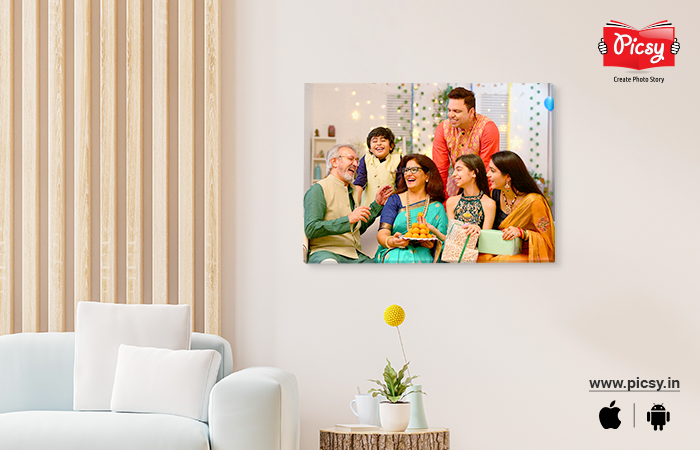 Painting your home's walls is the usual wall decor method employed by us. However, you can shake things up a little this Diwali with custom canvas prints, photo prints, and numerous other printable keepsakes that capture your Diwali memories.
5. Photos on a Corner Table
Do you have corner tables in your house? Fill them with framed photos. Either you can add past festive memories or just happy moments that are dear to you. It not only decorates the place but fills the house with a happy aura.
6. Custom Throw Pillows
If you are not very fond of images, you can use custom quotes throw pillow at your home to decorate this Diwali. Or you know what you can do? You can customize with images like diyas and lights to give your space a festive vibe.

Diwali Decoration Ideas Inside Home
To make your home look extra ordinary this Diwali decorate the inside of your house. And the best possible way to do so is to decorate the place with lights. Diwali light decoration inside the home is the best option to feel festive this time. Sure, there are other ways too. Here are some ideas, check if you like them.
7. Diwali Flower Decoration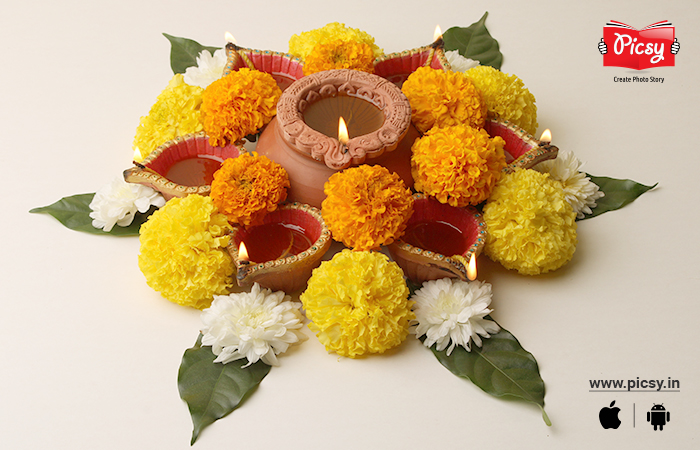 One of the fanciest Diwali flower decoration ideas is using marigolds. They are vibrant, look like fireworks and do not die quite quickly. You can even use the petals and decorate the floor like rangoli.
8. Paper Cup Lampshades
Everything miniature is immediately alluring. This Diwali, create miniature lampshades with paper cups placed over your fairy lights. The paper cups add a warm and welcoming glow to the string lights, adding to the Diwali ambiance. With little effort this diwali wall décor brings a drastic change in the ambience.
9. Diwali Decoration Ideas: Wall Hanging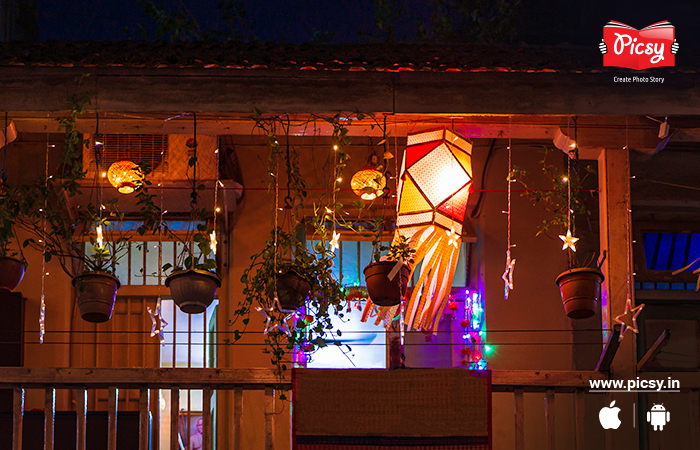 Wall hangings are the best decoration items when it comes to Diwali decoration. Whether it's wall hanging water planters, lanterns, or picture products. Get your hands on some quality wall hanging products and ignite your Diwali.
This Diwali decorate your space with lights and memories with Picsy's wall decors.
Diwali Decoration Ideas for Home Outdoor
Have you seen the Halloween decorations people do in the west? They decorate the outdoor with various scary items. This Diwali let's look for Diwali light decoration outside home. Fill the place with yellow lights decorated in flower pattern or diya pattern. Here are some other home outdoor decoration ideas you can refer to.
10. Diwali Candle Decoration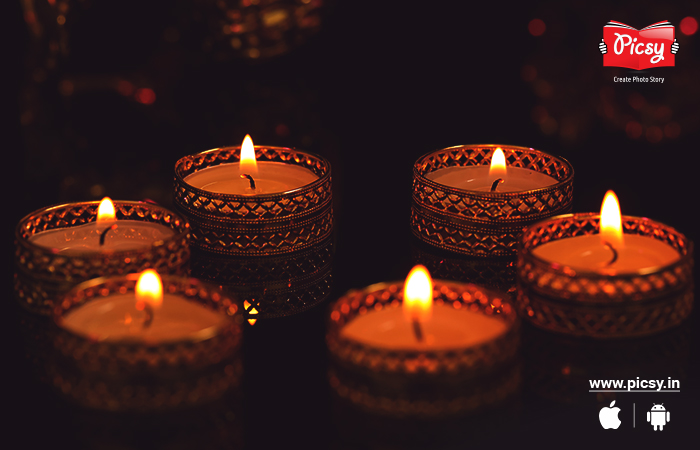 This Diwali, instead of using simple candles, you can get creative with them. You could decorate your candles with petals, lace, sequins, tiny mirrors, or any other decorative embellishment you can find around the house near the garden or patio. It is a wonderful home outdoor decoration idea to light up your diwali.
11. Courtyard Decor
We enjoy decorating our courtyard and garden when it's Halloween, so why not do the same for Diwali. For a truly appealing way to make your Diwali memorable, wrap lights around trees and light up your whole garden.
Home Corner Decoration Ideas for Diwali
We often leave the corners of our house vacant when it comes to decoration. But Diwali is not an ordinary day, and we can't leave the corners. Fill up the corners with beautiful flowers vase (of course, with flowers) or foot lamps. It is one of the latest home décor trends. Corner decoration for Diwali may sound unnecessary at first by when you do it, you will know the difference.
12. Terracotta Décor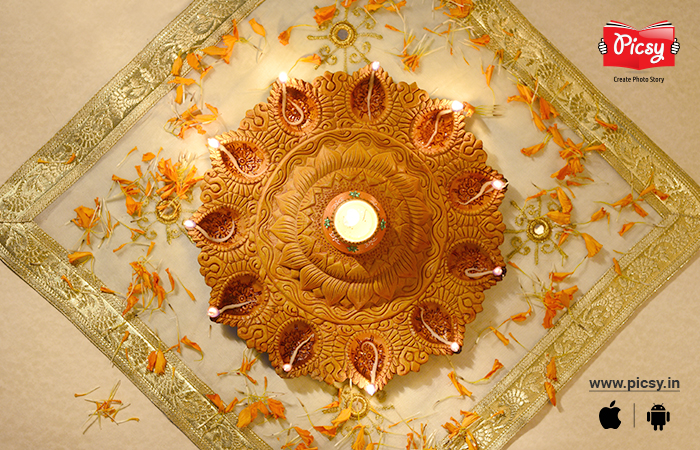 Why stop using terracotta only for your diyas. You could use terracotta decor items like surahis, thalis, and Kalashs at the corner of your house to add a note of the indigenous to your Diwali decor.
13. Quilling Paper Designs
You can create beautiful decorative items with quilling paper as well for the corner of your house. For Diwali, you could use this craft idea to decorate puja thalis or even add designs to your rangolis.
14. Photo Calendars in Corner Tables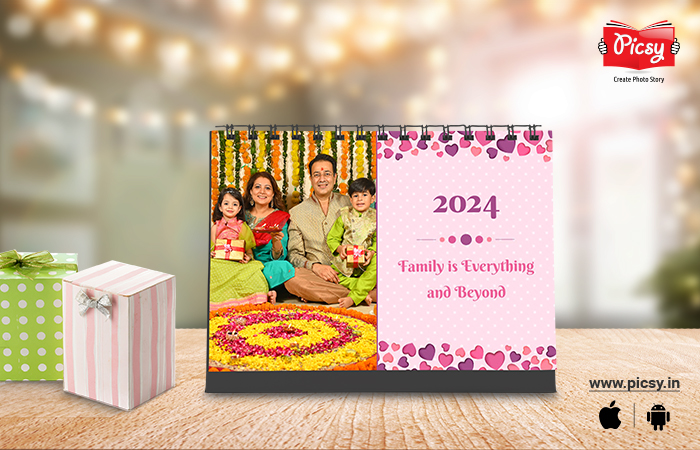 One thing that makes Diwali extra special is the memories you are left with once the festival is over. We are sure that you would want to cherish those memories and revisit them in times of leisure. You could create a custom photo calendar with all your Diwali memories greeting you all year round.

Eco friendly Diwali Decoration Ideas
Looking for an environmentally friendly Diwali? Why not make flowers with folded papers and decorate the place? It would be even better if you could use plants for decoration. Surround yourself with a few types of plants and paint this Diwali green.
15. Origami Box Lights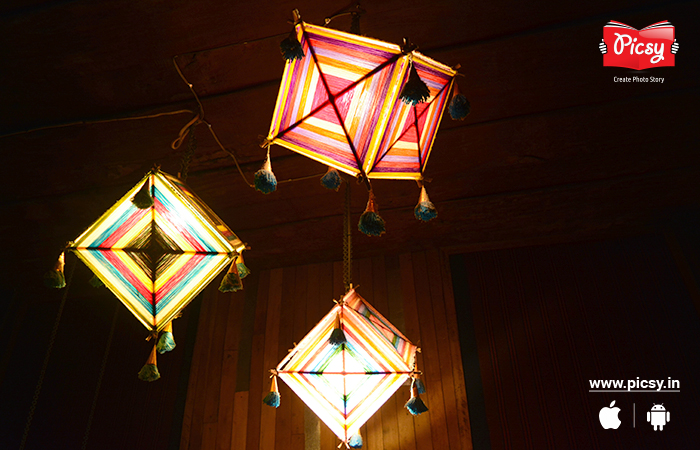 We have all made origami blow-up balls in school and chucked them at our friends. Now is the time to put our origami skills to good use and create ball lights with colorful paper and strung up with fairy lights.
Read More : Best Diwali Wishes and Messages
16. Paper Diya Decoration for Diwali
Paper diyas are another captivating Diwali decor idea that you are sure to love. Draw diwali diyas on sequentially folded paper and then cut out the shape for a string of paper diyas that you can put up in your home. It is one of the most beautiful diya decoration ideas.
17. Handcrafted Lamp Shades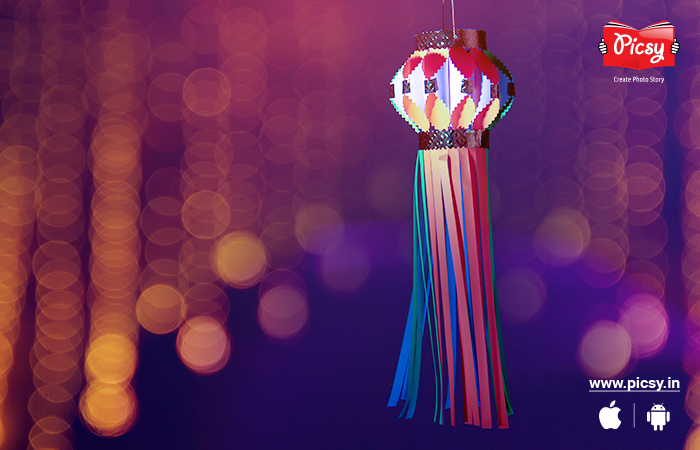 This Diwali, create stunning and dreamy lampshades for your lights. Roll a piece of paper and perforate it in a design with either a pin or a compass and watch as the light comes through the pattern you made.
Fill your walls with canvas prints to create a story!
Diwali Wall Décor Ideas to Ignite the Place
Sometimes decorating with rangoli and diyas take up a lot of space. If your space is relatively small and you want something grand to decorate the place, wall decors are good options. Here are a few examples that you can use to allure your space this diwali.
18. Acrylic Prints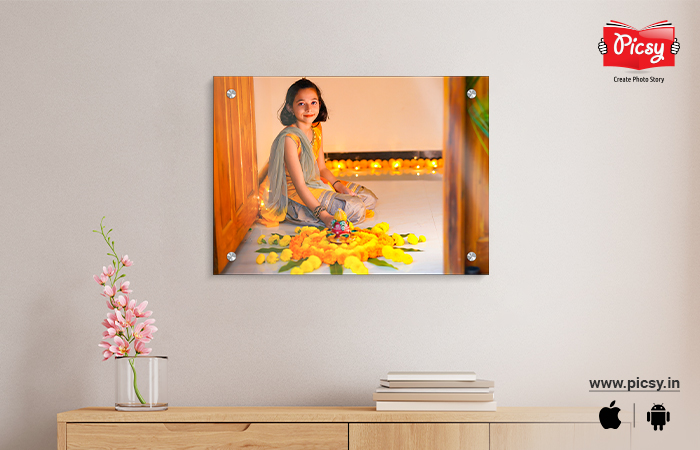 Given your space is limited, you might want something sleek for your walls. The perfect idea of a stylish and sleek décor item would be acrylic prints. It is available in various sizes. Even if you want to decorate your office then acrylic prints are a great choice for the corporate yet festive look.
19. Wall Decals
Ever heard of wall decals? They are like stickers but for your walls. Isn't that a great idea? So, you have the full freedom to get diya or crackers wall decals and stick on your walls. That way you can have your walls decorated all year more to come.
20. Floating Prints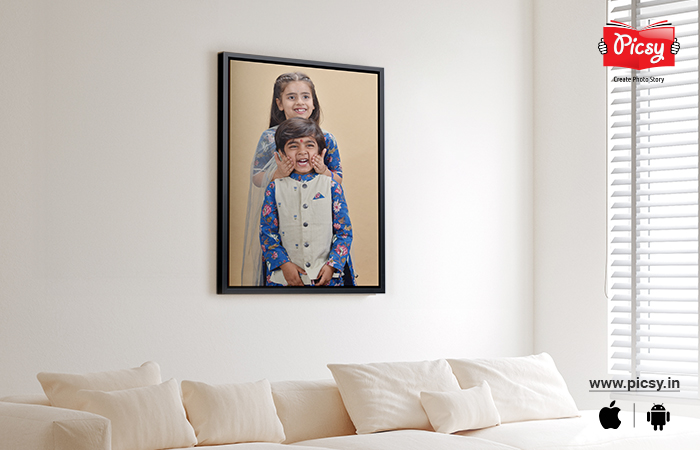 Do you have a broad wall vacant and looking decorating ideas for that? Floater prints are great (and my favorite). It gives a 3D feel to the memory. The gap between the frame and the image looks like the image is floating in thin air.
21. Vinyl Prints
If you need options, there is another stylish wall décor available in the market. Vinyl Prints! Don't think of it as an ordinary poster print. It is framed well with assured durability. You can either add family images, travel images or quotes; anything you like.
In Conclusion
After Chandrayaan 3's safe landing, celebrate Diwali differently. Fill the space with Pragyan rover's image as canvas prints and enjoy Diwali with a proud patriotic heart. Picsy wishes you and your family a happy, fantastic, and memorable Diwali. Download the Picsy App now and start curating your Diwali moments now.
Make Your Incomplete Diwali Complete with Picsy
This Diwali with Picsy's photo products showcase your old happy Diwali memories. Either you can get a festive fun photo book or wall decors, Picsy offers it all.
FAQs Related to Diwali Decorations
1) How can we decorate our home on Diwali?
Diwali is a festival of lights. The best way to decorate your home on this pretty occasion is by filling up the space with lights, memories, and sweets. And what is a better way to decorate your space with memories than canvas prints? Get the best quality canvas prints from Picsy and great a wall of memories.
2) How can I decorate my living room for Diwali?
There are several ways to decorate your living room for Diwali. Here are some of the simple Diwali decorations that you can do:
Fill the place with ribbon marigolds.
Decorate with photo wall decors.
Keep it eco-friendly and decorate it with plants.
3) What decorations do you need for Diwali?
The decorating depends on the type of theme you are taking. Whether DIY homemade decorations, eco-friendly plant decorations or fill the place with lights. Here are some decorations you can refer to:
Flowers and lights.
Picture products and ribbons.
Chandeliers and glitters.
4) What is the easiest way to decorate your home during Diwali?
The easiest way to decorate your home during Diwali is to fill the place with happy moments and aura. And the best way to do that is using wall decors. Whether canvas print, acrylic print, vinyl print, or floating canvas print.
5) How to decorate a balcony for Diwali?
While decorating a balcony, always remember it might rain and your decorating items can get ruined. So keep it simple. The best way to decorate the place is with water planters, lights, or flower chains.
6) What are some traditional Diwali decoration ideas for home?
Diwali is a festival of lights. So the traditional Diwali decoration items are as follows:
Lights
Flowers
Earthen lights
7) What are some easy Diwali decoration ideas?
Diwali decoration is all about having fun, before the ultimate fun (firing crackers). Here are some easy Diwali decorations that you do:
Decorate the place with light strings.
Fill the place with photo products reflecting old Diwali memories.
Decorate all the railing with flower strings and put floral centerpieces on tables.
8) Do you use flowers to decorate your home for Diwali?
Indians add flowers to decorate their home no matter the festival. But when it comes to Diwali, we mostly use flowers and lights. Flowers are eco-friendly, and look beautiful and aromatic so, they win the decorating game every time.
Ready to hold your memories in hand?