Turn Your Family Photos Into Timeless Family Canvas Print
July 10, 2020
Create a beautiful home and office decor piece with family canvas prints from Picsy
We are sure that while browsing through the gallery of your smartphone, you have come across many family pictures that are odes the many magical moments you have spent with your family; true masterpieces in short. Don't these pictures deserve as great a place in the physical world as they have in your heart? Introducing family Canvas Prints from Picsy, fabulous home decor pieces that highlight the emotional as well as the artistic qualities of your favorite family photographs.
Design your custom Canvas Prints
You are the best judge when it comes to bringing forth and enhancing the intrinsic beauty of your family photographs. At Picsy, we provide you a free reign to create your family canvas print masterpiece at your fingertips. Along with unlimited customizations, we offer four wrap styles for your canvas Prints-
Image Wrap- A bleed of your image around the frame of your canvas Print.
Mirror Wrap- A mirrored image around the frame for a colorful effect.
Black wrap- A classic black frame wrap
White Wrap- A classic white frame wrap
All you have to do is download the Picsy app, choose the size and shape, move onto wrap styles and filters for a custom feel, and then receive your Canvas Prints right at your doorstep.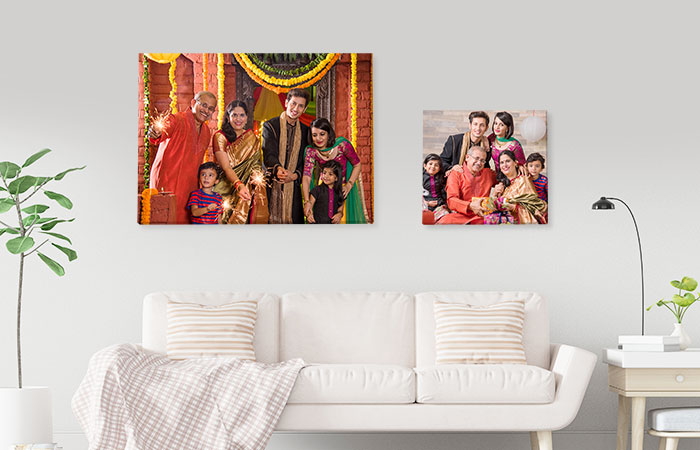 Read More : How To Choose The Right Photo For Your Canvas Prints
Canvas prints types, sizes, and quality
Family Canvas prints from picsy are water-proof, tear-resistant, termite, and fade-proof. We put in a massive effort to creating a piece that is perfect for all treatment, weather, and handling conditions. Family photo Canvas Prints from Picsy are in a league of their own, given their natural white, full-color printing, and their vintage grain texture that offers a life-like quality to colors and adds to the sharpness of details.
You can choose from several size options based on what you wish to convey or the aesthetics of the space you want to put up your canvas prints. The sizes Picsy offers for family photo Canvas Prints are-
16 inches X 12 Inches
30 inches X 20 Inches
24 inches X 18 Inches
20 inches X 20 Inches
20 inches X 15 Inches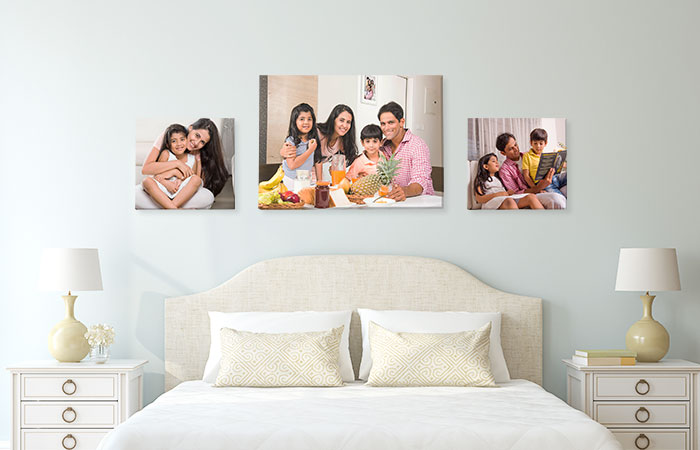 With all these available levels of customization, you can rest assured that your personalized canvas prints will be just as magnificent as you envisioned them. You can create family photo Canvas Prints for all occasions to use as wall art. A photo from your latest family trip, perhaps a picture of the twilight clouds you took last month, or a night-time cityscape, or a family picnic, all of these will make for some truly amazing artwork. Nothing beats the smiles and laughter of your loved ones on your family photo wall. You can create an even more dazzling effect by putting together a couple of Canvas Prints together to make a collage on your wall, a perfect way to showcase the fun times, travels, and the special people in your life.
Read More : 7 Ways to make your Family Reunion Memorable
Memories makes your heart happy. Canvas Prints help you hold the memories close to your hearts and in front of your eyes
Make a family Canvas print for any occasion
So are your ready to step up your home decor game with Canvas Prints online from Picsy? Our Canvas Prints are vibrant and fade –resistant, helping your special moments in standing the test of time. Canvas prints online from Picsy are assuredly the piece of art your wall is missing. You could use it to preserve your memories at home or in your office space. Conversely, Canvas Prints from picsy also make ideal gifts for your loved ones, be it anniversaries, birthdays, weddings, office gifts, or any other occasion. You could upload a single photo or create a beautiful collage of pictures in just a few clicks. Our Canvas prints are of top-notch quality and are sure to jazz up your space.
So what are you waiting for? Download the Picsy app now and level up your home decor while cherishing all the magical moments you have spent with your family with family canvas prints online from Picsy.
Ready to hold your memories in hand?