Canvas Prints vs. Acrylic Prints: Which is Better
April 27, 2021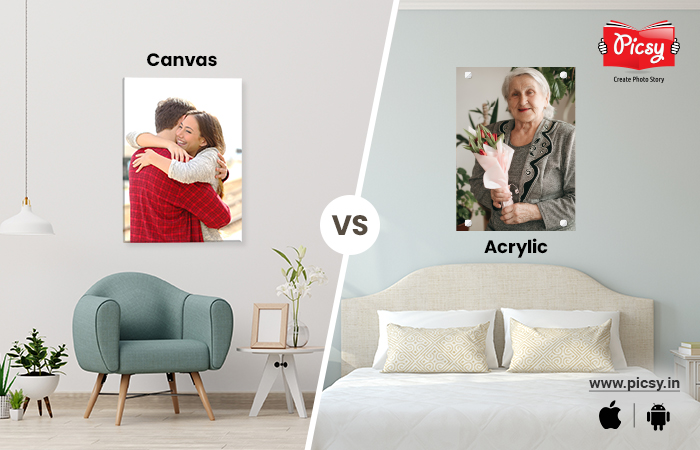 Whether you wish to commemorate your old school photos or wish to revisit fun time you have enjoyed with your family, canvas prints and acrylic prints are an exciting way to not only cherish your photos but also double up as exquisite décor pieces. A canvas print or an acrylic print is sure to light up any room/space it is placed in. But now comes the question, Canvas prints vs. acrylic prints, which is better?
If you are having a hard time choosing between these two options, then this article is for you. Join us as we chart a blow-by-blow account of which is better canvas or acrylic. So without further ado, let's get to it.
What is a Canvas Print?
Canvas prints are basically images printed on fade and scratch resistant canvas and then stretched onto a frame. The most common technique is gallery wrapping where the image is wrapped over the frame adding a professional finish to the canvas print. This is the most common method of making a canvas print however canvas prints can also be framed.
What is an Acrylic Print?
An acrylic print is created by printing an image on photographic paper. This image is then put between two sheets of plexiglass. Acrylic prints are quite sturdy and if you are looking for a glossy finish for your prints, then acrylic prints are a good option. However, upon comparing canvas prints and acrylic prints, canvas prints evoke the best artistic feel given how similar their aesthetic is to oil paintings.
What is a Canvas Print Made of?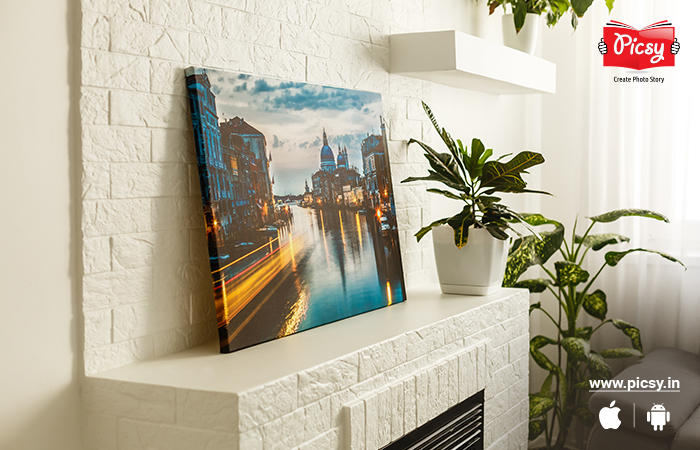 Canvas is a strong and durable fabric created with polyester, cotton or hemp. Each of these canvas materials have their own pros and cons. While a cotton canvas has the most artsy feel thanks to the ink seeping into its fibres, canvases created with hemp and polyester last longer and are more vivid in color since the ink remains on the strands of the material. Cotton prints are considered to be higher quality, yet polyester and hemp canvas prints are much more affordable and durable.
What is an Acrylic Print Made of?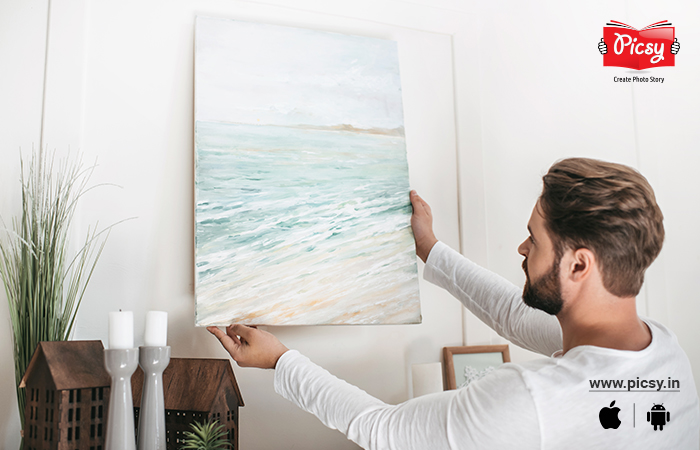 Acrylic Prints can be made using two methods. In the first method, your images are printed directly onto an acrylic sheet and sealed with a coating. As for the second method, your image is printed on photo paper and then heat sealed in between two acrylic sheets.
For the first method, the shop just needs to own a printer that can work with acrylic sheets. The second method requires a tad more craftsmanship given that before the print is sealed in the plexiglass, even a single speck of dust could ruin the print.
Just like canvas prints, there is a wide range of quality available for acrylic prints where some vendors offer a highly appealing end-product while others fall short of an acceptable product.
Canvas Prints vs. Acrylic Prints
Now that we know what each of our contenders are, it's time to get down to the brawl. We have included every factor and difference between canvas prints and acrylic prints for you to make an informed choice
Durability
Both Canvas prints and acrylic prints are durable however acrylic prints can resist water damage. Canvas prints and acrylic prints sport UV protection and depending on the material used, their UV protection can go up to 98% resulting in fade proof prints.
Uniqueness
Acrylic prints have rivets on each corner. This adds a slightly more aggressive feel to the image displayed making it more 'in-place' in an environment where metal furnishings are aplenty.
Canvas prints on the other hand a softer more artsy feel to your images making them must-haves for your home décor.
Appearance
While considering appearance, your choice between canvas prints and acrylic prints depends on personal preference. Your aesthetic sense is the deciding factor. Acrylic prints have a slightly more modern and sleek look and feel while canvas prints are more artsy and timeless making them the perfect fit for home or even office décor. Choosing the right photo for canvas prints can become a little difficult but we suggest on that is bright and vivacious to light up the space you put it up in.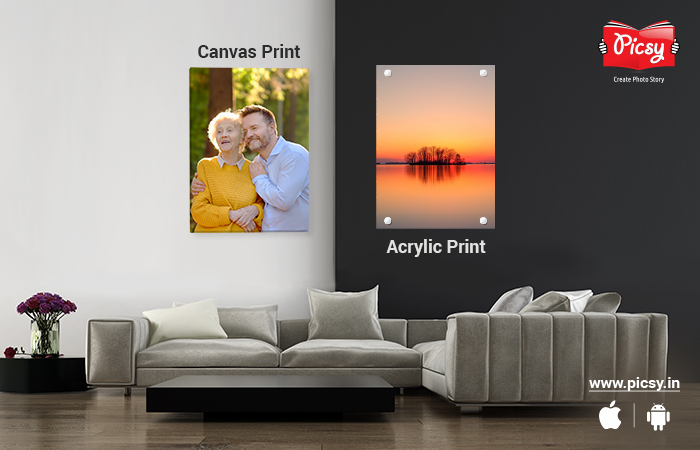 Transportability
Transportation is also a factor that comes into play while choosing between canvas and acrylic prints. In simple terms, acrylic prints are difficult to transport while canvas prints are lighter and much easier to transport and mount. Canvas prints emerge as the better option when considering transportability. Rest assured that you can easily indulge in hanging a canvas print on your wall with minimal effort.
Price
Here is yet another win for canvas prints. Canvas prints are much more affordable compared to acrylic prints. Coming at only half the price of an acrylic print of the same dimensions, canvas prints are as artsy as the best acrylic print.
Popular Designs for Canvas Prints
Modern
Printing photos on canvas frequently centre around intense tones, extraordinary shapes, and other modern designs..
Family Photo
Whether it's an occasion family representation or an image from a family get-together, these are normal subjects for canvas prints..
Abstract
Abstract designs are ideal for the living spaces in a home with modern or moderate insides.
Inspirational/Quotes
Many families love adding a significant statement to an embellishing canvas, which help light up any room of the house..
Pets
Families with particularly photogenic pets may incline toward hanging a canvas or two highlighting their textured dearest companion. Getting their pet to stand by for a photoshoot is another matter.
Landscapes
Whether the photos are from a family trip toa foreign land or a picnic in your backyard, landscape photos look extraordinary on canvas.
Maps
Map designs and prints are another famous choice for custom canvas prints.
Wrapping up -
So there you go. Our comparative analysis of canvas prints vs acrylic prints should offer you some clarity while you make your choice between the two. If you are going for something neo-modern the acrylic photo prints are your best bet and if you are looking for something classic and retro than canvas prints are the better option.
Canvas prints last a lot longer than an acrylic print given that plexiglass begins to turn opaque over time. A Canvas print, if done right, can stay with you for almost a century without any loss in the vividness of it colors or reduction in image quality.
Now all you need is the right partner to get your hands on a perfect canvas print. Never fear, Picsy is here. With a wide variety of photo printing products ranging from photo books, photo calendars and canvas prints online, Picsy is the perfect place to begin. So what are you waiting for? Download the Picsy app now and get started on your custom canvas prints.
Ready to hold your memories in hand?