A Debate Between Floater Frame vs Traditional Frame
February 09, 2023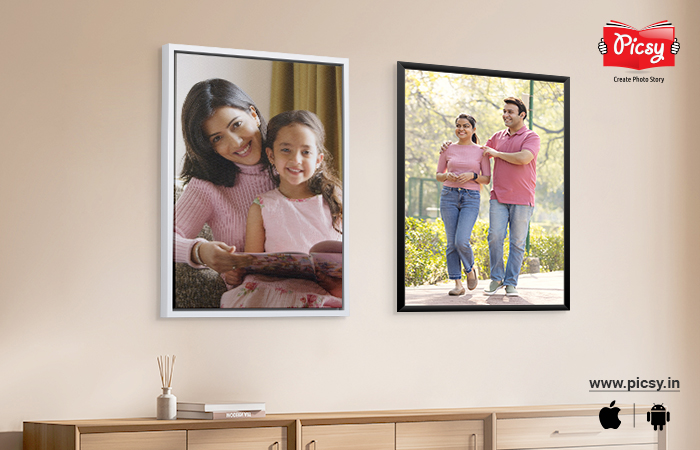 Photos are definitely a wonderful way to revisit the best memories. The beautiful moments that we have spent, the places that we have visited with the people that matter to us, and hold a special place in our hearts. Such beautiful pictures often adorn our walls and enable us to revisit those special memories.
By choosing the best photo frame, we can cherish our beautiful moments. A trendy way to beautify our spaces is by floater frame and traditional frame. The reason is, they look absolutely flawless and induce that additional beauty to our space.
Although, both look extremely beautiful and hold the power to beautify your space, let us figure out what is the difference between the two.
Enhance the Beauty of Your Space Using Photo Frame
If you wish to enhance the appearance of your boring walls, then check out the trendy home décor pieces by Picsy. They elevate the appearance of your space.
Skip to...
Floater Frame or Traditional Frame - Which to choose?
Floater Frame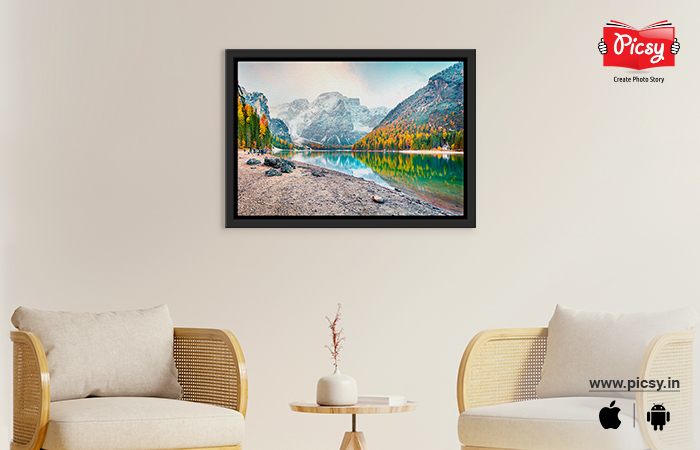 Floater frame is somewhat like an open box without a lid. Basically, it is the modern substitute to traditional photo frames. The undeniable advantage that a floater frame carry is that the picture is nowhere hidden or obscured. The only aspect that you need to focus on while buying a floater frame is the size that you go for. Now, this decision could be made when you decide where you want to place the floater frame. In addition to floater frame, you can also try your hand on acrylic prints.They also look absolutely amazing.
However, if you are planning to place the floating frame in the living room, then opt for the 30" x 20", 24"x 18", or 20" x 20". While when you are planning to place your canvas floater frame in your bedroom, then you can opt for 16" x 12" or 30" x 20". No matter which floater frame size you choose, they look extremely appealing and serve as a treat to the eyes. And after knowing what is canvas floater frame, you will surely would have fallen in love with them.
Traditional Frame
A traditional frame is somewhat like regular photo frames, but with a few variations. Canvas traditional frame is usually thicker than the normal photo frames. Traditional frames are bold and eye-catching as they overlap they image. However, they don't have the glossy appearance like floater frame. A canvas is usually laden back into the back of the frame just as the basic picture. And the image gets visible with the mount overlying the canvas.
Differences: Floater Frame vs Traditional Frame
Here are some additional differences between the two.
Lightweight
Floater frames are way more lighter compared to the traditional frames. As the weight is less, there are lower chances of breaking.
Frames
Floater frames are glossier as compared to the traditional frames. Picsy helps you choose the wrap style.
Similarities: Floater Frame and Traditional Frame
Even though there are a few differences between floater frames and traditional frames they have a few similarities among them.
Whichever photo frame you select, you would land up in a situation where you would've to make the choices. Both are available in various colors, finishes, etc. You can choose the one that suits you. There are a few similarities between traditional and floating frames, but the latter one is preferred. Let us figure out why to choose the floater frames over traditional ones.

Floater Frame vs Traditional Frame: Who Wins?
In the debate between floater frame vs regular, the former one wins. Floater frames are absolutely perfect for mounting thick canvas prints. However, if you wish to get your hand on the premium quality floater frames, then let Picsy's beautiful range of floating frame add beauty to your space. Once they are framed, the floater frame appears all the more beautiful.
Apart from serving as a beautiful gallery wall décor, it also is perfect gift for the loved ones. Whether it is birthday or anniversary, floating frame is an appropriate gift to bring a cheek-to-cheek smiles on the faces of your loved ones.
Popular Ideas for Floater Frames in 2023
Here are a few interesting floater frame ideas to try in 2023. So, let us figure out what they are.
Your Fluffy Friend
For the people, who have a fluffy friend, it is the perfect opportunity to let him know his importance in your life. Select the best picture that you have clicked with your pet and transform it into a canvas frame. This way, you can cherish your love for your pet.
Do you want to have top-quality Floater Frames?
Let Picsy help you!
A Lovely Family Shot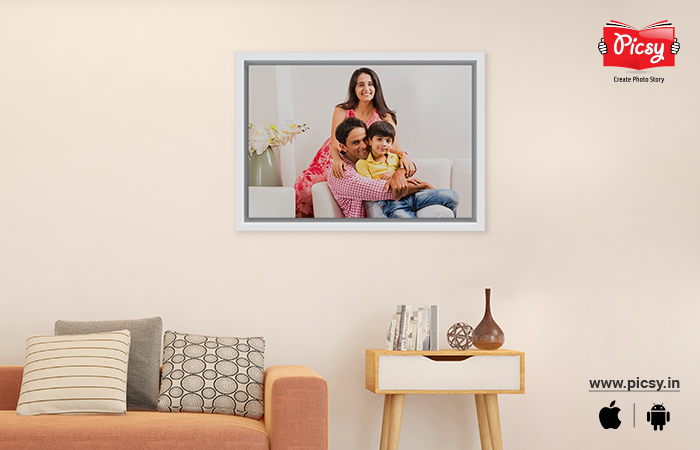 We all are in love with our families. And at times, it is great to showcase that. So, select the loveliest picture with your family members and induce life in it by transforming it into a floater frame. You can place this art piece in your living room to add beauty to your space and relish the beautiful memories.
Seize Your Engagement Memories
One of the simplest yet basic idea is to create floater frame in 2023 is seizing your engagement pictures. Engagement is the beginning of your marital journey with your partner. So, how about preserving those moments for a lifetime. You can revisit those memories whenever you wish to induce the romantic flair in your life. And you can place this photo frame in your bedroom to have a constant reminder of love you have for each other. Apart from this, you can also get your hand on vinyl prints. They induce beauty to your space.
A Retro Collage
If you land up in a situation where you have a good collection of pictures and you are unable to pick one. In such a case, don't hesitate to opt for a collage. While creating a collage, please ensure to stick to one theme. For instance, if five of your pictures are of the family trip then include all the pictures around the trip. It will create the uniformity and multiplies the happiness of your memories. They also function as a home décor gifts.
Download the Picsy App and explore the wide range of floater frame themes.
Closing Words on Floater Frame vs Traditional Frame
You got the clear idea how to beautify your walls and give life to your memories. And when you have already made up your mind about choosing the premium quality floating frames, then let Picsy serve you. Picsy is known for offering top quality and you just have to download the Picsy App and explore your photo frame
Picsy's Special Gifts
When you are redecorating your space and adding beauty to it by using photo frames, then share the happiness and bring a cheek-to-cheek smile on the face of your loved ones as well. Check out the premium quality photo gifts.
FAQs related to Floating Frame vs Traditional Frame
1. What is the difference between a floating frame and a regular frame?
A floating frame is a more like an open box and a modern substitute to a regular frame.
2. Can you make a regular frame into a floating frame?
Yes, for that you would require a second piece of glass and you have to reassemble the photo again.
3. How do I choose a floating frame?
Consider the overall tone of the color of your wall while choosing a floater frame.
Ready to hold your memories in hand?