Things To Consider Before Ordering Canvas Prints
June 03, 2022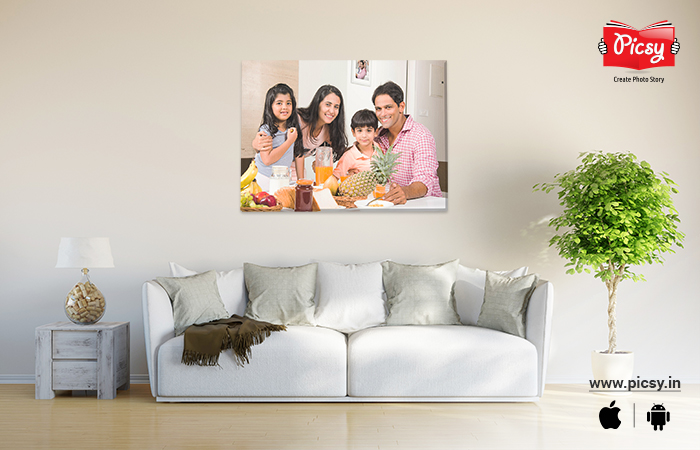 I know what you are thinking. You want canvas prints that will make your space look phenomenal. And canvas wall art sure does. They look lovely and reflect more about the person decorating the place. If you are filling up your room with your travel memories, you are quite a wanderer. Then as well, if you decorate with pictures of Brad Pitt or Tom Cruise, you are assumably a movie buff.
But if you can paste photo prints or hang framed photos as well, why should you go through all the steps to create canvas prints online? What makes printing photos on canvas preferable?
What are Custom Canvas Prints?
A picture canvas is a cloth surface on which any photograph can be printed. An inkjet printer prints the picture onto the canvas and then stretches it across a frame. However, we like to think of it as the ideal home bling. It's a fantastic decoration idea that brings out the emotion of the image's memories. Some people prefer a frameless photo canvas, while others choose to use suspension bars to hold their memories. Normally, custom canvas prints are mounted on a wall, but some decorators prefer to keep them as souvenirs on top of a bedtable as they come in various sizes.
Buying Canvas Prints: Is It Reasonable?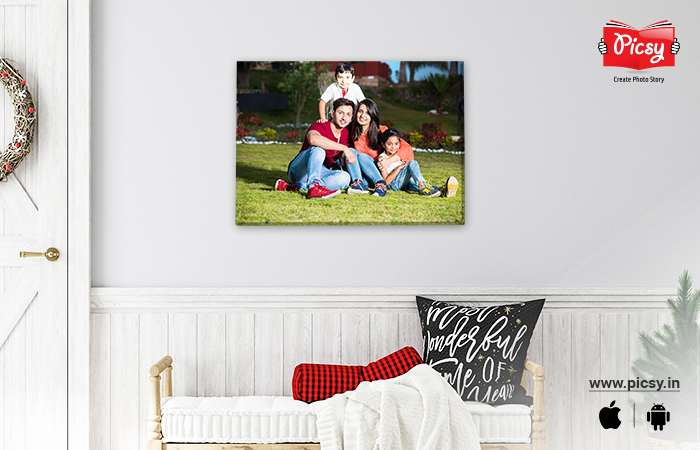 Canvas prints are the 'extra' in 'extraordinary.' It adds a different charm to the painting. While ordinary paper prints are still fantastic, canvas prints have a unique appearance, and I adore the texture of the canvas paper. It is effortless to reason why making photo canvas has been so popular since they grew from simple paintings in ancient times to the sophisticated prints we see today. They're one of the most stand-to-make display home decors in today's architecture trends.
Custom canvas prints are chart-topping since they make photographs appear more like works of art you'd find in a museum. Flat prints lack the depth of the canvas, which makes decorating a bedroom with canvas prints or forming a wall art more interesting.
Buying Canvas Prints: What Should You Consider?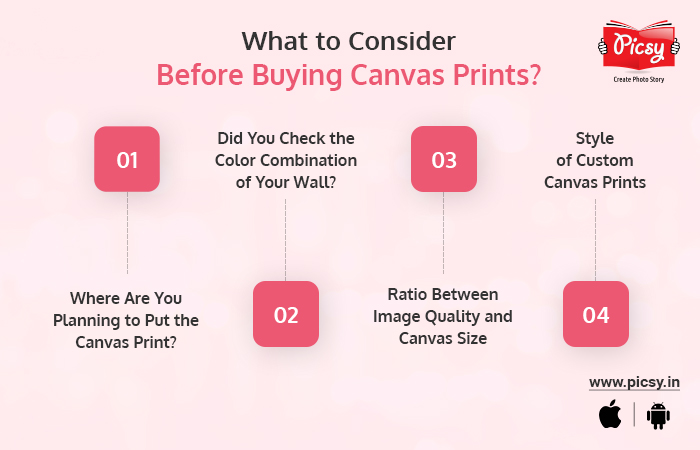 They say to check the size of your wall, do not make a large canvas print for a small space, or choose the images that you like. Of course, you are not choosing an image you don't like. Tips for making canvas prints should be so real that it helps you. So, I have mentioned a few tips that came in handy for me. And let me tell you, I have several canvas prints hung all over my place. Let's check out the minor things you should consider at least once before making photo canvas.
1. Where Are You Planning to Put the Canvas Print?
You should choose the image according to the place. Let's say you teach school students at your home, and you are getting canvas prints to create an atmosphere. In that case, choose images that the kids will prefer, something that will help them learn, not an image of an oozing beer.
2. Did You Check the Color Combination of Your Wall?
Assuming you want to mount your custom canvas prints, it is an artistic pre-requisite to check whether the color of the wall matches the color of the canvas art. Let's say your house is decked up in Bohemian style; make your canvas a combination of white, beige, and brown.
3. Ratio Between Image Quality and Canvas Size
First step, first - select the photos for canvas prints carefully. The image resolution should be in accordance with the canvas prints size. If the canvas size is big, like you see in the movie bedrooms, then the image size should be 4k. However, if you are printing small canvas prints, then the image quality can be considerably compromised.
4. Style of Custom Canvas Prints
Imagine the scene, you have a biker's café, and you want to decorate it with canvas prints. Will it be frameless, mirror wrap, or rustic metal framed? So, you get the point. Custom canvas prints need to be personalized according to your preference. But, how do you do it? How can you get your own customized canvas prints?
Ordering Canvas Prints: How to Do It?
There are hundreds of exclusive services that offer customized photo products. But I will talk about the one I am fond of – Picsy. Ordering canvas prints from Picsy involves five simple steps.
1. Download the Picsy app from a digital store.
2. Select the photos for canvas prints to upload on the app.
3. Edit and customize according to your wish.
4. Choose the wrapping style.
5. Preview your canvas print and order.
Now sit back and relax till you get your customized canvas print on your doorstep. Picsy crafts with care and love, as they know how important is your memories for you.
Custom Canvas Prints Inspirations for Any Home
There are tons of canvas print decoration ideas. Now that you know how to print a picture on canvas I will share only my favorites.
1. Quotes Canvas Prints
If you are the kind of person who needs that extra little push every morning to get up or someone who needs some motivation the entire day to look forward, this canvas print style is definitely for you. To boost you with positivity, quotes such as "now or never" or "miles to go before I sleep" fit naturally in any bedroom or study room walls.
Read More : 85+ Motivational Quotes to Inspire You
2. Photo Prints Canvas Art
Photo print yet canvas? It must be a typo, you may think. But not really. It is rather a unique idea to decorate your house; large custom canvas prints sure are great. But, how about arranging small canvas prints to create a big collage, like photo prints. Isn't that a deal-breaking idea?
3. Peaceful Nature Canvas Art
If you are one of those minimalist people and crave the instant zen aura in your room, the calming nature canvas wall art does just that. Hang the nature canvas print in the living room, bedroom, or anywhere you feel comfortable and enjoy the stunning beauty of nature within the four walls. To get the extra traditional and rustic feel, you may want to choose images with lots of trees or a vast infinite sea—the more it is vague, the greater the possibility of calmness within yourself.
4. Classy Abstract Canvas Wall Art
If you are someone who appreciates abstract art, consider this canvas print idea to elevate the style of your room in a minimalistic way. Ordering canvas prints are so easy these days. Feel free to spread your horizons and introspect your adoration of abstract art. On gallery-wrapped canvas prints, the modern abstract art looks out of the world in a solid color empty wall.
Final Notes on Ordering Canvas Prints Online
If you've read this far, you're probably looking for a creative way to improvise the ambiance in your room. Hopefully, the handpicked list has put an end to your search, and you can now choose the canvas print online that best suits your space. Have at it, mate, if you want to decorate your walls. Lead the way of your house by ordering a canvas print online from Picsy! Download the Picsy app to solve all your last-minute gifting dilemmas. Are you still waiting?