A Perfect Wedding Invitation Wording Ideas and Examples to Make Yours
October 31,2023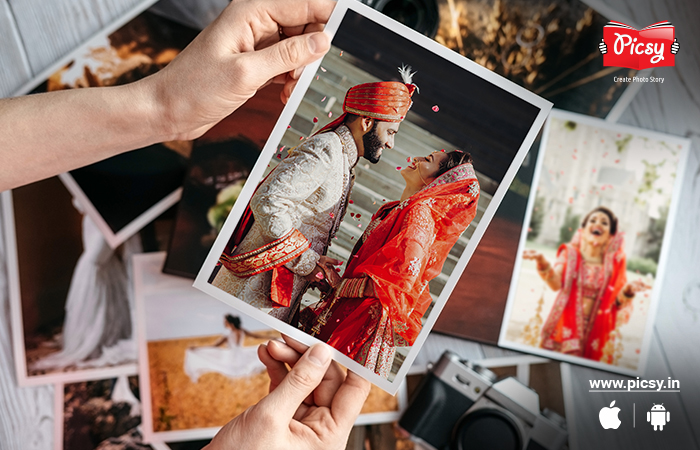 Planning an Indian wedding is an exciting journey. With a touch of modernity and tradition, Indian wedding invitation wordings stand as a crucial aspect in setting the tone of your wedding. Indian wedding card content is not just a few words written randomly; it holds the essence. It is your unique way of extending a warm invitation.
Starting from your Sangeet, Haldi to the big day, I have added wedding invitation wording examples. These wedding invitation wording templates will leave your guests eagerly counting down the days until your wedding.
Wedding Memories Are More Special with Picsy
Wedding memories are special. Preserve wedding memories for a lifetime with Picsy's durable photo products. From floater frames to acrylic prints, the wall decors are available in different sizes.
What to Include in Your Wedding Invitation?
A wedding invite message should be thoughtful and full of hearty greetings. But there are a few essential Indian wedding invitation messages that are (almost) mandatory to add. Here are elements to use in your wedding invitation wording.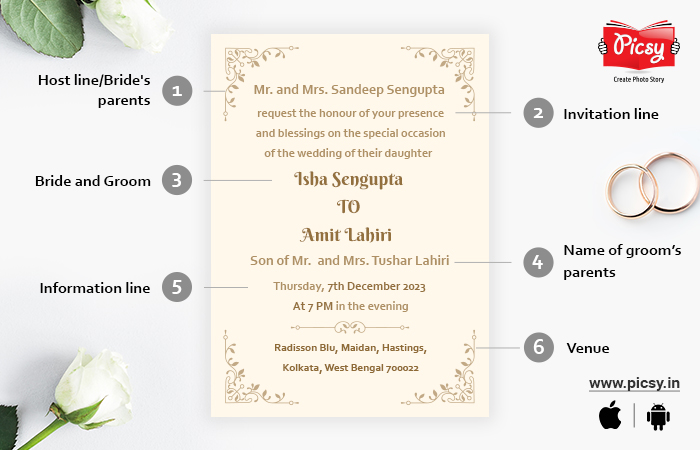 Host Line
In Western countries whoever pays for the event is the host. But Indians usually put their parents' or grandparents' names in this section.
Request / Invitation Line
The wedding card starts with a beautiful invitation request. It can be a modern wedding invite wording or traditional. That is up to you. Here are some examples:
Request the honor of your presence,
Invites you wholeheartedly,
Requests the pleasure of your blessings.
Name of the Bride and Groom
The names of the couple should obviously be in formal wedding invitation wording. Moreover, if the invitation is from the bride's side, then her name should be mentioned before the groom's name. And if the invitation is from the groom's side (for reception), then his name goes first. Apart from this, if the invitation is being sent from both sides, in that case as well, the bride's name goes first. However, it is good to seek blessings from the forefathers and thus mention their names in your wedding card message.
Parents and Grandparents Names
When we talk about wedding invitation wording together with their families, grandparents' names are mentioned if you want. And as far as parents are concerned, their names are written with Mr. and Mrs. or Smt. and Shri.
Information Line
This section of your wedding invitation text deals with functional details like dress code, theme, RSVP, etc.
Gifts
Your wedding card can also comprise the information wherein you mention the wedding gifts, as in whether you need them or no gifts for your ceremony.
Wedding Invitations Templates for 2023
You can have simple wedding invitations with casual wedding invitation wording or traditional wedding cards with creative Hindu invitation wording. It depends on the theme of your wedding; and the vibe you want to reflect. I have added some wording templates for you.
Formal Indian Wedding Card Wording
As most of us follow the formal traditional system more, let's start with that. Please however don't take the format as a rule. Do as you please.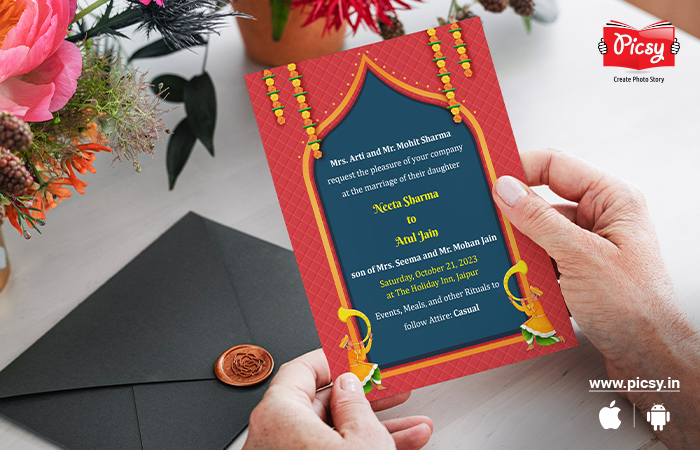 Mrs. Arti and Mr. Mohit Sharma
request the pleasure of your company
at the marriage of their daughter
Neeta Sharma
to
Atul Jain
son of Mrs. Seema and Mr. Mohan Jain
Saturday, October 21, 2023
at The Holiday Inn, Jaipur
Events, Meals, and other Rituals to follow
Attire: Casual
Formal Directions and Accommodations Wording
This would be the second page of the save-the-date message for Indian weddings in a formal tone with the banquet directions and details of accommodations.
The Holiday Inn,
5 Malviya Nagar, Jaipur
For guests from foreign countries:
We request you to take a pre-hired cab from
the airport.
We have arranged the rooms at the hotel.
Please get in touch with the attendants and mention the Sharmas
wedding while making your reservations.
Intimate Indian Wedding Wording
An intimate wedding is something where people invite only close people. If you are writing a wedding invitation text message for friends or very intimate people, you don't have to abide by the format. You can write it like this instead: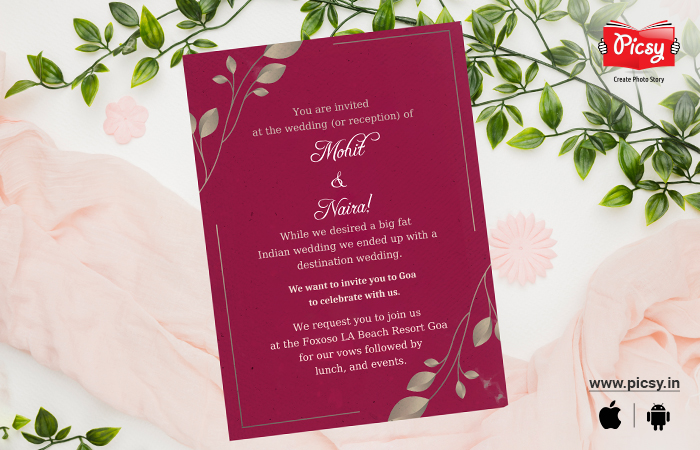 You are invited
at the wedding (or reception) of
Mohit and Naira!
While we desired a big fat
Indian wedding, we ended up with a
destination wedding.
We want to invite you to Goa
to celebrate with us.
We request you to join us at the Foxoso
LA Beach Resort Goa
for our vows followed by lunch, and events.
Parents as Host
In India, it is mostly parents who send out the wedding invitation cards. Here is an example of the invitation comes from the parents:
Rashmi and Suresh Verma
request your presence at the Wedding Ceremony of their son
Rohit with Meenal
Daughter of Dr. Mrs. Rita and Jayesh Sharma
on Sunday, September 12, 2023.
at Grand Chanakya, MI Road, New Delhi
Assembly of Baraat –7:00 PM; Wedding – 8:00 PM
Traditional Wedding Invitation
Formal and traditional cards are very similar. Still, I will give you an example for understanding the wedding invitation message from parents better. This example is of wedding invitation wording with late grandparents, but you can also make some changes and use it as parents of the bride and groom.
With the heavenly blessings of Late Smt. Shakuntala Kumari & Late Sh Vishwa Dudeja
Mrs. Asha & Lt Col Mahesh Kumar Jadeja
awaits your gracious presence at the auspicious event
of the wedding of their daughter
Shivi with Abhijeet
(S/o Mrs. Meeta Vohora & Late Sh Bharat Vohora)
on Sunday, January 12, 2024
Reception of Baraat – 8:00 PM
Dinner – 9:00 PM
at Hotel Shiv View, Chandigarh
Looking for an exclusive wedding gift? Get a personalized Framed Vinyl Print from Picsy!
Casual Indian Wedding Rituals Wording: Templates
Sometimes we think so many things at a time, that when it comes to saying we lack words. Especially during a wedding ceremony – so many things to do and less hands to handle. Hence, here are a few casual Indian wedding ritual wording that you can use in your card.
Casual Mehndi Night Wording
Mehndi night is as important as the Haldi ceremony. If you are inviting people on your mehndi night, here is how you can invite them casually.
We invite you, our dearest loved ones, to join us for our Mehndi night.
This is a special occasion for us. And we wish to celebrate it with our dearest family & friends where we can enjoy good chit-chat and great delicacies.
Dress code: Traditional
Beverages would accompany the delicacies. Please bring your love and blessings.
Thursday, September 23, 2023
7:00 PM IST
Hotel Grand Uniara
Vidyadhar Nagar
Delhi
Hosted By
Aman & Jinal
Casual Indian Wedding Wording
Now comes the main part, the wedding. Here is a quick casual wedding invitation wording from the bride and groom.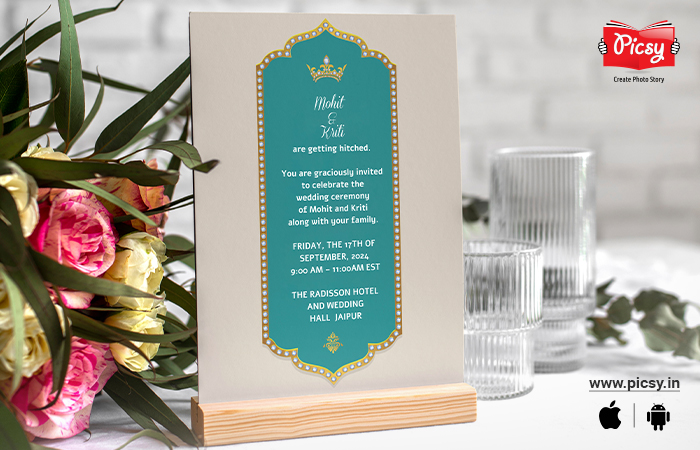 Mohit and Kriti are getting hitched.
You are graciously invited to celebrate the wedding ceremony of Mohit and Kriti along with your family.
Friday, The 17th of September 2024
9:00 AM – 11:00AM EST
The Raddison Hotel and Wedding Hall,
Jaipur
Virtual Wedding Rituals Invitation Wording
Let's face it, not everyone is so lucky to attend their family's or friend's wedding. But everyone wants to be a part. Incase as such, they can have a virtual wedding set up. And what do we write in the messages to invite at a virtual wedding? Here's a sample.
Virtual Invitation Wording for Mehndi
Mehndi being one of the major events of the wedding, some may want to attend that too no matter if it is virtual. So, starting with the Mehndi event first:
The wedding of Anita and Aman is just around the corner.
Please join us to let our beautiful bride-to-be, Anita, feel special as she prepares herself for the big event with a virtual Mehndi.
September 18th, from 8 to 9 PM.
Zoom link to follow
Please join in for as long as you can.
Anita would be too delighted with your presence.
And your good wishes and blessings will be of great importance to her.
Eager to meet you soon, at Zoom!
Virtual Wedding Invitation Wording
Now let's get on to the actual event – the wedding! If someone's daughter or son or loved ones stays in a different country, they sure would want to attend their wedding online. So, here is a format to invite everyone virtually to attend your wedding.
Aman and Shivani's Digital Wedding
You are invited to our wedding!
Do not forget to join us online at the Zoom link shared for an event and a few fun activities and love from dear ones.
We are also planning our wedding photo book theme as retro.
Please be dressed up accordingly.
Monday, October 30
11:30 AM IST
Wedding Invitation Wording Ideas
Now that you have understood the format (you have, right?) here are some sweet wording examples on how you can invite your guests.
Wedding Invitation Wording in English
These days, everyone prefers to write their wedding invitations in English. So here are some examples of wedding invitation wording for friends and relatives.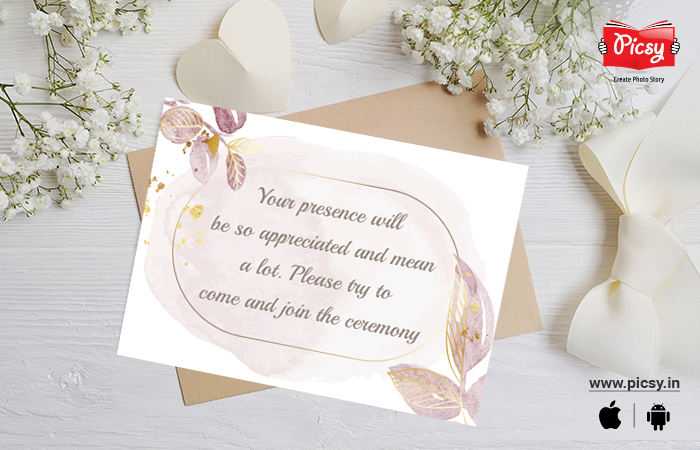 We may not have it all together, but together we have it all. Your presence at the wedding will make us happier. Save the date and join us in the ceremony.
This day is for us special. A time beyond compare. We hope you will come and share your presence there with us. Means more than words can say. Please try to be there to celebrate this special day.
Your presence will be so appreciated and mean a lot. Please try to come and join the ceremony.
Indian Wedding Invitation Template in Gujarati
Do you want to keep it traditional and write the wedding card in your mother tongue? Here is an example of how you can write (or invite) in Gujarati but you can write in any language you please.
|| શ્રી ગણેશાય નમઃ ||
સ્નેહી સ્વજન,
અમારા કુળદેવી શ્રી આશાપુરામાની અસીમ કૃપાથી ગં.સ્વ. રોહિણી બેન અને સ્વ. લાભુ ભાઈ
શાહ ની પૌત્રી
ચિ. હિના
(શ્રીમતી મીતા તથા દિનેશ મણીલાલ પવાણી ગામ ગુંદાલાવાળાની સુપુત્રી)
ના શુભ લગ્ન
ચિ. મયુર
(શ્રીમતી હંસાબેન તથા હિમતલાલ જેઠાલાલ જોઈસર ગામ શીરવાવાળાના સુપુત્ર)
સાથે રવિવાર તા. ૩/૧૨/૨૦૨૩ ના શુભદિવસે નિરઘાર્યા છે.
આ શુભ અવસરે નવદંપતી ને આશિર્વાદ આપવા આપને અમારૂ ભાવભીનું આમંત્રણ છે.
માંગલિક પ્રસંગો
શનિવાર તા. ૨/૧૨/૨૦૨૩
ગણેશ સ્થાપના - સવારે ૧૧.૦૦ કલાકે
રવિવાર, તા. ૩/૧૨/૨૦૨૩
મંડપ મુહુર્ત - સવારે ૮.૦૦ કલાકે
વરઘોડી - સવારે ૧૧.૦૦ કલાકે
સ્વરૂચી ભોજન - બપોરે ૧૨.૩૦ કલાકે
હસ્તમેળાપ - બપોરે ૧૨.૪૦ કલાકે
શુભ લગન સ્થળ
ગ્રાન્ડ ઠાકર થાળ, કામરેજ ,સુરત
Wedding Invitation Quotes in Gujarati
All decked up for the wedding but not sure how to fill your wedding invitation card in Gujarati language. Here are some quick Indian marriage invitation quotes.
અમે તમારી હાજરી અને અમારા આમંત્રણ સાથે પ્રેમના તહેવારની ઉજવણી કરવા ઈચ્છીએ છીએ.
આપણે એકબીજામાં જે મળ્યું છે તે જીવન છે; અમે તમને અમારા પ્રેમ અને એકતાની ઉજવણીમાં જોડાવા માટે આમંત્રિત કરીએ છીએ.
અમારા આમંત્રણમાં તમારા પ્રેમ અને આદર બદલ આભાર! અમે અમારા પ્રેમથી તમારું સ્વાગત કરીએ છીએ.
Wedding Invitation Quotes and Message Ideas
When it comes to our special day, we get on edge to make everything perfect, especially our wedding invitation cards. So, here are a few quotes and messages that you can use in your wedding card to invite your guests.
Traditional Wedding Invitation Quotes 2023
Here are some Indian wedding invitation quotes in English that you can add to your wedding card: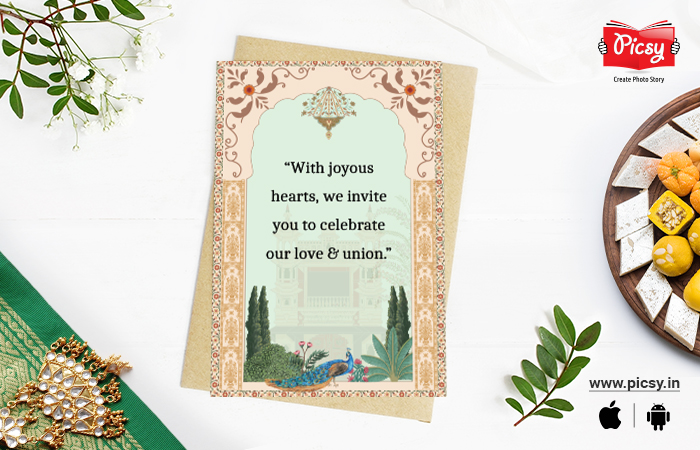 With joyous hearts, we invite you to celebrate our love and union.
As we embark on this beautiful journey, we ask for your presence and blessings.
Love is the reason, and we are the rhyme. Please join us on this special day.
Funny Wedding Invitation Quotes
If you do not want a serious note on your invitation, you can add funny quotes with some of your couple photos as pre-wedding photography as well. Here are a few examples:
Come for the cake but stay for the vows!
Want free food? Our wedding is the place to be.
We've ordered a really expensive cake. Please help us not to waste it.
Unique Wedding Invitation Message for WhatsApp
Sending wedding cards to everyone is not feasible. These days, sending WhatsApp wedding invitation messages is quite common. Here are some unique wedding invitation wordings for WhatsApp that you can use.
My dearest friend! I could not forget about you on my wedding day. I sincerely hope that you will give me the honor of attending my big day.
We wholeheartedly want to invite you and your entire family to attend our wedding ceremony. Come and witness our vows and give us sincere prayers for our further life.
A lot of things in life are temporary – they come and go. However, marriage happens only once. You should come to our wedding and witness the loving hearts being united.
Casual Wedding Invitation Messages 2023
A wedding is a huge event. Starting from wedding gifts to as little as invitation cards, everything is prepared months before. Here are some more messages you can use in a casual wedding invitation setting.
We are honored to invite you, dearest friends, to the wedding of our son/daughter, who is about to start his or her new experience in life and tie the knot with his or her future husband or wife.
We expect your blessing more than anything on our wedding day. Let us all enjoy the holy occasion with your sweet presence.
The joy of this wedding is incomplete without your presence at it. You have shared in our lives with your friendship. Let's share the joy together.
Wedding Invitation Messages for Brothers and Sisters
Looking for wedding invitation messages for your siblings' weddings? Here are some messages you can use.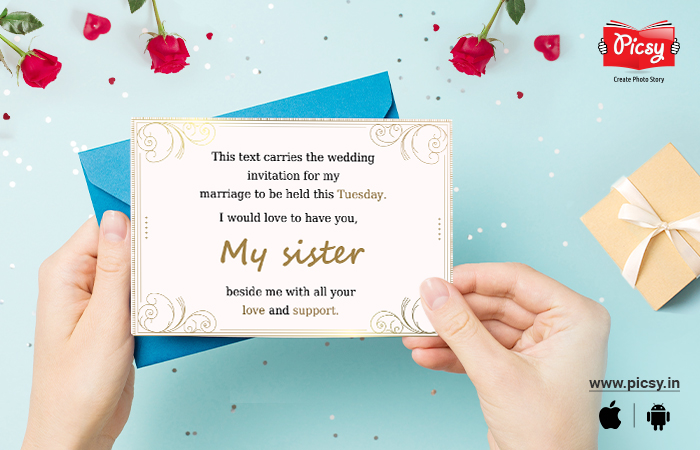 Dear brother, I invite you to my wedding ceremony of mine to be held this Sunday. I look forward to your presence on occasion with your love.
This text carries the wedding invitation for my marriage to be held this Tuesday. I would love to have you, my sister, beside me with all your love and support.
I am sending the wedding invitation to my marriage to be held this Sunday at the Plaza. I look forward to your arrival with your blessings and love at the earliest.
Best Marriage Invitation Messages for Friends and Family
If it is your friend's marriage or some other extended family member's wedding, you can use these messages on the wedding card to invite the guests.
We bring you happy tidings. We will be starting a new chapter of our life this weekend. We modestly request you to bless us with your presence.
It is with radiant smiles that we share the good news of our wedding to officiate our marriage. We cordially invite you to celebrate this festive occasion with us.
Ecstatically, I announce the news of my marriage to my sweetheart. Your participation is fervently needed.
Marriage Invitation Messages from the Bride and the Groom
Want some messages to invite guests to your wedding? Here are some examples you can use.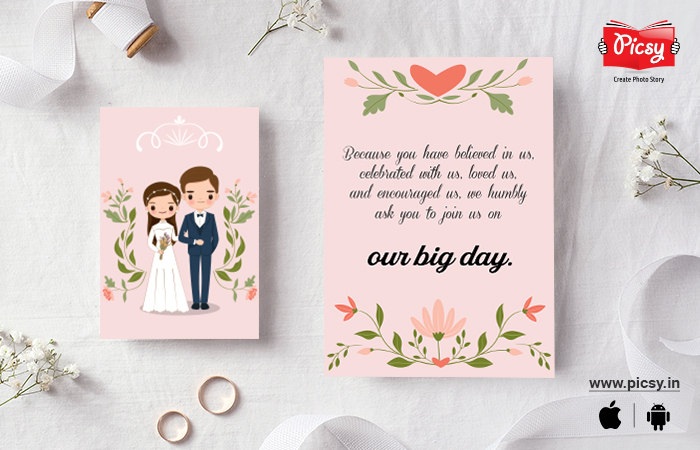 Because you have believed in us, celebrated with us, loved us, and encouraged us, we humbly ask you to join us on our big day.
As a proud husband/wife-to-be, I present to you the news of my wedding with my husband or wife's name. We desire to see you at this auspicious event with your family.
Dear friends, we would like to invite you to our wedding ceremony. Bless us with your presence. We hope that you will make it to our special day and see the strengthening of our unbreakable union in person.
Marriage Invitation Message from Parents
Here are some instances of marriage invitation messages from parents to put on the wedding card.
You are cordially invited to attend our son's wedding. Your presence will glorify our event.
I request the pleasure of your company at our daughter's wedding, and we will be thankful to you if you brighten our celebration with your presence.
We request your presence on the day of our daughter's wedding. Please join us with your family on 31st Jan.2024.
Best Marriage Invitation Messages from the Bride's Family
Are you from the bride's family? Here are some of the best marriage invitation messages you can add to the invitation card.
Our daughter is to enter a new phase of her life. We request the pleasure of your company on this marriage occasion.
We request you to bless our daughter and to-be son-in-law with your presence on 10th Jan,2024 as we gather to celebrate the holy bond of the marriage of our children!
It is with radiant smiles that we share the good news of our daughter's marriage. We invite you to celebrate this festive occasion with them.
Marriage Invitation Messages from the Groom's Family
Are you from the groom's family? Here are some of the best marriage invitation messages you can add to the invitation card.
We are incredibly proud to announce that our son is getting married. Your honorable presence is requested to make this merry occasion a success.
My son will be exchanging wedding vows on 22nd Dec,2023. You're cordially requested to attend the joyous event.
It is with great jubilation that we announce the news of our Son's marriage. Your presence at the wedding ceremony is highly requested.
Short and Sweet Wedding Invitation Messages
Are you finding the above wedding invitation messages too long? Here are some short and sweet wedding invitation messages.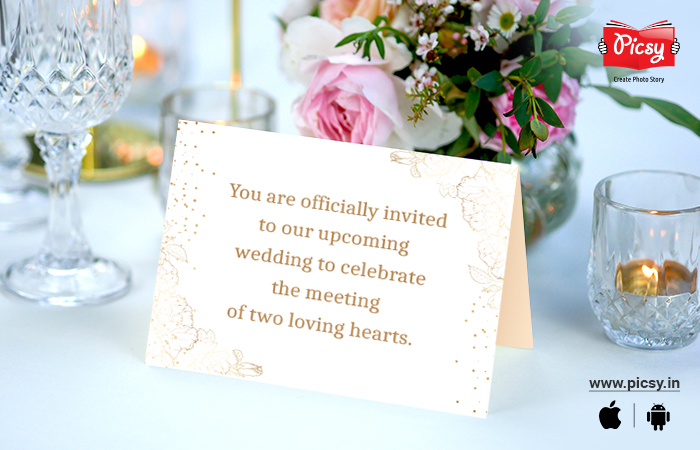 We are inviting you to celebrate the day when we take our next large step in the relationship.
It gives us great joy to cordially invite you to our big day. Your presence in the ceremony will mean everything to us.
You are officially invited to our upcoming wedding to celebrate the meeting of two loving hearts.
Royal Wedding Invitation Messages 2023
A royal wedding is not only a union of two souls but a reflection of tradition. Need some glamorous message for your royal wedding? Here are some good examples.
We are happy to announce that we would like to make our dream of being eternally come true. Therefore, our friends, we invite you to our amazing ceremony and join us in our happy emotions.
You have always been a big part of our lives. Let us share the big day as we unite our souls in a bond of love and devotion. You are cordially invited!
We are taking an important step in our future life, so we just have to call you to be there for us.
Minimal Wedding Invitation Messages
Are you looking for simple and minimal wedding invitation messages? Here are some minimal wedding invitation messages: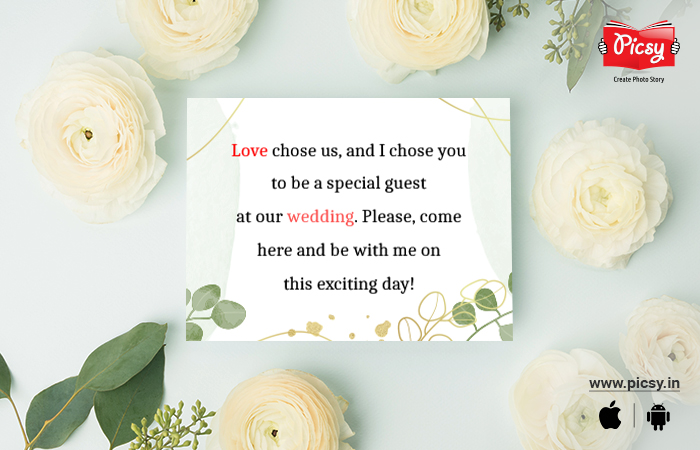 Love chose us, and I chose you to be a special guest at our wedding. Please, come here and be with me on this exciting day!
Two things will make us incredibly happy on the day of our wedding. The first one is our actual ceremony, and the second one is you being here for us.
So, I asked her to be my wife, and she replied yes. Long story short, now we have to throw a wedding. And what is a wedding without plenty of guests?
Virtual Wedding Invitation Wishes
Do you want to invite your friend over social media with short virtual invitation messages? Here are some instances:
Come to our wedding and dance the night away, like you always do!
No excuses, friend! You are going to be there on the day when we give each other our hearts and souls.
We know that our public display of affection can sometimes be too much for you, but just one last time, we are asking you to attend our ceremony.
Cherish the knot-tying memories forever with Picsy! Download the Picsy App now and get yourselves wonderful wedding photo products.
Child Adulation for Wedding Card in English
In Indian wedding culture, people often add child adulation to the wedding card. If you want to add, here are some examples: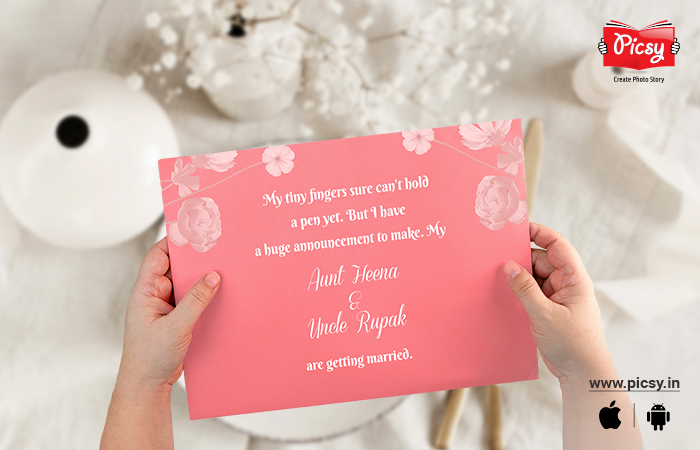 My tiny fingers sure can't hold a pen yet. But I have a huge announcement to make. My Aunt Heena and Uncle Rupak are getting married.
Even though I'm just a little guy, I know that weddings are a big deal. My Aunt Radhika and Uncle Rahul want you to be part of their big day.
I may be tiny but I know something grand is happening. Aunty Rebeka and Uncle Archie are getting married.
Wrapping-up
We hope these wonderful Indian wedding invitations might have helped you to understand what exactly you should write in your invitation. For now, the invitation thing is dealt with. But do not forget to give life to your Pre-Wedding photoshoot ideas. Use your creativity for your pre-wedding shoot. A wedding is the most memorable event of an individual's life. Thus, it ought to be cherished to the fullest.
In addition to this, did you think about the wonderful ways to preserve wedding memories? Oh, you haven't thought yet? Do not feel overwhelmed, and please calm down. Picsy is at the rescue. Just download Picsy, and we have the solution to all your photo gift-related queries, be it canvas prints or Wedding Photo Albums. Picsy caters to all needs to preserve your memories. So, what are you waiting for? The day is unrolling. Download the Picsy app now and get commenced on showcasing the memorable moments of your wedding.
Bring Style to Your Wedding Pictures
Wedding memories are dear to us. Reliving them reminds us of the wonderful big event. Choose Picsy's photo products that are crafted with love just for you two.
FAQs on Wedding Invitation Messages
1) How to politely ask guests when they are coming?
Hello there! I trust you had time to see the invitation to our wedding. If you're able to attend or not, just let me know.
2) How do I invite people to my wedding on WhatsApp?
You can either send an e-card or video, or normally invite sending a WhatsApp message with the time, and venue.
3) How do I write a wedding invitation?
First, divide the content into three parts. Start by requesting your guests to come. Then mention all the names – who is the bride, who is the groom, who are their parents. Then move on to the actual details – the time, date, venue, and dress code.
4) How do I make a wedding invitation unique?
You can make it unique by adding funny messages and quotes or keeping the design unique. No matter what, every marriage card is unique because every card has a unique love story behind it.
5) What are short wedding invitation messages?
You can keep your wedding invitation messages short too. Where it only includes the invitation line, the name of the bride and groom, the wedding date and time followed by other events. And if you want short wedding invitation lines, here are some examples:
My wedding will be incomplete without your presence. Please come.
We are getting married on (date), and you are invited!
Save the date because we are getting married on (date).
Ready to hold your memories in hand?