Trendy Wedding Photo Frame Ideas to Try in 2023
November 30, 2022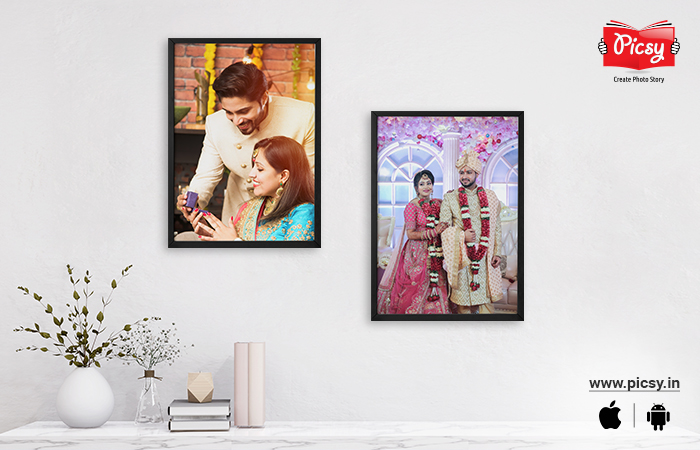 Wedding is considered to be the most special day in our lives. As we try to make it the happiest day filled with love and blessings, the major contributor to this is the pictures clicked on the wedding day. It is an understood fact that we want to preserve the wedding pictures and framing them is a great idea.
Now, surely you might be wondering how to frame wedding photos. We understand your concern, and in lieu of that, we have curated a list of wedding frame ideas for you that will ease your task. So, let us familiarize ourselves with the latest unique wedding photo frame ideas.
Order Wedding Photo Frames
Checkout our beautiful and romantic wedding photo frames
Wedding Frame Ideas 2023
There are various wedding photo frame ideas. We have selected the best ones for you. So, let us figure out the unique wedding frame ideas.
1. Consider Your Engagement Pictures
The most common yet classy wedding photo frame idea is to use engagement pictures. Engagement marks the beginning of our new life that will be spent with our partner. So, how about seizing those beautiful memories that you can relish for a longer period of time? You can even create a timeline of your love story. This way, you can simply glance at these beautiful pictures whenever you plan to relive those beautiful memories.
2. Make a Statement With Classic Black-and-White
It is an understood fact that if we induce the flair of black-and-white to our pictures, they automatically turn out to be all the more beautiful. So, let your wedding pictures appear all the more beautiful with the help of a black-and-white theme. It is one of the best ideas for your wall mounted pictures. And if the walls of your house are white, then it is a win-win situation. Because these pictures will blend efficiently with the wall color, so, it is indeed a great idea to try your hand at the black-and-white theme for your wedding pictures. You can even try this theme to make your best wedding album in 2022.
3. Vinyl Poster Frames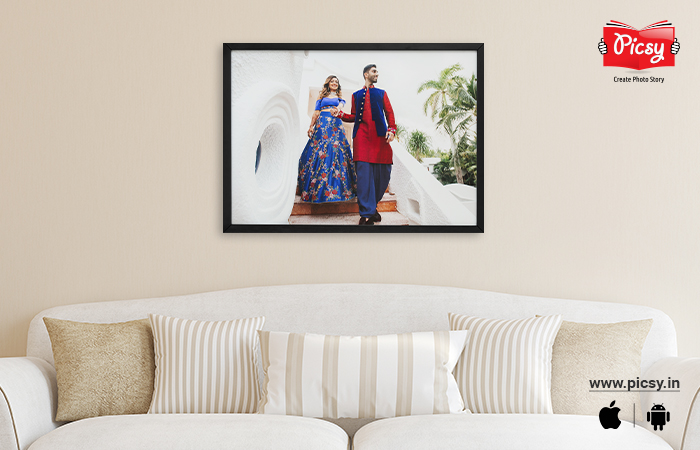 If you wish to glam up your house with beautiful yet memorable art pieces, then vinyl poster frames are the perfect way to make a statement. They are of synthetic PVC frame and look absolutely amazing. So, if you are planning to place it in your room, then select the mushy shot, while you can go for a family portrait where every family member is filled with joy, and you can place that frame in your living room. Whenever any guest arrives, they can glance at your beautiful art piece of yours. It also allows you to experiment with your wall photo frame ideas by trying different pictures as frames.
This wedding season let Picsy serve you with top-notch quality Vinyl Poster Frames !
4. A Retro Collage
If you have got a lot of beautiful pictures for your wedding and you wish to get almost all of them framed, then having a collage is a great idea. It is the most loved wedding photo frame design. And if you do not wish to follow the conventional pattern of showcasing one wedding picture, then opting for a retro collage look is a great way to make a statement. You just have to transform your wedding pictures into a collage. This way, you can flaunt more than one picture. In this, you can keep the wedding pictures in between and the picture of the rest of the events on the sides. It will give the impression of how you both have attended different ceremonies and reached the path of marriage.
Pro Tip: When you get the collage framed, please ensure that it is of large size. The reason to do so is it will catch the attention of the guests.
5. Frame the Reception Pictures
While selecting the wedding pictures to be framed, you select the ones that involve you and your spouse. Please do not forget the people who came to attend your ceremony. So, try including a few pictures involving the guests and get them framed as wall decorations with photo frames. It will help you to relish the beautiful memories you created with your loved ones. You can transform them into wall mounted photo frames to relish the lovely memories.
6. Wedding Photo Calendars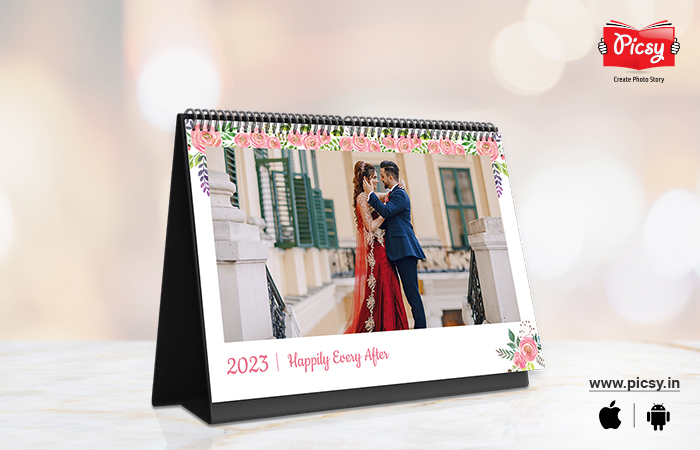 And if you are planning to place your memories in a monthly booklet then you can also try your hand on photo calendar. However, you can attach a string to hang them over the walls of your beautiful paradise. Creating a memory-packed twelve pages wedding photo calendar is a great way of inducing life into your marital memories. So, as the months will move forward, you will be flipping the calendar and be reminded of the happy moments, be it the pheras or the moments of giggling with your loved ones. It will help you to relive those beautiful memories. Not only this, but it will also serve as a romantic doze on the days when you have had any disagreements with each other. Glancing at your wedding photo calendar will make you both realize how important your relationship is to you both. It is a creative way to preserve your wedding memories.
Leave all your photo-related concerns on Picsy. Download the Picsy App now and explore.
7. Beautiful Canvas Prints
We all wish to induce life into our beautiful memories. One of the best ways to do that is by transforming the pictures into Canvas Prints. Canvas prints hold power to make any picture appear beautiful. And when it is your wedding pictures, you surely want them to look absolutely amazing. If you are looking for premium-quality canvas prints, then Picsy is the right place for you. Their premium quality allows the viewers to relish the moment just by glancing at the pictures. That is the reason why canvas print is one of the best things to do with your favorite wedding photos. Mushy shots of your wedding will serve as the one of the best creative ideas for wedding canvas prints.
8. Floral Frames
Let the walls of your house be peppered with a beautiful floral wedding photo frame. But as the real flowers might get dried up, beautiful silk flowers can be the perfect alternative. They last for a longer time and let you cherish mushy marital memories. You can place your wedding picture in the middle and surround it with silk flowers to make your marriage photo frame design look beautiful. They will look absolutely amazing and enhance the beauty of your lovely moments.
Closing Words on Wedding Photo Frame Ideas
As of now, we are familiar with trendy wedding photo frame ideas. Now, it is time to induce life into your wedding shots. And when you have a reliable application such as Picsy that offers top-notch services for photo-related concerns, then why to hunt for different applications? So, without any delay, download the Picsy App and fill up the life into your wedding pictures.
Explore Our Best Wedding Photo Frames
Shop our elengant and stylish wedding photo frames
Ready to hold your memories in hand?