7 Creative ways to preserve wedding memories
June 26, 2020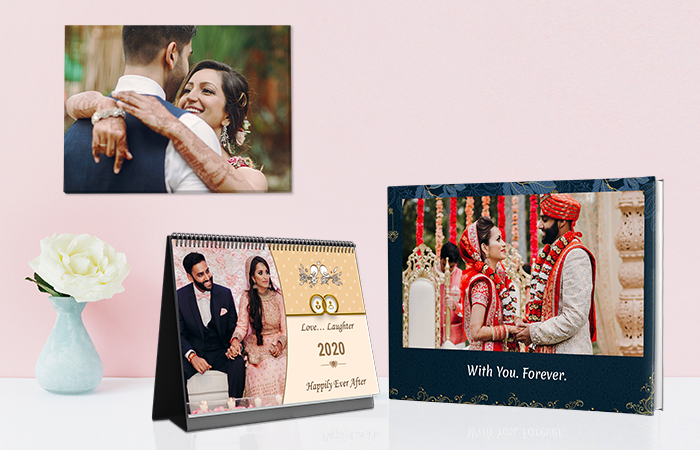 Are you getting married? Congratulations! The moments of your Big Day are going to be some of the most cherished ones of your entire life. But as fantastic as your wedding day is, it is only going to last a few hours. What will last forever are the memories you and your better half have of that day. Time only sweetens memories, so why not preserve them for posterity. Picsy presents seven creative ways to preserve your wedding memories.
1. Wedding Photo Album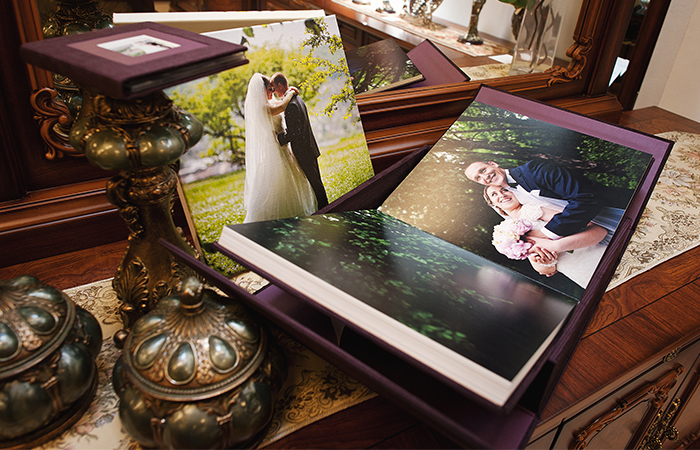 Your wedding day moments deserve the best. Picsy brings together premium materials and bespoke designs, turning your wedding photo album into the ultimate keepsake of your big day. With Picsy, all design aspects are entirely customizable. You can add and delete photos, the layout can be changed, and you can even upload your own backgrounds and add text. You could begin with our pre-designed templates or start with a blank canvas. The choice is yours. Now you can preserve every golden moment of your wedding day in the form of an exquisite Photo album. Now you can revisit, touch, and feel all the blissful moments of the most special day of your life with a wedding photo album from Picsy.
2. Wedding Bouquets; Freeze-dried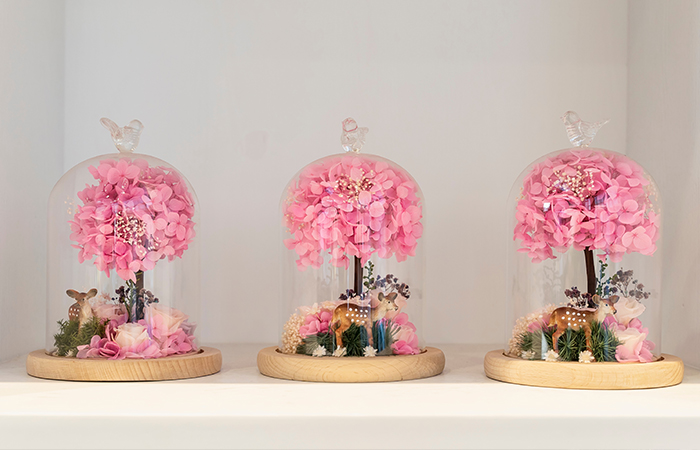 In addition to your photos of your wedding which deserve to be cherished, you can also create a beautiful keepsake of your wedding by freeze-drying flower arrangements from your wedding. These could be your bouquet or the centerpieces of your guest tables. Professional preservationists are now able to save the natural form of your flower arrangements in three dimensions, either in a glass container or a dome. Now you can have your wedding blooms there with you forever.
3. Wedding Photo Book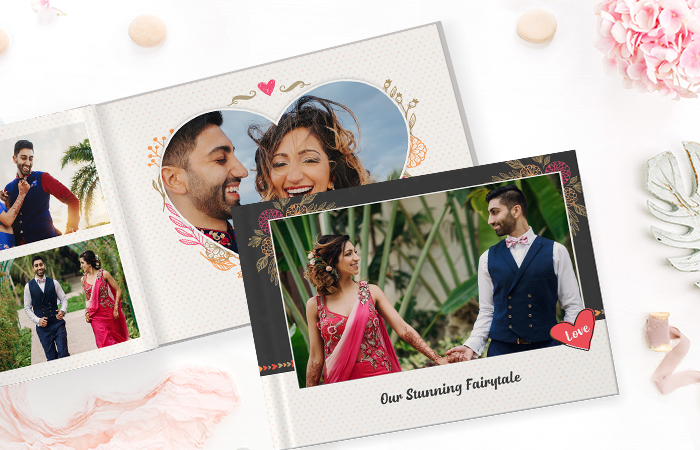 Nothing compares to the excitement of a wedding. Right from the engagement, to planning the moment, up to the moment you stand beside your forever, the momentum only builds. Tell your unique love story to all those who are important to you with a fully customized wedding photo book. We have a wide selection of themes you can choose from, like 'Wedding World,' 'Classic wedding,' 'Wedding vows,' 'Love tales,' and many more. If you are feeling up to it, you can even design your Wedding photo book from scratch. Everything is possible with our wedding Photobooks. Now you can walk down the romantic memory lane of your wedding with a wedding photo book from Picsy.
4. Wedding invitations; framed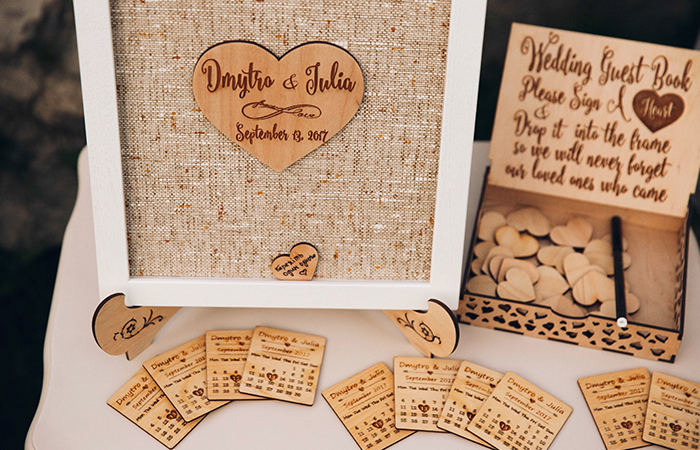 We know how hard you worked on creating your wedding invitation. You must have reviewed hundreds of designs and ruminated over and over about the prose you wanted in them so that your wedding invitation would be just perfect. Why waste all that time and effort when not only can you preserve your wedding invitation as a beautiful keepsake of your wedding but also make it a beautiful decorative piece. You can now display your wedding invitation by framing it. You can find many beautiful frames in sores, or you could go a step further and order one online.
Words of appreciation from our beloved Customer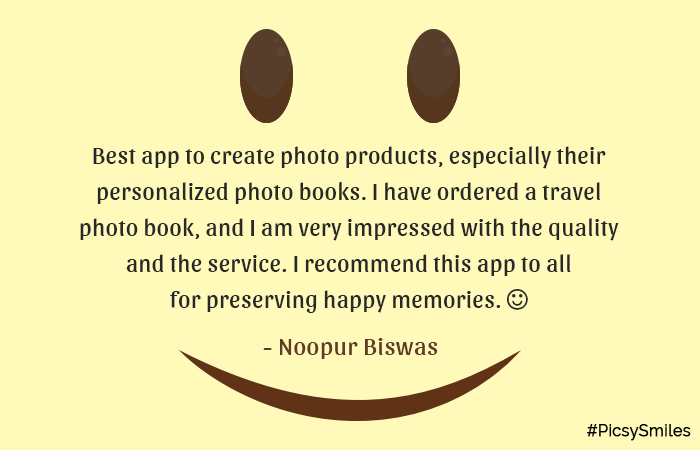 5. Wedding Photo Calendar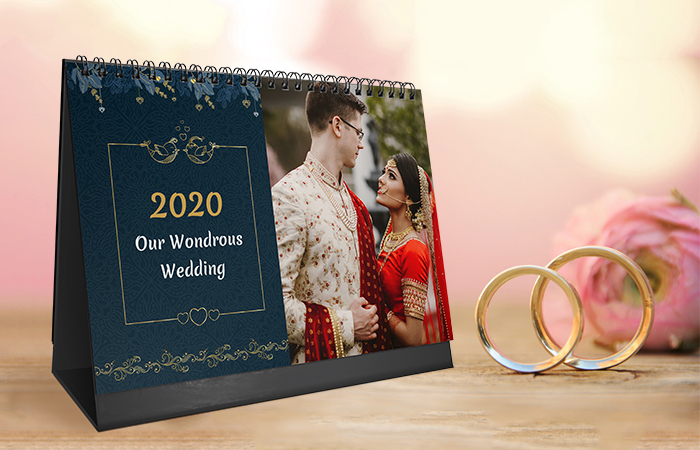 How about photos from your wedding greeting you all year round? With Picsy, you can create a beautiful Wedding Photo calendar that is not only a thoughtful keepsake but also a brilliant way of showcasing photos from your big day. Your wedding is a 'once in a lifetime' occasion, and the magical moments captured during the festivities are sure to fill you with warmth and smiles. Picsy offers endless options for designing your Wedding photo calendar. You could choose from themes like 'velvety valentine,' 'Wedding Vibes,' 'Wedding Classic,' 'Wondrous Wedding,' and many more. Now you can capture the out-of-world experience and the incredibly romantic moments you and your loved one shared on your wedding day in the form of a shiny and classy Wedding Photo Calendar.
6. Wedding Shadow Boxes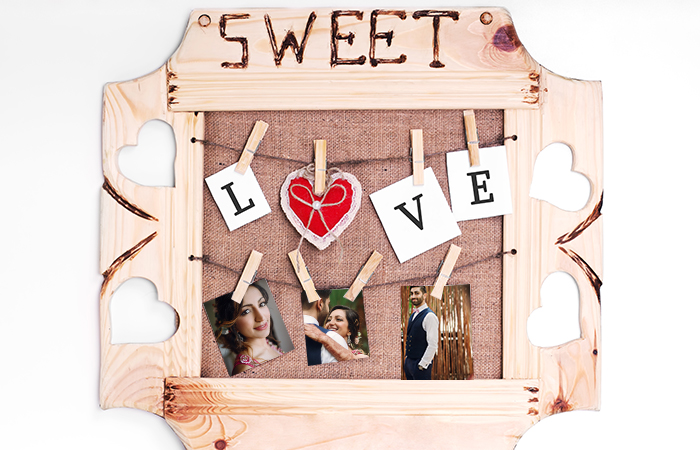 Shadow boxes, basically a box with a transparent cover, are a great way to display items from your wedding. The fact that shadow boxes have depth enables you to display object and mementos that are three dimensional, like your veil, your escort cards, ribbons and flower arrangements from the bouquet, or even the figurine on top of your wedding cake.
7. Wedding Canvas Prints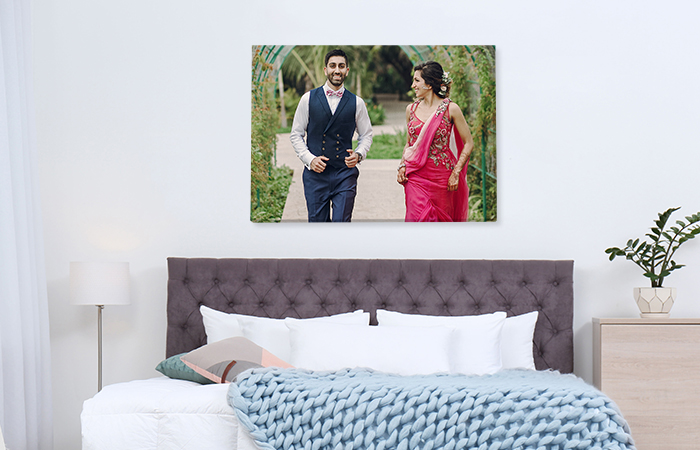 We know that you have many pictures on your smartphone, each of which is a sonnet to your special day, your wedding. These pictures deserve as prominent a place in the physical world as the ones they have in your heart. Picsy introduces Canvas prints that not only tell the tale of your wedding day but also make fabulous home décor pieces.
Canvas Prints from Picsy are fade-proof, water-proof, and tear-resistant, giving them a sturdy quality that withstands the test of time and keeps your precious memories safe. Canvas prints come with a vintage grain texture that adds an air of class and exclusivity to your favorite photos. You can dedicate an entire wall to Canvas Prints of your wedding photographs and keep the magic between you and your loved one alive forever.
You May Also Like This : 8 CREATIVE IDEAS FOR TIMELESS WEDDING CANVAS PRINT
We know that you made sure your photographer took hundreds of photos of your big day, but believe us, you can only frame a finite number of photos. The above mentioned wedding keepsakes are wonderful ways of preserving those extra special memories of your wedding. Visit us at Picsy.in or download the Picsy app for our full range of wedding photo souvenirs and keepsakes, so that you can revisit every detail of your wedding for years to come while stepping up your home decor with all the beautiful moments of your big day. Download the picsy app now and get started on displaying the magical moments of your wedding.
Ready to hold your memories in hand?