10 Best Wedding Albums Design Ideas
February 05, 2021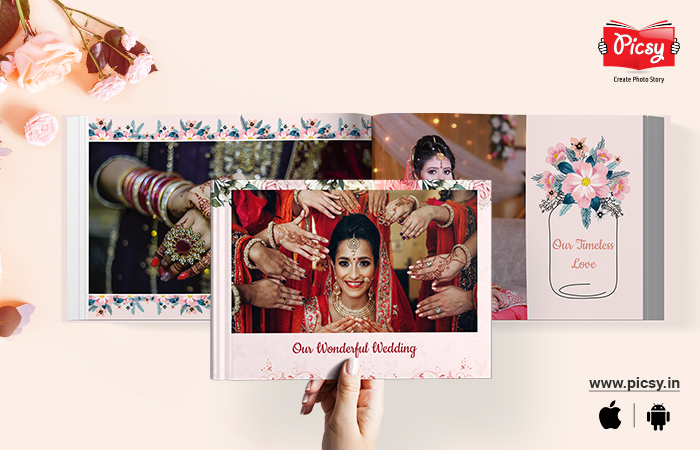 Has the thought of what to do with your fabulous wedding photos after your special day? When your wedding photographer wraps up your shots and sends them back to you—remember to put them some place as exceptional as they are, like an exquisite wedding album. Instagram is extraordinary for sharing snaps with loved ones, yet actual keepsakes like a wedding album won't ever go old.
Not certain where to begin? We're here to help! Picsy presents the 10 best wedding albums for 2021.
Best Wedding Album Design Ideas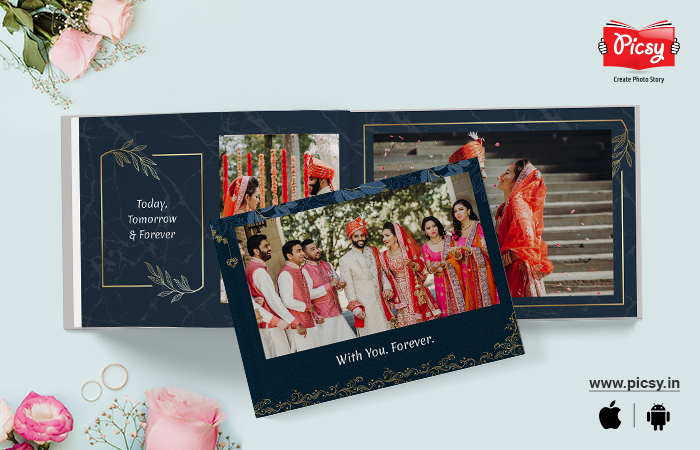 Picsy presents the "wedding moments" wedding album theme. With muted colours to capture the magical moments of your big day you can add in any amount of embellishments, stickers or quote boxes to make flipping through your wedding album a personal fulfilling experience. Choose our wedding moments wedding album for a subtle, breezy flip-through.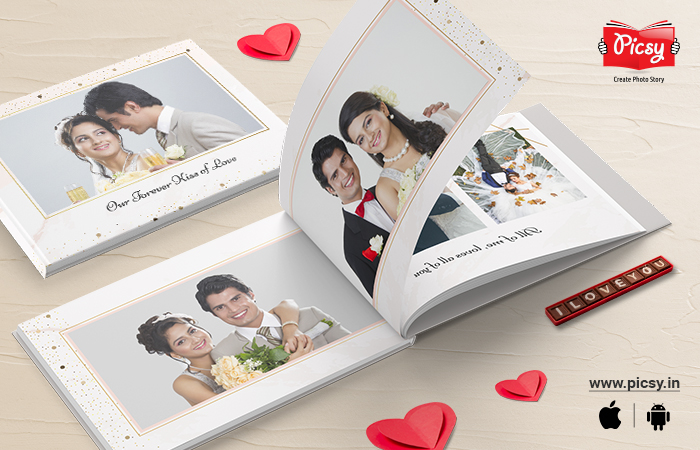 You wedding is your big day but there were many special days that led up to it. The time from your engagement to your wedding was exceptionally special and we are sure that you experienced many magical moments which you would like to revisit. Our wedding album theme "eternally engage" is the perfect opportunity to let your friends and loved one into the experience you and your special someone had after you were engaged and from them on, up until your wedding.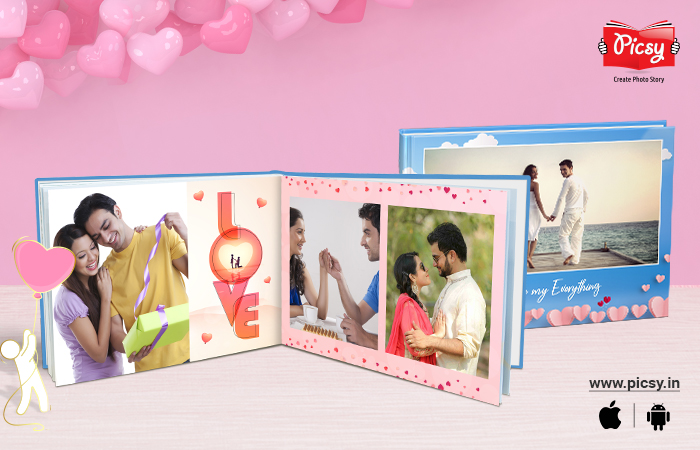 Waiting is the best part. You know that you are on the path of spending a lifetime filled with joy and love with your special someone. He/she is so close and yet so far. Maybe you had the pre-wedding jitters and friend took a snap of you. Maybe you made a clandestine visit to your beloved and her parents caught you. All these fun and love filled moments make for exceptional keepsakes, ones that you can cherish in our pre-wedding theme wedding album theme.
Read More : 15 Unique Pre-Wedding Photo Shoot Ideas for Every Couple!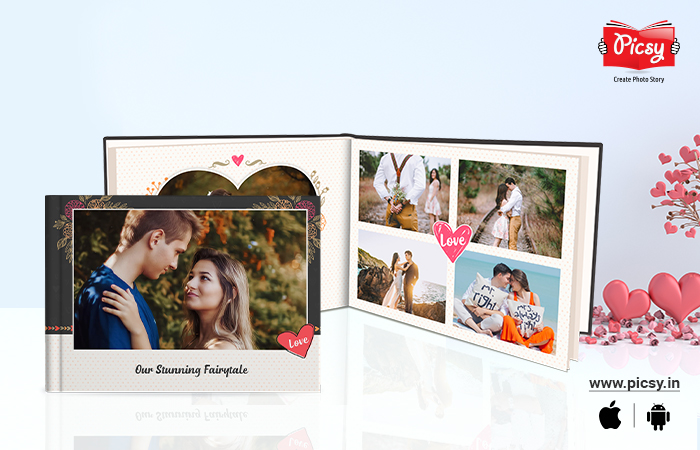 Your love story is no less than a fairy tale, one that can be told and retold time and time again. But are you going to just let it be a tale to hear or an experience that you can share with friends and family? Presenting the "love-tales" wedding album design from Picsy. Now tell your love story with snippets of old movie ticket stubs, love poems that you wrote to each other and candid shots of how you and your special someone fell in love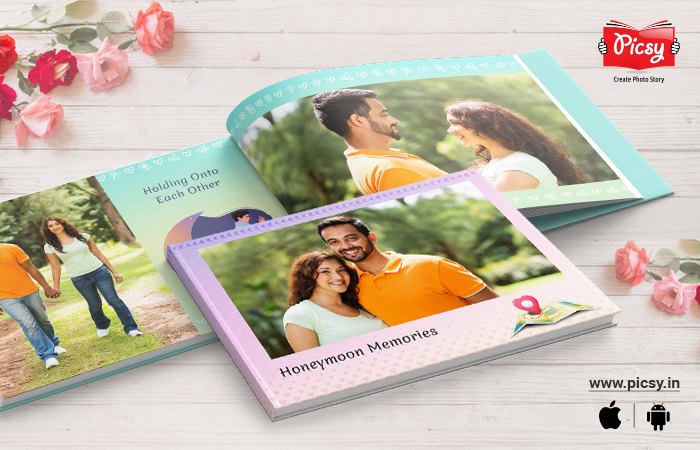 Is that love in the air we see? Yes it is! Your honeymoon was truly magnificent. In the romantic locales of faraway places you and your loved one fell head over heels for each other all over again. So why not tell the world of those magical surrounding you were in. Whether it was snowing or a gorgeous beach with warm yellow sand, your honeymoon escapade need re-telling. Picsy presents our "honeymoon memories" marriage album design so that you can re-live those moments of pure bliss.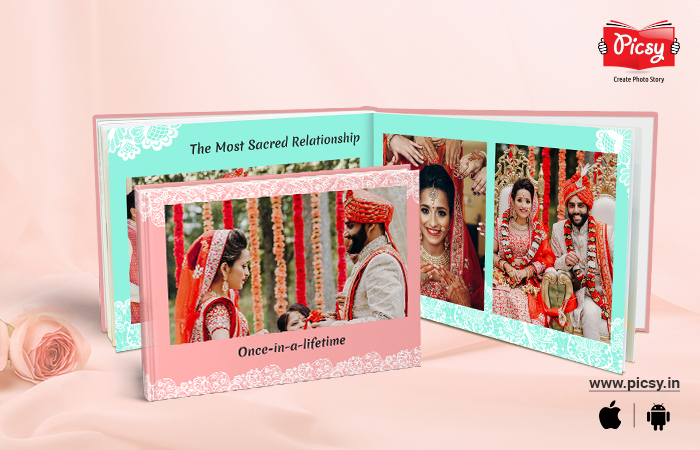 It doesn't matter whether you were in love before you married or if it was an arranged affair. What matters is that you met and fell in love. In those little meetings where you would barely be able to catch a glance of each other to the hours spent in coffee shops looking deep into each other eyes, you wedding romance deserves to be cherished for years to come. Picsy presents the "wedding romance" Indian wedding album design to keep your wedding romance as fresh as ever.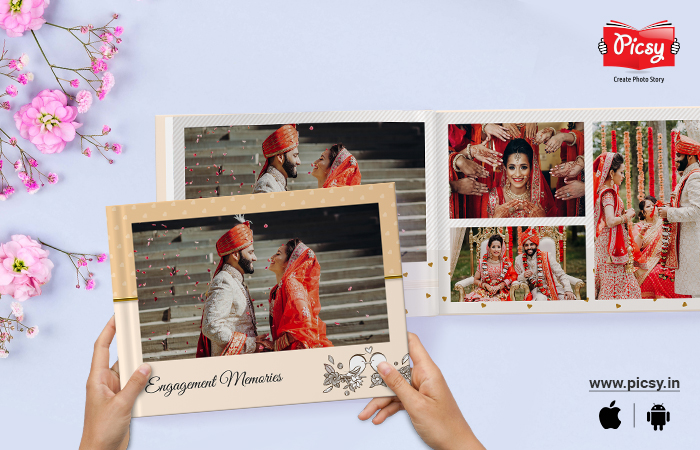 Marrying someone is a life-long promise and vows just solidify that pact. You might have gone by the book and said what the officiator of the marriage asked you to or maybe you wrote your own romantic vows. Whatever the case, the moments and expressions of love that went together as you made your vows to each other definitely deserve mention. Now cherish all the promises you made to each other along with the many pictures that went with them in Picsy's "wedding vows" wedding album theme.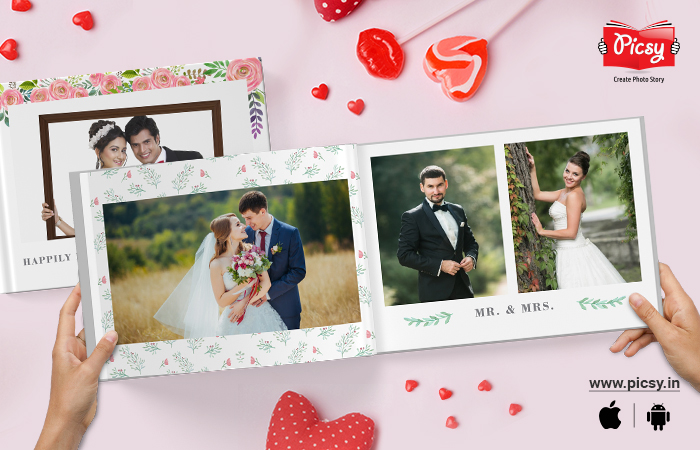 Old school never really grows old. If you had a typical white, gold and red wedding then Picsy's "classic wedding" is the best wedding album for you. With a sophisticated layout and hues that drip class, This wedding album theme makes for an excellent coffee table flip-through.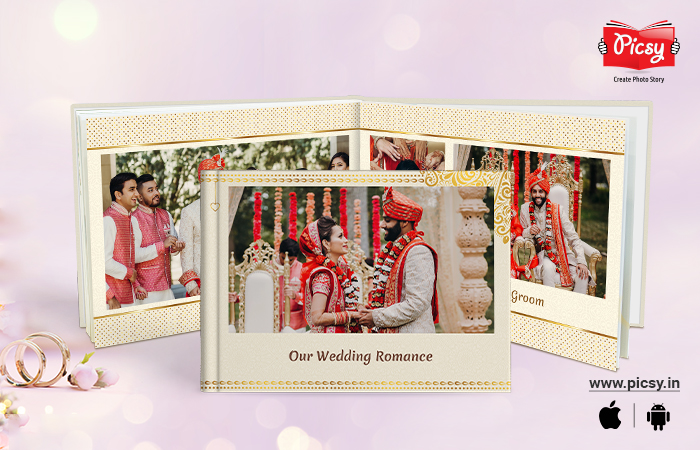 Do you hear the bell toll? Your big day is here. Your wedding day is one of the most special moments of your life and the sights and sounds you experience are going to stay with you for a lifetime. But memories fade after some time. Thanks to Picsy's "wedding bells" wedding album theme you can now cherish your magical moments in an exquisite keepsake.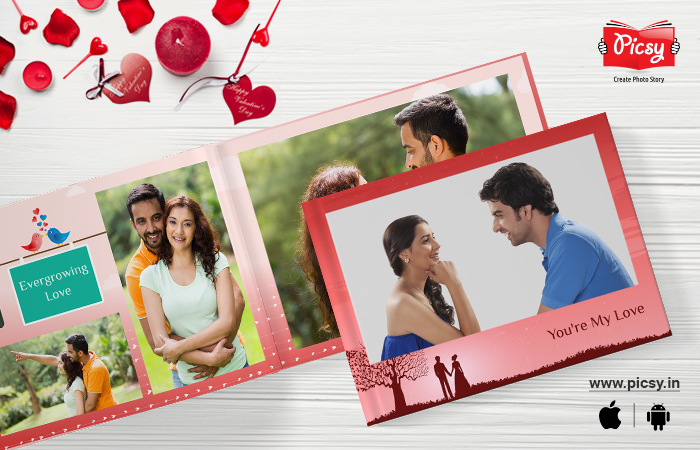 You remember the day you first asked your special someone to be your Valentine? That was when love first blossomed in your life and such a moment deserves nurturing. Now keep the early moments of your love safe and as good as new in Picsy's Valentine Vibes photo book. With deep reds and pretty pinks this theme from Picsy is perfect to let you know how you and your special someone were truly made for each other.
Read More : 7 Creative ways to preserve wedding memories
Wrapping up-
Your marriage album is a tome that you can flip through at anytime to look back at how far you and your special someone have progressed from your first meeting, your first date and now the journey of life that you share with each other. With these 10 best wedding album design themes from Picsy, you can celebrate the magic that binds you and your loved one to each other, the breakable bond of marriage.
So if you too are looking to cherish your magical wedding moments in the best wedding album possible, you've reached the right place. Download the Picsy app now and get started on the best wedding photo album ever.
Ready to hold your memories in hand?