Tips and Theme Ideas to Create the Best Wedding Album in 2023
January 11, 2022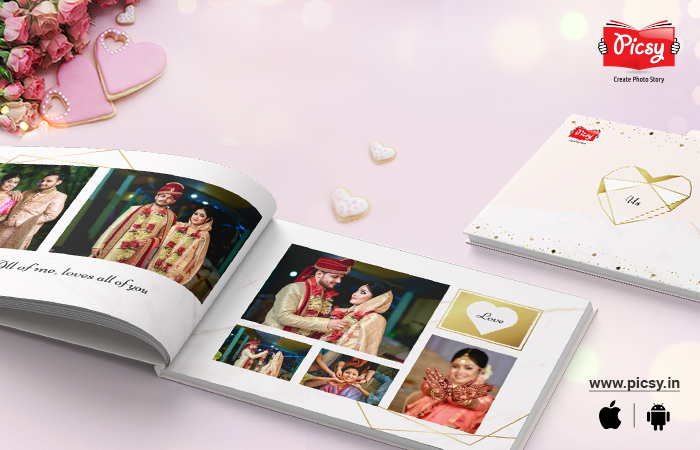 A wedding photo album is a mini untechnical gadget that lets you time travel to one of the greatest and happiest moments of your life. Marriage - the moment where you tie nuptial knot with your soulmate. And who doesn't like to recall and crow about the wedding décor, right? So, we collect them in the mini gadget with brilliant wedding album designs.
Talking about the photo album design, here, in this article, we will share with you a list of easy yet elegant DIY wedding photo album ideas that you can pull off with simple ingredients
But before that, let's understand how you can organize your wedding photo prints before trying on different creative wedding album designs.
How to Organize a Wedding Album?
With a few step-by-step simple pointers, we will guide you through the process of creating the perfect wedding album. Let's get started.
The Size of the Album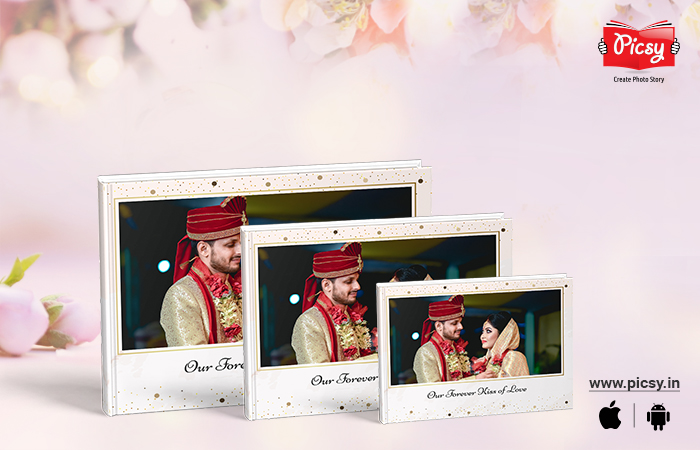 Not only for a wedding album, but before designing any album or photobook at all, you need to decide its size first. If you do not know the size, it is going to be challenging to plan on adding extra elements to it. Hence, deciding the size is the first step you need to carry out.
Now, you might ask, what are the standard or available photo album sizes in the market? Well, availability in the world of digital customization is not a big deal, but the standard sizes are:
16" by 12"
11" by 8.5"
8" by 6"
The Number of Pages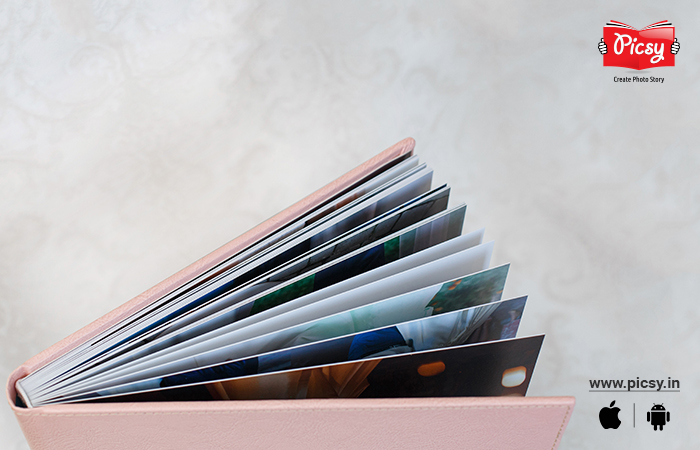 The number of pages can always be adjusted with a few additional charges. But, to decide the number of pages, you need to know which images you want to print and which to discard. When you have the number of images selected, you will have a fair idea of how many pages you would require. So, how many wonderful moments did you capture for your creative wedding album design?
The Quality of the Paper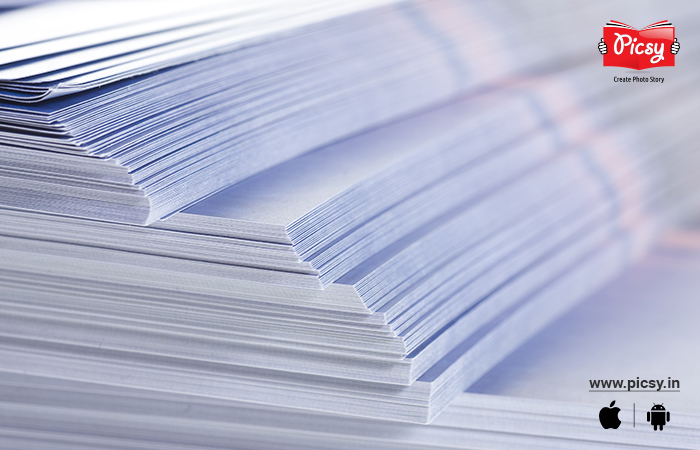 There are a lot of creative ways to preserve your wedding memories; how it is going to look depends on how you want it to look. So, what are you planning? Is it going to be a gorgeous glossy wedding photo album design or a classy marriage photo album? Did we tell you whether it is the front cover wedding album cover design or the inside pages, you can always choose the quality of the paper? Oh, yes! You heard us right. You can do that if you are picking a likable photo album or photo book creator.
Want to create an extraordinary wedding album? Download Picsy App and get your
dreamy wedding album ready!
The Front Cover Wedding Album Cover Design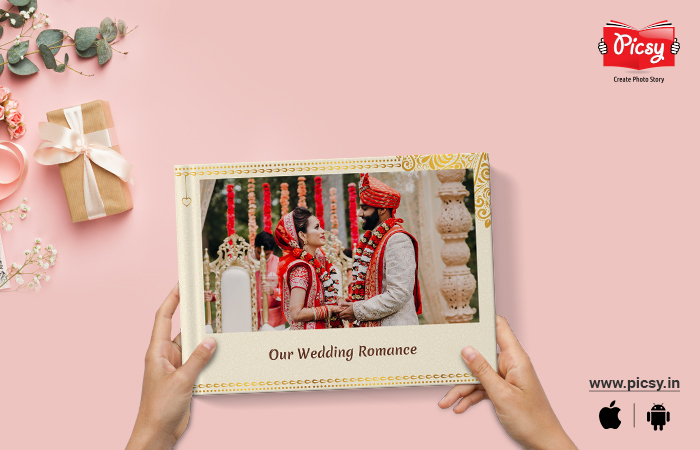 The front cover of any album is the star of the show, you know that. It decides the ultimate look of your dear album. And when it comes to your wedding album design, it demands more attention – it is, after all, the pre-eminent album of your life. To make it look organized, you must choose the album's theme. Let's say you want to create a wedding album, so segregate the events first – pre-wedding, haldi, sangeet, marriage, reception, and so on.
Now decide which one of these you are carrying first? Is it the first one? Then go for a pre wedding album design cover. These segregations not only reduce the hotchpotch of disoriented images but also help the viewers to understand the event in chronology.
List of Wedding Photo Album Designs
Now that we have covered the basics of organizing wedding photo albums, let us check out easy yet charming DIY marriage album designs. Meanwhile, if you are doubting your level of creativity and worrying about how to make your own wedding album online, it is not an issue at all. Most of the online photo album makers provide multiple templates to choose from so that you can relax and enjoy relishing your memories of D-day.
Detailed Wedding Album Design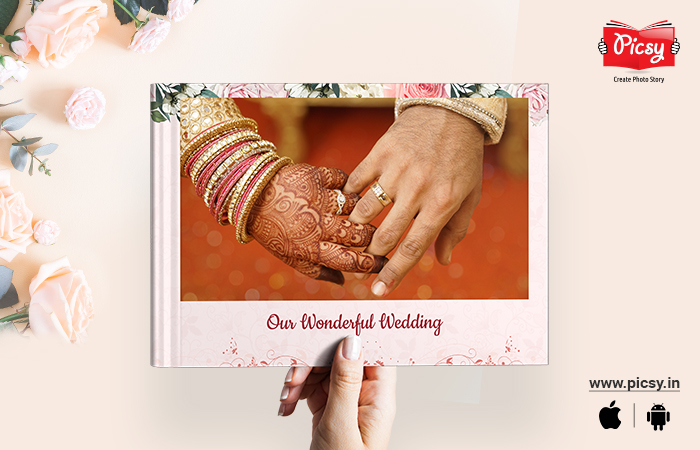 If you are wondering, what do we mean by detailed, we mean all the zoom-in shots. Whether it is the nameplate on the reserved tables or the eye make-up of the bride, zoom-in shots take you straight to the wedding event effortlessly. So, if you have enough detailed shots, it is worth creating a marriage photo album.
Color Filter Photo Album Design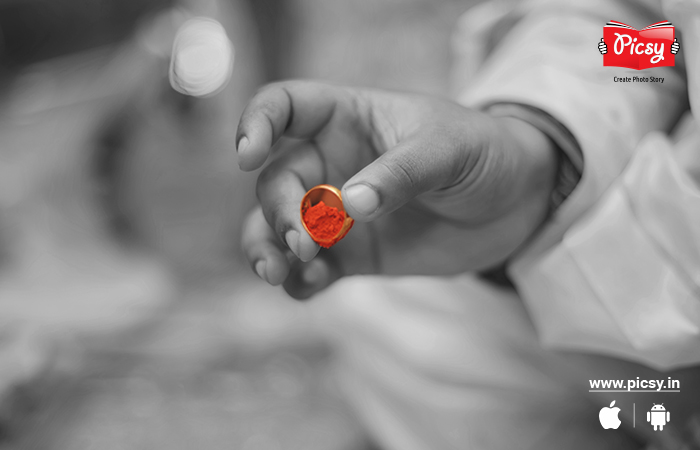 A little unusual avant-garde marriage album design for your eventful day – color filter album. Here, the main element of the image will be in color, the rest of the wedding album background will be in black and white. For example – in the image where the broom puts the sindoor on the forehead of the bride, let only the sindoor be in color and the rest of the image in black and white. This puts more emphasis on the event than other frivolous elements.
Love Tales Wedding Album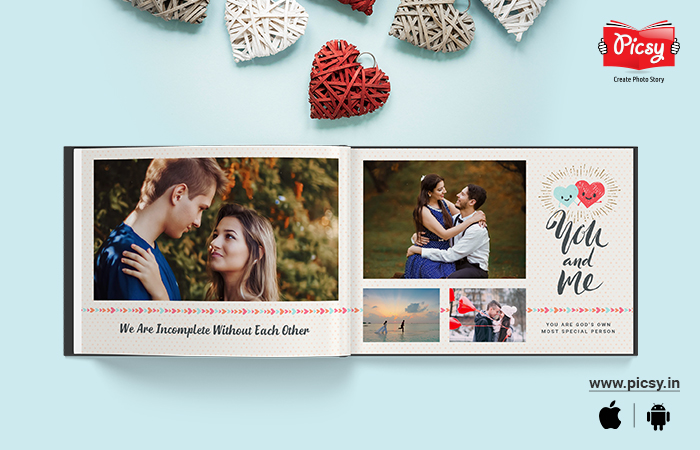 Every love story is special and unforgettable, and so is yours. And what is a wedding album if it does not reflect your story? Let this special creative wedding album design carry out your love story. How you met, became friends, and steadily fell in love. Let your adorable fairy tale be the talk of the town.
Want to create your love tale that you can feel in hand? Checkout Picsy's Love Tale Photo Album!
Quotes Wedding Photo Album Design
Let not only the photos speak but words as well. With all the vows written on the wedding photo album, attach the wedding invitation wording you have sent to your relatives as well. After all, the invitation wordings are also a part of the wedding event, don't you think? It is a wonderful idea to have a quotes wedding photo album to make your spouse remind the vows whenever you get into a fight—an adroit trick to joke with your other half.
Wedding Photo Album Collage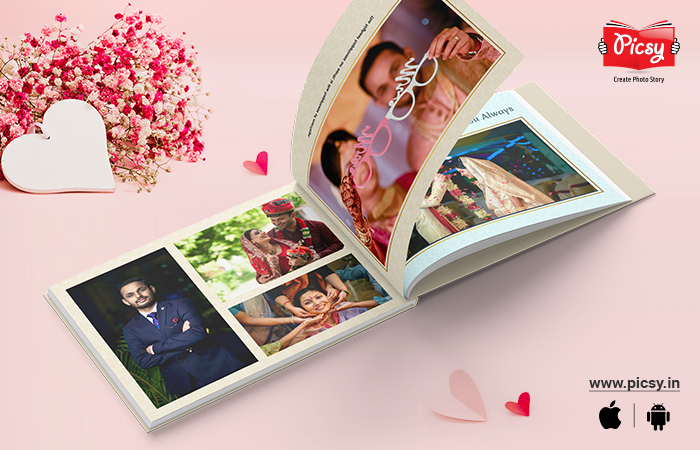 Choosing a handful of images from all the stolen moments can often get tricky. We get it, in the rear, it is your very big day, isn't it? Why not add them all? Make collages for each page and add all the majestic big-wheel moments comply in your marriage photo album. One classic advantage of this is you can play with the wedding album background and add elements without disquieting the actual image.
Pre Wedding Album Design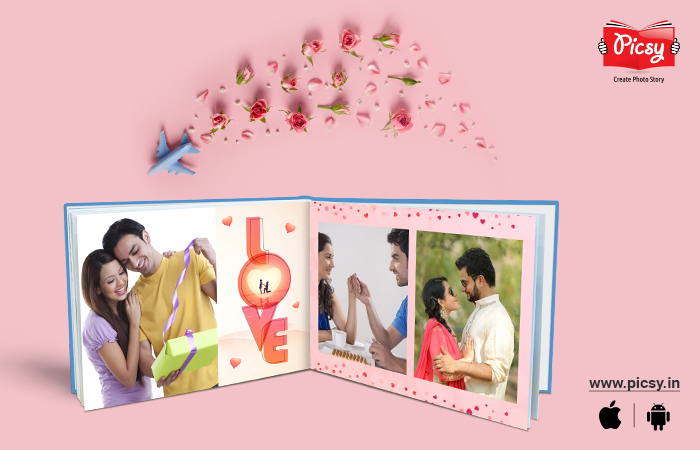 Just like how your wedding tale starts the moment you two love birds meet, pre wedding session too deserves a spot in the wedding photo album. To make your pre wedding album design dressed up to the nines, get the standard large-size photo book. It will not only give a perfect drive to your love story but will also capture the beautiful moments together right before tying the knot.
Read More : 15 Unique Pre-Wedding Photo Shoot Ideas
Wedding Hard Cover Album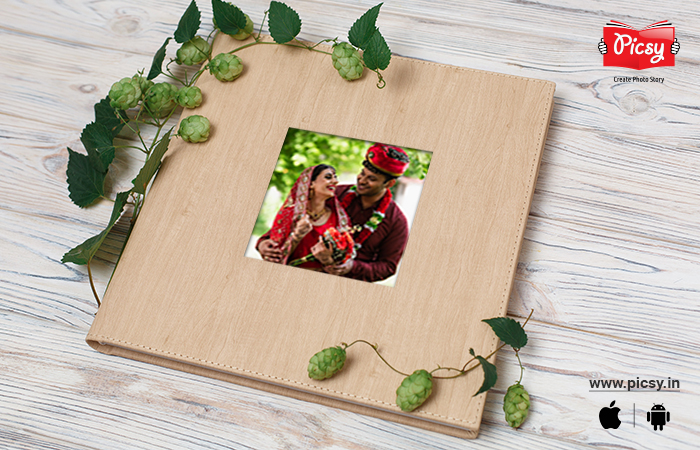 Not every design defines adding extra elements but changing the traditional style of creating a photo album. Just like how steady you want your marriage to be, we want your wedding album to live long as well. To keep it so, let the hardcover be wooden or leather. The stronger the material you will choose, the durable it will be. So, to make your wedding album look enduring, choose the material wisely.
Larger Than Large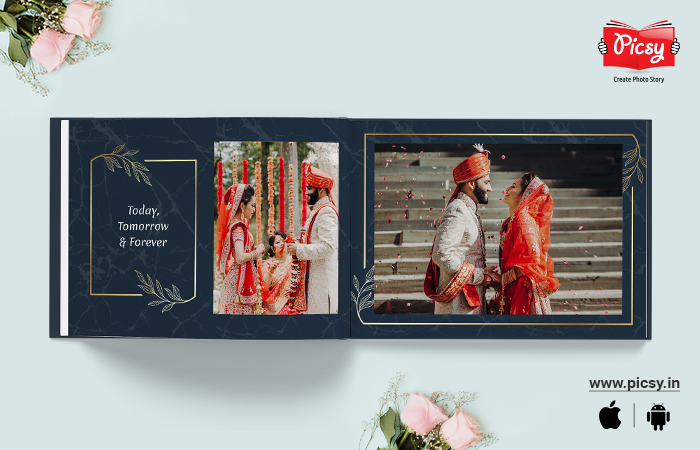 A few moments on the occasion of the wedding deserve a bigger stage. Let's say when the bride and the broom exchange the garland or when they take the seven vows; those are life-changing moments. Let these moments fill the pages of your marriage photo album. They do not justify sitting at the corner of the page but pervade.
The Wedding Venue
We, Indians, put a lot of effort and backing into choosing the wedding venue; why not let your theme highlight the venue? The venue crafts a special decision on the big day, whether grandly decorated or not. It holds your story till it perishes. So, will you not agree that the venue reflects a lot more than you can imagine? Hence, we recommend a wedding venue photo album highlighting all the special events of one of the biggest events in life.
Gilded Wedding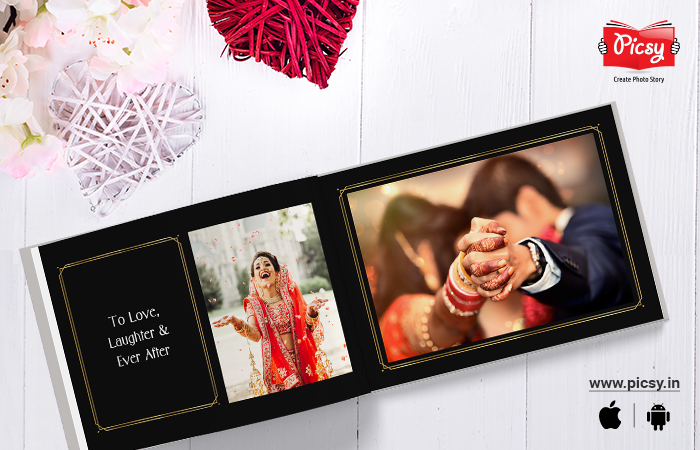 The marital moments are one of the most special moments of one's life, and of course, it should be – it is the day when you take an oath to be with your soulmate eternally together. So, get the dreamy
gilded wedding photobook and relive your golden period with your better half.
Conclusion:
Whether you decide to get a wedding photo album for yourself or your friends, it is one of the most thoughtful personalized products that can win hearts in seconds. We hope our list of wedding photo albums helps you in the making of the beautiful album and portrays the wonderful wedding moments.
To get it done efficiently and quickly, download the Picsy app and get access to numerous wedding photo book templates. So, the next time you think of making your marriage photo album unique, you don't have to break your head over planning its layout. Browse the app, and happy Picsy-ing!
Ready to hold your memories in hand?