Canvas Print Ideas to Beautify Your Kitchen & Dining Room
December 09, 2022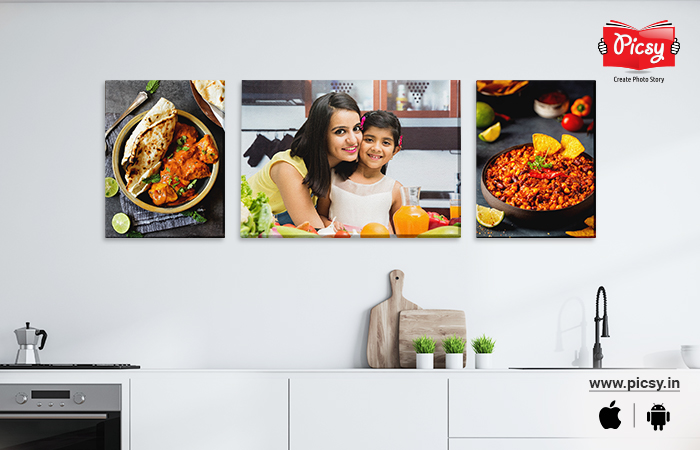 The kitchen is the heart of the house, and your dining space is definitely the heartbeat. The reason is that the kitchen is where our mothers cook delicious delicacies with love for us. And the dining area is the place where most of the memories are shared. Be it the chit-chat sessions with your siblings or the deep conversations with your dad. These areas of your home need not appear conventional. However, the right amount of home décor will do wonders and will add beauty to your space.
Currently, everyone is falling head over heels for Canvas Prints. It is because they are durable and look absolutely amazing when placed in the home. We understand you might be feeling about how to beautify your kitchen and dining area using canvas prints. And that is why we have curated this informative write-up for you. It will help you to choose the perfect dining room wall decor.
Canvas Prints Ideas for Dining Room & Kitchen
There are various canvas wall art ideas that will enhance the beauty of your dining area. They also serve as great contributors to beautify the space. So, let us figure out the trendy canvas wall ideas we can incorporate into our dining area and kitchen area.
1. Fam-Jam Memories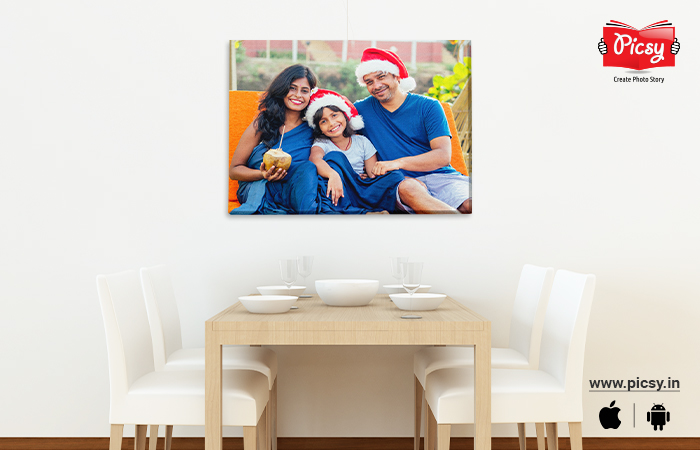 We all are deeply in love with our family members. Then, why leave an opportunity to make them feel special? Seize this opportunity to let your family know what they mean to you. Select the best family shot where everyone is present and get it transformed into a family canvas print. This way, when your family is gathered to have a meal together, then glancing at that beautiful art piece will multiply the happiness you are sharing with your loved ones. Moreover, it will also enhance the taste of the dish.
Along with this, your grandparents will surely have some or the other interesting anecdotes to share with you. So, be prepared for additional laughter and fun. And this is the reason why it is one of the most admired canvas print ideas.
2. Try Your Hand on Bold Prints
If the walls of your house are of lighter color, then try getting your hand on the bold prints. They look absolutely amazing and hold power to beautify your walls. And whenever you look at them while having your meal, they will induce that flair of positivity in you. Here, you can experiment and try using the Canvas Photo Frame in vintage look. However, when you display something classic, it automatically induces that royal touch to your home.
3. A Unique Cuisine
Just painting the walls beautifully is surely not sufficient. If you wish to add that additional beauty to your interiors, in that case, try beautifying the walls of your house using a jaw-dropping beautiful art piece that showcases a unique cuisine is a great idea. The presence of this art piece will make your area stand apart, resulting in a chic look. You can also use this idea as your kitchen wall décor.
P.S. It will encourage you to experiment with different cuisines.
4. Flowery Touch
You can surely not go wrong with using the flower custom canvas prints. They will let you have that fresh feeling. And who doesn't like to feel good while having their meal? So, let a beautiful flower-printed art piece enhance the beauty of your dining room or kitchen.
5. Marital Memories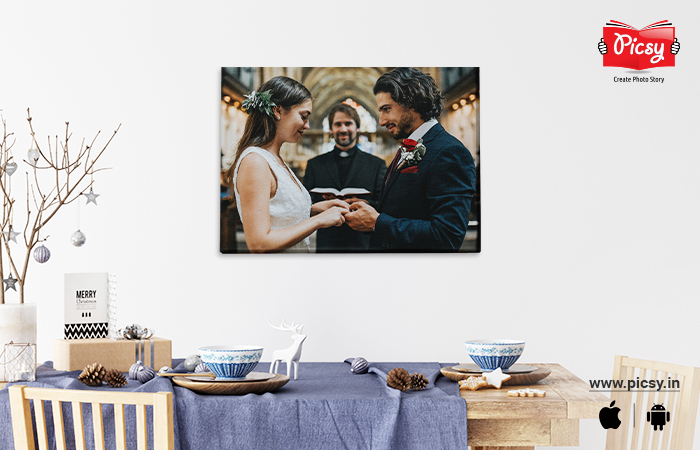 For all of us, the wedding memories hold a special place in our hearts. And it is the day when we remain extremely busy. That is the reason, it is all the more important to transform marital memories and display them in the dining room. You can select the picture wherein all the family members are present, blessing you and wishing for a happy life ahead. This memorable art piece will take all of you on memory lane of the great celebration of your wedding.
However, it is an appropriate canvas print for living room decor is choosing the mushy marital memory. It doesn't matter if it has been two months or two years; it will enable you to reignite the romance between you two.
Looking for a platform to print your memories? Try our Canvas Prints!
6. A Wall Devoted to Your Kid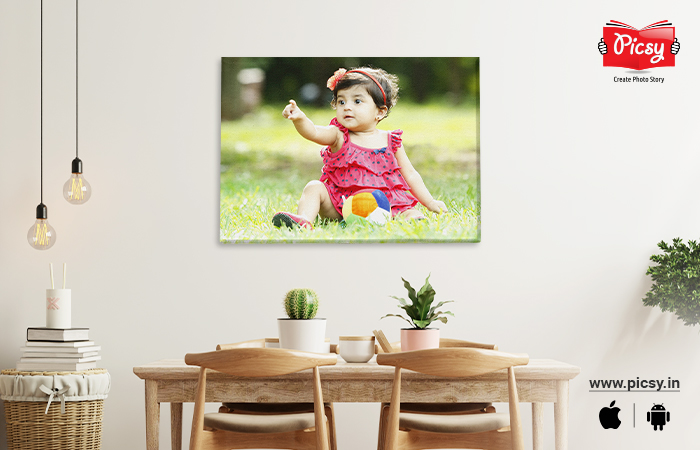 It is indeed a great idea to devote the dining wall of your home to your kid. This way, they will feel extremely special and will know what they mean to you. Select their best picture and transform them into a canvas photo print. You can choose the image where they are either playing or doing the activity that they love the most. Looking at their smiling face will induce positivity in you. It is the perfect art piece to be displayed in the kitchen and dining space.
Let Picsy take care of all your canvas print-related concerns. Download Picsy App Now!
7. An Inspirational Quote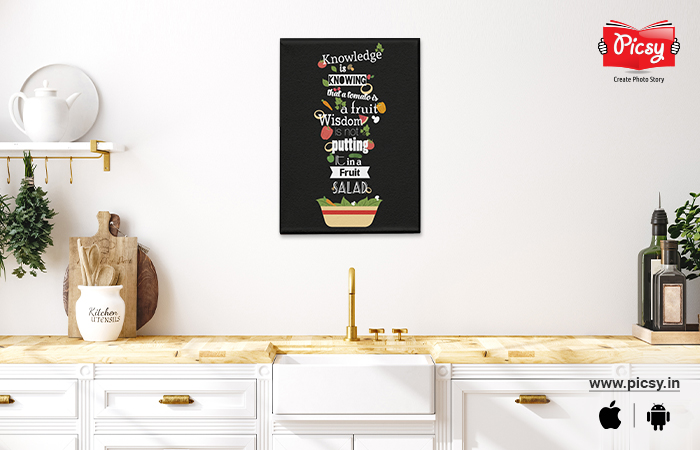 Reading the beautifully penned quotes will surely not make you feel gloomy. Get your hand on a canvas wall art that has motivational quote printed on it. It is absolutely perfect for display as your kitchen area wall decor. It will serve as a constant dose of motivation.
8. Let Nature Add to the Feast
If you are wondering how to choose the right photo for a canvas print, then treating your monotonous walls with a beautiful canvas print that has an image of nature is surely a wonderful idea. You can choose a picture of a waterfall or even a lush green forest. The waterfall will induce the feeling of moving life, and a picture of the evergreen forest will give the feeling of prosperity.
9. Flaunt Your Music Taste
We all have diversified music tastes, and it is indeed a great idea to let everyone be familiar with your choice of music. You can select the lyrics of your favorite song and get it beautified with the help of canvas print. Apart from canvas prints, even Acrylic Prints are also a great choice to rely on to beautify your home and, specifically, your kitchen and dining area. They align very beautifully with your home and office décor.
Closing Words on Canvas Print Ideas
As, you gained a better understanding of how to beautify your kitchen and dining area using the different types of canvas prints. So, it is time to get your hands on the beautiful kitchen wall decor and enhance the beauty of your space.
And by now, you might have selected the idea that compliments your taste. But don't worry about the canvas print. Picsy is known for providing premium-quality canvas prints. So, shun off all the stress from your shoulders and download the Picsy App. Choose the theme you wish to display and seize the opportunity to make a statement. Also, be assured, Picsy delivers the memento of your memories on time to your doorstep.
Ready to hold your memories in hand?