25 Unique and Creative Save the Date Ideas Your Guests will Love
August 28, 2023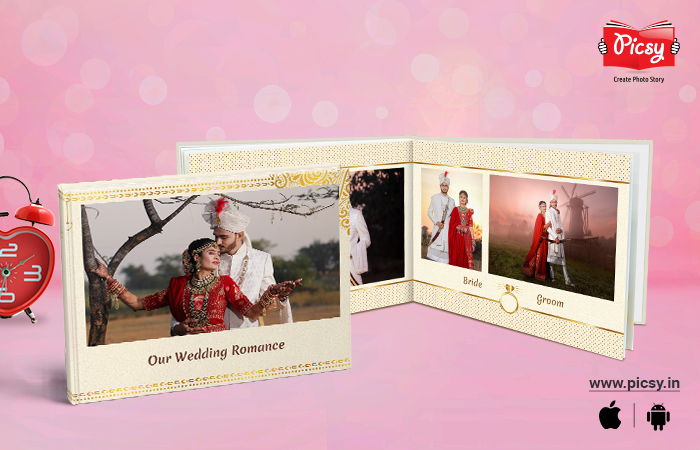 In the sphere of romance and anticipation, where time and love come together, lies a precious moment that marks the beginning of a lifelong journey. Yes, I am talking about marriage. Imagine a moment frozen in time beckoning your loved ones to join you both on the path to forever. Capture that moment. Look out for save the date ideas that speaks for you.
These save the date wedding ideas remind us to slow down, to savor the significance of what lies ahead. They are the gentle whispers that dance upon the breeze, inviting those closest to us to share in the joyous celebration of our union. Each save the date idea holds within it a story, a promise, and a touch of magic. So, join me to delve into a world where time stands still and love blossoms.
Embrace the Beauty of Your Wedding Moments
Preserve your precious wedding memories with Picsy's durable and trendy photo products. From custom metal prints to acrylic wall prints, our products exude elegance and longevity. Elevate your wedding photos to new heights and ensure that your cherished moments withstand the test of time with grace and style.
Skip to...
When to Send Save the Dates ?
Timing is everything when it comes to the big announcement. Just as a well-choreographed dance requires perfect rhythm, the timing of your save the date announcements sets the stage for the grand wedding day.
So, when is the ideal moment to share the glimpses of your pre-wedding photoshoot into your impending celebration? Basically, it is said to send out your unique save the dates two to three months before the big day. This will let your guests to mark their calendars and make the required shifts on their schedule to be by your side on this special occasion.
However, there are a few exceptions to this general rule. If you are planning a destination wedding or if many of your guests will need to travel from afar, consider sending your save the dates even earlier, around nine to twelve months in advance.
Pro tip: If you in case forget to invite someone, last-minute invitations are fine too.
By selecting the perfect timing for sending your save the dates, you lay the foundation for a celebration that will linger in the hearts and minds of your guests until the day you and your partner join hands.
Transform Your Wedding Venue. Explore Wall Decor Options Now!
Importance of Unique Save the Date Ideas
In the vast sea of wedding save the date ideas, the choice you make holds a significance. It is more than just a practical announcement; it is a gateway to your love story. Selecting a memorable save the date wedding idea sets the tone for your upcoming big day, building excitement among your guests. It ignites their imagination inspiring them to envision the magic that awaits. In turn, will eagerly await the opportunity to celebrate your union and shower you with heartfelt marriage gift ideas. So, let's check out all the amazing save the date announcement ideas I have listed for you.
Save the Date Ideas
My save the date invitation ideas encompass a wide range of styles and themes, offering inspiration to the ways of engagement announcement to reflect your adorable love story. Let's set the stage for a celebration that will be etched in the hearts of your loved ones forever.
Unique Save the Date Ideas
In a world where individuality shines bright, why not infuse your save the date with a touch of uniqueness? Here are a few distinctive save the date ideas that will leave an everlasting impression.
Vintage Charm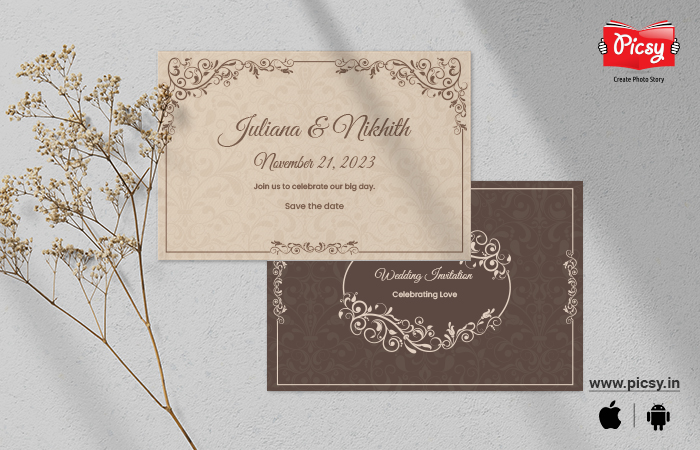 Transport your guests to a bygone era with vintage save the date ideas such as this. Opt for elegant calligraphy, sepia-toned photographs, and antique-inspired designs to evoke a sense of timeless romance.
Fun and Whimsical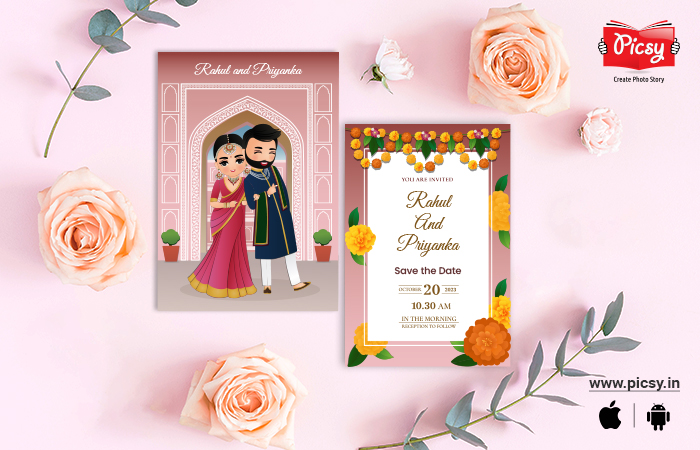 Inject a dose of playfulness into your fun save the date ideas that make your loved one's smile. Incorporate quirky illustrations, witty wordplay, or even a playful puzzle to engage and captivate your guests.
Picture Perfect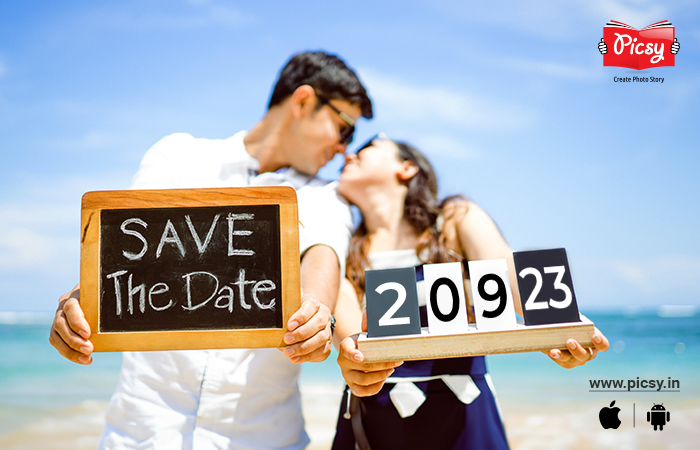 Let your love shine through with save the date picture ideas. Take a memorable snapshot of the two of you against a picturesque backdrop, capturing a candid moment that reflects the essence of your relationship.
Creative Invitations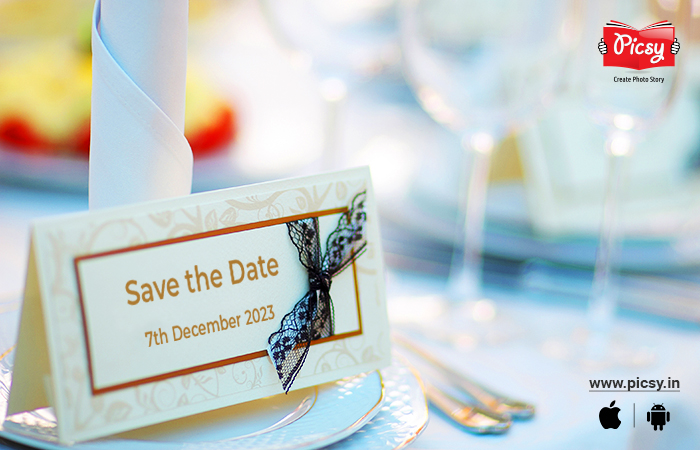 Break free from traditional formats and explore unconventional save the date card ideas. Consider innovative materials, like wooden or acrylic cards, or experiment with interactive elements that unfold the story of your love.
Beach-themed Bliss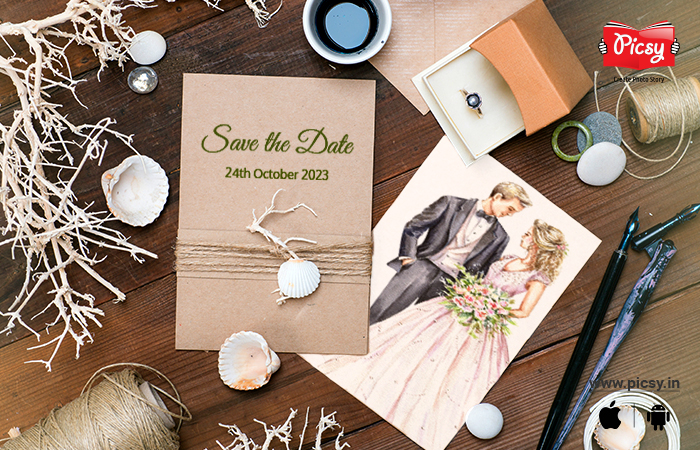 If you are planning a coastal celebration, embrace the serenity of the sea with save the date beach themes. Incorporate seashells, nautical motifs, or even a message in a bottle to whisk your guests away to a seaside paradise.
Elevate Your Wedding Memories with Poster Frames. Show now!
DIY Save the Date Ideas
For those who revel in the art of crafting, DIY save the date ideas allow you to infuse your personal touch into every detail. Here are a few delightful and budget-friendly options.
Handmade Elegance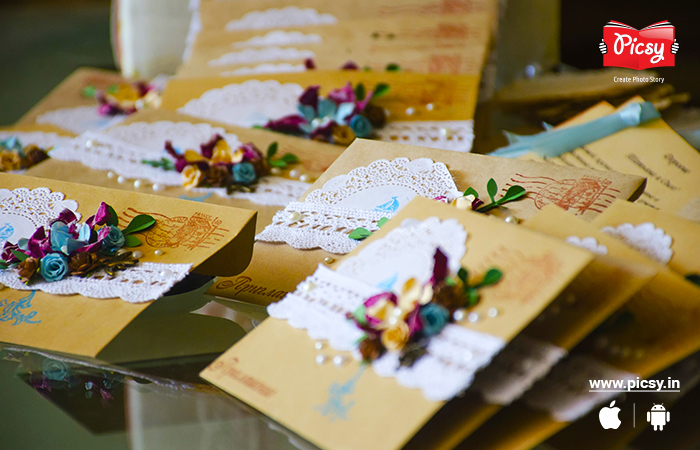 Create your save the date cards using high-quality cardstock, decorative paper, and embellishments. Add delicate lace, ribbons, or dried flowers for a touch of elegance.
Magnet Magic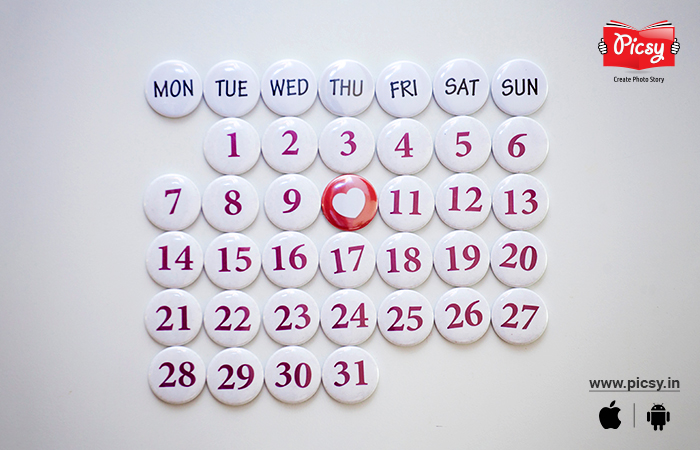 Design and print your save the date onto magnetic sheets, transforming them into practical keepsakes that your guests can display on their refrigerators as a constant reminder of your special day.
Digital Save the Date Idea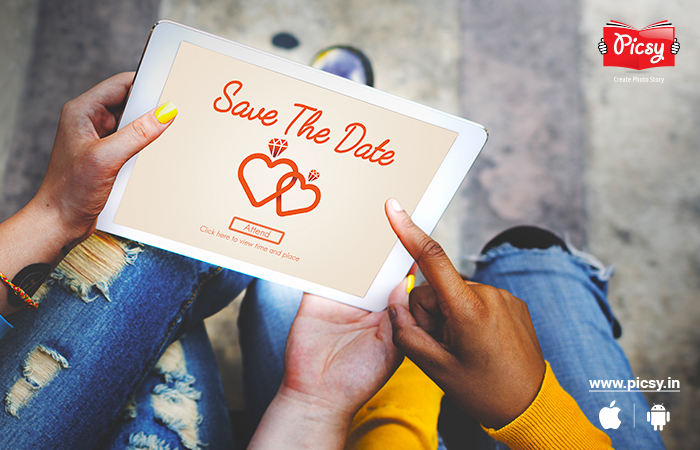 Leverage your digital skills to design an interactive and animated save the date. Incorporate personalized illustrations, animated characters, or even a mini video to captivate your guests.
Nature's Bounty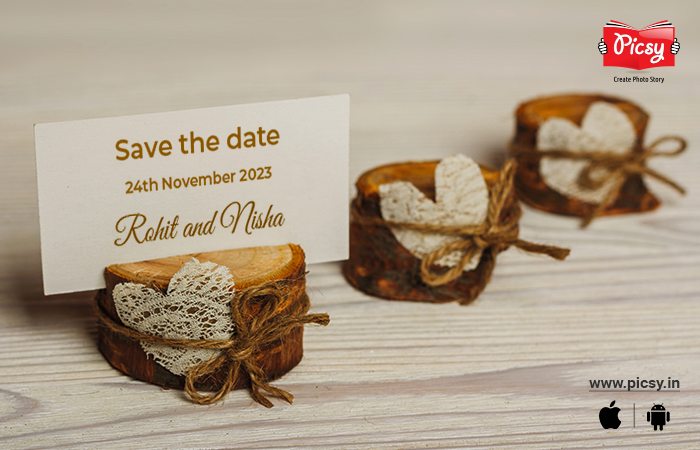 Embrace the beauty of nature by using materials like pressed flowers, leaves, or wooden logs cut into small corks to create organic save the date designs. Combine them with recycled paper or eco-friendly materials for an eco-conscious touch.
Personalized Photo Frames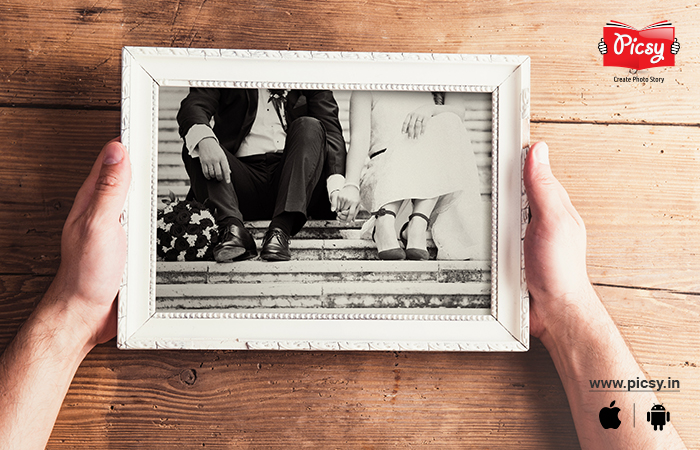 What do you think of save the date photo ideas using frames? The idea is to feature a picture of your choice on the front and a heartfelt message on the back. Add a personalized touch by handwriting manually with a fountain pen.
Creative Save the Date Ideas
Capture the essence of your unique love story with these creative and fun save the date ideas that will persuade your guests to come to the wedding.
Puzzle Pieces of Love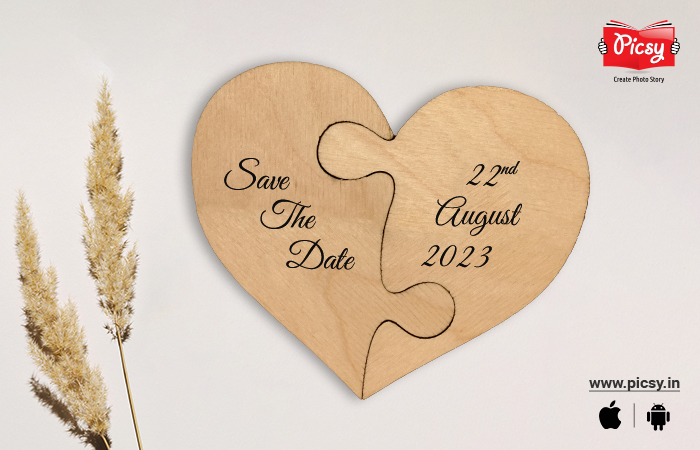 Transform your save the date into a puzzle by printing the design on cardstock, then cutting it into interlocking pieces. You can also use your images. What is the best way to use wedding images anyway?
Ticket to Love
Design your save the date as a mock ticket, complete with personalized stamps and details of your upcoming adventure. This creative idea works especially well for destination weddings or travel-inspired themes.
Music to the Heart
Compose a heartfelt song or create a personalized playlist that reflects your journey together. Share the musical creation as part of your save the date, either through a recorded CD or a digital playlist.
Pop-up Extravaganza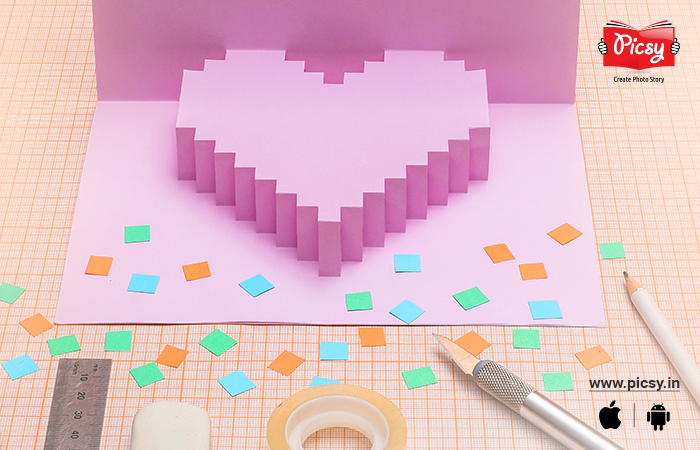 Surprise your guests with a save the date that unfolds into a pop-up scene. From charming castles to blooming gardens, these three-dimensional creations will leave a lasting impression.
Time Capsule Tokens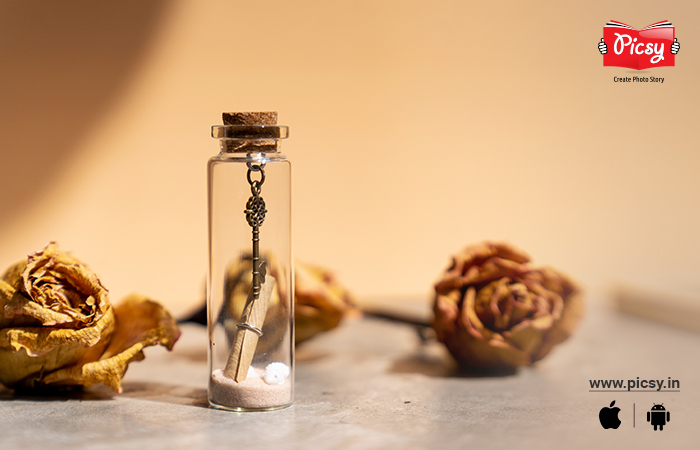 Enclose your save the date in a small box or envelope along with a symbolic token, such as a pressed flower, a tiny key, or a handwritten note. This unique keepsake will evoke curiosity and anticipation in your guests.

Funny Save the Date Ideas
Laughter is the language of the soul, and incorporating humor into your save the date can set the stage for a joyful celebration.
Comic Strip Chronicle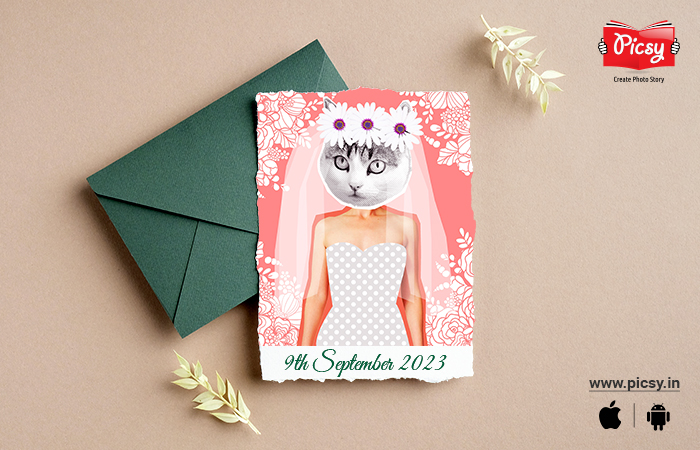 Design a comic strip-style save the date that showcases your journey from the first meeting to the upcoming wedding. Use humorous illustrations and speech bubbles to capture the memorable moments along the way.
Movie Director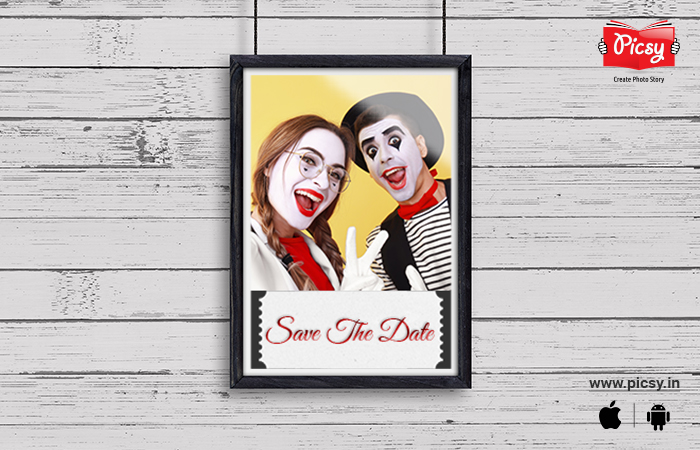 Create a movie poster-inspired save the date, casting yourselves as the stars of a romantic comedy or an action-packed adventure. Infuse clever taglines and witty captions to bring a playful twist to the design.
Animal Antics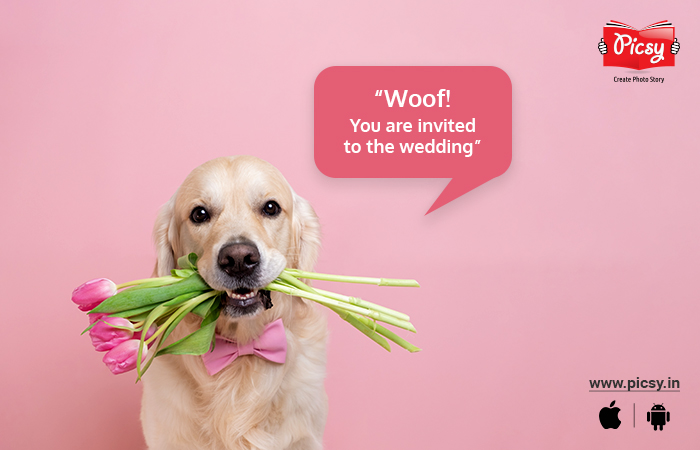 Add adorable animal illustrations or photographs into your save the date. Let the furry friends bring laughter and charm to the announcement.
Unexpected Reveal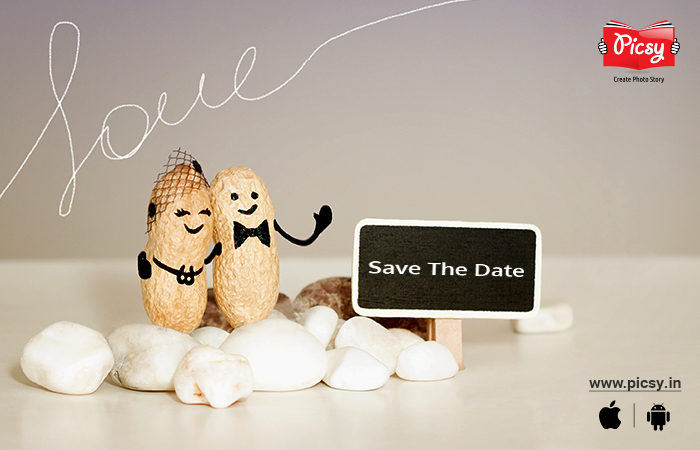 Use to peanuts to make a miniature of you two and surprise your guests. It is the unexpected twist that will have everyone chuckling.
Cute Save the Date Ideas
Infuse your save the date with sweetness and charm, creating moments that warm hearts and bring smiles to faces. Here are some cute save the date ideas to melt your loved ones' hearts.
Lovebirds in Flight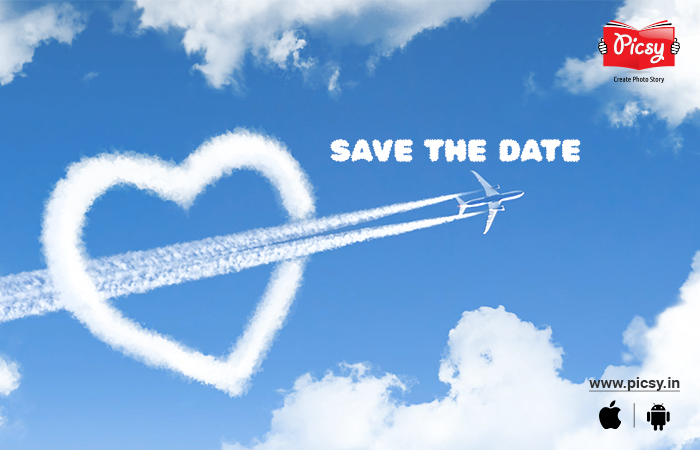 Incorporate bird motifs into your save the date, symbolizing the two of you embarking on a journey of love.
Love Locks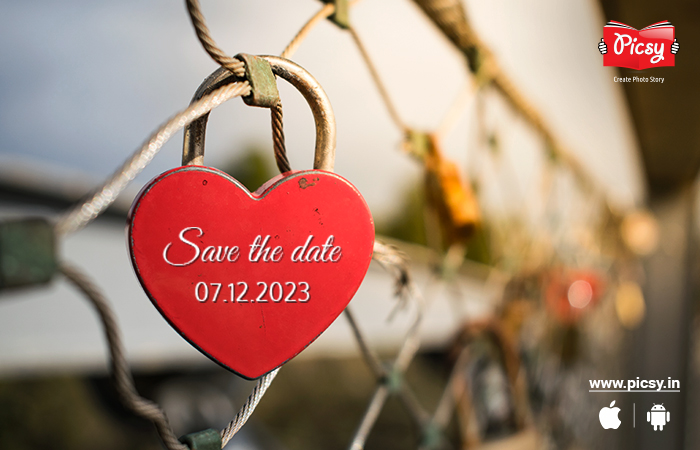 Design a save the date in the shape of a lock, with your names or initials engraved on it. Encourage your guests to keep the lock as a symbol of your eternal love.
Love Notes in a Bottle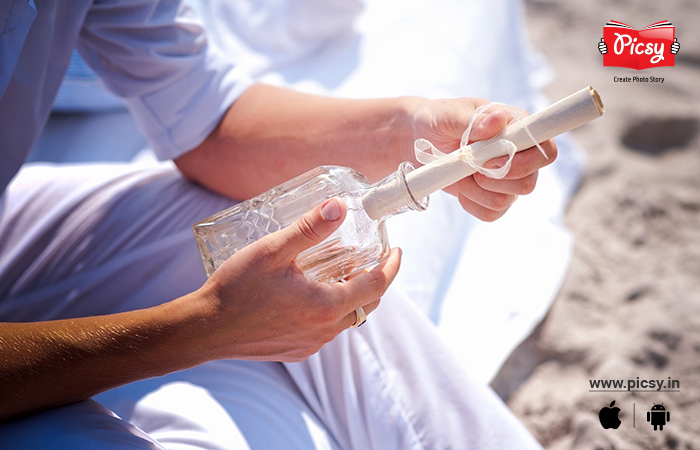 Roll up your save the date message and place it inside a tiny glass bottle, along with a sprinkle of sand or seashells. The whimsy and charm of this idea will surely make a lasting impression.
Simple Save the Date Ideas
Sometimes, simplicity speaks volumes, allowing the essence of your love to shine through effortlessly. Here are some simple save the date card ideas that capture the beauty of understated elegance.
Minimalist Magnificence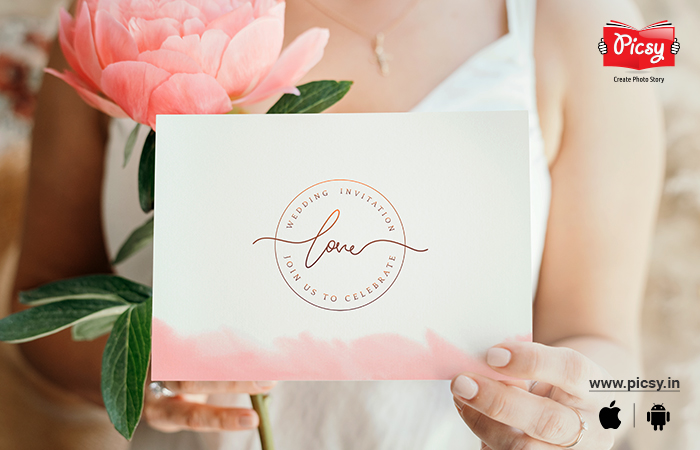 Embrace clean lines, muted colors, and minimalist typography to create save the dates that exude sophistication and modernity.
Watercolor Whispers
Use soft, dreamy watercolor paintings to set a serene and romantic tone for your save the date. Let the gentle strokes of color convey the depth of your love.
Classic Calligraphy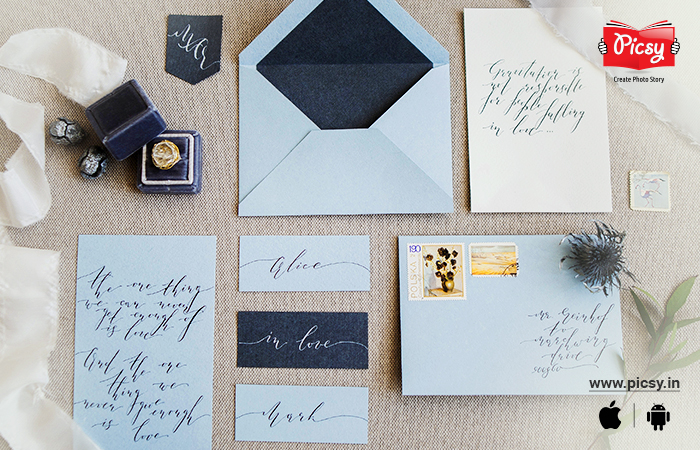 Envelop your save the date in the timeless elegance of calligraphy. Employ the art of beautiful lettering to create a design that is both simple and captivating.
Preserve Your Wedding Memories Forever. Download Picsy app Now!
In the End of Save the Date Ideas
Investing in save the date cards may be just what you are looking for if you want to kick start a beautiful presence of wedding celebration among family and friends before the big day arrives. I have jotted all the ideas I could. I hope it helps.
If it is not your wedding and looking for a personalized wedding gift, Picsy is the best place to search. It has all the wedding related photo products you can think of. I am not asking you to buy, but what's the harm in giving it a scroll. Who knows, you may fall in love with it like I did?
Preserve Wedding Memories with Picsy
Safeguard your treasured wedding memories with Picsy's delightful range of products. From capturing engagement shoots to Vidai, Picsy ensures your memories are well-preserved. Trust in our photo products to nurture and safeguard your precious moments, allowing them to endure for life.
FAQs Related Save the date ideas
1. What do you send with save the date?
You need to add the name of the bride and groom, Wedding date and venue. Apart from that, give personalized gifts to make them feel specially invited.
2. Mistake to avoid while sending save the date
Make sure you write the name of the recipient correctly, both of your names, venue and date of your wedding correctly.
Ready to hold your memories in hand?