10 Creative Ideas To Announce Your Engagement
December 25, 2020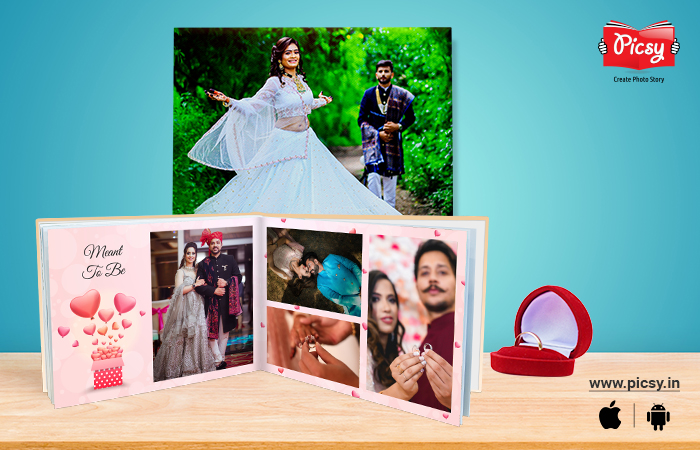 "I said Yes" is the most exciting phase of one's life, and shouting it out in excitement to the world comes the next. You have enjoyed the precious moment of your life, spent some private time together, and done with all that. There will be smiles, waves of laughter, nervousness, and tears (of happiness, of course). However, the question that arises is, How, When, and whom to break the news to?
As soon as you are ready, spill the beans on your engagement to your closest ones first. An official engagement announcement is much more joyous, but your loved ones deserve to know first, formally or informally. However, today's generation doesn't believe in personalized messages; instead, they make it public as soon as they decided on forever.
Everyone has their style of announcing their engagement or marriage; there are excellent Engagement Announcement Ideas. You have to choose the most creative one, and Picsy has got you such varieties of photo books, albums, canvases, calendars, etc., to introduce your partner to the world. It makes everything for you as simple as a click.
Creative Engagement Announcement Ideas
There are n numbers of selective options to choose from, from arranging an announcement party and doing photoshoots to getting the engagement announcement print. We have listed out a few of the most beautiful Engagement Announcement Ideas for you, and we hope you make the most out of these.
1. Engagement announcement party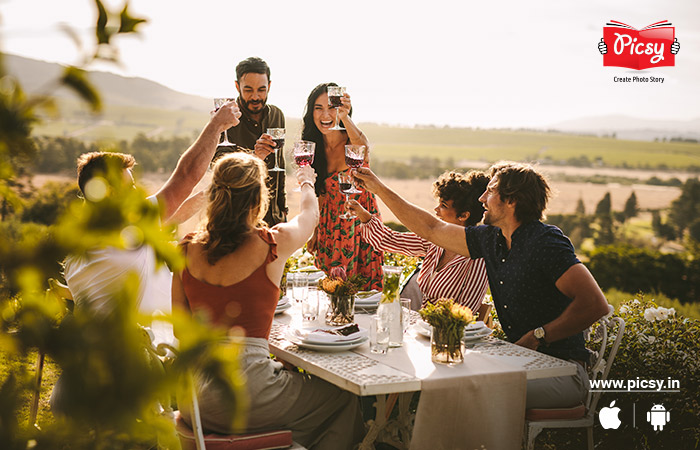 An ecstatic way for the Engagement Announcement is to throw a party. Invite all your close friends, colleagues, and relatives, and make sure that you share with all of them at the same time.
2. Engagement Photo Albums
You can also get your pictures print on Picsy's Engagement photo albums and show that lovely chemistry to all. It will be the most beautiful attraction in your living room. All you have to do is, go to the Picsy app and select the most candid picture of you two. Instead, you can also create a collage of a few pictures and then add the effects accordingly.
Read More : Create an engagement album that you'll remember forever
3. Show off that ring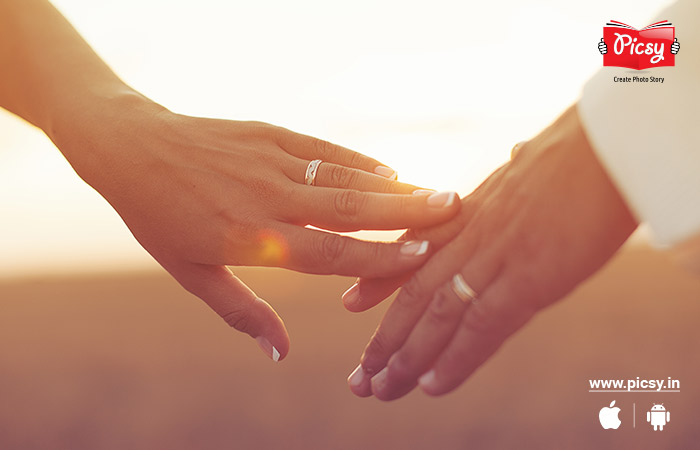 Showing off your ring is one of the most Creative Engagement Announcement Ideas. A ring itself is the most prominent witness of your happily ever after. You can do it in-person, or you can click a pretty picture of your hand and ring on it and post it on your social media.
4. Couple canvas print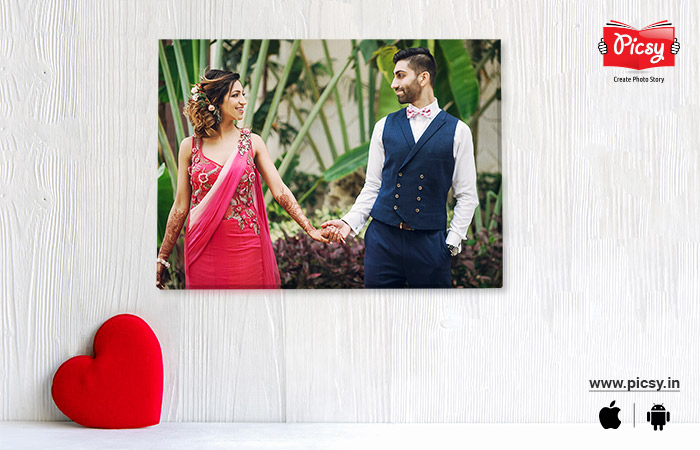 Apart from helping you in Announcing Engagement, couple canvas prints also beautify your walls and make you rejoice in the moments you two spent together. Picsy lets you design your canvas prints and enables you to add a personal touch to your canvases by adding texts.
Read More : Creating couple canvas prints for beautiful bedroom decor
5. A holiday together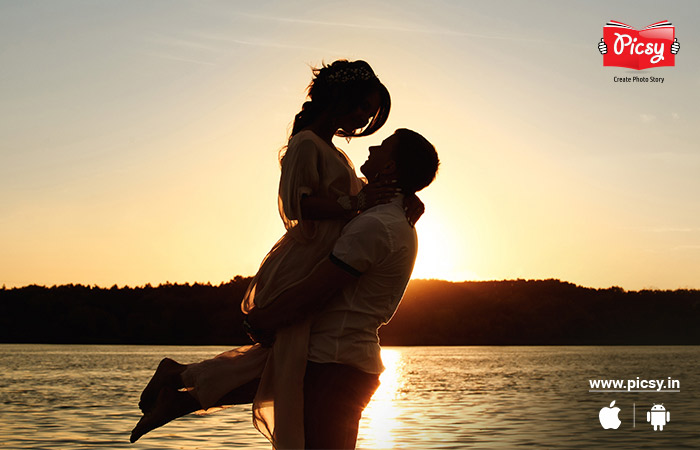 Go on a trip together, choose the most romantic background, and shot a picture of you two. Post it on your timeline as soon as you two are back. Along with Engagement Announcement, this beautiful keepsake will make you reminisce about the fun times you two had on your trip.
6. A fancy setup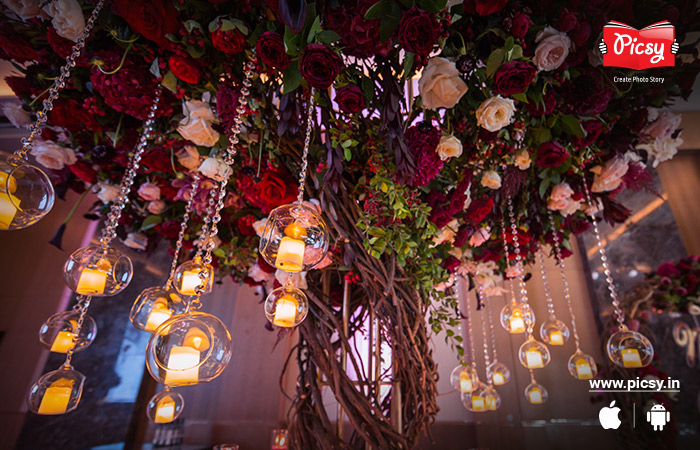 Setup a fancy space and decorate it with its fancy balloons or props for your Engagement Announcement. Either click a picture of that or create a video that will not only make you rejoice in the moment but also the ones who will watch it. Another way to do it without spending much is to get a personalized t-shirt, a mug, or anything and click a picture of it.
7. Make a video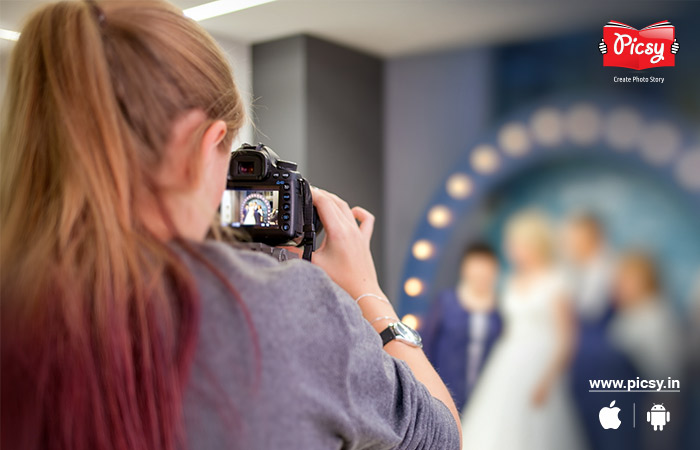 Find a beautiful background and a song you two vibe with, and make a video of two either dancing or recreating a scene from your favorite movie. Try making a video on you two proposing each other and make it public.
8. Recreate your favorite romantic scene from a movie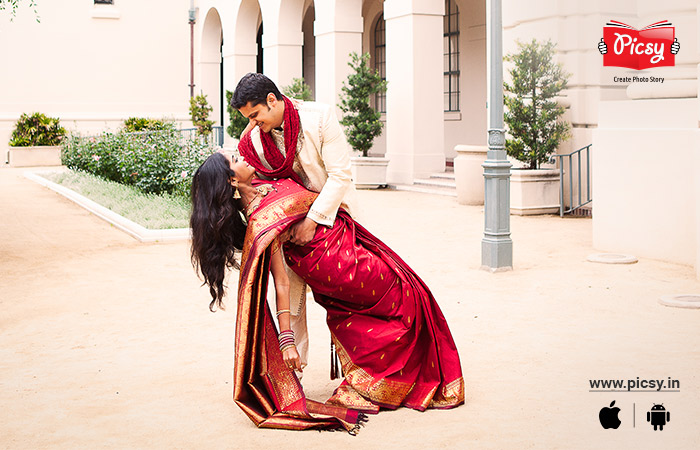 Recreate the most romantic scene from your favorite movie and get it print on Picsy's Personalized Photo books. It will be the best and the most fun way to your Engagement Announcement.
9. Update your social media status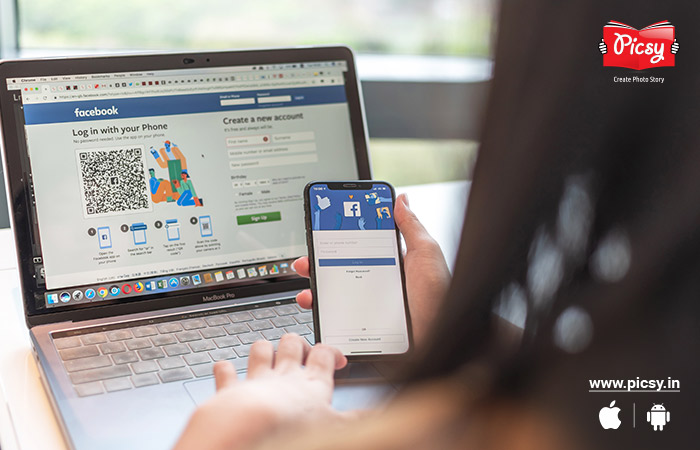 If you intend to do all of it without any hype, the most obvious way is to update your social media status to be engaged, and your job is done.
10. Involve your pets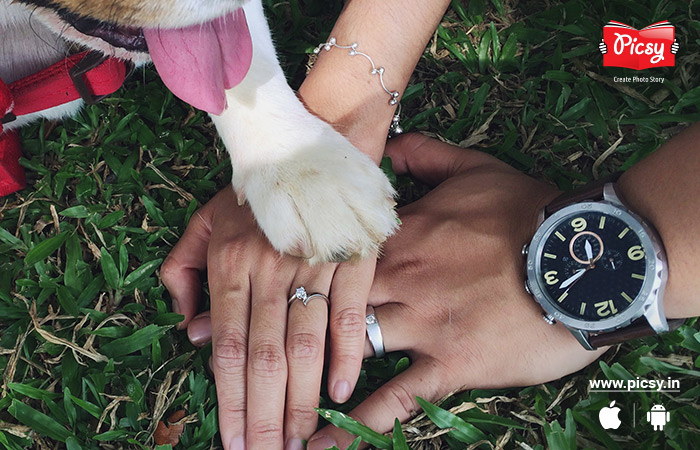 Pets are your extended family and the most adored beings in the house. Proffer them the privilege to assist you with your Engagement Announcement. Make them ready in a cute dress and a poster that says, "My parents are getting married" or "Save the date."
Read More : 15 Unique Pre-Wedding Photo Shoot Ideas for Every Couple!
The above were a few creative engagement announcement ideas, and we hope they'd help you with your engagement announcement. End the wait and shout out your engagement to the world. Download Picsy App now and design your keepsakes for life with our Online Photo Printing services and get it to deliver on your doorstep.
Ready to hold your memories in hand?