Happy Onam 2023 Wishes, Messages And Quotes For Everyone
August 14, 2023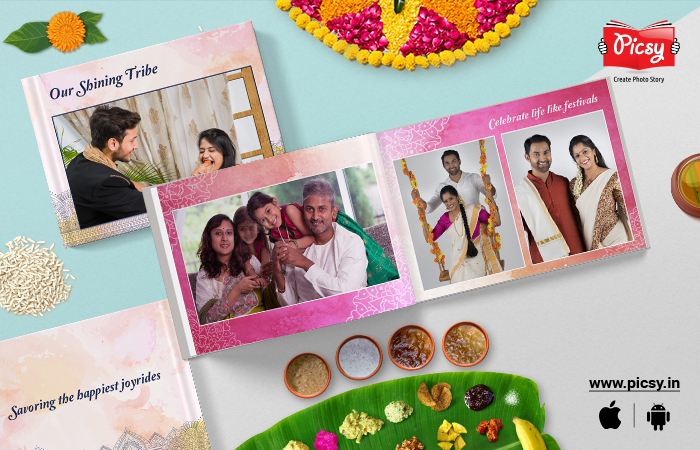 Just as the Malayali year bids adieu, the Onam significance fills the air with joy and merriment. Yes, you guessed it right, as the season is going to welcome winter, we are here to talk about Onam.
All we are saying, in this article, we are covering about the festival, Onam - why is it celebrated, Onam ashamsakal meaning, who celebrates the festival and how is it celebrated. Oh yes, of course, we have also provided a few bundles of Onam wishes as well so that you can greet your loved ones.
Celebrate Onam with Family and Picsy
Download the Picsy app and browse through the personalized photo products. It's a must do to celebrate togetherness with your family members to enough your Onam memories later.
Skip to...
What is Onam Ashamsakal?
We all know Onam is the National Festival of Kerala. It is a family day celebration these days. But do you know why it is celebrated? Or the Onam meaning? What is the day or the occasion about? Let's take a quick look on a few lines about Onam!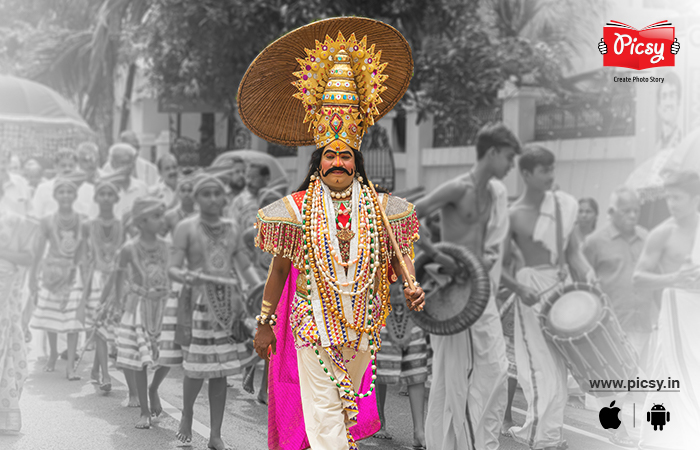 On the day of ThiruvOnam Nakshatra, the Keralites celebrate the homecoming of King Mahabali, who is considered to be a mythological demon. But why do they celebrate a demon, you must wonder.
Emperor Mahabali though was tamed by Lord Vishu, yet he was known for his soft nature and generosity. It is said, he was so kind-hearted that the wrath of Gods started feeling unsure of his powers and fell in the net of insecurity. Then was the time, the Gods unitedly asked for help from the God of gods, Lord Vishnu.
Make this Onam grand with Picsy wall decors.
When is Onam Celebrated?
Apart from celebrating the festival as the demon king's arrival, Onam is also celebrated as a rice harvesting festival. It naturally falls in the month of August or September according to the English calendar, but to be precise with the date, Onam is celebrated in the first month of a year according to the Malayali calendar. But who celebrates the festival? Indeed, the Keralites but both the Hindus and the Christians celebrate the festival; did you know that?
Though Onam is the National Festival of Kerala, it is celebrated all across South India. Not only that, it is one of the longest festivals, which takes up to 10 consecutive days right after the monsoon. This year, Onam date 2023 is 29th August, Tuesday.
Looking for perfect Onam gifts? Get personalized Canvas Prints for your loved ones.
How is Onam Celebrated?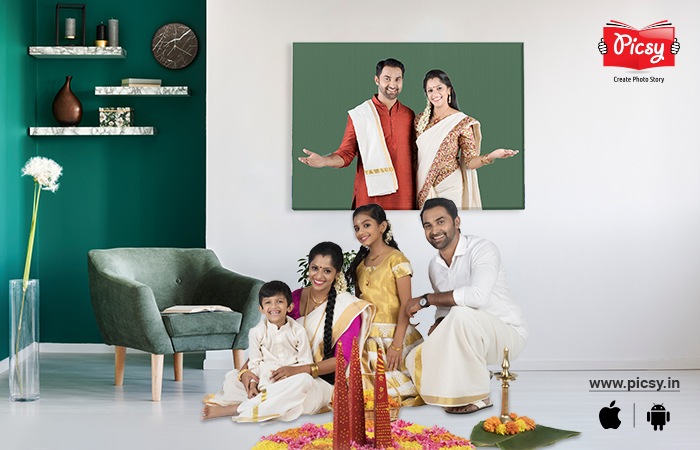 When it comes to 'how,' the Keralites are unstoppable. There are unthinkable ways of celebrating this very day. A few decorate the house with flowers and décor, clicks on family photos, and spend the time with their relatives. But a few celebrate in the following ways:
I. Decorating Elephants
A few people decorate their elephants and take a trip around the city. People all across the city feed the elephants and propel flowers on them.
II. Pookalam
In this festival, people often celebrate with flowers. It is a way the houses welcome King Mahabali in a grand way. Just like Rangoli, people make designs on the floor but with flowers, not colors.
III. Famous Boat Race
As we all know, during the festival of Onam, snake boat race is practiced in the Pampa River. It is also known as Nehru Trophy Boat Race, as the winners of this race celebrate the triumph of taming the waves.
IV. Folk Dance
Kathakali, Kaikotti, and Kummatti Kali are three kinds of folk dance that are practiced during the time of Onam. Naturally, they perform on stages, but a few groups also perform in the streets. People from the area enjoy the dance performances and celebrate Onam with joy in their heart. You can attend and click many images of this folk dance. You will get many cool ideas to display family photos.
V. Decorating Houses
People in the South, stay very excited to call their relatives home and celebrate the festival together. Sometimes they put up custom canvas prints or flowers across the house; prepare the house for the guests and the spirit of King Mahabali to welcome them wholeheartedly.
How to Wish Happy Onam?
Sometimes, when we run out of words, we all do a bit of cheating, don't we? Nothing sad, sometimes a few words tell more about our feelings than we could even think. Hey, not everyone is a wordsmith here. Hence, we have curated a list of Onam Ashamsakal Messages so that you do not have to keep wondering before writing on a gift card (or WhatsApp).
Gift your loved ones special photo products this Onam from Picsy. Download the Picsy app!
Onam Wishes Messages
Whether you want to send Onam wishes to lover, friend or family members these Onam quotations are perfect. Sure you can get done with "Happy Onam 2023" and send a gif. But a little bit of personalization in the message can make your person feel special.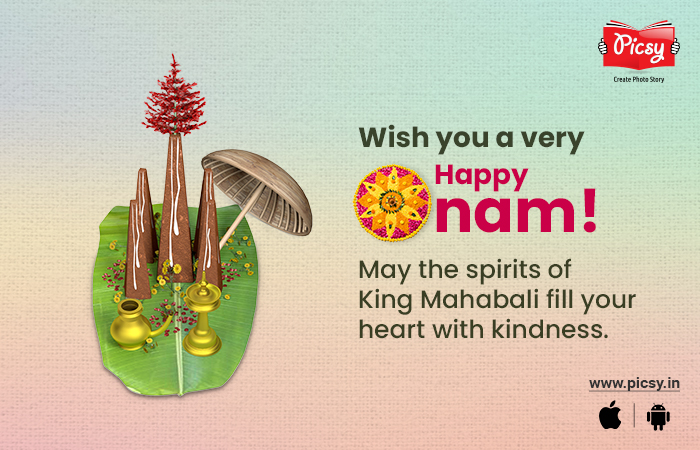 Wish you a very Happy Onam! May the spirits of King Mahabali fill your heart with kindness.
Let the fragrance of sweets and chocolates fill your house. Happy Onam!
May King Mahabali fill your life with happiness. Have a very happy and cheerful Onam!
May this Onam bring a lot of joy and prosperity to your life.
I hope King Mahabali blesses you with kindness and love.
Sending the happiest wishes from my end to your family.
Onam is the time to forget all the worries and welcome the king of kindness with a plateful of food.
Onam Wishes in English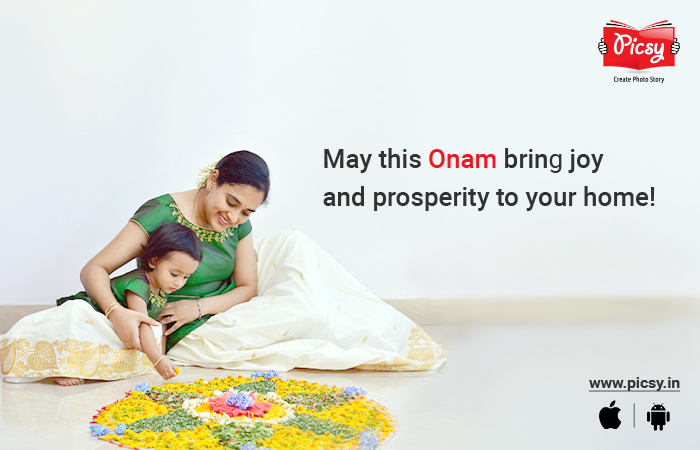 Onam is a time of joy and celebration, and what better way to spread the festive cheer than with heartfelt wishes in English? As you gather with your loved ones to commemorate this auspicious occasion, let these warm greetings bring a smile to their faces and a sense of togetherness in your hearts. Here are some of the best Onam 2023 wishes in English to make this festive season truly unforgettable.
May this Onam bring joy and prosperity to your home!
Wishing you a bountiful harvest of happiness and good fortune this Onam.
May the beautiful flowers of Onam fill your life with colors of joy and love.
May the spirit of Onam fill your heart with peace and contentment.
Wishing you a grand Onam celebration filled with delightful moments and cherished memories.
Onam Wishes in Malayalam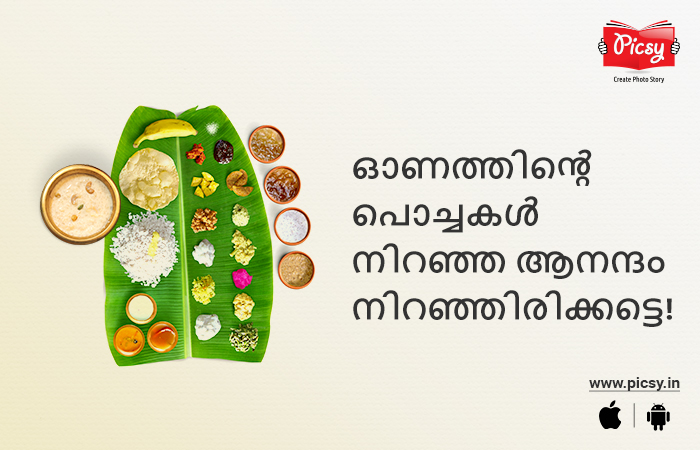 At end moment if you are not able to buy Onam wishes cards in Malayalam to send heartfelt Onam wishes to you and your loved ones, then you may send these wishes. May this festival of abundance be filled with joy and happiness. If you are looking for Onam wishes in Malayalam, we have that too. Here's a list:
ഓണത്തിന്‍റെ പൊച്ചകള്‍ നിറഞ്ഞ ആനന്ദം നിറഞ്ഞിരിക്കട്ടെ!
ഓണാശംസകള്‍! ഉങ്ങള്‍ക്ക്‌ പ്രീതിയും സന്തോഷവും കൂടെ കൈവന്നുണ്ടാകട്ടെ!
ഓണത്തിന്‍റെ പുതുവർഷം നിറഞ്ഞ ആശംസകള്‍ തന്നെ!
ആഘോഷിക്കുന്ന ഹൃദയങ്ങളില്‍ നിറഞ്ഞ ഓണാശംസകള്‍!
ഓണം സമൃദ്ധമായി കഴിയുകയും പ്രീതികൂടെ നിറഞ്ഞ ജീവിതം നിറയ്ക്കുകയും ചെയ്യുന്നത് എന്ന ആശയാണ് ഞങ്ങള്‍ക്ക് ആശ്വാസമാക്കട്ടെ!.
Onam Wishes in Arabic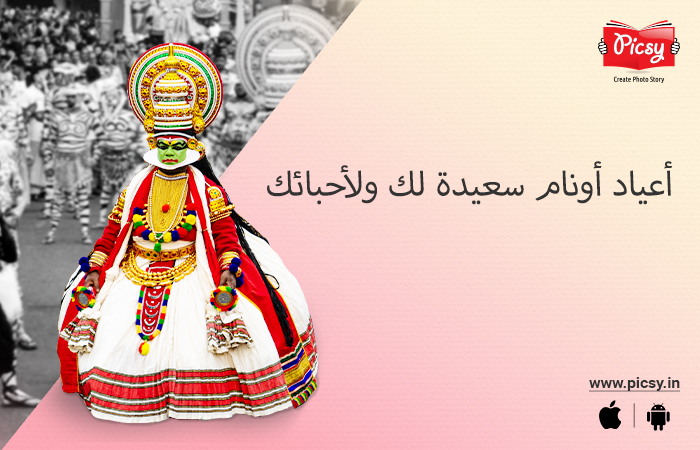 As Onam transcends religious boundaries, people of all faiths participate in the celebrations, making it a symbol of unity and communal harmony. The festive atmosphere, cheerful ambiance, and the spirit of togetherness make Onam a unique and cherished occasion for everyone. So if you want wishes in Arabic, here are 5 simple Onam wishes in Arabic.
أعياد أونام سعيدة لك ولأحبائك
Happy Onam to you and your loved ones.
كل عام وأنتم بخير بمناسبة عيد أونام Happy New Year on the occasion of Onam.
بمناسبة عيد أونام، أتمنى لكم حصادًا مليئًا بالنجاح والازدهار On the occasion of Onam, I wish you a harvest full of success and prosperity.
نتمنى لك يوم مليء بالحب والسعادة مع عائلتك وأصدقائك. We wish you a Onam full of love and happiness with your family and friends.

Onam Wishes in Hindi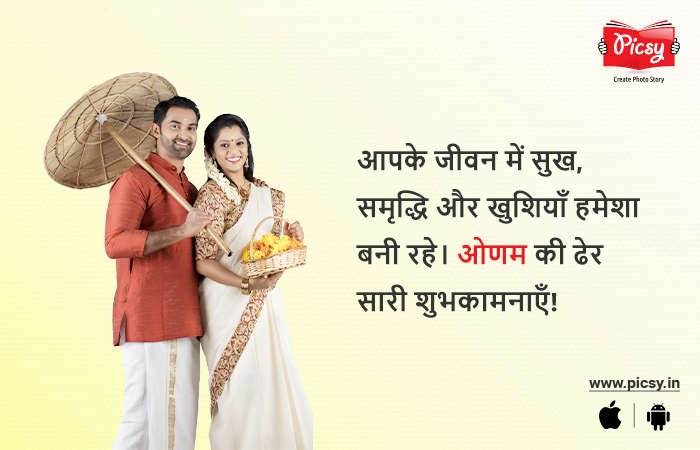 As we cherish the spirit of Onam, let us share some heartfelt wishes in Hindi to convey our warm greetings and blessings to our loved ones. Embrace the essence of this beautiful festival and let it bring happiness, prosperity, and joy into your lives. Here are 5 simple Onam wishes in Hindi to brighten up the festivities and fill your hearts with delight.
आपके जीवन में सुख, समृद्धि और खुशियाँ हमेशा बनी रहे। ओणम की ढेर सारी शुभकामनाएँ!
ओणम का त्योहार आपके जीवन में नई उमंग और खुशियों की बहार लेकर आए। शुभकामनाएँ!
खुशियों का सागर, प्यार की नदिया, आपके जीवन को समृद्ध करें खूबसूरत ओणम की शुभकामनाएँ।
ओणम के इस धूमधाम से भरे त्योहार में आपके जीवन को खुशियों से सजा दे बप्पा! शुभकामनाएँ!
ओणम की खुशबू, ओणम की फुलझड़ियाँ, आपके जीवन में लाएं खुशियों का त्यौहार। हैप्पी ओणम!
Onam Greetings
Indeed, there will be many Onam wishes throughout the internet, but these messages are perfect for Onam WhatsApp Status.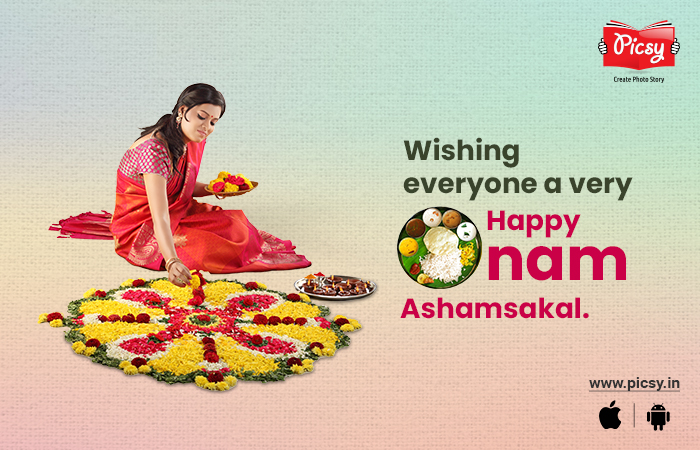 Wishing everyone a very Happy Onam Ashamsakal.
Come over this year, and let's post a lot of Happy Onam images on social media.
Can it be possible that I am posting a Happy Onam status on Instagram and I do not share it with you? Of course, I miss you. Come home soon.
Happy Onam photos are cliché; let's go out and celebrate the festival together over a plateful of delights.
Maybe this Onam Ashamsakal 2023, we are not together, but soon times will change, and there will be no pandemic around. I hope we celebrate the festival together next year.
May you enjoy the day with your loved ones and indulge yourself in tasty foods.
Welcome King Mahabali with open heart and fill your life with kindness.
Happy Onam Wishes Quotes
A few quotes enrich our minds more than a simple greeting. Hence, we have added a few Onam quotes in English so that you can send your beloved friends and family members. And you know you can turn family photos into canvas and write these quotes on a small card to send them.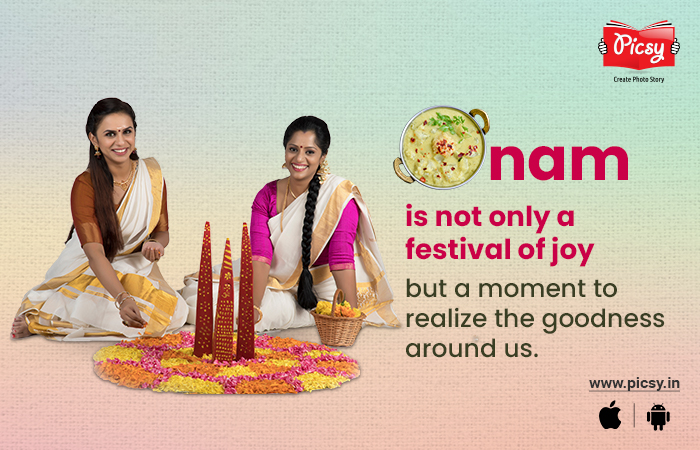 Onam is not only a festival of joy but a moment to realize the goodness around us.
Celebrate the auspicious festival! Listen to the melody of King Mahabali's homecoming.
This Onam, decorate the house with Canvas Prints and wonderful flowers and enjoy the day with your dear ones.
May this Onam the king Mahabali extend his warmth and blessings to you and your loved ones.
I wish a very blissful and peaceful Onam Ashamsakal to you.
May the ghost of King Mahabali guide you to make right decisions in life.
Sending prosperous wishes to your family this Onam. Have a wonderful life.
Read More : 15 Unique Photo Gift Ideas Your Friends and Family Will Love
Happy Onam Greetings and Sayings
As we prepare to welcome King Mahabali, let us also embrace the values he represents - humility, kindness, and compassion. Let us reach out to those in need, making their lives a little brighter and ensuring that no one is left behind. Here are some best Onam wishes 2023 that you can send your friends and colleagues online.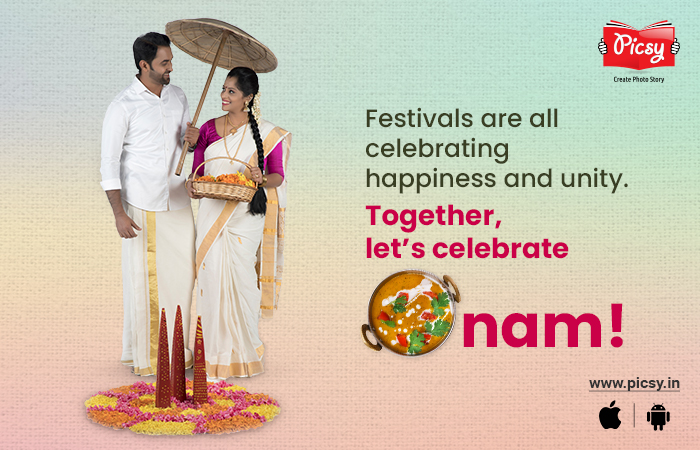 Festivals are all celebrating happiness and unity. Together, let's celebrate Onam!
May Lord Vamana sprinkle health and happiness upon you and your family members.
Happy Onam! Celebrate the day with a lot of sweets and a plateful of delights.
This Onam, may sadness and worries not touch your doorstep. Wish you and your family a happy life ahead.
May the Onam Ashamsakal wishes come true and you be in bliss all your life. Happy Onam.
As Demon King, Mahabali travels to your house, may he fill your house with the audacity of generosity.
Onam Short Messages
Looking for short Onam wishes quotes for facebook or WhatsApp. Check these to share with your friends. Oh, don't forget to look for personalized gift ideas for your loved ones to share with these messages.
Wishing you and your family a joyous and prosperous Onam! May this harvest festival bring abundance and happiness into your lives.
On this auspicious occasion of Onam, may the spirit of unity and togetherness fill your heart and home.
May the vibrant colors of the pookalam and the aroma of delicious Onam sadya fill your day with delight. Happy Onam!
As the majestic King Mahabali visits our homes once again, let us celebrate the spirit of Onam with love and gratitude. Have a wonderful Onam!
May the magic of Onam bring laughter and love to your life. Wishing you a blessed and memorable Onam celebration.
WhatsApp Onam Wishes
On this auspicious day, may the blessings of King Mahabali shower upon you and your family, bringing prosperity and success to your doorstep. May the beautiful memories of this festival warm your heart and fill your life with laughter and happiness. Need similar wishes to send over whatsapp? Looking for family quotes and sayings to share to wish Onam? Check out these Onam greetings quotes and send best Onam wishes images.
May the colors and joy of Onam fill your hearts with happiness and prosperity. Wishing you and your family a blessed Onam!
On this auspicious occasion of Onam, may the spirit of joy and togetherness unite your family with love and laughter. Happy Onam to all of you.
As the pookalam blooms with vibrant flowers, may your home be filled with love, peace, and harmony. Happy Onam to the most wonderful family.
Onam is not just a festival; it's a time to cherish the beautiful moments with family. May this Onam bring you all closer and strengthen the bond you share. Happy Onam.
Onam is a reminder of the rich cultural heritage we have and the values that unite us as a family. May this Onam be a joyous celebration for all of us. Warm wishes to the entire family.
Short Onam Captions for Instagram
In today's digital age, social media platforms like Instagram play a significant role in connecting people from all corners of the world. To make your Onam 2023 greetings stand out, we've crafted some short and pretty captions that you can use with Happy Onam Wishes images to express your warm wishes to your loved ones.
Wishing you a colorful and joyous Onam!
Feasting, flowers, and festivities – Happy Onam!
Onam vibes and happy times!
May the spirit of Onam fill your heart with happiness!
Onam; celebrating tradition and togetherness!
Drawing the Finishing Line
Celebrate the festival, Onam, with all your loved ones and share the generous wishes mentioned above. Gift thoughtful gifts like printed photo albums or a bouquet of chocolates and welcome them to your house with a bright smile and make the family reunion memorable. Not sure where to get a personalized gift for your relative? Try Picsy App ! Download the application and browse through the range of products. Hurry up!
Picsy - Your Best Friend for Every Family Occasion
Make occasions extra special with Picsy's durable photo products. From photo books, calendars to wall decors, you will every thoughtful photo gift on Picsy.
FAQs Related to Onam Wishes
1. What are the best Onam wishes quotes?
Here are some of the best and professional Onam wishes:
"May this Onam bring you joy, peace, and prosperity. Happy Onam!"
"As the pookkalam blooms with vibrant colors, may your life be filled with happiness and success. Happy Onam!"
"May the spirit of Onam fill your home with love and laughter. Have a blessed Onam!"
"Onam is the time to celebrate the bountiful harvest and cherish the bond of family and friends. Happy Onam!"
"Wishing you a grand Onam celebration filled with delicious food, beautiful decorations, and cherished moments! "
2. What should I write as a caption for Onam posts?
Here are three examples of captions you can use for your Onam posts:
Wishing you all a harvest of happiness, a feast of love, and a pookkalam of beautiful memories this Onam. #HappyOnam #FestivalOfJoy
May the colors of Onam brighten your life with joy and prosperity. Have a wonderful Onam celebration with your loved ones. #OnamGreetings #FamilyTime"
Let the spirit of Onam fill your heart with gratitude and compassion. May this festive season bring you closer to your roots and cherished traditions. #OnamFestival #KeralaCulture
3. How will you send Onam wishes with name?
Here are five short Onam wishes personalized with names:
Happy Onam, [Name]! May this festive season bloom with joy and prosperity for you and your loved ones.
Wishing you a bountiful Onam, [Name]! May the colors of this auspicious occasion fill your life with happiness.
Onam greetings to you, [Name]! May the spirit of King Mahabali bless you with love and harmony.
Happy Onam, [Name]! May the sweet melodies of Onakkodi bring good fortune your way.
Sending warm Onam wishes to you, [Name]! May this festival of togetherness be truly special for you and your family.
4. What are some good Sadhya Quotes?
There are several Sadhya quotes that are heart-touching, and you can share the same with your loved ones. Here are a few examples:
The Sadhya's beauty lies in the harmony of colors, flavors, and the love put into preparing each dish.
Onam Sadhya - where simplicity meets richness, and taste becomes a memorable experience.
Wishing you a Happy Onam filled with the warmth of family, laughter, and the grandeur of Sadhya.
Onam is incomplete without savoring the mouth-watering delights of the Sadhya.
Feast like a king, celebrate like a queen - enjoy the Onam Sadhya like never before.
Ready to hold your memories in hand?