50+ New Born Baby Wishes, Messages And Quotes For Everyone
October 4, 2023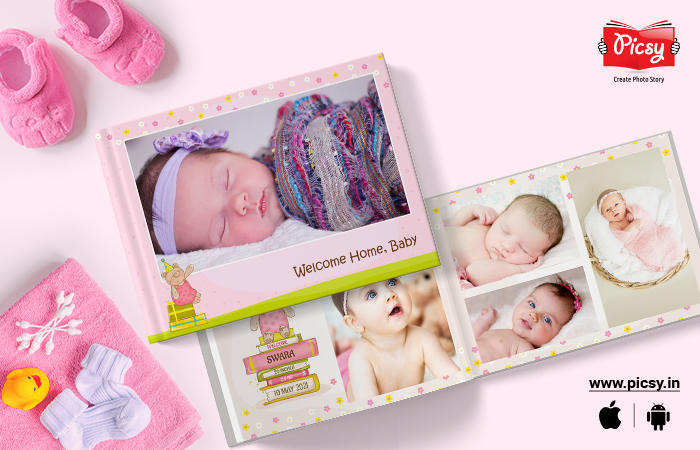 A new soul in the house is a blessing of God. A baby's energy is as pure as a the first rays of the Sun. Embrace the new journey with welcoming newborn baby quotes and wishes and make the day even more special. Welcoming a new baby in the family is not just parents' happiness but for the entire neighborhood. So, get ready with all the best new born baby congratulations message and fill the house with positive energy.
If you are not sure how to say congratulations for newborn, this blog will help you. It is all about new baby congratulation messages.
Picsy's Photo Products: Treasure the Early Memories
Picsy's photoproducts are the perfect keepsake to treasure the early days of your baby. Document your baby's first year Whether in a photobook, photo prints or wall decors print the awesome new born baby pictures and embrace them for life.
What to Write in a New Born Baby Card?
Through this card, the motto is to send a copious amount of love to the little new member. So, send all the joy you have bottled in your heart these nine months and welcome with a lovely new baby card. Of course, I will add a handful of new born baby wishes to father and mother so that you do not go speechless, but before that, congratulations to the family for the token of goodness and further sleepless nights.
New Born Baby Wishes and Messages 2023
We believe good wishes bring positive energy to the family. Hence here is a list of five sincere new born baby messages to congratulate the new parents.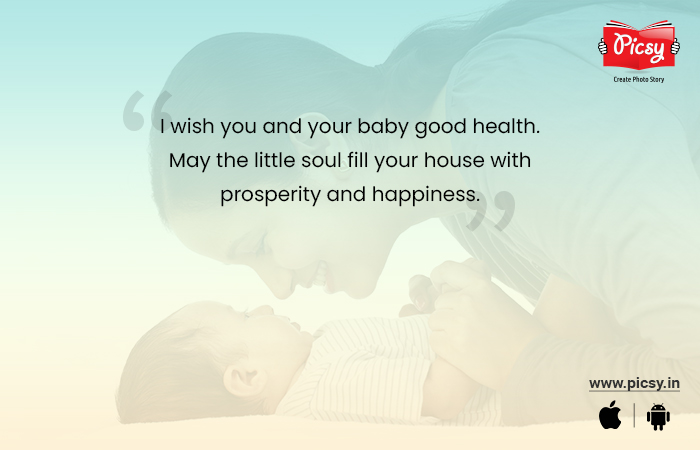 I wish you and your baby good health. May the little soul fill your house with prosperity and happiness.
Your baby is lucky enough to have you two as parents. I am sure you both will take good care of the baby. Congratulations dear.
Sending warm hugs and adoring wishes to you and your little one. May the baby be in good health and turn to be an awesome human being.
I wish both of you and your little princess a prosperous future with happiness, good health and a lot of happy memories.
Welcome, little prince! A lot of happiness and luck to your kid. May the little one be the sunshine of your family.
Looking for perfect home décor to welcome your baby? Order Acrylic Print!
New Born Baby Congratulation Messages and Sayings
Everyone expects to have blessings when a new baby arrives. So here are a few new born baby wishes to parents and the kid to write on a card.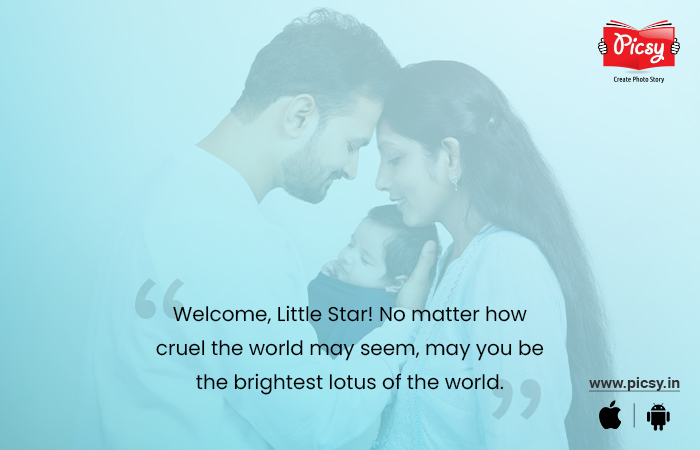 Welcome, Little Star! No matter how cruel the world may seem, may you be the brightest lotus of the world.
You have blessed the family with the presence of a mighty soul. I know you will enlighten the house with your joyous spirit.
I know you are overly joyed but you got to take care of yourself. Parenthood can be stressful, so remember I am always one call away for both of you and your little one.
I can't express how happy I am for you. You have gifted me a little soul to pamper and play with. Thank you so much and stay healthy.
Trust me, you will remember the day of this little one's arrival all your life. Embrace it with all your heart. Congrats!
Read More : 20 New Born Baby Photoshoot Ideas
Wishes For New Born Baby Boy 2023
A new born baby boy is a gem to the family. To welcome new born baby, here are some examples. These are some of the most thoughtful newborn baby boy wishes I could think of. I hope these welcome baby boy wishes help you.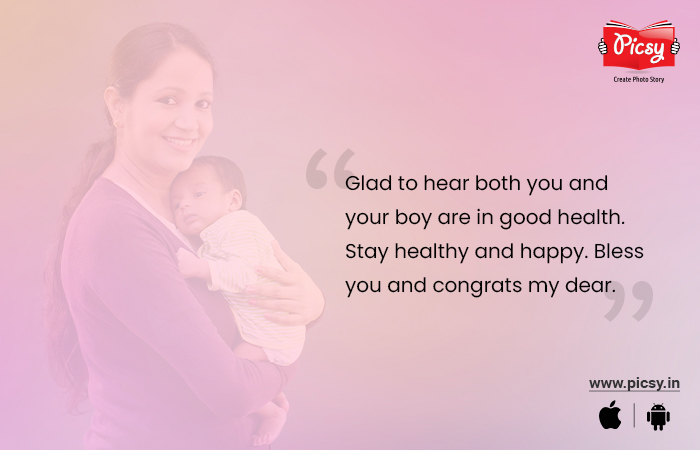 Glad to hear both you and your boy are in good health. Stay healthy and happy. Bless you and congrats my dear.
We are delighted to see the little baby boy! Congratulations for new born baby boy, what a handsome kid.
I hope you and your little king is healthy and fine. Eat a lot of good food and try to get a lot of sleep.
The baby boy is a blessing to this family! I can't express how happy am I to welcome your little boy.
What a handsome baby boy! He got his mother's eyes. May both of you stay happy and healthy.

Wishes For New Born Baby Girl
Looking for some unique new born baby girl wishes to congratulate the new parents? These wishes may come handy. Check out the list.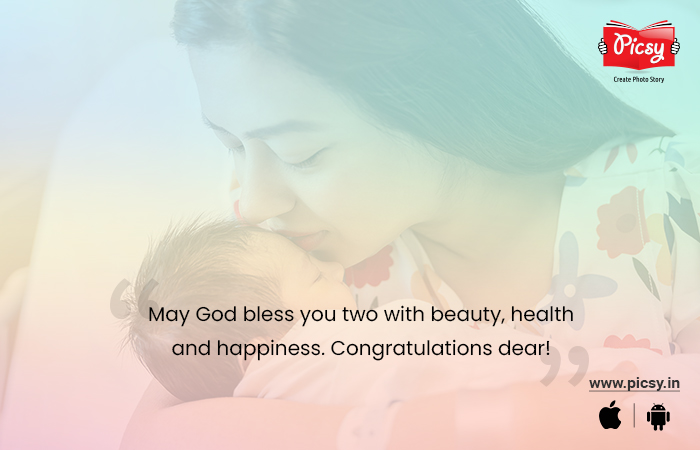 May God bless you two with beauty, health and happiness. Congratulations dear!
Cheers to being parents of a lovely baby girl. Embrace the childhood. Babies grow up in no time.
There is nothing beautiful in this world than a new born baby that too such a beautiful little girl.
Babies grow faster than you think. Enjoy every little moment till she grows up.
The joyous cooing of a little baby is mightier than anything in this universe.
New Born Baby Wishes for Twins, Triplets and More
Looking for some new born baby boy wishes to parents? Here are some unique wishes to wish the unique parents who are blessed with twins and triplets. You can also use them as new born baby status to post on WhatsApp or Instagram.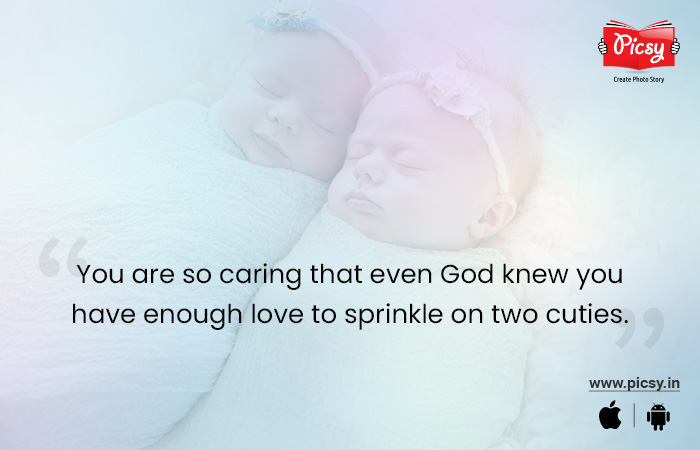 You are so caring that even God knew you have enough love to sprinkle on two cuties.
A flower is beautiful but a bouquet spreads the sweet scent all around the house. Congrats on having Triplets!
Congrats on having cute pretty bundles of happiness. I am unbelievably happy to hear this.
Miracles are flamboyant when appear in pairs. I can't wait to see those little fingers and eyes.
Heartiest warm wishes for such great news. Don't forget to take care of your health as well. Congrats, love.
Download the Picsy app now, print these wishes on a photo and congratulate with style.
New Born Baby Wishes to Father
It is true that the mothers go through the process of growing the baby in their womb and delivering. But, fathers are also a part. They take care of the mothers and household chores. Why not wish them the best and share some welcome baby boy quotes or baby girl quotes? Here are some simple wishes you can share.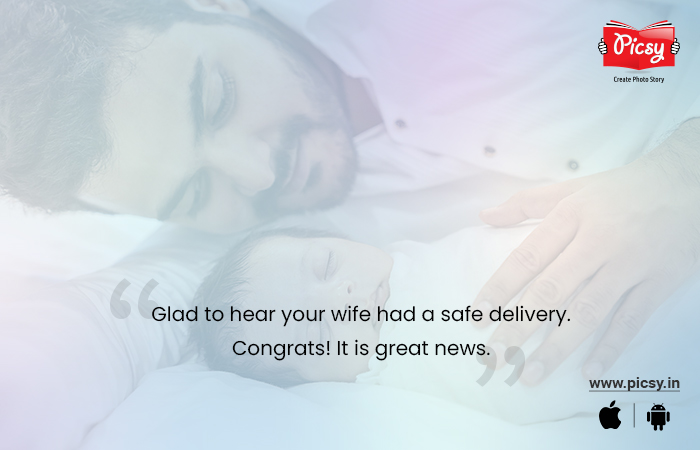 Glad to hear your wife had a safe delivery. Congrats! It is great news.
Congrats on being a father and welcoming a whole new chapter in your life.
Remember, you are the pillar of your wife and the knight of your little princess. Take care of them.
Congrats on welcoming a little boy, may he be responsible like you and caring like your wife.
Enjoy being a father, they grow up within a blink of an eye. Cherish the moments.
New Born Baby Wishes to Mother
Cherish the little moments and design your baby's first year photo book. This one year will pass in a snap. If you are looking for little new born baby wishes to send to the new mother, here are some examples.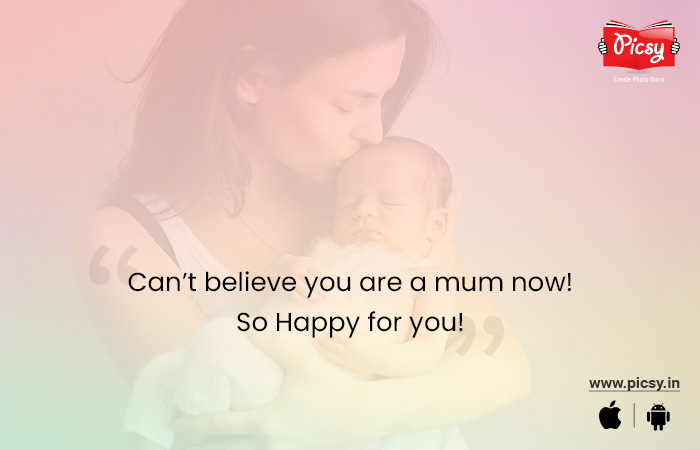 Can't believe you are a mum now! So Happy for you!
Congrats honey! I know you will be a great mom!
Being a mother is a great challenge. Do not forget to be your child's friend as well.
One day the never-ending struggle of your sleepless nights will be over, and it will be worth it. Stay strong and enjoy the moment.
May the little one shine like sunflower in your life.
Read More : 8 Fantastic Ways to Document your Baby's First Year
New Born Baby Quotes
If you are looking for assistance in filling out your card to give the new parents here are a few quotes for new born baby from famous writers. This list has a sequence of both long and short quotes.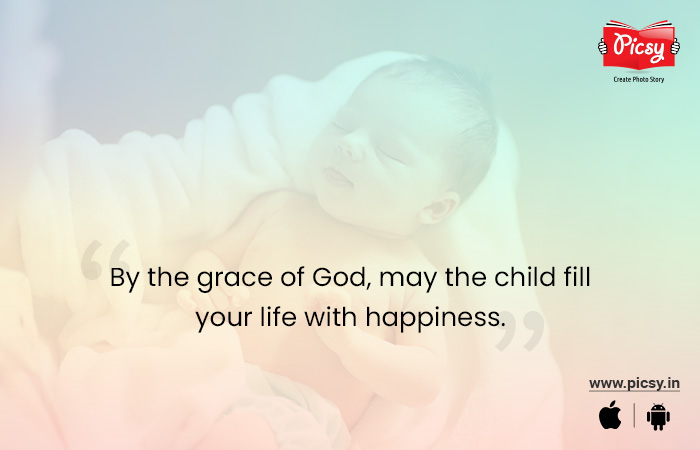 "By the grace of God, may the child fill your life with happiness." – unknown.
"I think that I see something deeper, more infinite, more eternal than the ocean in the expression of the eyes of a little baby when it wakes in the morning and coos or laughs because it sees the sun shining on its cradle." – Vincent Van Gogh
"A baby is as pure as an angel and as fresh as a blooming flower." – Debasish Mridha
"Perfection only exists in babies and pastries." – Gayle Wray
"Life's only worth living if you're being loved by a kid." – Buzz Lightyearp
Baby Congratulations Messages for the First Baby
Would you agree with me if I say that sending a congratulations note is more than a custom? I feel we transfer positive energy with our good wishes and surround the little one's life with good vibes. At least, we feel so when the first baby arrives. We think of protecting them from anything. We act like obsessed parents. So here are a few congratulations messages for the first baby.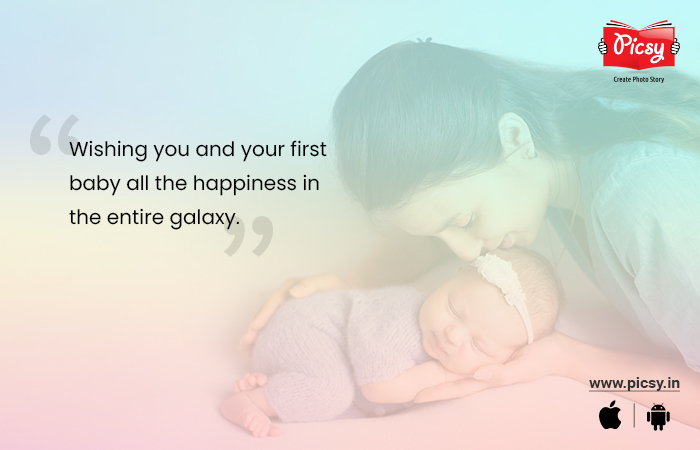 Wishing you and your first baby all the happiness in the entire galaxy.
May your little girl/boy get the brain of a scientist and the power of a wrestler.
First of all, congratulations on your baby. May your child always be healthy.
Welcome to the family little Mowgli.
May your little baby bring joy to the house and increase the bond.
New Born Baby Wishes & Messages for Coworkers
Coworkers are like friends who are parts of our lives and understand our work fatigue. Their sadness and happiness are ours too. If you have such a coworker friend in your life who just turned to be a parent, here are some happy wishes to share with them.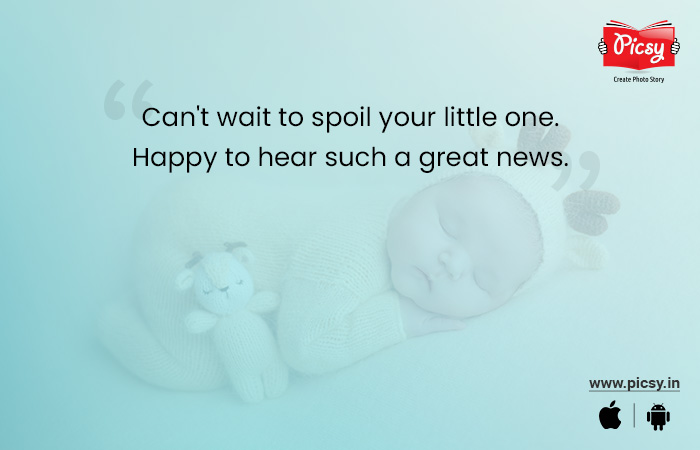 Can't wait to spoil your little one. Happy to hear such a great news.
You made me wait for so many months!!! God, I can't wait to meet your little one.
I wish your life is filled with laughter and joy! I have so many new born baby photoshoot ideas to share with you.
No wonder, your kid is so pretty. She got such handsome parents.
Now that your family is complete, rejoice every second with each other.
Get Premium Wall Decors from Picsy and print your baby's photos.
New Born Baby Wishes for Difficult Circumstances
Welcoming a new life is always a happy moment but however, circumstances can be difficult at times. There are many instances where mothers passed away while giving birth to her child. For such situations, here are some wishes that you can share.
Greetings for the new born baby! With a new life rises a new hope.
The little one will bring new joy to your life. Stay strong
God has sent a messiah of happiness.
May your child's innocent laugh fill your life with joy.
Babies are wonderful beings to bring happiness in life.
Adoption Congratulations Messages And Wishes
Not every kid gets the luck to arrive into a new chapter twice. Here are a few adoption wishes for parents who have newly adopted a baby or babies.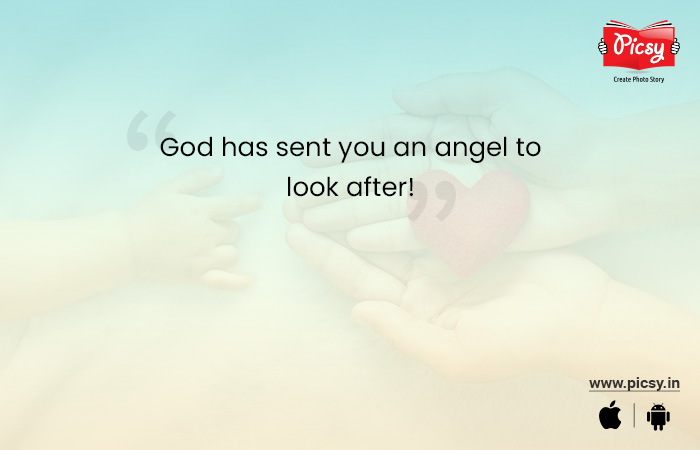 God has sent you an angel to look after!
Blessings on the arrival of a new member.
You have taken a wonderful decision. Give the child a happy future.
God has made the little one just for you, don't let him down.
You are no lesser than an angel. Always choose a better life for the child.
New Born Baby Wishes And Messages In English
Are you looking for unique new born baby wishes in English to send new parents? Here are a few small and sweet wishes that you can share.
Wishing you and your newborn many years of good health, love, and happiness.
May his life be blessed with good health, love, and laughter.
Congratulations to the newborn muffins for a safe landing on this earth.
Welcoming your new baby with wishes of health, happiness and plenty of sleep.
The littlest feet make the biggest footprints in our hearts. Enjoy this love.
New Born Baby Wishes And Messages In Hindi
Hindi being the national language of India, you might be looking for some new born baby wishes hindi. Here are a few wishes that you can use.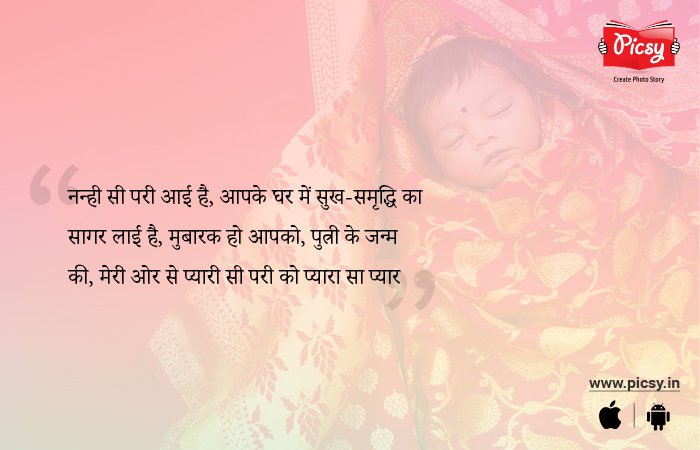 "नन्ही सी परी आई है, आपके घर में सुख-समृद्धि का सागर लाई है, मुबारक हो आपको, पुत्री के जन्म की, मेरी ओर से प्यारी सी परी को प्यारा सा प्यार"
"आपका बेटा हमेशा सुखी, समृद्ध, स्वस्थ, और सम्मानित हो, ऐसी मेरी मनोकामना है, पुत्र प्राप्ति के इस पावन मोके पर मेरी हार्दिक बधाइयां"
"हमेशा मुस्कुराता हुआ, हमेशा ख़ुशियों से सराबोर, हमेशा महत्वपूर्ण, हमेशा प्रेमपूर्ण, हमेशा समर्पित, हमेशा सहनशील, हमेशा सहायक, हमेशा सहज, हमेशा सुन्दर - ख़ुदा करे कि हमारा ख़ुसनुमा फ़रिस्ता हमेशा ख़ुसनुमा ही रहे"
"लक्ष्मी की मूरत मनोहरी, प्रेम की मिस्री प्रियतम, ख़ुशियों की फ़ुलझड़ी प्रियसी, ख़ुसनुमा फ़रिस्ता प्रियतम - ख़ुदा करे कि ख़ुसनुमा फ़रिस्ता ख़ुसनुमा ही रहे"
New Born Baby Wishes And Messages In Gujarati
Are the new parents Gujarati and you are looking for new born baby wishes in Gujarati then you can use these messages.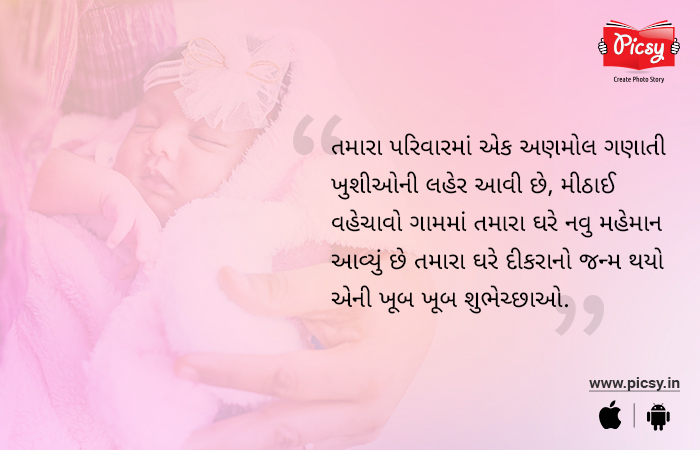 તમારા પરિવારમાં એક અણમોલ ગણાતી ખુશીઓની લહેર આવી છે, મીઠાઈ વહેચાવો ગામમાં તમારા ઘરે નવુ મહેમાન આવ્યું છે તમારા ઘરે દીકરાનો જન્મ થયો એની ખૂબ ખૂબ શુભેચ્છાઓ.
નવુ મહેમાન આવ્યું અને ખુશીઓ અપાર લાવ્યું થયા મોં મીઠા અને આંખમાં અશ્રુ આવ્યા થયો ઉજવણીનો માહોલ કારણકે ઘરમાં દીકરો આવ્યો છે. દીકરાનો જન્મ થવા બદલ તમને ખૂબ ખૂબ અભિનંદન.
બાળકનો જન્મ તમારી પરિવારને ખુશિ અને આનંદનો સન્માન કરે છે. તમારા બાળક તમારા જીવનમાં નવો આનંદ લઈ આવે.
તમારી દિકરી નો જન્મ ખુબ આનંદનો અને પ્રેમનો સંદેશ છે. તમારો પરિવાર હંમેશા ખુશ અને સખ્ત બને.
Read More : 10 Best Baby Room Decoration Ideas
Wrapping It Up:
We hope these new born baby quotes help you in wishing all your luck to a new life. So, when are you planning to write one? With these warm wishes mentioned above, craft a beautiful heartfelt message with Picsy. Check out all the customized gift choices – from printed canvas prints to Baby photo albums. Download the Picsy app now!
FAQs Related to New Born Babies
What is the best welcoming gift for new born baby?

Anything that you gift from your heart is a cherishable gift. However, if that be a baby photobook, that is appreciated even more. It is a small pocketsize keepsake to cherish for life.

What can you gift on baby's first birthday?

On a baby's first birthday when most of the people will shower the kid with toys, food and clothes, get a customized photo calendar with 12 months milestone photos. It is a perfect gift for both the mother and the child to enjoy later.

What are the best welcoming new born baby quotes?

While there are many welcoming quotes and messages for new born babies, here are some examples that you can refer to:

"A new baby is like the beginning of all things - wonder, hope, a dream of possibilities."- Eda J. Le Shan
"The moment a child is born, the mother is also born. She never existed before. The woman existed, but the mother, never. A mother is something absolutely new."- Rajneesh
"You are my sunshine, my only sunshine. You make me happy when skies are gray. You'll never know, dear, how much I love you. Please don't take my sunshine away."- Jimmie Davis and Charles Mitchell
"Sometimes the smallest things take up the most room in your heart."- A.A. Milne

What are the personalized gifts for new born baby's parents?

Personalized gifts are definitely the best presents, whether for a new born or anyone. It shows the thoughtfulness behind. Here are a few examples:

A stitched blanket for the mom, like grandmas used to give.
Name plate with the baby's name on it to hang it in the bedroom.
Baby photobook with the combination of the baby's parents' childhood images and the newborn's images on it.
A personalized handmade self care kit for both the baby and mom
Ready to hold your memories in hand?