Preserving Memories: How to Create a Perfect Baby Photobook
May 10, 2023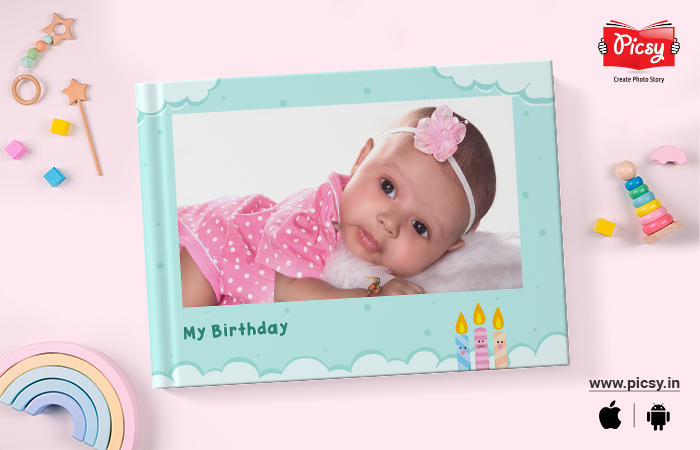 Did you ever face a situation where you want the clock to stop ticking so fast so can cherish the time of witnessing your baby growing up? Stopping the clock is not possible. But reliving those moments is definitely possible. Wondering how? I will tell you!
Cute pictures of your younger one surely shun the gloominess of your day and bring a smile to your face. Store the cute memories with you. So, when your child grows up, they can trace back to the beautiful memories they created with you.
The best way to store and preserve these memories is by transforming them into a photo album. But are you confused about how to create perfect photo albums?
Please don't worry. Look this way, please! We are here. Let us take you on this journey of creating stunning baby photo albums. But before that what exactly are these baby photo albums?
Treat for Your Younger One
It is a great feeling to make your younger one feel loved and taken care of. The best way to make them happy is to create memory keepsakes for them. Check out Picsy's wide range of gifts.
Skip to...
Baby Photo Album: What is It?
A baby photo album is a record of the initial year of your babys life. It is also considered as a baby diary where the snippets of your child's first year's journey. The best thing about these personalized baby photo albums is you can capture all their firsts, the first smile, the first uttered word, the first step they took. It is more like a booklet serving as a record of when you are sipping tea and having a chit-chat session with your grown-up child. You can make the photo book online using reliable applications.
Ideas for Baby Photo Album
Here are some latest baby photo book ideas that you must try for your baby photo album. After all, who doesn't want to preserve the adorable memories forever 😀?
Also, making a photo book online has become very easy these days with help of the reliable photo album maker apps.
1. Modern-Magazine Style Photo Album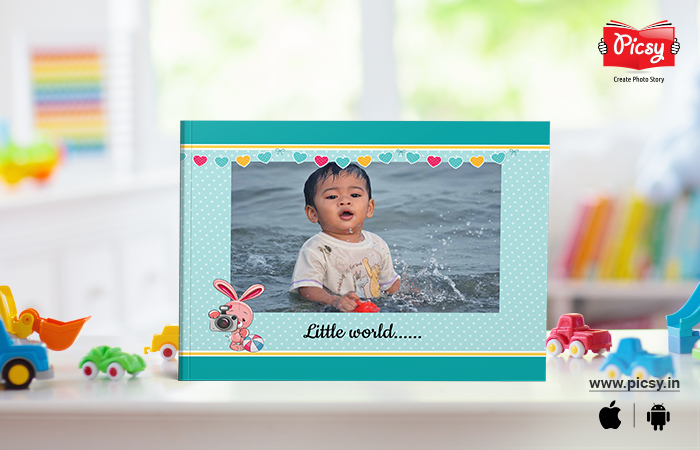 When everyone is getting modern then why should you fall behind? Create a modern-magazine-style photo album where the glossy touch of the paper enhances your memories with your little one. You can select the pictures of your choice and liven them up by transforming them into a baby's first year album.
2. Baby Collage Photo Album
If you have a great bunch of pictures of your little one and you are confused about which pictures to go for, in that case, you can go for the collage. Collage gives you the flexibility to use more than one picture over one page. Not only this, but it also helps you to relive a lot of memories at the same time.
But don't forget to maintain the harmony of the pictures. A photo book maker will make your task easier. And do not forget to research about the baby album templates and choose the one that suits you the best.
Give life to your boring walls using Picsy's classy
Wall Décor pieces.
3. Welcome the Footprints and Handprints in the Photo Album
Imprint the footprints and handprints of your baby and get them imprinted in the photo album. It will surely bring tears of joy to your eyes whenever you plan to glance at these snippets of memory. This new new born baby album idea is the trendiest one and induces a lively appeal to your pictures.
4. Letters from Mum
It is one of the most personal children's photo album ideas. You just have to pen down the letters as a mother and incorporate them into the photo album. The day, when you would flip through the pages of this photo album, it will take you on the journey of your child's growing stage. It will serve as an emotional memento. Trust me, you and your kid would love this. It is kind of an innovative gift for your kid.
In addition to this, look for the latest Indian baby name ideas to give a cute title to your baby's photo book. It will mark their sense of authority over the memory book.
Stylize the walls with baby Acrylic Prints!
5. Monthly Milestones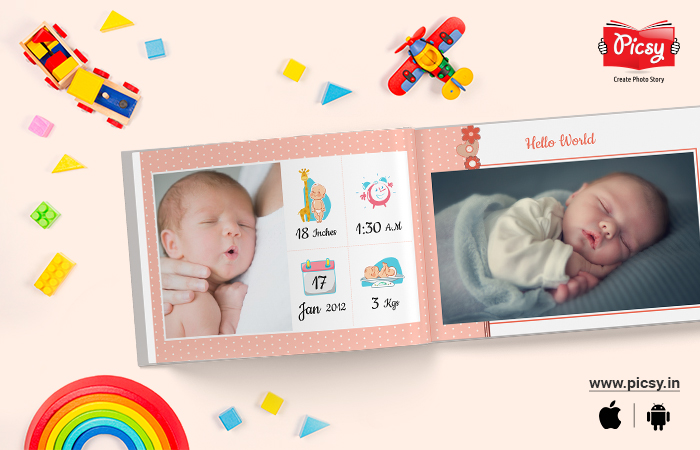 There is no greater feeling than being aware that your child is attaining new heights. You can create a monthly record of your baby, starting from the baby's first year photo book, where you can track the progress of your infant's growing up. It will help you to relive your younger one's first smile, the first time when they rolled over their tummy, the first time he/she took the first step.
As a parent, these small moments play a vital role. When time flies off, these moments will hold a very dear place in your hearts. So, explore the best themes for baby photo books and preserve the memories with your baby.
Download the Picsy App and cherish the best-quality childhood Photo Books of your baby!
6. Born Day Photo Album
As your kid grows up, they would ask questions like, "How had they been as kids", "At what time were they born" or "How they were looking when they were born, etc? So, be prepared in advance to answer these questions. Capture the moments of their birth and preserve them in a beautiful newborn photo album. Irrespective of the moment, capture it and incorporate it in the booklet made for your baby. You never know which moment take a special place in your child's heart. So, be prepared to conduct the new born baby photoshoot and collect a plethora of images of all the cute activities done by your baby.
7. Vacation Baby Photo Album
It is indeed a special feeling that your baby leaves their nest and experiences their first vacation. Make this memory an everlasting one for you and your kid. Try to include all the pictures and preserve them for the years to come and print your own photo book. Be it enjoying their favorite food or when they are playing and splashing water in their mini pool.
8. Baby's Birthday Bash
Surely, the first events of the baby are quite special. So, seize this opportunity and make the first birthday bash of your younger one quite memorable by creating a childhood photo album.
Document your baby's first year with a memorable keepsake that they can cherish for a lifetime. Showcase everything from the wonderful décor to the moment when your kid blows out the candles and cut the cake. Also, don't forget to include pictures of your baby unwrapping the gifts. It will not only serve as a moment of joy for your kid, but you would feel immense joy flipping through the pages of this memory-packed birthday photo album.

9. We Are a Family Photo Album
The photo album is the perfect way to familiarize your little one with the entire family. Introduce your young one to their cousins, siblings, uncles, and aunts using the family photo album. If you plan to make it more special, incorporate the pictures of each relative. This gesture will make it more personal for your baby and they will start recognizing every relative in no time. Create your own photo album book and relive your baby's childhood again. Also, remember to give a baby album cover design to create that personal element.
Why to Choose Picsy for Creating Baby Photo Album?
Picsy is a user-friendly mobile application that is known for creating top-quality photo albums that help in preserving memories forever. We surely cannot stop our memories from getting faded, but Picsy helps us to cherish them forever. That is the reason, it is the best photo album making app.
Not only this, Picsy also offers 150+ stunning occasion themes, and different layouts to relish your memories.
With the customizable font sizes, Picsy offers different sizes like:
Large- 16 inches X 12 inches
Medium- 11 inches X 8.5 inches
Small- 8 inches X 6 inches
You can make your own photo album using a few clicks of the Picsy app.
How Do You Make a Picsy Baby Photobook?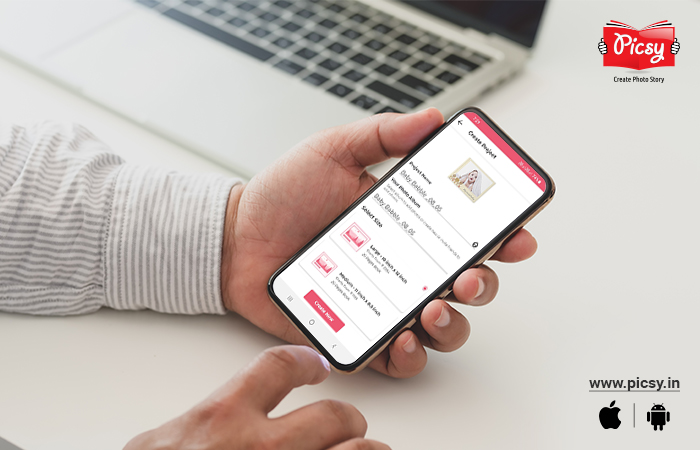 You just have to download the Picsy app, select your theme, add and adjust your photos, and place your order. The baby album templates will enable you to cherish every special moment. Picsy has a durable quality photo book that helps you to relish every bit of your moment. It is free of cost and the best photo album app for Android and iOS.
End Note on Baby Photo Album
We hope this journey of creating a memory-packed photo book helped you to induce life into the moments you have created with your baby. No matter how you arrange your baby photo album, moving to its pages, is sure to bring happiness to your life. It is a heartfelt treasure, a love-filled memento for your baby.
And when you are too excited about getting your hand on the baby photo album then design your own kid's photo book. Let the Picsy's top-quality keepsake serve as a treat for your kid. Your task is to download the Picsy App and order the keepsake for your little one.
Choose Picsy for the Perfect Photo Gifts
Your kid would love to receive gifts. So, treat them with Picsy's perfect photo gifts. Have a look at the exclusive range of memory keepsakes.
FAQs Related to Baby Photo Album
1. Which theme will be suitable for your baby photo album from Picsy?
2. Which is the best app for online Photo Album maker?
When we talk about the best then the name that rules our hearts and minds is Picsy. Picsy offers the best quality photo album that will help you to cherish your memories.
Ready to hold your memories in hand?