Design a baby's first-year Photo Book full of cuddling memories
Feb 04, 2020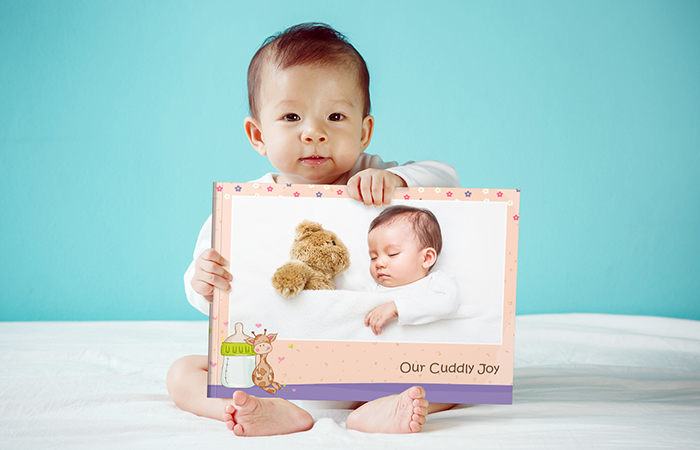 Firsts are eternally special. There's always a special soft spot for the firsts. Be it first salary, first car, first house, first friend or first everything, the most precious first you will ever come across, are the moments during your baby's first year. A newborn baby starts a new phase of a parent's life. Experiencing the timeless moments of joy with your little one feels amazingly good. Your journey in this first year of parenthood with your baby has been incredible, and you would want to treasure it forever like their first smile, laugh, cry, steps, etc. Choose to place several milestones in one book, or individually, it will be a celebration every time you flip through the pages.
Create a photo book of your baby's first year with Picsy and let it design something that you will remember for years to come. Its several features and design elements are intuitive, easy to use, and also let you design your baby photo book with your convenience in mind. Both of you can rediscover all the moments once your baby is grown up. Picsy baby photo books are made from the highest quality long-lasting paper along with several collections of templates for keeping a record of each milestone of your baby. It is a wonderful platform to create a beautiful keepsake for a lifetime, which offers you a high-quality photo paper, premium cover binding options and an affordable price tag. We are here to help you guard your baby's important moments, from the first year.
You all can rediscover all the moments together once your baby is all grown up. Picsy baby photo books are made from highest quality long lasting paper along with several collections of templates for keeping a record of each milestone.
Make sure to capture all the major milestones of your baby's first year, from their first cry, tooth, to their first step, etc. You can also pick pictures from the day your baby first uttered a word, and with the help of Picsy, add that first word on the picture and make it more memorable. Make first birthday extra special with firsts special theme and preserve all those special moments you will cherish all your life.
Starting from the announcement of the arrival of a new baby to to deciding the new born baby names , treasure all those moments in the baby photo album from Picsy. You can include all those footprint embellishments, and all the moments amid their learning process, these are the days you won't want to forget.
Make your kid feel more special with kid special birthday designs from Picsy. Narrate your kid's story to them on their birthday and show them all the moments from past years as they will be grown enough to understand things. Relive all those moments you have recollected in your baby photo book with them again.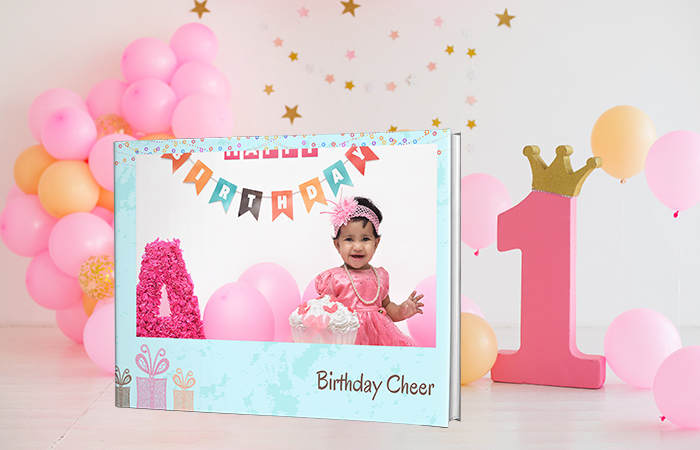 Loved our Kids Photo Book Theme??
Now let's design a special Photo Book of your little one.
All you have to do is:
Download Picsy App
Create Product
Select Desired Shape & Size
Upload Happy Photos
Edit Text and Add Filters
Preview & Order
Design the special Krazy kids photo book online with Picsy and flip over the pleasant flashbacks from the past year. Its wide array of themes helps you to insert colorful shades and add more fun to your baby photo album. There is no memory too big or small you can't decide is worthy of capturing.
Preserve your newborn's heavenly moments in photo books online from Picsy. Something your child will cherish as they get older is such a less time consuming and as colorful as you want it to be. Even if you want to gift this to someone else, you can order as many prints as you desire to.
Capture all those little joys of your little ones in one of our baby photo albums by using the finest quality and exquisite designs. Add some fun themes along with cover bindings and create a delightful book as lovely and lively as your baby. A memorable bonding moment or any fun adventure you both have experienced will surely bring back the sweetest childhood memories.
The Personalized Baby Babble photo books from Picsy are the perfect keepsake for you and your little ones. Along with several sizes, style, and page options, you also get some of the premium cover binding options as well to show your baby love and let it shine through your baby photo book.
The trend of capturing the moments every month in your baby's initial year is a great way to see your baby's progress all in a book. Relive those happy moments of the year in a cheerful photo book from Picsy. Our hardcover and softcover baby books are printed on high-quality paper with a glossy and matte finish, giving them a more beautiful and detailed look.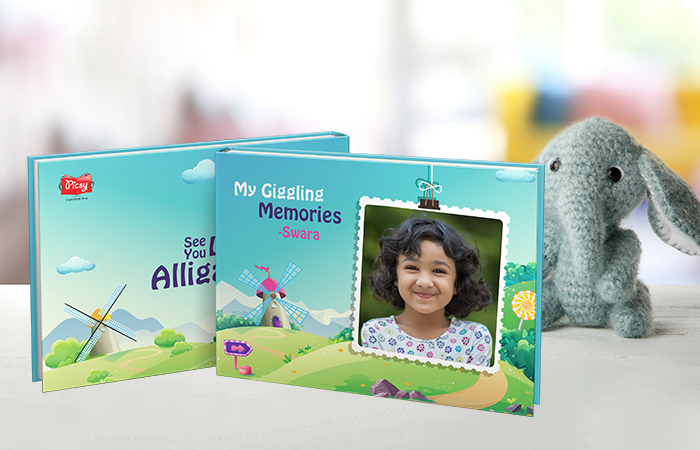 Choose all the photos from the moments of your baby's initial years that include all your family members. Preserve all of them in this photo book printing and let your kid feel all the love and affection when he is all grown up through these keepsakes. A little text or short notes will add an emotional touch to it, making it more admirable and embracing.
Treasuring pictures in your baby scrapbook is all about emotions flooding out whenever you see it. Celebrate all the sweet moments from your baby's first year and rejoice in them. Treasure all the cuddles and snuggles of you and your little ones in this scrapbook fun photo book from Picsy along with numerous theme and elegant frames.
Design creatively charming baby photo books through the medium of Picsy and recollect your kid's childhood in a book that you will cherish for life. You can also include all the photographs from your first outing with your little one to all the mischiefs they have created and troubled you happily.
Every day is a fun affair when it comes to making memories with your siblings. Create a delightfully joyous baby photo book in sibling's special theme from Picsy. All the adorable memories of you and your little siblings will make you awe-inspiring while you two grow up.
It is both an exciting as well as an emotional moment when seeing the pictures, you have preserved from your younger age. Photo books online from Picsy offer you a variety of elegant frames and themes to suit your photographs. Give your keepsakes a personal touch in a uniquely beautiful way.
Every time you have built memories with your beloved son, you capture those moments forever by creating a baby photo book. You can design your son's photo book from Picsy with ample of cool designs and size/style options as they make a great gifts or keepsakes.
Make note of those special firsts throughout your baby's life, and moments spent with your baby always make for everlasting memories. Your photo book cover should be as unique as images it holds within its pages. Compile all your favorite snaps of your little one throughout the year, and show your immense love for them.
Ready to hold your memories in hand?