A Treatise To Understand How To Create A Photo Collage?
August 20, 2021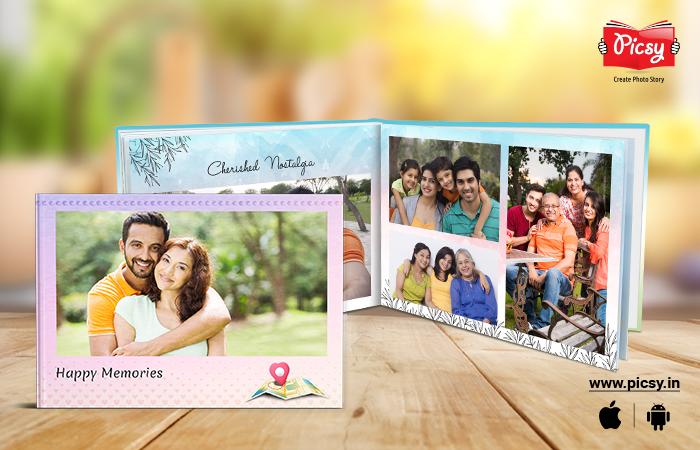 Do you like clicking pictures? But does it get too tiresome for you to keep multiple photographs intact or even shortlist one photograph from the bunch? A collage is an appropriate way of safeguarding the pictures and keeping the special moments intact. A photo collage helps in narrating a story. Whether you plan to display a special event or your favorite memories with your loved ones, a photo collage can be an asset.
But are you stressed out how to create a photo collage? Do not worry! We have this really amazing write up to guide you through the understanding of collage.
What Is A Photo Collage?
A photo collage is a combination of images kept together. It enables you to transform your smartphone into a beautiful piece of art. It assists in narrating your favorite tale in a minimalistic yet chic way. The photo collage provides that x-factor to the image, which is not present in the stand-alone picture. And the icing on the cake is, the collage can affordably upgrade your monotonous place as they are quite cost-efficient.
Different Types Of Photo Collage
There are various types of photo collage design ideas that you can opt for to choose your desired photo collage design.
Canvas collage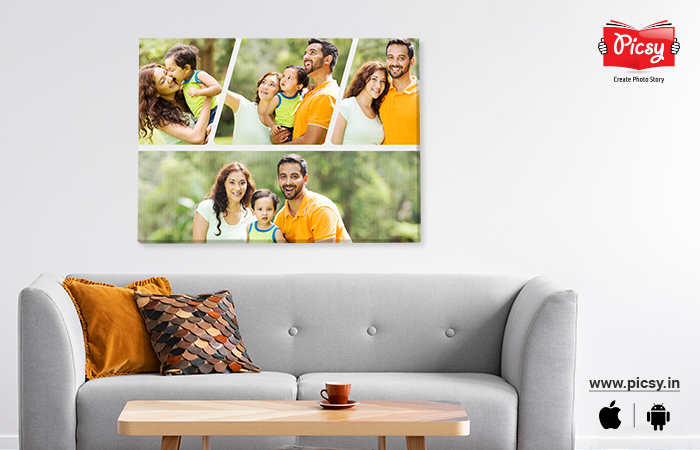 You can flaunt your living room by having your picture memories intact in the photo collage. The customized canvas print collage enables you to display your special family memories. These jaw-dropping prints then can be transferred to a canvas. It would give out the cozy feeling and very subtly upgrades your place.
Metallic print collage
We cannot neglect the fact that certain things look good in their rugged form. This modern art piece is suitable if you seek to have a contemporary and classic design. You can make it seem more sophisticated by sticking to evergreen black and white color tones.
After selecting the metallic print, your task is to choose between a basic matte or a sleek glossy look. Then you can upload your pictures on it. You can place it in your living room or the corridor of the house. It is certainly going to make the setting look appealing.
Read More : Canvas Prints vs Metal Prints: Which Suits Your Wall?
Collage poster
We all love to decorate our living room. And if you are musing over the same, you can use this collage poster to showcase on your wall. It looks sophisticated, and it comes at affordable prices too. You can pick one of your choice, matte or glossy. Then you can adjust it in the frame.
You can merge up to thirty pictures to cherish your trip memories or your favorite event. The task could be eased out if you decide to order a photo collage maker online. They are customized, which gives the flexibility to choose the various layouts and backgrounds. They amp up the boring segments of not only your house but your office too, be it the living room in the house or cabin in the office. That is how a photo collage serves as wonderful home décor.
Printed frames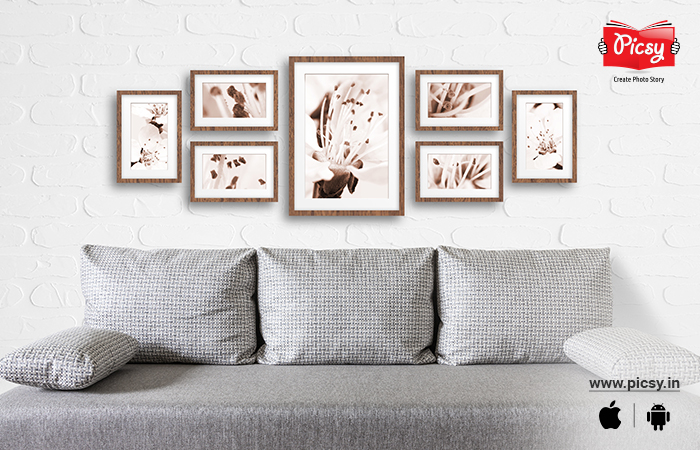 If you are someone who likes conventional framed photographs, then you can rely on this type. The prints are showcased on cardboard and then framed to beautify and be easy to display. If your room already has framed photographs, it would add a natural flow and look really sophisticated. You can refer to the picture collage app to get better ideas for decorating the framed prints. However, you can choose the layout according to your convenience.
Acrylic prints
These are classy, outstanding photo collages that have a contemporary look. And it's lightweight design makes it really handy to position it. You can choose the polished design in the appropriate size according to your space management. Even though they are a little big-budgeted, but the quality and look are worth the price. Grab your hand on the personalized acrylic print photo collage and experience that royal feeling.
Read More : Canvas Prints vs. Acrylic Prints: Which is Better
How To Make A Photo Collage Online
If you have selected your preferred collage type, then it is time to opt for a photo collage maker. A photo collage maker is a tool that assists in creating a high-quality photo collage with the utmost finish. Following are the certain steps you can follow to opt for an online photo collage maker.
Select A Template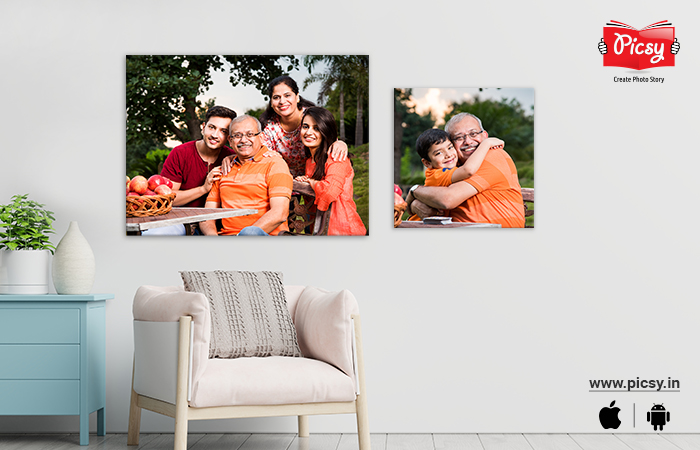 Once your collage style is finalized, you can choose the template. Search for the appropriate template to complement your home decor.
Assemble your pictures
Decide which pictures you want to include in your photo collage. You can shortlist them according to the trip or even the color scheme.
Upload the pictures
After selecting the pictures, upload them to the picture collage maker, or you can even get their prints beforehand.
Customize your collage
After getting done with selecting photographs and uploading them on photo collage maker, it is time to customize your collage. You can choose the size, layout, and finish according to your convenience.
Evaluate your designs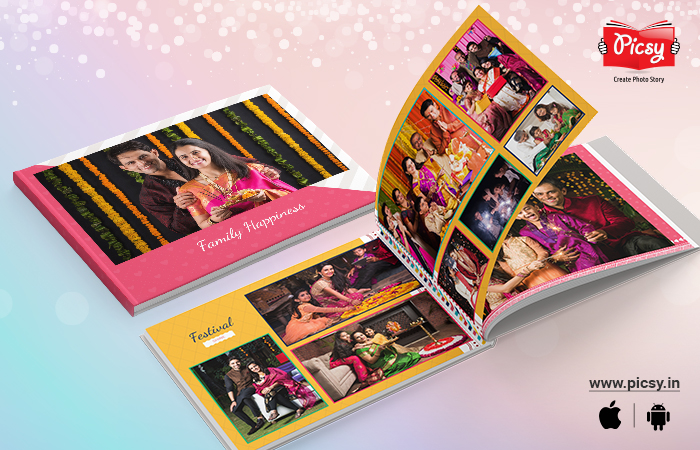 After giving a personal touch to your collage here and there, evaluate your design to ensure that all the customization is being done according to you. Click on the preview button. If everything is as per your convenience, click on 'add to cart.'
Place the order
Once you have evaluated everything and everything seems appropriate, then you can place the order. Though, review your designs once again to be sure about them. If all is set, place your order.
Now, as your order is placed, please sit back and decide where do you want to place it. Perplexed with where would it look the best? Do not stress out. We have the solution for that as well.
Where To Display Your Photo Collage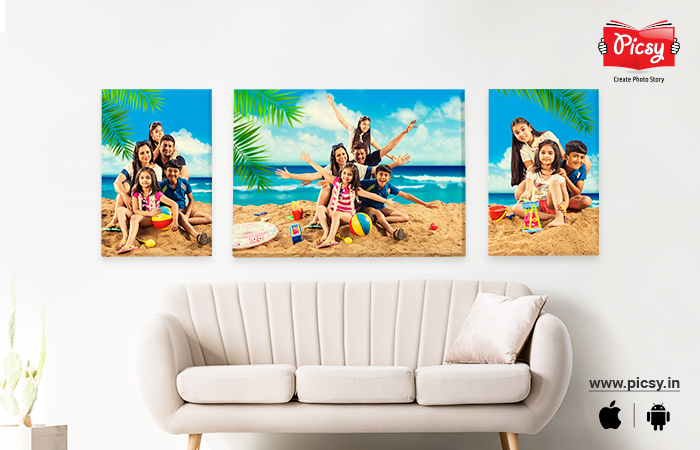 After selecting, reviewing, and ordering your customized photo collage, flaunt it in your house. As your pictures are a remembrance of timelessness and loved moments, there is no inappropriate place that you cannot decorate with these beautiful custom canvas prints. It is absolutely your choice.
Still, wondering where to position and showcase your keepsake? Before drawing any conclusion, please take into consideration the main motive of the piece along with the number of family members crossing it. If your photo collage is too personal and not for everyone in the family to glance at, then place it in a personal setting. While on the other hand, if your photo collage is meant to amp up your living room, in such a case, you would want the guests to take notice of it.
However, your personal memories can elevate your informal setting, like the bedroom, libraries, etc. Lofty and expensive photo collages like the acrylic ones which can help you to make a statement. You can flaunt them by hanging them in the living room, dining area, or even on the stairwell.
Wrapping-up
Already feeling excited to have your photo collage? I hope this guide might have been a help for you to understand how to create a photo collage and where exactly to place it. But if you feel that making the collage online would be a hectic task, in such a case, you can get in touch with Picsy. We offer custom canvas prints with utmost proficiency and at affordable prices.
Haven't downloaded Picsy yet? The clock is ticking. Download Picsy app and get your customized photo collage from our collection of photo collage ideas.
Ready to hold your memories in hand?