8 Artistic Photo collage ideas for you and your loved ones
January 22, 2021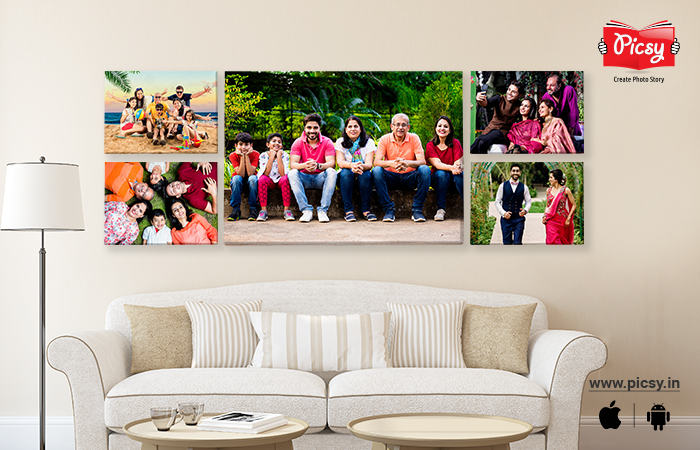 A collage is varied memories in a single frame. It is a keepsake full of love, affection, fun, and all the special moments of you and your loved ones.
A collage is a way to narrate your journey.
A way to rejoice in all the beautiful memories at once.
And a way to create an elegant keepsake for life.
Collages are one of the best gifts you can ever give or receive. It not only takes you back to those good old days but also strengthens your bond with your loved ones. In the picsy app, you get a vast array of style, shape, wrap, and many more editing options for your photo collage designs. Put all your favorite clicks in a single frame with the help of Picsy. You can crop, edit, and add filters to your choice and let Picsy add magic to your pictures.
This blog entails DIY photo collage ideas for you to consider while creating yourself or gifting them to others. We promise you these will be the most artistic ways to brighten your space and freeze your memories all at once.
Creative Photo Collage Ideas
Here we will show you how to make a photo collage out of your favorite photographs involving the sweetest and fun moments with your loved ones.
1. Aligned frames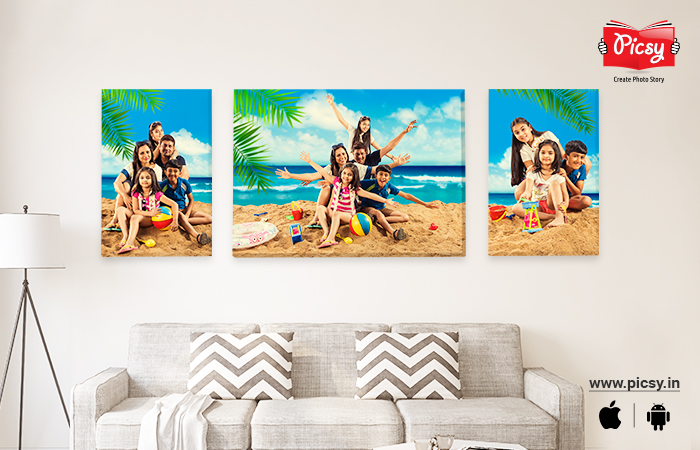 Framed pictures look much more alluring than non-framed ones. They add a subtle touch to your pictures and give your space an alignment. It is one of the best ways for your photo collage ideas for a wall. You can choose the frame colors as per your room décor, and there are many ways you can get your collages framed. You can either accumulate all your favorite pictures in a single large frame or get multiple frames with images divided into all of them.
2. Collage on canvas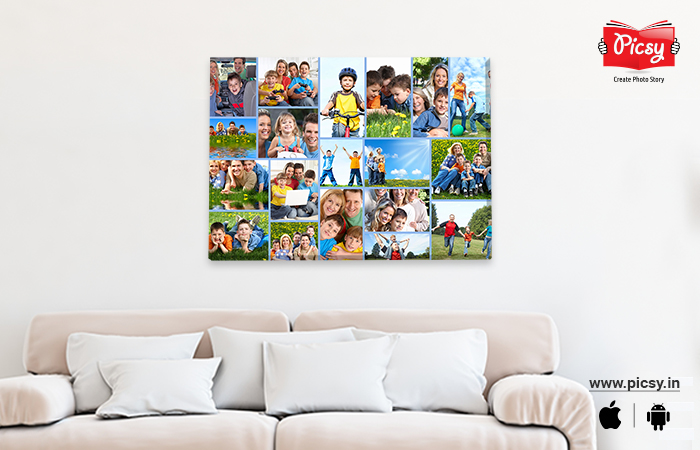 Picsy's wide selection of canvas prints will make you go in awe of the outcome. Pick your favorite pictures, pick the style, shape, and size you want your canvas to be, and get your canvas full of euphoric memories delivered at your doorstep. This is one of the excellent photo collage ideas as you can add cute notes or texts to your collage and then leave the rest of it to Picsy.
3. Heart-shaped canvas for your love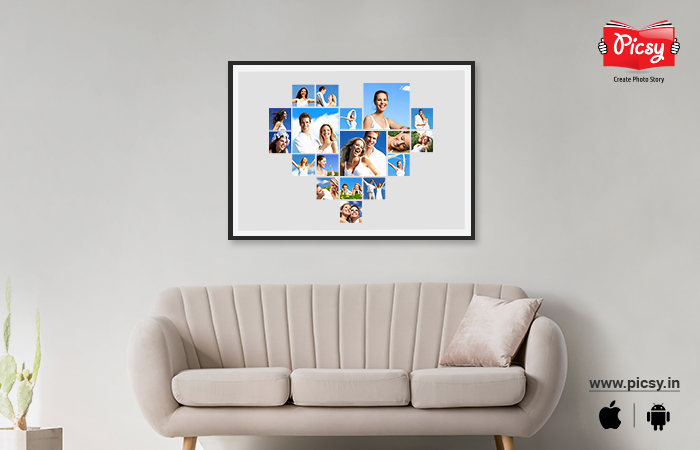 Make a heart-shaped collage and get it framed. Add your favorite quotes and notes to the collage and compliment it. You can play with the geometric shapes using your pictures and let them add a charm to your space. Make sure that you choose the photo collage ideas that enhance the beauty of your room.
4. Collage on Alphabetical shaped frame/board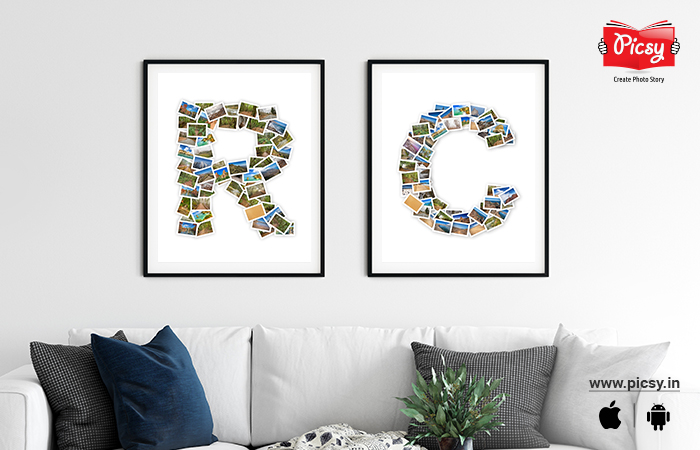 Get a frame or a board in the shape of an alphabet, and then get your pictures imprint on it. It is one of the perfect DIY photo collage ideas to gift someone a collage of endless memories together.
5. Collage on a cozy corner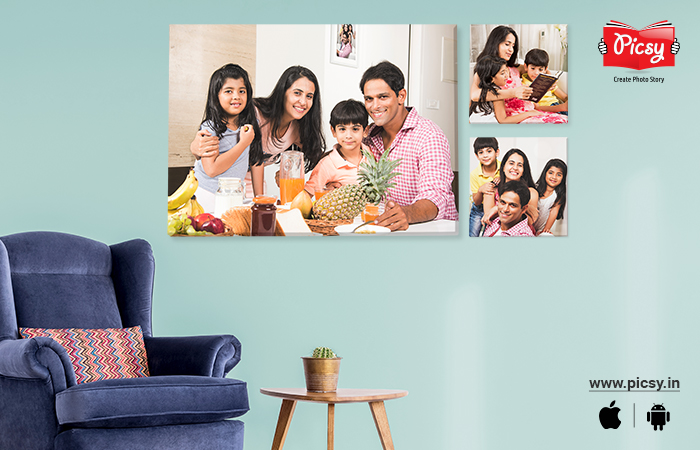 Everyone has one cozy corner at their home. Decking that up with beautiful memories makes it much warmer. A cozy corner is a space where you forget all of your stress and dive into your beautiful thoughts and memories. You can arrange the pictures in any photo collage design you want it to and enhance the space's beauty.
6. Wall hung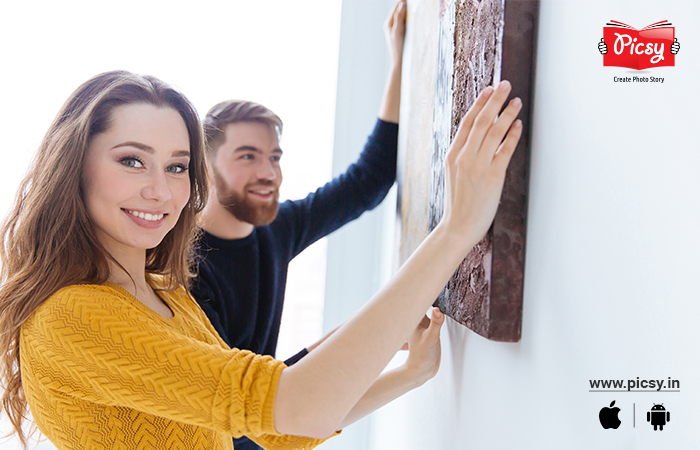 You can get your pictures printed individually and hang them on the wall using designer strings or clothing clips. That is one of the funky DIY photo collage ideas for the space you need a loud décor. You can also insert a few quotes between the photographs and make it look much more interesting to look at. Wall hung is one of the creative ways to make a photo collage.
7. Family tree collage in your living room gallery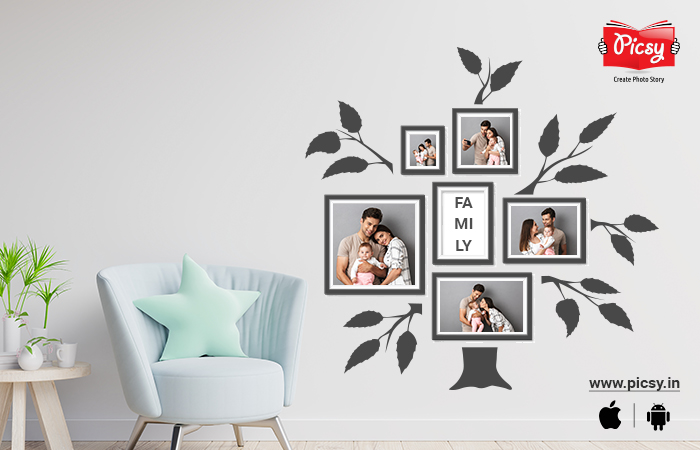 Get your photographs printed separately or create a collage out of it and decorate it like a family tree. Make your living room gallery look alive with the bond and chemistry you share with you and your loved ones. Picsy's best online photo printing services make the process easy and hassle-free for you to adore your keepsakes delivered.
Read More : 7 Family photo wall ideas to keep you smiling
8. Endless memories on a coffee table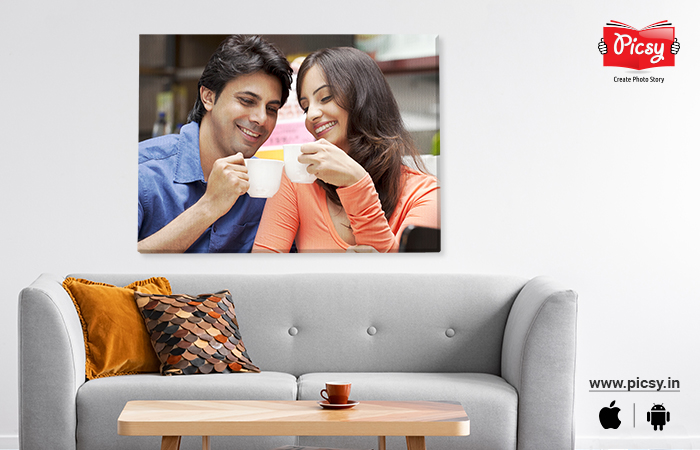 Sipping your evening coffee on your coffee table, with a keepsake that makes you reminisce in the memorable moments with your loved one in it. Choose an elegant background for your pictures to look more stunning. This is one of the best photo collage ideas to decorate your coffee table with love.
Pictures are a way of recollecting the everlasting memories and relive them every time you walk past them. Reminisce in the memories with Picsy's Printed Photo albums that will make you dive into them. Download the picsy app now and get the best delivered to your doorstep.
Ready to hold your memories in hand?