Picture Canvas Prints : 2022's Décor Revolution
February 11, 2022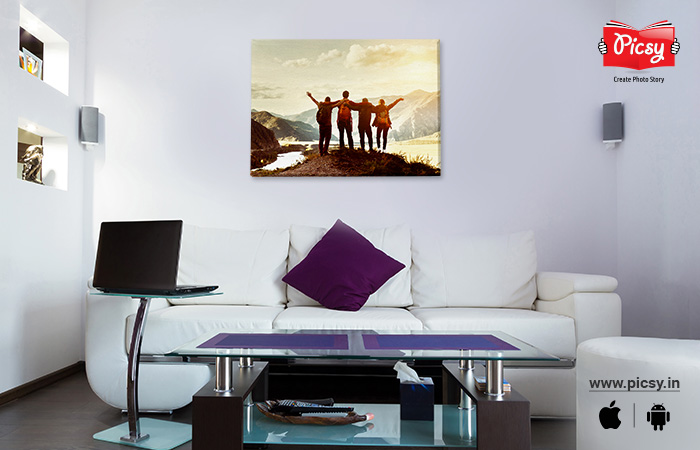 2022 is here, and with it, so are its latest décor trends. Leading the pack are Picture canvas prints, a rage in every décor conscious household and workspace. So what is a picture canvas print? Well, we are glad you're here, for that is the question we are about to address in this article, along with everything you need to know about a picture canvas print, from the material used to the sizes available. So without further ado, Let's get down to it-
What is a Picture Canvas Print?
In a nutshell, Picture canvas prints are created by combining fantastic digital printing with high-quality canvas fabric stretched over a frame. Well, you can bet there's a lot of work going on behind the scenes whenever things appear a little too simple. Let's have a look at how picture canvas prints are made, from start to finish.
How to Print a Picture on Canvas?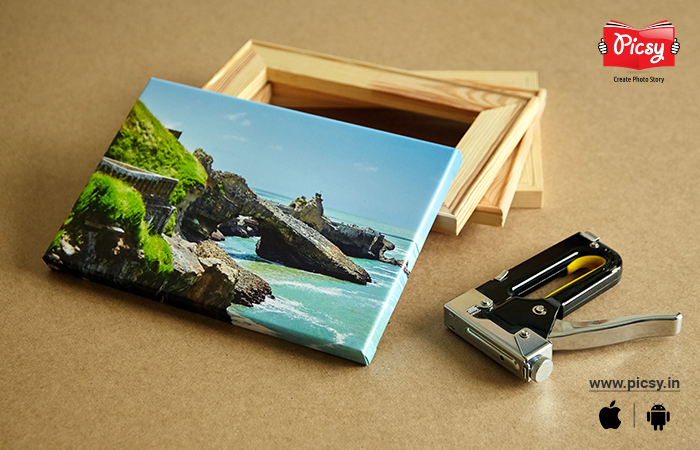 It may seem strangely like something out of fair-folk lore, but this is how it all begins. Your canvas' frame is manufactured from carefully selected spruce wood that comes from sustainably managed forests.
The wood is shipped to our facility. It then undergoes a particular drying process. The wood is ready for further tests and processes once it has reached the optimal EM (equilibrium moisture content).
Canvas prints are frequently advertised as a fantastic combination of traditional artistry and modern technological prowess. It's impossible to create a premium canvas print without combining the finest of both worlds.
Meanwhile, sophisticated technology is at work in the print reproduction of your photograph. To generate a pixel-perfect replica of the base picture, our top-secret latex inks are added to the canvas making your picture canvas print sharp, vibrant, and ready to wow anyone who comes across it.
Glam up your home and workspace with exquisite picture canvas prints from Picsy.
Types of Picture Canvas Prints
A poster, to be sure, has its share of great features. A picture canvas print, on the other hand, is a more robust decor element by nature. While a poster is flimsy and would need to be framed for durability, a canvas print is ready to use right out of the box. These two mediums are worlds apart, with lifespans, maintenance options, and printing methods that are poles apart.
What about a canvas designed for picture printing rather than painting? Both arose from the same circumstances (a desire to find more affordable and accessible alternatives to traditional painting frames), but they couldn't be more dissimilar.
While the painting canvas can arrive with or without the gesso coating and can be used in both configurations, the picture printing canvas is always a ready-made product that is never stretched on the frame before printing.
Here is a list of the types of canvas prints available-
1. Canvas Prints in Small Sizes
Canvas prints measuring 8"x8" can be displayed on shelves or in tiny areas of the wall. Living rooms, kitchens, bedrooms, and even offices all benefit from the numerous sizes available in this collection. The inks, which are manufactured in Kentucky, help the canvas designs stand out without being too large for the space.
Small-format canvas prints can be used to print a variety of photographs, including family portraits, pet portraits, vacation images, and home décor. When your images are exhibited on a custom cotton canvas blend, they will appear their absolute best. Thanks to these photo canvas prints you'll be able to amaze your visitors while also being reminded of your fondest experiences on a daily basis.
2. Canvas Prints in Larger Sizes
In addition to having an eye-catching design, large-format canvas prints are sure to stand out in a crowd. A large canvas print, which can be as large as 40" x 40," is a great way to create a statement in a room and may be hung on the wall. Our large-scale canvas prints are constructed from the same high-quality materials as our smaller canvas prints, which are all manufactured in the United States. The usage of large format canvas prints in entryways, expansive living rooms and bedrooms, lobbies, and art exhibitions has a significant positive impact. These canvas prints are distinguished by their vibrant colours and well detailed images. Canvas prints can be used to display a broad variety of photos, ranging from family portraits to landscapes in the great outdoors.
A canvas print of a photograph can enhance the appearance of any room. A place that incorporates current photo prints gains a particular identity of its own as a result of doing so. These canvas prints are still competitively priced, despite their larger size and higher quality. We can print your photographs quickly and precisely thanks to our state-of-the-art printer, which also helps to keep costs down by reducing the number of copies needed. When you get your favourite memories printed on large-scale canvas, they will come to life!
Read More : Beginner's Guide to Canvas Print Sizes
3. Prints on a Single Piece of Canvas
A single print on canvas is the most common type of canvas decor. You can't go wrong with something so simple and yet so gorgeous. Canvas prints are available in more than 1,000 different sizes, ensuring that there is a piece to suit every taste. Because canvas prints are not framed, they may be readily styled to match any room's existing decor because of their unframed appearance
Adding your own personal touch to an original canvas painting is simple and straightforward. The depth of the canvas is the first choice for customising the appearance of the canvas. An option to raise the depth of the canvas from 0.75" to 1.5" is available. Selecting a canvas depth allows you to alter the border style, which can be anything from blurred to mirrored to black, white, or grey.
Each canvas print is delivered to you already mounted and ready to hang on your wall or shelf. The moment your print arrives, you can start thinking about how you want to renovate your home! Because of the simple hanging mechanism, it is easy to switch out the prints to correspond to the changing seasons. By utilising our canvas design tool, we'll recommend the most appropriate size for your image; however, you can view all of your other alternatives right here on this page.
Read More : How to Hang Canvas on Wall?
4. Triptych Picture Canvas
Canvas displays include both wall art made from canvas prints and triptychs, which are both types of canvas displays. Your favourite images can be displayed in a number of different ways. These canvases make a bold statement and are sure to get people talking about them. Due to the fact that it is produced in the United States and is backed by a 100 percent money-back guarantee, a canvas wall display is an excellent choice for displaying wonderful artwork in your home.
Wall displays are multi-panel displays with three to nine panels that are mounted on a wall. Each canvas contains a single image that is shown. Wall displays frequently feature family photos, pet portraits, and vacation photos, among other things. These would make fantastic gifts for friends and family members. As a company that sells a lot of wall displays, it's always exciting to use photographs to express the storey of a product.
A triptych is a display of one image on three independent panels that is created by using three canvas prints. This provides your shot a fresh perspective on the subject. Each panel is displayed at a distance of two inches between them. As a result, both the overall picture and the divide are easily discernible from one another. This separation allows your favourite photographs to stand out as beautiful pieces of art.
What is the Composition of Canvas?
Turning a picture into a canvas print has never been this easy.
It's always a good idea to check out review sites to see what other people have to say about your canvas to make sure it won't let you down. Picsy, fortunately, has some of the greatest user reviews.
Strike an awe-inspiring impression on everyone who enters your home or work space. Download Picsy App
and Get Started!
Benefits of Printing Pictures on Canvas
Since the 1960s, the field of printing photos/pictures/graphics has evolved. Canvas printing has completely transformed the notion of image mounting, making it both light on the pocket and a lot more versatile.
1. Durable
Come rain or shine; you can rest assured that your picture canvas print isn't going to fade or tear given its sheer durability.
2. Aesthetic Impression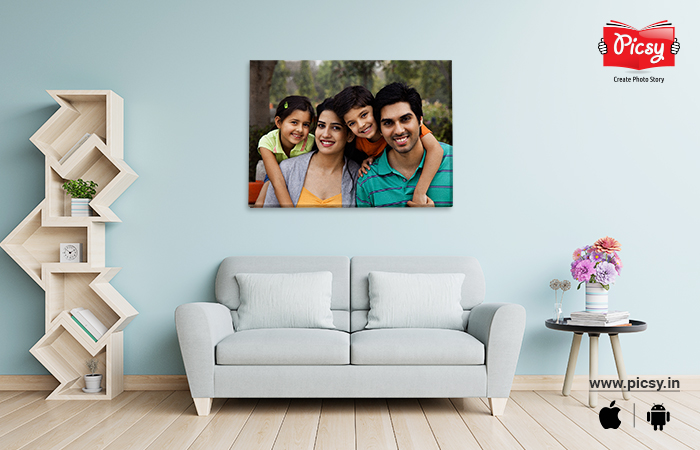 Portraits, life-size family images, and landscape photographs look amazing as canvas prints. The best part is that they look as good in professional environments as in your living room.
Read More : 15 Ultimate Living Room Wall Decor Ideas
3. 3D Appearance
Canvas prints have a wonderful three-dimensional appearance. A Canvas print can enhance the appeal of a picture with its vivid colors and texture, easily transforming your pictures and photos into exquisite decor items.
4. Simple to Use
Unlike traditional frames, canvas prints are simple to frame. In fact, there is no need to frame a canvas print. They come with a variety of attachment/display methods that allow you to place your picture canvas wherever you want hassle-free.
Why Picture Canvas Prints?
It's a lot of fun to print your digital photos! Nothing beats the satisfaction of having your own picture beautifully reproduced and displayed in your home or office. We provide a variety of remarkable goods on which you may print your photographs at Picsy, but we need to focus on the benefits of canvas prints online because it is, after all, a big component of what has helped us at Picsy become Photo Art Experts.
1. There is No Glare
When framed behind glass or printed on glossy paper, photographs may be highly captivating when displayed in the right setting. However, rooms with a lot of light—natural or artificial— can generate glare and reflections, making it difficult for the viewer to perceive your shot in the way it was intended. Canvas prints, on the other hand, have a silk matte surface, making them an excellent choice for displaying images in brightly illuminated spaces.
2. Versatility of Style
Picture Canvas prints are exceptional and timeless, making them a natural fit for all stylistic layout types and enabling them establish themselves as one of the most popular photo printing solutions. They'll also look great in your home for a long time and complement your decor tastes because of their versatility.
3. Cost-effective
The cost-effectiveness of canvas printing is one of the most appealing features. Not only that, but seeing your own picture shown at such a large size is a lot more enticing!
4. There Are So Many Size Options
Because canvas prints come in such a wide range of sizes, it's easy to obtain the exact effect you want, whether it's a single super-sized print or an exhibition mass of a few smaller prints.
5. Nearly Any Photo Looks Great on Canvas
Another fantastic feature of canvas printing is that it can be used to print virtually any type of photograph. Some image crafting objects have unique properties that limit the kind of photos that can be printed on them.
6. Life Expectancy
Picsy Canvas Prints use fluid overlays, which seem wonderful at first but eventually break, blur, and turn yellow. Picsy makes it easy to make Canvas prints online using the Giclée technique and HP Vivera Latex inks, ensuring that your photos stay vibrant and blur-free for a lifetime.
7. Robustness
Not only will your photograph look great for a long time with Picsy Canvas Prints, but the actual canvas and frames are also built to last. Many canvas prints on the market are printed on low-cost polyester canvas, but we use premium 405 GSM silk poly/cotton canvas. We professionally stretch your canvas over a bespoke casing made of quality basswood that will not bow or twist over time.
8. Exquisite Texture
The wonderful finished canvas weaving is one of the advantages of canvas printing over other photograph handicraft goods with smooth surfaces, such as Poster Prints or Acrylic Prints. Picsy Canvas Prints offer a stunning surface, especially when compared to the competition.
Read More : Canvas Prints Vs Acrylic Prints
9. Environmentally Friendly
Picsy uses canvas that has been brightened using an environmentally friendly cycle and non-toxic dyes. Furthermore, we use select basswood that comes from renewable sources to manufacture our casings.
In Summation
In a home, a picture canvas can bring forth the true character of the family members. Nothing beats two canvases for painting the vacant walls on the corner of your house. Decorate your walls with Picsy's best picture canvas prints and our endless custom high-quality photo prints and canvas print templates to showcase your tales without having to tell them. Download the Picsy photo canvas app from the app store and place an order for a picture canvas right now. Happy Picsying!
Ready to hold your memories in hand?