Why are Canvas Wall Displays Trending?
October 26, 2021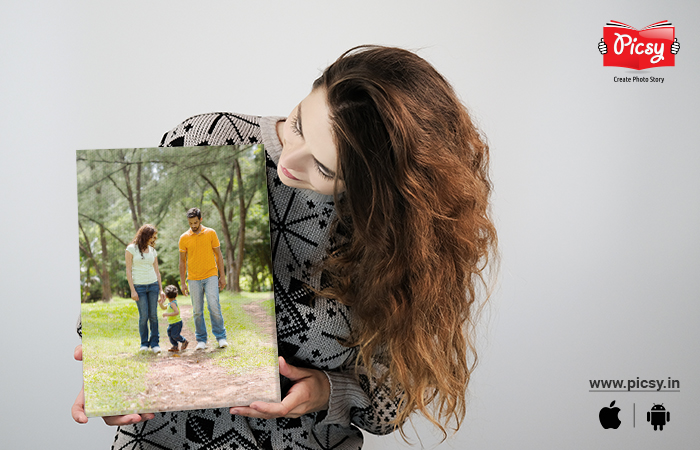 Are you feeling bored of the same old home decor? Do you think you should revamp it, or are you entirely confused about what to do with it? What about an X factor to your monotonous space? Has it ever happened to you that you visited one of your relatives' places and got awed by the beautiful canvas wall displays they have used to decorate their house? Now, inspired by them, you might also seek to decorate your house, don't you?
Canvas wall displays are hitting the market trend. Ever wondered why? The reason is canvas prints are multitaskers, and they are used to decorate houses, offices, and anywhere you can possibly imagine. They give that touch of beautification to the mundane walls.
Regardless of the sort of display, be it a picture of a fun family vacation or wedding pictures of your favorite sibling, canvas wall displays are jaw-dropping beautiful. They not only are aesthetic, but they also induce life to your space. Still wondering if you should add them to spice up your walls? Let us take you on the journey of understanding canvas print wall art. Excited to know about these magical canvas prints? Let us read more about them.
What are Canvas Wall Displays?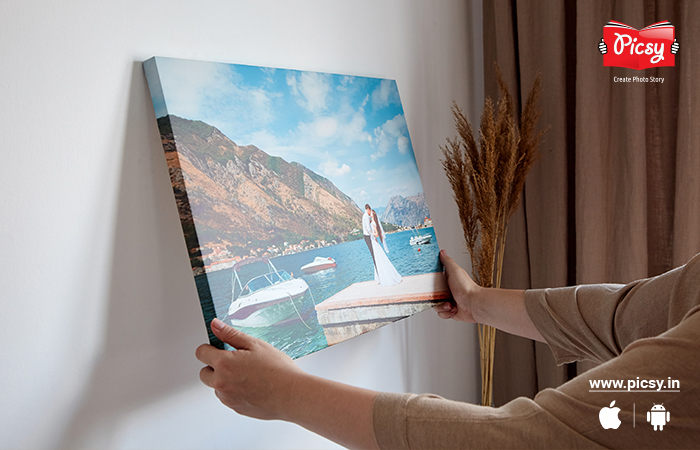 Are you discontented with keeping your photos on your phone? You often feel tiresome to keep all your pictures intact. You can't agree more, can you? In that case, wall display canvas is a reliable choice.
In layman terms, a canvas wall display is an image printed on a strong, stretchable, and durable canvas that is often secured by a frame. As they are customizable, you have the complete liberty to modify them according to you.
Revive cherished memories with Picsy's exquisite custom wall art, capturing the essence of nostalgia.
Important Aspects to Focus on While Dealing with Canvas Wall Displays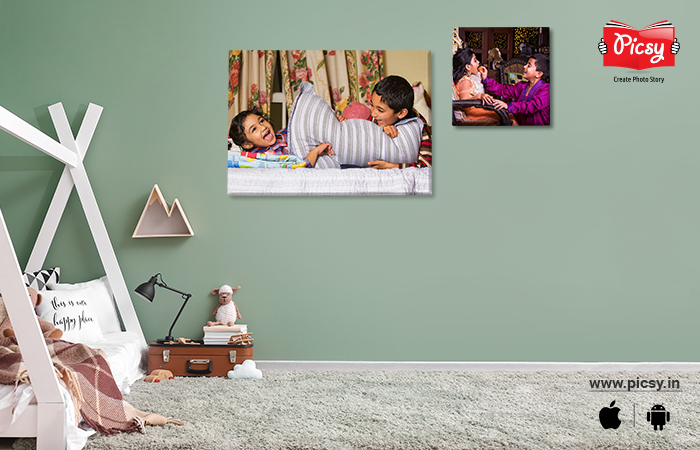 You must have heard about custom canvas print. It is quite the talk of the town. But why exactly do you think people are going gaga over it? What is so special about it? Let us figure out why canvas prints stand out and are admired to such an extent.
Canvas prints are strong, durable, and available in various sizes.
As they have textured surfaces, they give life to the pictures, thereby making them more fascinating.
They not only serve as a beautiful decorative piece but also give the feeling of royal paintings.
In addition to all this, they are affordable and give a 3D effect to your memory.
The Appearance of Canvas Wall Display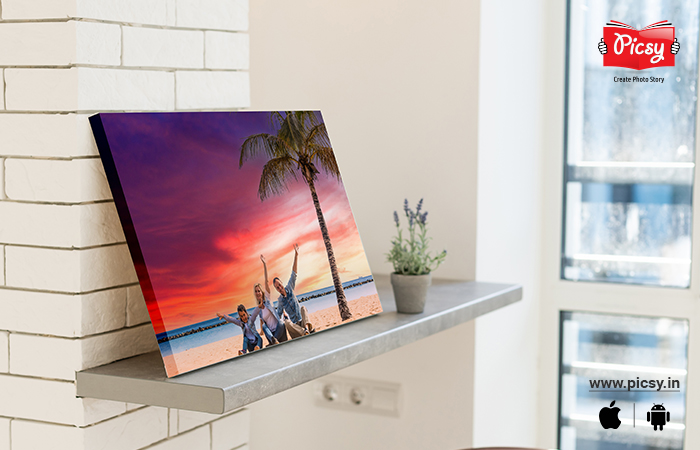 With the help of these beautiful wall display art, you can flaunt your creativity. Wondering how? Allow us to help you out. You can give your gloomy house wall an artistic touch by positioning a canvas wall display with quotes, family pictures, etc. Not only this, you can also use images of cartoons to get the quirky element to your house. They look undoubtedly stunning on a solid-color wall.
Read More : Ultimate Living Room Wall Decor Ideas
Which Photos to Choose for Your Canvas Wall Displays?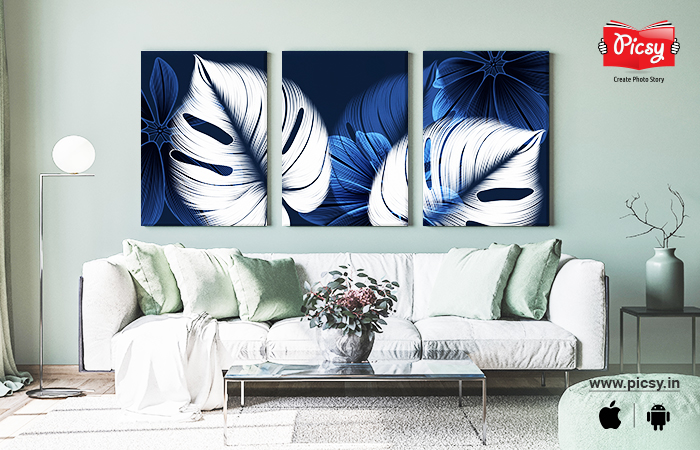 Not every picture is appropriate for canvas wall display. That is why it becomes essential to choose from your vast collection of pictures. For instance, you can pick out your favorite moment from all your beautiful memories and frame them on the wall. Here, you have to dig out your gallery wall décor ideas and choose the one that perfectly fits your wall. If you still feel too perplexed, then you can opt for the most basic images like mini planters kept as a decorative in your house. After all, greenery adds freshness to your gloomy days. Then, why not exhibit nature a bit?
Understand the Crop Game
Canvas wall displays are suitable for both horizontal or landscape shots. As it is going to be hung on the wall, usually rectangular or square shapes are preferred. One of the unavoidable aspects of these beautiful wall displays is that they are too versatile and are appropriate for making a statement. So, it is absolutely your choice how you want to customize your canvas wall display.
Opt for a Massive Frame
Are you perplexed with what sort of frame to opt for the living room? Relax, we have the solution for you. You can rely on the massive frames for your living room. After all, you would wish your guests to eye and acknowledge your creativity. Or how about positioning small multiple puzzle pieces to narrate your tale? It would look quite good. Then, why not give it a try?
Minimalistic Portraits
How about using mini portraits for your bedroom? They look extremely cute. Moreover, they add life to your pictures. Are you wondering which photos to choose for your wall display art? Don't panic. Just go for any random fun moment. For instance, a picture of your kid playing his favorite sport or your partner giggling her heart out while in conversation over the phone. Use your creativity and be as unconventional as you want. Ultimately, it is your piece of art; you can use it the way you want.
When Nothing is Right, Opt for Black and White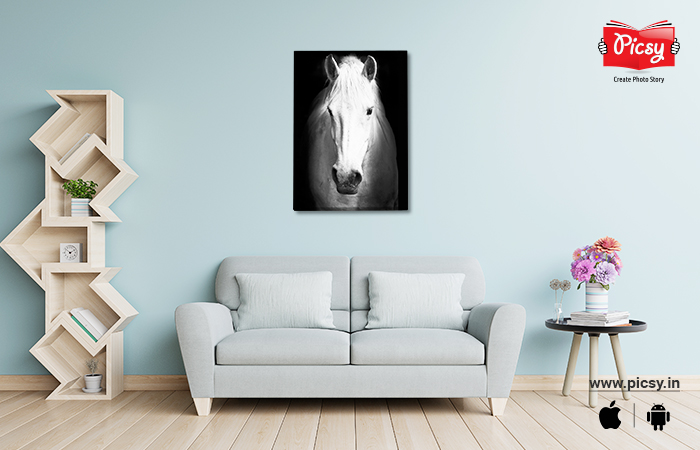 Nothing is classier than an elegant black and white portrait. So, indeed it is a great idea to opt for a chic monochromatic portrait. It not only looks sophisticated, but it adds depth to the empty wall. And one of the exciting aspects about it is that it could be positioned anywhere in the house, be it the kitchen, bedroom, or living room. It is definitely going to beautify your space.
Conclusion
Ahaan! So, you are already excited to get your hand on the canvas wall display, aren't you? Now, the question popping up in your head is, who deals with the best custom canvas prints. Why not? After all, it is going to adorn your home. You need someone reliable for that. Don't worry. You do not have to ponder upon it. Let us introduce you to a renowned company that offers the finest canvas prints to amp up your space. Don't believe me? Check it out. Download the Picsy app and grab your customized canvas wall display. What are you waiting for? Picsy is just a click away.
Ready to hold your memories in hand?