What Is a Canvas Photo Frame? All You Need To Know
March 23, 2022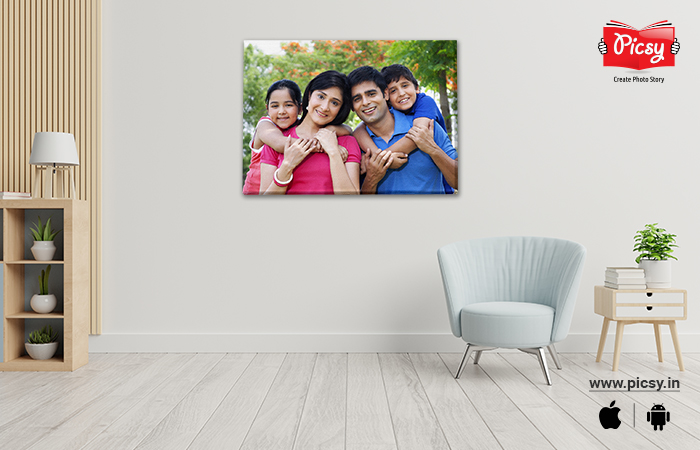 You may use canvas photo frames to represent everything from a family vacation to a timeline of your child's school years. They're not only a fun way to brighten up a room, but they happen to be an aesthetically appealing approach to freshen up your living/workspace. Read on for all you need to know about canvas frames.
What is a Canvas Photo Frame?
An image printed on canvas with an inkjet printer is what is known as a canvas photo frame. Unlike a canvas painting, this is not a work of art. After printing, the canvas is stretched over a frame. Some like canvas photo frames with an unframed border, while framed canvas photo frames are preferred by others. In this phase, the stretcher bars are wrapped around the canvas and attached to the frame.
With this print, you'll learn how to properly preserve your photo and get it ready for framing or hanging on the wall.
Canvas photo frames provide a more artistic feel than the other types of prints. This is owing to their resemblance to paintings.
How to Make a Canvas Photo Frame?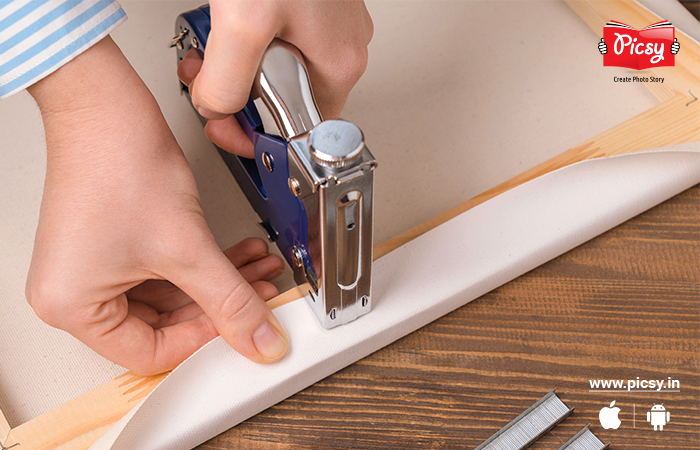 Linen, the first material for canvas picture frames, has largely been replaced in recent times by cotton, hemp, and polyester. The greatest discrepancy between the two is in the level of color precision.
Cotton fibers allow the color to pass through, but polyester strands keep it at the surface. As a result, polyester designs are brighter, whereas cotton prints persist longer.
So, which is the better option? It's all up to you, really. Instead of using cotton or hemp, you can use polyester, which is less expensive but also offers vivid and vibrant designs. Here is an article that details how to print a picture on canvas.
Still not sure how to make aesthetic canvas photo frame? Try Picsy App!
Stunning Canvas Photo Frame Ideas
Canvas photo frames in the modern style often feature bright colors, unique shapes, and other current design elements. Choosing photos for canvas prints can prove difficult so here is a tiny bit of suggested reading. Now let's get back to our list of canvas photo frame ideas.
Family Canvas Photo Frames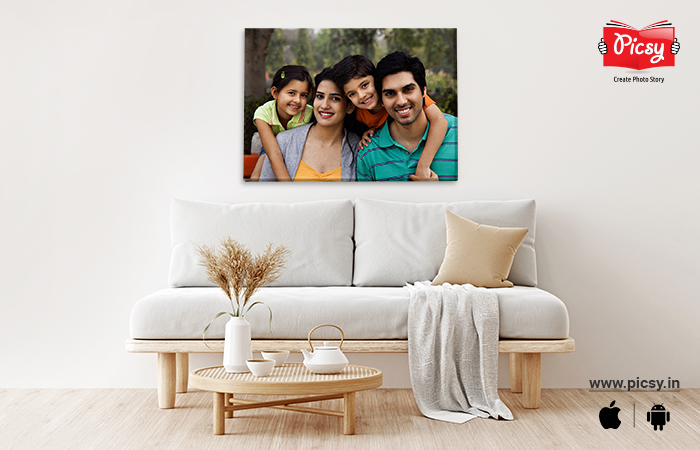 Family images are popular subjects for canvas photo frames, whether it's a festive family portrait or a shot from a family reunion. Here is a comprehensive list of family canvas prints ideas.
Couple Canvas Photo Frames
Pictures of you and your significant other make exceptional subjects for your canvas photo frames. What's more, you are surrounded by moments that tell the tale of your love in true color.
Friends Canvas Photo Frames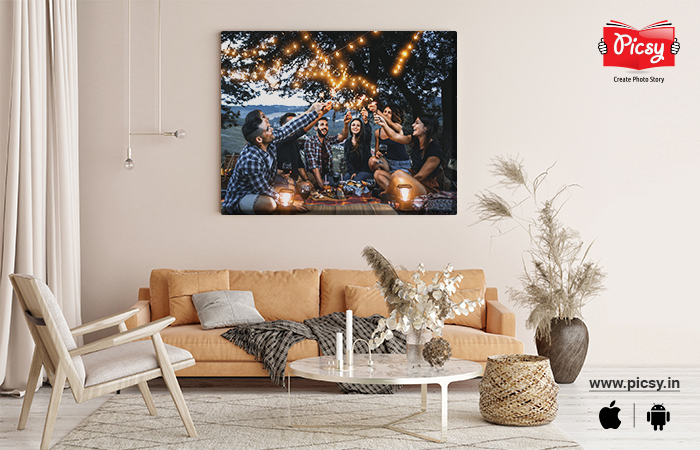 Hanging out with your buddies is fun. Reminiscing on the good old days is even more fun. Create friend's canvas photo frames and relive all those special moments you have enjoyed with your gang.
You knew you would do anything for that little bundle of joy that has just arrived. Create baby canvas photo frames and keep the magic alive.
Travel Canvas Photo Frames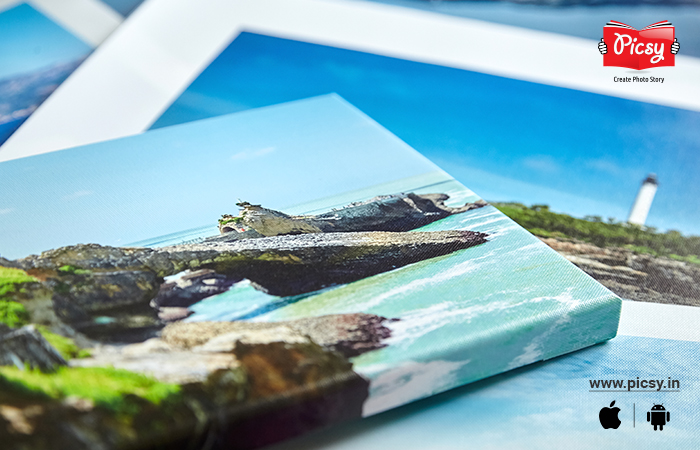 Pictures of landscapes, whether taken on a family vacation, solo adventures in a faraway land or just in the neighborhood, look fantastic on canvas. Before printing, verify sure your photo is of acceptable quality.

How Much Does a Canvas Photo Frame Cost?
The price of canvas frames online is primarily dictated by the print's size. Canvas photo frames in lesser sizes start at $20, while larger photographs can cost as much as $200 for canvas photo frames. Discounts, promotions, and changes, such as adding a frame, can all modify the price.
Canvas Photo Frame Sizes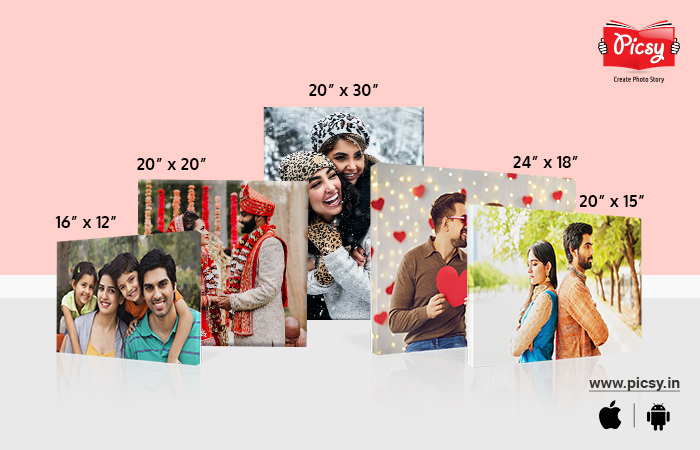 Canvas Photo Frames come in a variety of sizes. Some of the most popular sizes offered are as follows-
20" X 20"
30" x 20"
20" x 15"
24" x 18"
16" x 12"
Framed Prints vs Canvas Photo Frames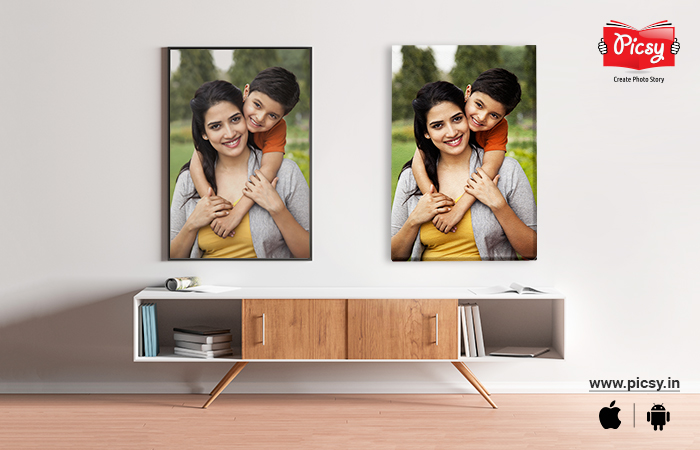 Modern interior design favors combining canvas picture frames with framed images. Because there's a reason for everything. Framing prints help to bring a space's design together by coordinating its color scheme with the frame.
Styles like contemporary or classic frames, on the other hand, draw attention to the unique character of the photograph. To ensure harmony, examine the furniture and room decor while selecting frames.
You may add the frameless borders with a lot less thought because they go with any style. The vivid bursts of color give new focal points that liven up the space.
Read More : Canvas Prints vs Framed Prints
Canvas vs Metal
Metal prints and canvas wall frames provide vastly varied outcomes because of the various printing mediums utilized to create them. While a canvas photo frame has a softer feel and more vibrant color, it is a more expensive option.
Canvas vs Acrylic
It's possible to find acrylic prints and canvas photo frames with a wide range of different materials, textures, and finishes. Acrylic or plexiglass panels are used to sandwich the print. Despite the fact that the colors in both prints are vivid, the feel of the canvas photo frame is closer to that of a museum piece.
Read More : Canvas Prints vs Acrylic Prints
Canvas vs Art Print
Art prints come in a wide variety of sizes, textures, thicknesses, and quality levels. Canvas photo frames use cotton or linen canvas instead of cardstock for printing, ensuring that you'll get a picture that's clear and full of brilliant colors. The third key difference between an unframed art print and a canvas photo frame is economics, with the art print costing significantly less.
Amazing Benefits of Canvas Photo Frames
We've gotten accustomed to seeing paintings on canvas. As a result, if you want a "painted" effect, printing on canvas is the best option. Canvas poster frames with gallery-wrapped edges are a current trend that goes well with a wide range of interior design styles. Canvas is a more economical choice for massive printing that also outlasts paper thanks to the durable plain weaving.
Disadvantages of printing on paper —Paper is fantastic for art, but it can be in photography. That's why it's vital to choose your photos carefully. For further peace of mind, we recommend using the print customization option, which alerts you to images of questionable quality before they're printed. While paper prints can be replaced, canvas photo frames are a one-time investment.
The Best Ways to Design Canvas Photo Frames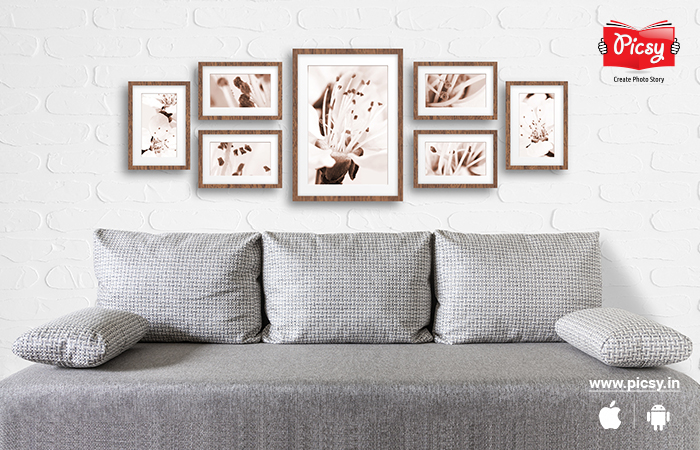 Various canvas types and alternatives are available, depending on the size and design of your wall. Check out our options below if you're seeking to figure out what kind of canvases will work best in your room.
Single canvases are perfect for enormous statement pieces or for smaller situations where many canvas photo frames would feel crowded.
Whether you use two, three, or ten canvas photo frames, you can design a stunning arrangement that works in any room. You may learn more about how to hang canvas art by looking at our guide on canvas art hanging methods.
With Picsy's Canvas Photo Frames, Give Your Home a Brand New Look. Get Started Now!
How to Hang a Canvas Photo Frame?
If you follow the directions, hanging a painting is simple. Canvas photo frames come attached with hanging modes as well as stands in case you wish to display them on a table. Alternatively, the following are some different ways to hang canvas photo frames:
Nails
Bracket with sawtooth
Hooks for the eyes
J-Hooks
Strips of adhesive
Will the Color of the Canvas Fade Over Time?
It is possible to increase the lifespan of your canvas photo frames even though they are printed with fade-resistant inks. To begin, make certain that the firm from which you get your canvas photo frame prints UV-resistant products. Second, all canvas photo frames should be kept out of direct sunlight. If you want your print to last a lifetime, consider putting it in a glass frame.
When it's time for a wall décor update, canvas photo frames are an easy way to make a difference. They add texture as well as a trendy aesthetic. No matter how many giant canvas photo frames you choose, they'll go well with the colors and furnishings of any room.
Check out our canvas sizing guide for a better grasp of traditional print sizes. If you're redecorating an existing wall and want to bring it up to date, you'll need to have a specific size in mind.
What is the Best Place and Procedure For Ordering Canvas Photo Frames?
Are you ready to begin printing? To order the best canvas prints online, simply follow the steps below.
Download the Picsy App
Select 'Get images' from the design path to choose pictures for the canvas photo frame.
Your chosen images will appear in a bar below the canvas photo frame arrangement in your project.
Drag and drag your photos into the designated photo placed on the canvas photo frame.
You can click to modify cropping, fix red-eye, and apply photo effects after you've added a photograph to the layout.
Text boxes, if included in your selected layout, can be used to add or edit text.
Alternate layouts and backgrounds, as well as sizes and frames, can all be selected from the menu on the left.
Once you've finished creating your canvas photo frame, click "Preview." Then, to make more changes, click "Back to Editing" or "Add to Cart" to proceed to checkout.
Read More : How to Create Canvas Prints Online?
In Summation
There you have it; all you need to know about canvas photo frames.
Acrylic, Metal, and paper picture prints are not sub-optimal in any way, but canvas prints are better for a traditional and nostalgic aesthetic.
Due to the fact that plexiglass fades over time, canvas photo frames last longer than acrylic prints. If done correctly, a canvas photo frame can last over a century without losing any of its color vibrancy or image quality.
All you need to do now is choose the proper canvas photo framing partner. Picsy is here to save the day. From picture books and calendars to the best canvas prints online, Picsy, the leading canvas prints maker app, has everything you need to get started with online photo printing. Now is the time to download the Picsy app and begin making your canvas photo frames. Happy Picsying!
Ready to hold your memories in hand?