Turning your vacation photos into a canvas print
August 31, 2020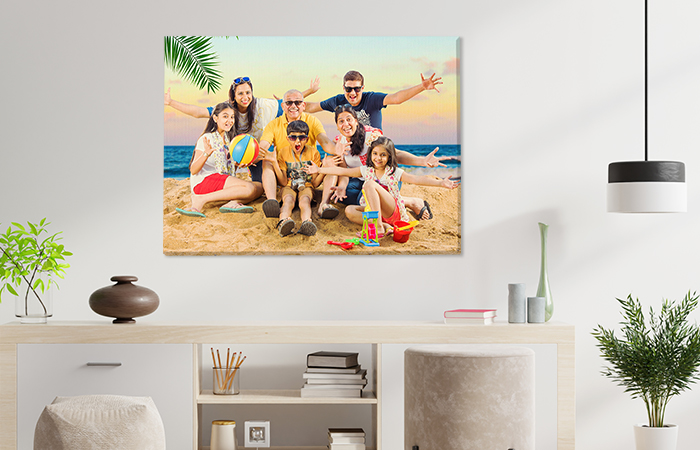 Create fabulous decor pieces with canvas prints from Picsy
We are sure that when you browse through your smartphone's gallery, you often come across vacation pictures that are odes the many adventures you have had, all of them true masterpieces. Don't these pictures deserve as magnificent a place in the physical world as they have in your heart? Introducing Canvas Prints online from Picsy, fabulous canvas wall art home decor pieces that not only highlight the artistic aesthetic of your favorite vacation photographs but also teleport you back to the time the pictures were taken.
Design your canvas wall art
Picsy provides you a free reign to create your very own travel photo wall, a masterpiece created by you. Here are a few ideas for a to get your Canvas wall art going.
1. Have your breathtaking vacation landscape printed
From chilling on beaches to a hike in the Himalayas and from massive waterfalls in Karnataka to your weekend getaway cottage in hills, your vacations are full of breathtaking vistas and as many cherished magical moments. Now with Picsy, out of your vacation photos, you can create beautiful canvas wall art that is a decor piece that truly makes a statement, no matter where you decide to place it.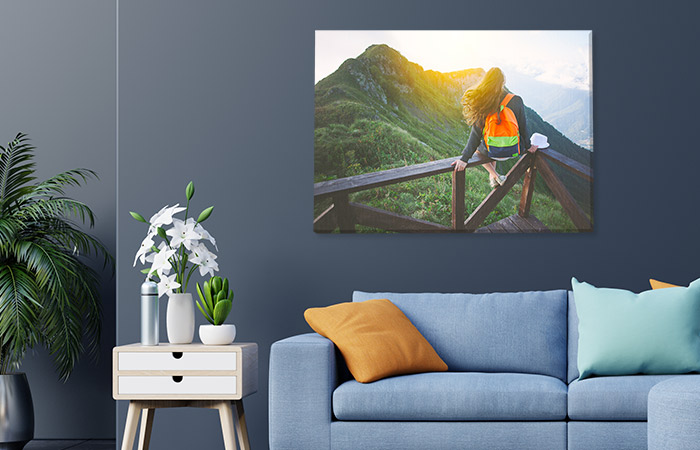 2. Create a photo collage of your best snaps
With Picsy, you can now create exceptionally attractive home decor items by printing out a photo collage on canvas. Interior designers swear by the positives of a photo wall. You could even tell a story with canvas prints if you have sequential photographs. Hang them in a straight line or even in abstract shapes to keep your vacation memories vivid.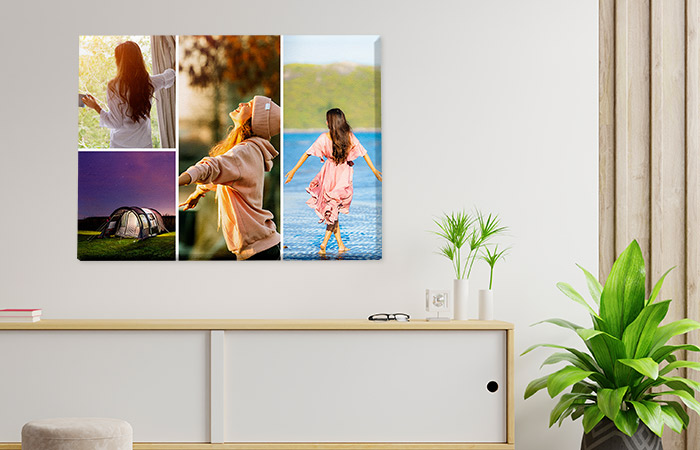 3. Create canvas prints of tourist landmarks
In your travels, you must have come across many amazing places and have had incredible experiences. An ultra-modern way to create a keepsake of your travels would be to create a piece of word art mentioning each city you have been to. The Picsy app supports text, so you don't need a designer.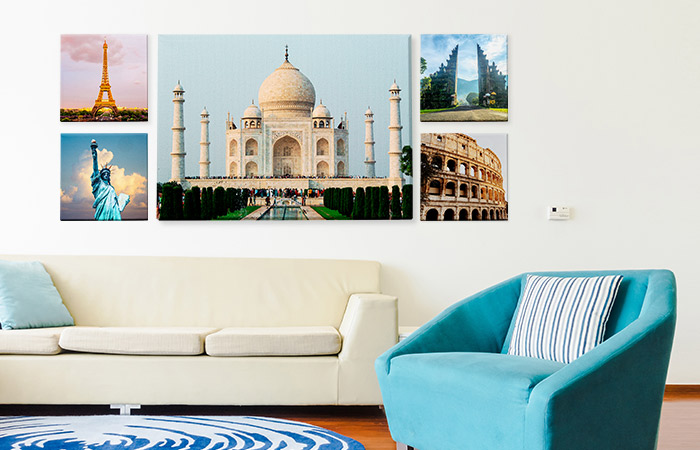 4. Travel inspiration
In the off chance that you haven't traveled far and wide, why not create some travel inspiration decor pieces to keep your dream intact. You can include all the destinations in your bucket list and use a combination of text and motifs of each destination you wish to travel to.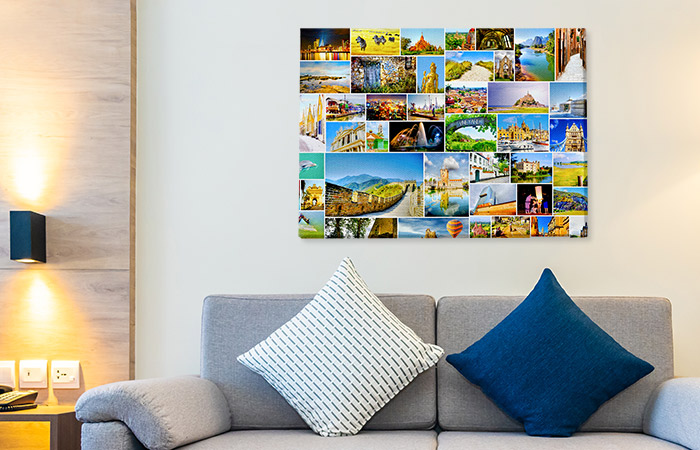 Read More : Five Wanderlust-y Ways to Preserve Your Amazing Travel Tales
5. People
You are bound to make friends when you travel. Click pictures of the locals, preferably in their traditional garb, and then turn these photographs into canvas prints, which will surely remind you of all the places you went and the people you met.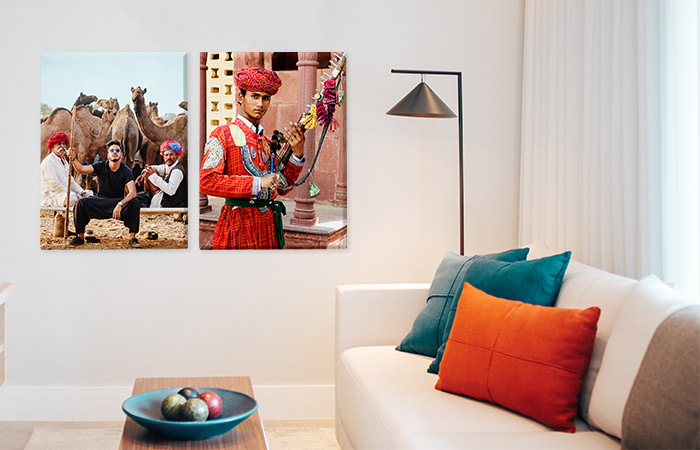 6. Candid captures
The genuine emotion captured in a candid photograph cannot be replaced in a planned short. Take a few pictures (they could be selfies) of people at work, other travelers, shopkeepers, or even children in school. Have these candid images printed out on canvas and put them up in your display space. Keep adding to your photo wall, and very soon, you would have created an impressive portfolio.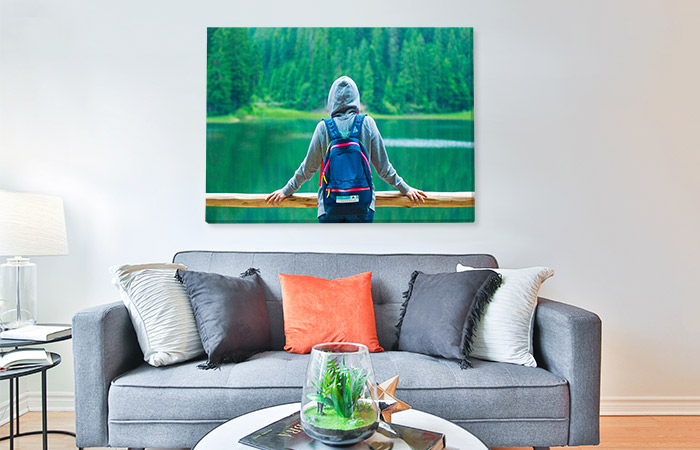 Read More : How To Choose The Right Photo For Your Canvas Prints
7. Baby's day out
Your baby is the most precious to you. Your baby's smiles, your baby's first words, all of these are precious memories to cherish for a lifetime. Now some babies are born travelers thanks to their parents for whom a family vacation means the entire posse comes along. And so does the baby. Capture lots of shots of your baby in exotic places and put them up in your display space, turning it into a place of pure love and joy.
Read More : 3 Brilliant Baby Photo Canvas Ideas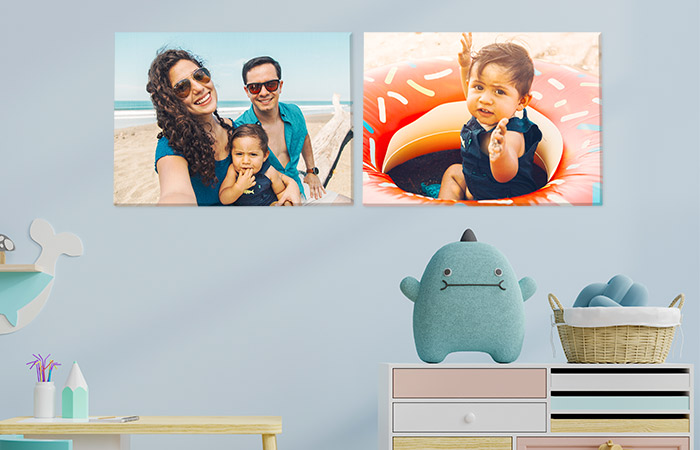 Make a Canvas print for any occasion
You are now ready to step up your home decor game with Canvas Prints online from Picsy. Here are a few details about our premium canvas prints.
We offer the following wrap styles for your canvas Prints-
Image Wrap- A bleed of your image around the frame of your canvas Print.
Mirror Wrap- kaleidoscopic image bleeds around the frame for a colorful effect.
Black wrap- A classic black frame wrap
White Wrap- A classic white frame wrap
You can choose from several size options based on what you wish to convey or the layout of the space you want to put up your vacation canvas prints. The sizes Picsy offers for photo canvases are-
16 inches X 12 Inches
30 inches X 20 Inches
24 inches X 18 Inches
20 inches X 20 Inches
20 inches X 15 Inches
What are you waiting for?
All you have to do is download the Picsy app, choose the size and shape, move onto wrap styles and filters for a custom feel, and then receive your vacation Canvas Prints right at your doorstep.
Our Canvas Prints are fade –resistant, so that your special moments stand the test of time and remain vibrant always. Canvas prints online from Picsy are assuredly the piece of art your wall is missing, one that comes along with waves of happy nostalgia.
You could upload a single photo or create a beautiful collage of pictures in just a few clicks. Our Canvas prints are of top-notch quality and are sure to jazz up the vibrations of your display space and give you a healthy dose of smiles every time you see them.
So what are you waiting for? Download the Picsy App now and level up your home decor while cherishing all the magical moments you have spent traveling with vacation canvas prints online from Picsy.
Ready to hold your memories in hand?