Guide to Make an Amazing Birthday Scrapbook that You Can Gift
May 24, 2022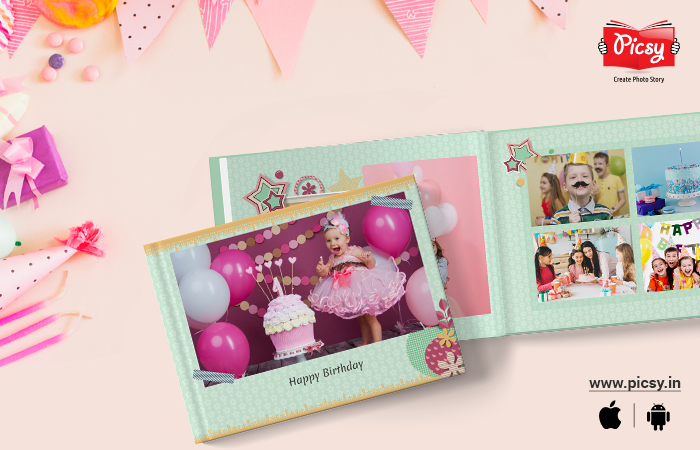 Birthdays are always special. I still remember I used to start counting days months before my birthday – wonder what special gifts I would be getting and write a diary about how well the day went. My birthdays were always flamboyant. Friends and a cake were on the list tagging along with multiple gifts; one of them was always in a pile, a birthday scrapbook gifted by my grandfather! Every year, I gauged down all the memories in it.
When I now flip those pages, I realize I was so artsy. Now, things have become way simpler. You can invite friends over WhatsApp; you can pay the event organizers online, and even create birthday scrapbook online. Did you know that? We know handmade scrapbook for birthday would require stickers, glue, and a truck of glitters. But how can you create a birthday scrapbook online with no glue sticking to your hands?
What is a Birthday Scrapbook?
If possible, people would put a coat of arms on their birthday memories. However, they instead seal them on photo albums with additional quotes, clip arts, and whatnot. You can call that a happy birthday scrapbook. In simpler terms, if you create a photo album and personalize it the way you want, it becomes a scrapbook. Usually, we often resonate with a scrapbook as an artistic way of presenting memories, but actually, it is a collection of keepsakes, whether created online or not.
How to Create a Photo Scrapbook for your Birthday?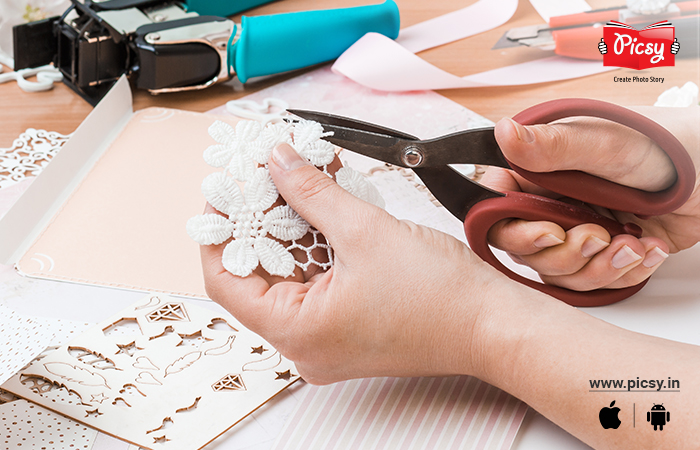 Scrapbook comes in different shapes, layouts, and colors. My idea of creating the perfect scrapbook is to keep it simple – wrap it with a combination of white, say, polaroid images and white laces. If you want to create a happy birthday scrapbook, three things are inescapable:
(For those of you who are like me, DO NOT FORGET GLITTERS!) Let's hop on to some interesting birthday scrapbook ideas and let's get cracking.
Age like fine wine and tell your tale. Download Picsy to create a birthday photo album!
Crazy Beautiful Birthday Scrapbook Ideas for All
Given that everyone has different tastes in art, I have protracted the list of birthday scrapbook ideas for ALL of you.
Photo Scrapbook Ideas for Him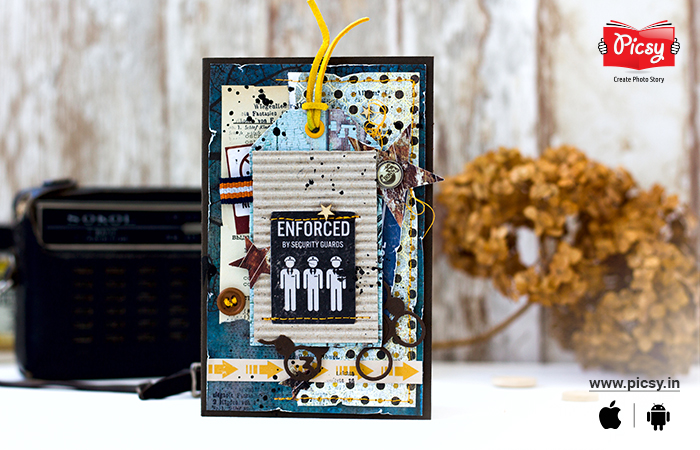 Let's get done with the birthday scrapbook album ideas for all the men in your lives. The notorious moments are worth pasting on a book, is it not?
Photo Scrapbook Idea for Boyfriend's Birthday
You might have taken a ton of candid images of your significant other. Why not compile them in the scrapbook and call it a 'random moments preserved forever?' If not, you can also create more of a textual scrapbook penning all your feelings and attaching romantic quotes to make him grin.
Birthday Scrapbook Idea for Husband's Birthday
A birthday scrapbook is fun to create, especially when you are creating for your dear husband. This is when you can remind him of his story – how he grew up to how he graduated, even when you guys tied the knot. A perfect storyline scrapbook for birthday gift for none other than your handsome spouse.
Birthday Scrapbook Album Idea for Brother's Birthday
Photo scrapbook for birthday may sound fun, but special people, like your brother, deserve a special kind of scrapbook. Or you may say a 'scrap box.' The idea of a scrap box comes from a treasure box where you keep all your memorable souvenirs. Why not gather the custom photo prints and seashells from the time your sandcastles near the seashore and add them to the scrap box?
Scrapbook Birthday Gift Idea for Father's Birthday
There are so many DIY scrapbook ideas, but not all are suitable for fathers. Seriously, if I gift my father a floral scrapbook with beautiful laces around it, he would go back to his past and rethink planning my existence. So, for all the fathers out there, keep it simple and classic. Safe colors are always brown, black, white, and blue, and don't you dare to be creative. Keep his moments minimal, just the way he likes.
Scratching your head for personalized birthday gifts? Create a Birthday Photo Album with Picsy!
Birthday Scrapbook Ideas for Her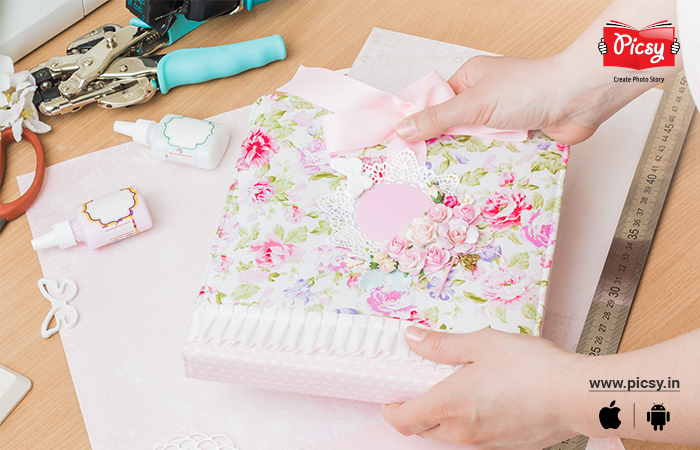 Every woman seeks a single thing – spend some more time and cherish the memories, whether it is your mother, wife, or your little sister. Hence, I have listed a bunch of birthday scrapbook ideas to make her feel special.
Birthday Scrapbook Idea for Girlfriend's Birthday
I have a cute scrapbook idea for your cute heart girlfriend – a mini scrapbook for birthday. Why it's cute? Because it is mini, boy! Anything mini and concise is cute and chic. If you wonder how to make a scrapbook album that will cheer her up, decorate it in a Nordic style with a combination of beige and Copenhagen blue, and add all her cute clicks to the scrapbook photobook.
Handmade Scrapbook Idea for Wife's Birthday
She is the sunshine in the dark, heaven on Earth, and a place that makes you feel at home. Why not make her feel loved and remembered? Gift her a photo album on her birthday - not an ordinary one with love poems and real dried roses.
Photo Scrapbook Ideas for Sister's Birthday
She is the mother, the best friend, the woman, no matter what she can understand you more than your mother. And perhaps so do you. So, what is that one thing she is gaga over? Is it the K-dramas or F.R.I.E.N.D.S, or something else? Create a fan scrapbook for her with the photo prints of all the characters she loves and gift it on her B'day.
Scrapbook Ideas for Mother's Birthday
A scrapbook is a wonderful way to highlight the most important person in your life. Something clever for your beautiful mother – a fauna scrapbook. Since she gifted you with the ultimate power, the life, gift her a scrapbook with lots of memories and leaves to signify life and subtly say how thankful you are.
Photo Scrapbook for Best Friend's Birthday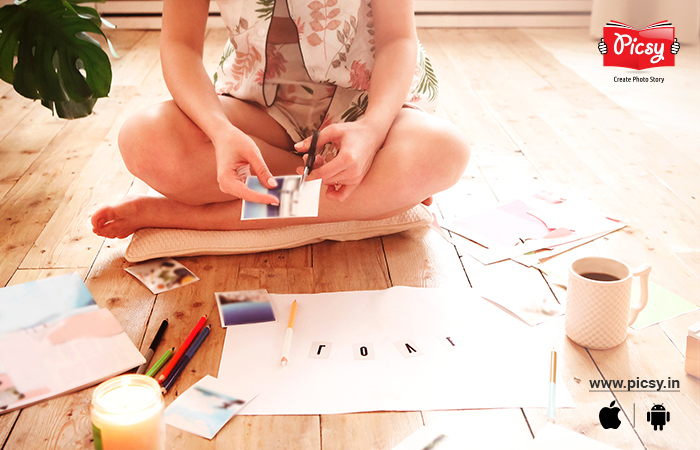 Birthday scrapbook online shopping came into existence because of friends, I suppose. There are millions and millions of moments you cannot share with anyone else. Forget about showing your face and handing over the photo prints to a photo book maker. Add all the hilarious images of you and your best friend in a photo album that you cannot talk about to anyone else, and add some handwritten notes to personalize it even more.
Final Lines on Birthday Scrapbook
Breathe! It just sounds tough. You can take it easy and make the process of creating a scrapbook photo album fun. Think about the person and create with love and patience, just like Picsy does. The team of Picsy listens to all your needs and delivers premium quality photo products at your doorstep.
Need something extra to tag along with the scrapbook? Get a personalized gift from the Picsy app and make your loved one feel lucky on their birthday. Till then, Happy Picsy-ing!