120+ I Love You Quotes and Messages for Your Loved Ones
October 08, 2021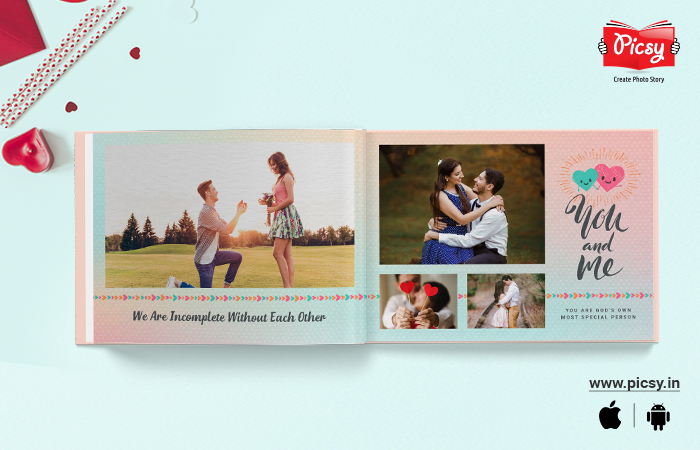 Have you ever been in love? If yes, you would know that the best thing about love is that it is not bound by languages. That is exactly what Bollywood has taught us, right? And being influenced by Bollywood romance, we love showcasing our love to our partner. Be it a love message for the loved one or a romantic quote. You can make them feel loved by letting them know what they mean to you. But do you also get perplexed while making your beloved feel taken care of? Are you musing over how to write love quotes for your beloved? Don't worry! Calm your nerves because we got your back.
This blog will resolve all your queries about dealing with romantic messages. It consists of an extensive list of quotes that might assist you in expressing your love for your partner. So, without burning daylight, let us dive into the blog.
I Love You Quotes for Him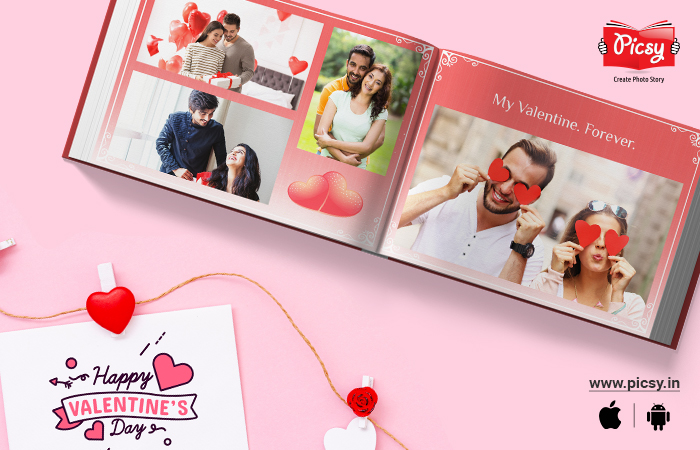 Do you remember the last time you were expressive about your love for him? Even though men do not say it out loud, but they love being pampered and taken care of. So, why not make him feel loved by penning down a few I love you messages for him to make him feel special? Following are the love quotes you can refer to. And the best thing is, these love quotes could be included in your Valentine's photo book as well.
Love Quotes for Husband
It always feels good when you write romantic messages for your husband and send those to him. Let us figure out what you could write for your soulmate.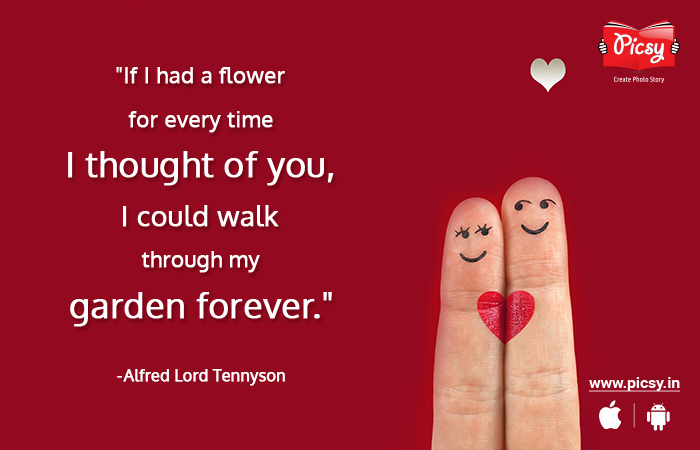 1. "If I had a flower for every time, I thought of you, I could walk through my garden forever." —Alfred Lord Tennyson
2. "You are the prince charming of my fairytale." —Unknown
3. "I know we are imperfect individually, but we are perfect together." —Unknown
4. "You entered my life and made it worth living." —Unknown
5. "You are the finest, loveliest, tenderest, and most beautiful person I have ever known, and even that is an understatement." —F. Scott Fitzgerald
6. "I love you the way you are." —Unknown
7. "I wasn't expecting you. I didn't think that we would end up together. The single most extraordinary thing I've ever done with my life is fall in love with you. I've never been seen so completely, loved so passionately and protected so fiercely." —This Is Us
8. "He's more myself than I am. Whatever our souls are made of, his and mine are the same." —Emily Bronte
9. "I would rather spend one lifetime with you than face all the ages of this world alone." – J. R. R. Tolkien
10. "True love is rare, and it's the only thing that gives real-life meaning." ― Nicholas Sparks
11. "We loved with a love that was more than love." — Edgar Allen Poe
12. "I saw that you were perfect, and so I loved you. Then I saw that you were not perfect, and I loved you even more." – Angelita Lim
Love Quotes for Boyfriend
Your man deserves to be loved. So, why not send I love you messages to your boyfriend and make his day.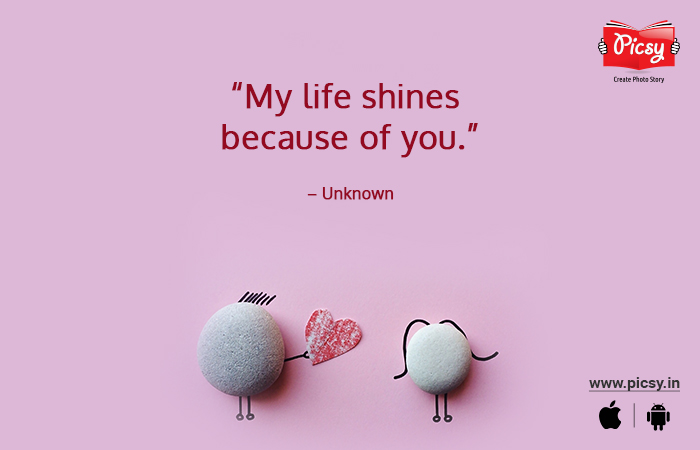 13. "My life shines because of you." – Unknown
14. "We loved with a love that was more than love." — Edgar Allen Poe
15. "True love is rare, and it's the only thing that gives real-life meaning." ― Nicholas Sparks
16. "I saw that you were perfect, and so I loved you. Then I saw that you were not perfect, and I loved you even more." – Angelita Lim
17. "I am my beloved's, and my beloved is mine." – Song of Solomon 6:3
18. "And in your smile, I see something more beautiful than the stars." — Across the Universe
19. "It was love at first sight, at last sight, at ever and ever sight." ― Vladimir Nabokov
20. "You are, and always have been, my dream." ―Nicholas Sparks
21. "I love that you are the last person I want to talk to before I go to sleep at night." — When Harry Met Sally
22. "Love is composed of a single soul inhabiting two bodies." — Aristotle
23. "What is love? It is the morning and the evening star." — Sinclair Lewis
24. "If you find someone you love in your life, then hang on to that love." — Princess Diana
Love Quotes for Brother
At times, it becomes extremely difficult to express your love to your siblings. But the best way to show your affection is by sending love messages to your brother.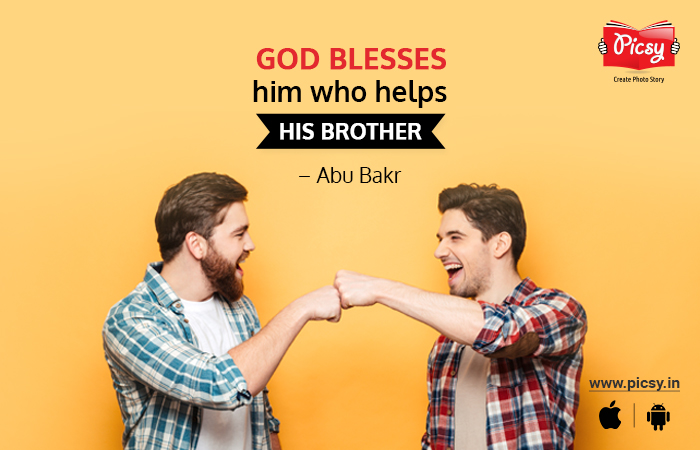 25. "God blesses him who helps his brother." – Abu Bakr
26. "Never make a companion equal to a brother." – Hesiod
27. "The happiest days of my youth were when my brother and I would run through the woods and feel quite safe." – Rachel Weisz
28. Nothing can stop me from loving my brother. – Brandy Norwood
29. Never make a companion equal to a brother. – Hesiod
30. "Sometimes being a brother is even better than being a superhero." – Marc Brown
31. There is a little boy inside the man who is my brother. – Anna Quindlen
32. "Brothers and sisters separated by distance joined by love." – Chuck Danes
33. "What sets sisters apart from brothers and also from friends is a very intimate meshing of heart, soul and the mystical cords of memory." – Carol Saline
34. "We have flown the air like birds and swum the sea like fishes, but have yet to learn the simple act of walking the earth like brothers." – Martin Luther King
35. "Brother and sister, together as friends, ready to face whatever life sends. Joy and laughter or tears and strife, holding hands tightly as we dance through life." – Suzie Huitt
36. "I have a wonderful shelter, which is my family. I have a wonderful relationship with my brother and sister; this makes me feel that I always know where I belong." – Jose Carreras
37. "We didn't even realize we were making memories. We just knew we were having fun." – Winnie the Pooh
38. "Ohana means family, and family means nobody gets left behind or forgotten." – Lilo and Stitch
39. "The best thing about having four big brothers is you always have someone to do something for you." – Chloe Moretz
40. "There is a little boy inside the man who is my brother… Oh, how I hated that little boy. And how I love him too." – Anna Quindlen
41. "I don't believe an accident of birth makes people sisters or brothers. It makes them siblings, gives them mutuality of parentage. Sisterhood and brotherhood are a condition people have to work at." – Maya Angelou
42. "She had always wanted a brother. And she had one now. Sebastian. It was like always wanting a puppy and being a hellhound instead." – Cassandra Clare
43. "The younger brother must help to pay for the pleasures of the elder." – Jane Austen
44. "The highlight of my childhood was making my brother laugh so hard that food came out his nose." – Garrison Keillor
45. "Brothers don't necessarily have to say anything to each other – they can sit in a room and be together and just be completely comfortable with each other." – Leonardo DiCaprio
46. "My father used to play with my brother and me in the yard. Mother would come out and say, "You're tearing up the grass." "We're not raising grass," Dad would reply. "We're raising boys." – Harmon Kellebrew
47. "The best way to get a puppy is to beg for a baby brother – and they'll settle for a puppy every time." – Winston Pendelton
Love Quotes for Son
Kids love to receive love from everyone, so why not display some love to your son by sending love messages to your son.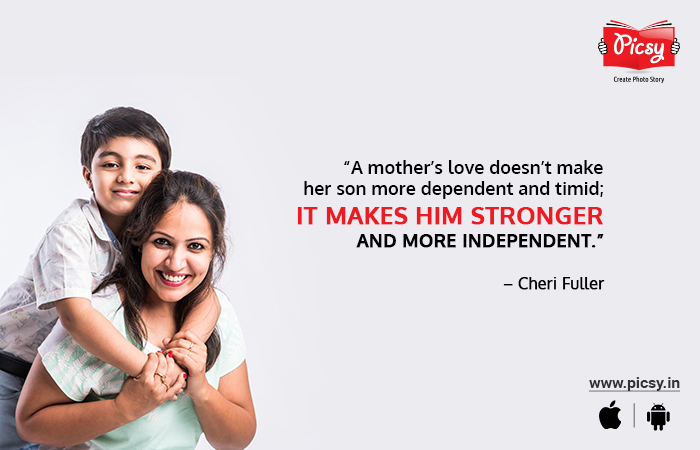 48. "A mother's love doesn't make her son more dependent and timid; it makes him stronger and more independent." – Cheri Fuller
49. "The heart of a mother is a deep abyss at the bottom of which you will always find forgiveness." – Honore de Balzac
50. "My mother was the most beautiful woman I ever saw. All I am, I owe to my mother. I attribute all my success in life to the moral, intellectual, and physical education I received from her." – George Washington
51. "I have a son who is my heart. A wonderful young man, daring and loving and strong and kind." – Maya Angelou
52. "Yet now in my arms, I was holding a helpless baby boy who would grow into a man. I cannot imagine that soft little face one day having whiskers." – Rhonda Stoppe
53. "There is an endearing tenderness in the love of a mother to a son that transcends all other affections of the heart." – Washington Irving
Read More : 7 Amazing Mother And Son Photoshoot Ideas
I Love You Quotes for Her
Girls like to be pampered, isn't? A great way to express your romance to her is by sending I Love you messages to your girl.
Love Quotes for Wife
Wives are demanding, aren't they? Make your beloved feel loved by writing romantic messages for your wife and make her day.
And we cannot deny the fact that wives love receiving gifts. So why not gift them a beautiful photo book for couples consisting of your love memories and shower them with love.
54. "If I know what love is, it is because of you." – Hermann Hesse
55. "I swear I couldn't love you more than I do right now, and yet I know I will tomorrow." – Leo Christopher
56. "I love you as certain dark things are to be loved, in secret, between the shadow and the soul." – Pablo Neruda
57. "Women are meant to be loved, not to be understood." – Oscar Wilde
58. "To love is to burn, to be on fire." – Jane Austen
59. "In the end, we discover that to love and let go can be the same thing." – Jack Kornfield
60. "Pleasure of love lasts but a moment. The pain of love lasts a lifetime." – Bette Davis
Love Quotes for Girlfriend
You might get scared of your girlfriend when she gets mad at you, complaining you do not express love to her. You can use these I love you messages for your girlfriend to comfort her.
61. "Love is like the wind, you can't see it, but you can feel it." – Nicholas Sparks
62. "Love is the magician that pulls man out of his hat." – Ben Hecht
63. "My wish is that you may be loved to the point of madness." – André Breton
64. "Romance is the glamour which turns the dust of everyday life into a golden haze." – Elinor Glyn
65. "Love is the strange bewilderment which overtakes one person on account of another person." – James Thurber
66. "One word frees us of all the weight and pain of life: that word is love." – Sophocles
67. "When I say I love you more, I don't mean I love you more than you love me. What I mean is, I love you more than the bad days ahead of us; I love you more than any argument we will ever have. I love you more than the distance between us. I love you more than any problem that could try and come between us. I love you the most." – Unknown
68. "I love you not only for what you are but for what I am when I am with you. I love you for what you have made of yourself and what you are making of me. I love you for the part of me that you bring out." – Elizabeth Barrett Browning
Read More : How To Propose A Girl ? 15 Romantic Proposal Ideas
Love Quotes for Sister
Even though we nag our sisters to the core, it is always good to make them feel better. Are you wondering how to write love messages for your sister? Check out these quotes.
You can also gift a special photo book to her consisting of these quotes.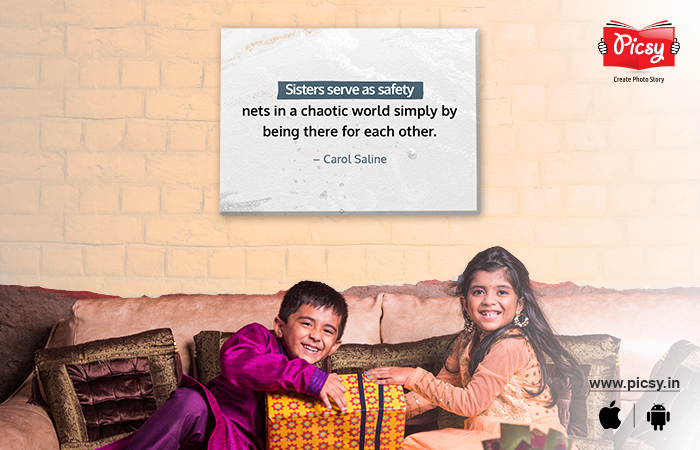 69. Sisters serve as safety nets in a chaotic world simply by being there for each other. – Carol Saline
70. A sister is a gift to the heart, a friend to the spirit, a golden thread to the meaning of life. – Isadora James
71. Sisters make the best friends in the world. As for lovers, well, they'll come and go too. – Marilyn Monroe
72. She is your witness, who sees you at your worst and best, and loves you anyway. — Barbara Alpert
73. Sisters need no good reason to fight, even though we have plenty of them. — Ken Wheaton
74. I tend to become a mother to everyone around me. My brother and sister are always complaining that I'm too protective. – Penelope Cruz
75. Having a sister is like having a best friend you can't get rid of. You know whatever you do, they'll still be there. — Amy Li
76. If you don't understand how a woman could both love her sister dearly and want to wring her neck at the same time, then you were probably an only child. — Linda Sunshine
77. A sister smile when one tells one's stories, for she knows where the decoration has been added. – Chris Montaigne
78. You can kid the world. But not your sister. — Charlotte Gray
79. It's your sister who knows exactly where to drive the knife to hurt you the most. – Lisa See
80. Is solace anywhere more comforting than in the arms of a sister? – Alice Walker
81. Sisters are probably the most competitive relationship within the family, but it becomes the strongest relationship once the sisters are grown. – Margaret Mead
82. Sisters are the people we practice on, the people who teach us about fairness and cooperation and kindness and caring – quite often the hard way. – Pamela Dugdale
83. Sisters argue and point out each other's frailties, mistakes, and bad judgment, and then we come back together. Until the next time. — Lisa See
84. A sister is a little bit of childhood that can never be lost. — Marion Garretty
85. Sweet, crazy conversations full of half sentences, daydreams, and misunderstandings are more thrilling than understanding could ever be. — Toni Morrison
86. Helping one another is part of the religion of sisterhood. — Louisa May Alcott
Read More : Wow Your Sister with These Gift Ideas
Love Quotes for Daughter
Daughters are considered to be the chirpy element of the house. A convenient way to make them feel special is by writing love messages for daughters.
Also, daughters love customized gifts. You can surprise them with personalized photo albums, and they will preserve those as a keepsake.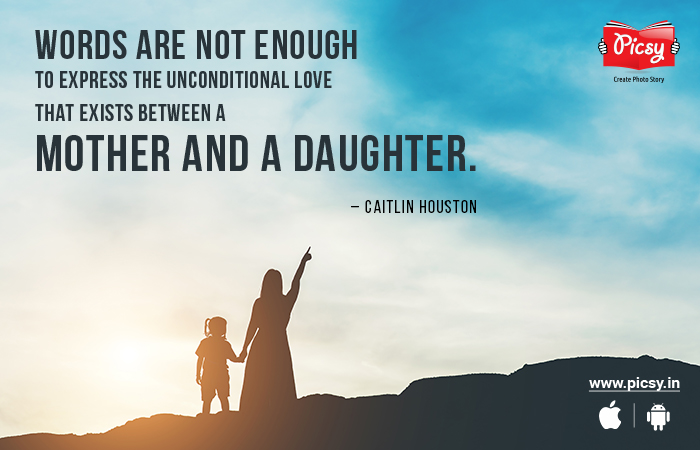 87. "Words are not enough to express the unconditional love that exists between a mother and a daughter." – Caitlin Houston
88. "My daughter is my biggest achievement. She is a little star, and my life has changed so much for the better since she came along." – Denise Van Outen
89. "The more a daughter knows the details of her mother's life, the stronger the daughter." – Anita Diamant
90. "A mother is not a person to lean on but a person to make leaning unnecessary." – Dorothy C. Fisher
91. "My mom taught me a woman's mind should be the most beautiful part of her." – Sonya Teclai
92. "The older I get, the more I see the power of that young woman, my mother." – Sharon Olds
93. "You are my angel. You remind me of the goodness in this world and inspire me to be the greatest version of myself." – Steve Maraboli
94. "We mothers are learning to mark our mothering success by our daughters' lengthening flight." – Letty Cottin Pogrebin
95. "My mother wanted me to be her wings, to fly as she never quite dared to do. I love her for that. I love the fact that she wanted to give birth to her wings." – Erica Jong
96. "Courage, sacrifice, determination, commitment, toughness, heart, talent, guts. That's what little girls are made of." – Bethany Hamilton
97. "My highest hope for her is just that she has the fearlessness always to be her authentic self, no matter what she thinks men want her to be." – Channing Tatum
98. "I've never had a moment's doubt. I love you. I believe in you completely. You are my dearest one. My reason for life." – Ian McEwan
99. "My mom is a part of me. You can't say that about many people except relatives, and organ donors." – Carrie Latet
100. "Having a little girl has been like following an old treasure map with the important paths torn away." – Heather Gudenkauf
101. "If evolution works, how come mothers only have two hands?" – Milton Berle
102. "The first lesson every child of Athena learned: Mom was the best at everything, and you should never, ever suggest otherwise." – Rick Riordan
103. "A mother is a daughter's best friend." – Unknown
104. "You are my sun, my moon, and all of my stars." – E.E. Cummings
105. "A mother's treasure is her daughter." – Catherine Pulsifer
106. "As they get older, our daughters become more and more like us too." – Amy Newmark
107. "Life is tough, my darling, but so are you." – Stephanie Bennet Henry
108. "A daughter is one of the most beautiful gifts this world has to give." – Laurel Atherton
109. "And though she is but little, she is fierce." – William Shakespeare
110. "A daughter is a miracle that never ceases to be miraculous…full of beauty and forever beautiful…loving and caring and truly amazing." – Deanna Beisser
Cute Love Quotes and Messages
Sending I love you quotes to your beloved is a great way to shower your love for them. Try quoting these messages to reignite your spark.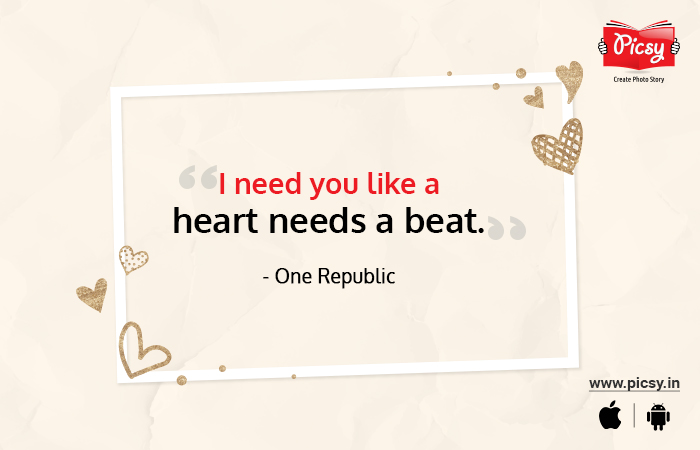 111. "I need you like a heart needs a beat." — One Republic
112. "Come near now, and kiss me." – Genesis 27:26
113. "Our love is like the wind. I can't see it, but I can feel it." – A Walk to Remember"
114. "Loving you never was an option. It was a necessity." — Truth Devour
115. "It's always better when we're together." – Jack Johnson
116. "I would rather spend one lifetime with you than face all the ages of this world alone." – J. R. R. Tolkien
117. "My love for you has no depth; its boundaries are ever-expanding." – Christina White
118. "When I see your face, there's not a thing that I would change, 'cause you're amazing – just the way you are." – Bruno Mars
119. "Because of you, I can feel myself slowly, but surely, becoming the me I have always dreamed of being." – Tyler Knott Gregson
Love Yourself Quotes and Messages
I Love you Sayings are not just for others; you should love yourself to fall in love with someone else.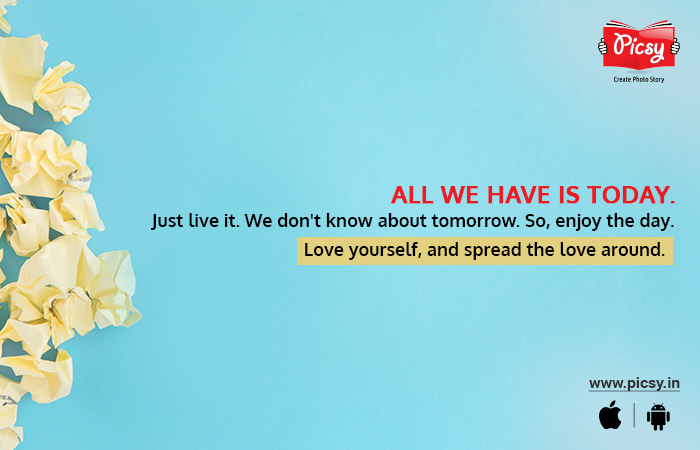 120. "All we have is today. Just live it. We don't know about tomorrow. So, enjoy the day. Love yourself, and spread the love around." – Charlotte Rae
121. "Love who you are, embrace who you are. Love yourself. When you love yourself, people can kind of pick up on that: they can see confidence, they can see self-esteem, and naturally, people gravitate towards you." – Lilly Singh
122. "Laziness is my biggest pet peeve of all time. Get up, make a plan, do the work, and love yourself, people!" – Dove Cameron
123. "It sounds like a cliche, but I also learned that you're not going to fall for the right person until you love yourself and feel good about how you are." – Emma Watson
Short Love Quotes and Sayings
Valentine's day is an appropriate excuse to spark up the glooming romance. Then why not make use of these Valentine quotes to make your partner feel loved.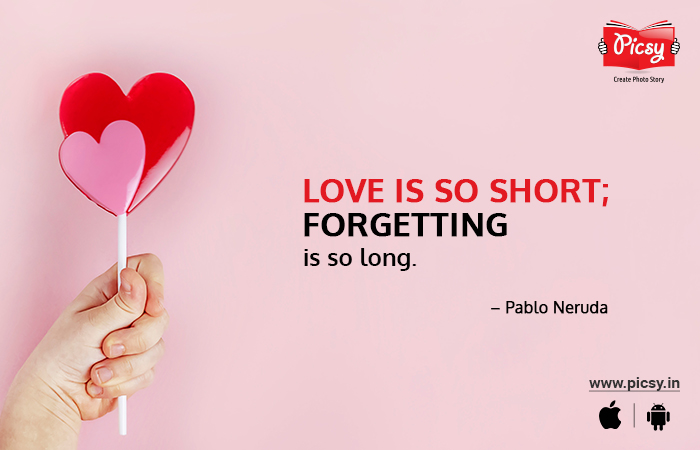 124. "Love is so short; forgetting is so long." – Pablo Neruda
125. "Love is a thing that is full of cares and fears." – Ovid
126. "Love does not love until love's vulnerable." – Theodore Roethke
127. "You know you mean the world to me." —Unknown
128. "We are better together." —Unknown
129. "I love you, and that's the beginning and end of everything." —F. Scott Fitzgerald
Funny Love Quote and Sayings
Do you also get stuck in deciding Valentine's day gifts? Try embracing these funny love quotes to make the photo book a bit quirky.
130. "Romantic love is a mental illness. But it's a pleasurable one." – Fran Lebowitz
131. "Love is a two-way street constantly under construction." – Carroll Bryant
132. "Sincerest love is the love of food." – George Bernard Shaw
133. "When you fish for love, bait with your heart, not your brain." – Mark Twain
Conclusion
We hope this extensive list of love quotes for the family members have served as a guiding light for you in dealing with lovey-dovey messages. Don't you think a printed photo book is a good way to relish your love messages with your beautiful pictures? Definitely yes, right? Then why delay and contemplate when Picsy is at the rescue. Relax! Do not get overwhelmed. Picsy will deal with all your concerns regarding photo books and canvas prints. But be quick, the clock is ticking. Download Picsy app and sit back till you receive your photo book.
Ready to hold your memories in hand?