How To Make A Scrapbook Album
October 02, 2020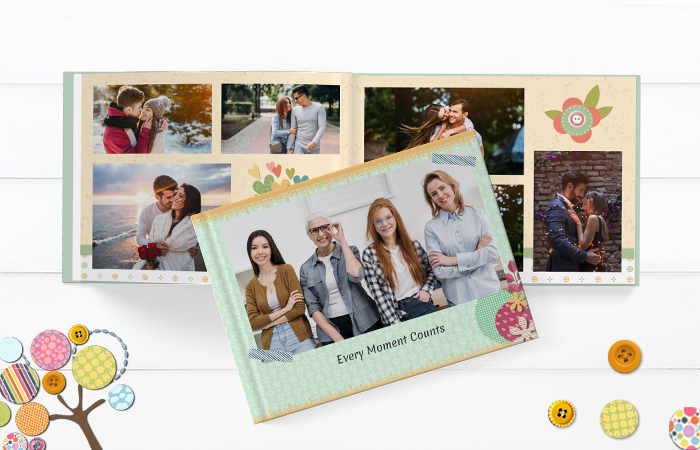 Turning the baby boomer tradition of scrapbooking into a fresh new-age keepsake, Picsy presents a comprehensive guide to help you craft a beautiful scrapbook.
A trendy hobby nowadays, scrapbooking can not only bring out your creative side, but it is also a fantastic way to capture and share your most cherished memories. But how to make a scrapbook? Simply tap into your inner artist and create pages of personalized memories. What's more, is that the Picsy app can make the entire process a matter of a few clicks. But more on that later. Let's get on with the steps for creating the perfect scrapbook. Here are a few scrapbook photo album ideas-
1. Choose a Theme
Start by deciding what you want your scrapbook to be about. Having a specific theme in mind helps with your creative flow and gives you a perspective of how you wish to design your pages and also what they will look like.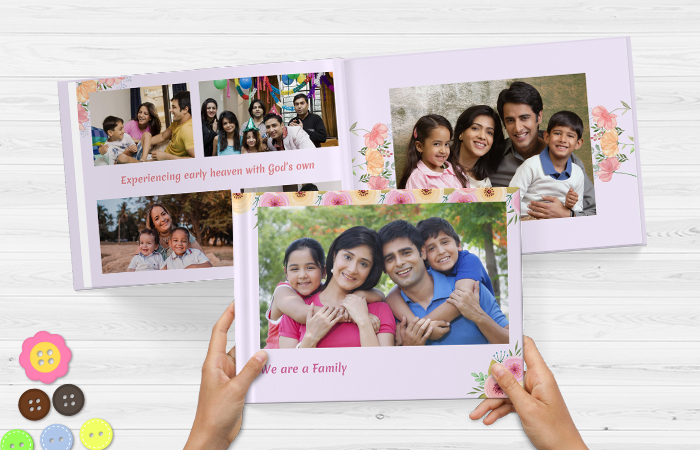 A scrapbook can be created for almost every theme; your Grandad's birthday, your baby's first year, your graduation, or you and your buddies having fun. If, perchance, you do not have a specific theme in mind, don't worry. Simply start out with a general album inclusive of all the pictures you want to include in your scrapbook. After scrapping for a bit, you should have a decent collection of photos and scraps to create a separate scrapbook photo album for each theme, e.g., Travel, holidays, a family get together, and so on.
2. Tell your photo story
One of the best features of a scrapbook is the option to add little stories to your photos and other scraps. While creating your scrapbook, you could make a list of all the stories you want to include in it, along with the photographs of the occasion.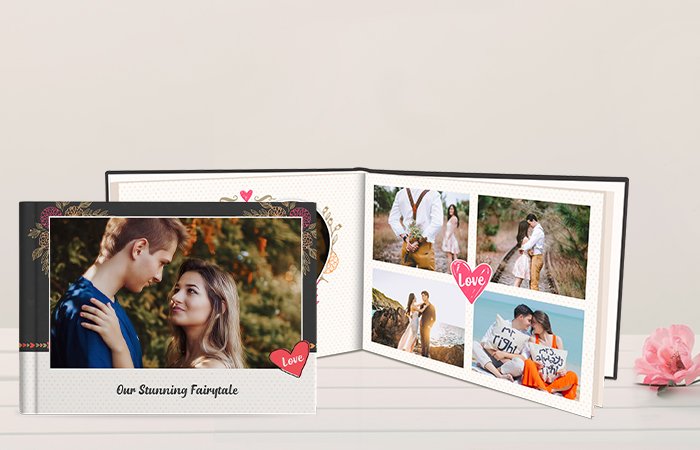 For example, if you want to scrapbook about your marriage. You could break down the scrapbook into the days leading up to it. You could start with the engagement and then proceed to the other rituals. A mehndi or haldi ceremony is a must-have to add that dash of color and festive spirit to your scrapbook photo album.
If you are not working on your scrapbook with a specific theme in mind, do not think of your scrapbook photo album as one large tome. Instead, break it up into a page by page window into your or your loved one's life.
Read More : Photo Prints - The Perfect Last-Minute Gift
3. Photo Selections
Photo selection is crucial while scrapbooking but there is good news. Scrapbooking happens to be really enjoyable. While creating your scrapbook photo album, choose photos that go with your theme. For e.g., If you are dedicating a page to your special someone, a few couple pictures will do the trick.
4. Elements and embellishments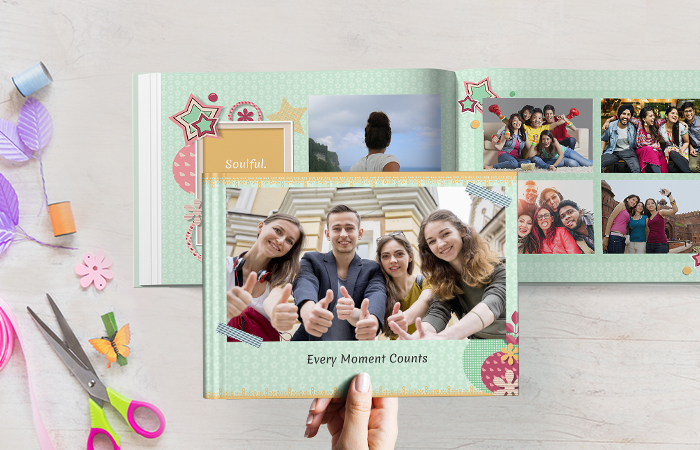 For a themed scrapbook, it is always a good idea to set up a layout that is consistent for all the pages. As you have already planned your page's design, you can add embellishments like old movie tickets or the bill of your first date, who is now your better half. For a scrapbook without a central theme, you can create each page differently, with its own unique embellishments and elements. The objective is to achieve an eye-catching arrangement of memorabilia.
5. Journaling
Journaling in your scrapbook helps in telling your story in a very attractive way. You have photos to compliment your messages and quotes. For your journaling, you could add in name tags, captions, and even lyrics of your favourite song to make all the pages of your scrapbook photo album come together cohesively.
With Picsy, journaling is now simpler than it ever was. While choosing your layout, you can add extra panels for text. You could have the text printed, or you could just write it with a felt pen. Do leave a few pages blank in your scrapbook photo album for you to write your messages on for an added touch of personalization.
Read More : How to Create a Perfect Photo Book?
So how does one craft a scrapbook photo album? It's easy. Download Picsy onto your smartphone. Supporting custom font styles, layouts, stickers and other embellishments, scrapbook photo albums from Picsy are unique.
Every Picsy scrapbook photo album is bound and printed with utmost care given to aesthetics and materials used like the high-quality paper that is used. You even have a choice between a matte finish and a glossy finish to suit your personal style.
With the intuitive and easy to use Picsy App, it is now child's play for you to create your very own scrapbook photo album and give it a truly professional touch. All you need to do to create a custom photo album is download the Picsy app, then go ahead and choose a theme and a layouts or if you are in a creative vibe you can craft a theme and a layout from scratch create one of your own, add your photographs, put in some text, a few zany stickers, etc. and viola, the perfect scrapbook photo album gets delivered to you faster than you can say 'Picsy!' So what's the holdup? Download the Picsy App now and get scrapbooking.
Ready to hold your memories in hand?