Choosing the Best Photo Calendar App for Android and iOS
Last Updated : Sept 01, 2022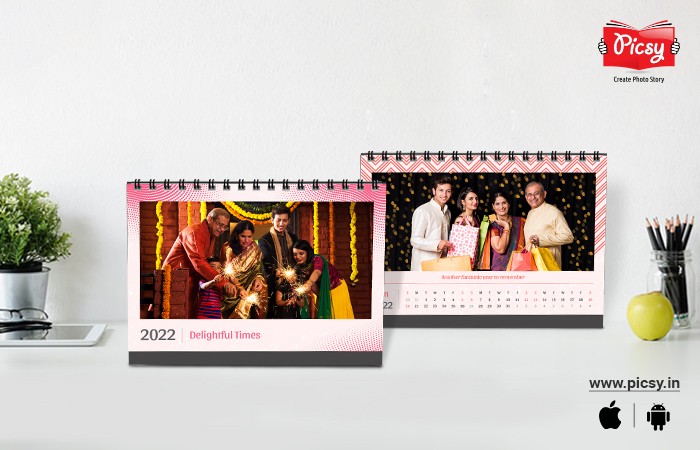 I was thinking - what would I want in a calendar photo maker app that could convince me to place an order? Perhaps, customization. The more I can personalize my custom calendar, the more the app would convince me. I wonder if you feel the same. Or do features like auto-saving the personalization process or choosing from more photo products entice you more? Whatsoever, photo calendars are one gem of an option to add a touch of thoughtfulness to your gift.
Hence, for you, I have added two lists of the best app for calendar making so that you don't have to go through the process of searching on Google yet get all your answers on where or how to create a personalized photo calendar.
Top Custom Calendar Maker Apps for Android
In busy times such as now, right before the festive season is coming, what is more needed than a calendar? Time is our bread and butter, and we must schedule it efficiently. Hence here are five photo gift calendar apps that are best for all Android users.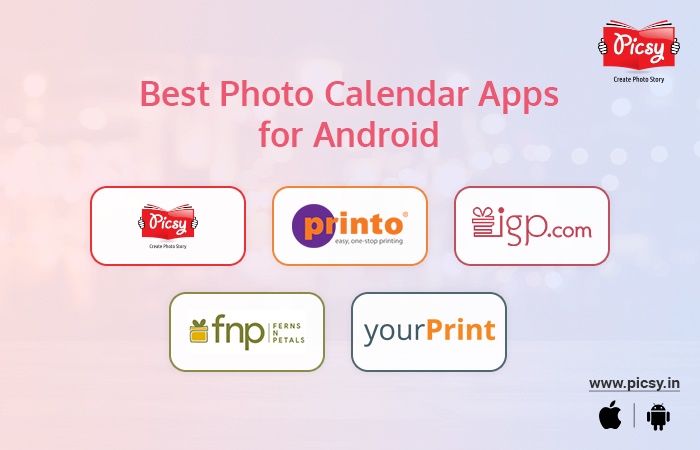 1. Picsy
If you are looking for complete customization like me in your calendar photo maker, Picsy is the answer. It is a cross-platform app that is available both in Google and Apple stores. So, you do not need to worry about the type of phone you are using; Picsy is always available for you. Another wonderful thing about Picsy is that it comes for free. It has no trick such as a 'pro' or 'premium' version. You can choose any of their product, customize it the way your heart pleases and place an order.
Looking for the Picsy app to create your stunning Calendar Photo Print? Create Now!
2. Printo
Printo has a wide variety of photo products, including calendar photo prints. Whether you want A5 desktop landscape calendar, a big square personalized photo calendar, or a mini wooden photo gift calendar, they have many size formats. With four paper-type options, Printo is also a good photo calendar gifting option. Choose from the list of templates and get a calendar for you or your loved ones.
3. IGP
If you are looking for a website that will serve the purpose of all your needs when it comes to gifting, IGP does it all – arranging flowers, cakes, plus photo products such as photo calendars (the one we are talking about in this article). You also get a 'make it extra special' section where you can add gift-addons and arrange a hamper instead. So, if you feel lazy, you know where to go to arrange an event. You won't need personalized calendar gift ideas.
4. FnP – Ferns and Petals
You must have heard this name before. If you ask me, what makes FnP so special? I think it's the name, you know, how it is blending in and serving the purpose of highlighting their prime product – the flowers. But I chose FnP as a calendar photo maker because of the exotic self-rotating wooden calendar they provide. Sure, you won't get to upload many images and make it too personalized, yet it is unique and custom enough to some extent.
5. yourPrint
YourPrint offers an interesting photo calendar online – a mouse pad calendar. Who could have guessed, right? But why not? If you like uncommon things, this calendar might be of your interest. They offer the usual custom calendar as well; however, the mouse pad felt like worth mentioning.
So, Android users, which one got your interest?
Top Custom Calendar Maker Apps for Apple (iOS)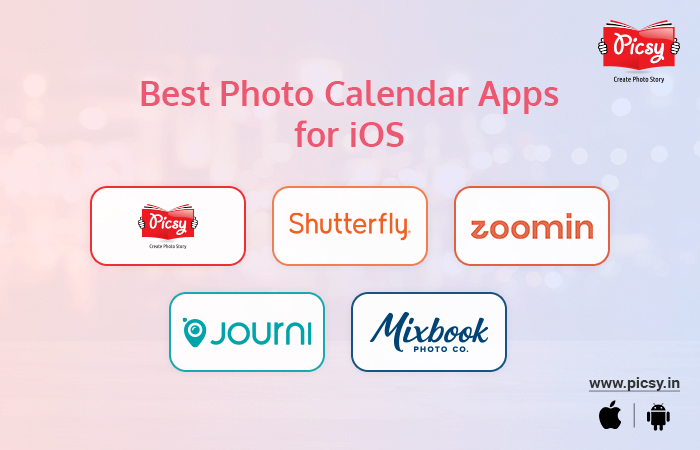 Now that we have covered the best app for calendar for Android users let's help you out if you are an iOS user. Here is the list:
1. Picsy
As mentioned earlier, it is a cross-platform app, so it is available both on Android and iOS platforms. Having said that, it uses only six simple steps to create a personalized calendar that is worth gifting to the persons you care for. So, if you are looking for a quality product, specific personalization, and exclusive gifting material, you are one step away from your destination.
To book a quality personalized calendar, download the Picsy app!
2. Shutterfly
It is also a cross-platform app, like Picsy. Shutterfly is my second choice because they offer enough options for customization – whether the template, font, or paper material, but not as much. However, they have an exclusive product to offer – a calendar magnet. There you can add one image and write the memorable date, whether it's the Birthday of the recipient or your Anniversary.
Read More: Why is Picsy the Perfect Shutterfly Alternative?
3. Zoomin
Whether you need a wall custom calendar, desktop calendar, or a magnet, Zoomin offers them all. Ranging from Rs. 99 to Rs 499, they have a handful of options for you to choose from. I like medium options over several; I feel it becomes easier to choose and not dangle around on how to create a desk calendar.
4. Journi
Journi personalized calendars offer three layouts – Portrait, Landscape, and Square with durable wire binding. You can upload up to 10 photos for each month without messing up the math – you can basically use 120 images. And that is a lot, I believe.
5. Mixbook
Mixbook has taken the liberty of customization to another level – they allow you to customize the calendar and start from whichever month you want. So, if you don't have a 2022 calendar yet, but want one, you are possibly looking for a Mixbook custom calendar.
Which is the Best App for Calendar Photo Prints?
I won't ever hesitate to choose Picsy over the other custom calendar apps, and hence I have provided the name twice. If you ask me why that is because of the kind of quality they provide. I have tried many of the Picsy products – from the custom calendar to photo albums, and I have never been disappointed. They are durable, waterproof, offers full customization, and you get 24*7 online guidance while creating your product.
End Note on the Best App for Calendar
Now that you have read my list and know my bias, I hope I have convinced you to choose what I would have chosen. Jokes apart, you know what is best for you, and I hope this list of best calendar-making apps gives you the product you desire. Meantime, if you are looking for more personalized products to decorate your space or gift to your loved ones, take some time out to go through my favourite website – Picsy.
Browse through the products, and check if any of these quality products can win your heart. I can vouch for the quality. Until you order one, Download the Picsy app and keep Picsying!
Ready to hold your memories in hand?