5 EASY STEPS TO MAKE A PERSONAL DESK CALENDAR
December 04, 2020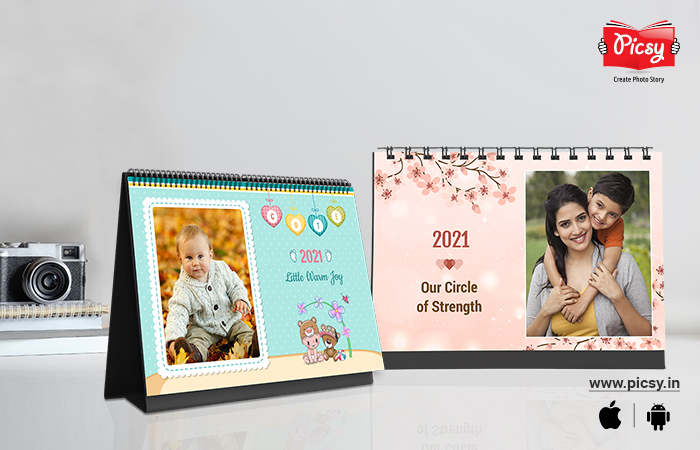 Your 2021 calendar can be considerably more than a way to check the date. With desk photo calendars from Picsy, it is now simple for you to customize a photo calendar online for your home and office. All you require is the Picsy app and the photographs you'd prefer to use, and you can have a custom desk photo calendar printed in a matter of days. Read on to explore how to make an exquisite desk photo calendar with Picsy and calendar and begin the new year off right.
With Picsy, creating a customized photo calendar online is child's play. We've done the vast majority of the legwork for you. All you need to do is choose which photographs, themes, and layouts you'd prefer to utilize. From that point, you can add your customizations for every month and modify the pictures in the manner that looks best to you.
Follow these five steps of how to make a desk photo calendar.
1. Pick Your Calendar Dates
The first move toward making a desk calendar with Picsy is picking which month you'd prefer to begin with. You can make a calendar for the entire year or decide to start on any month, relying upon when you need it printed. Our desk photo calendars fit perfectly on your work desk to assist you with the date as well as a fulfilling dose of smiles and cheer from your loved ones.
2. Transfer Your Photos
Transfer the photographs you need to use from your PC or your social media accounts. When you transfer your photographs, we'll save them, so you have the opportunity to pick which photographs will go where. Exhibit family shots consistently or make a 2021 desk calendar with your #1 pets – it's all up to you.
3. Choose Your Layout And Theme
With our customized desk photo calendars, personalization is easy. You can ensure more than 10 photographs fit on each page if you wish or pare it down to only a few top picks for every month. We don't want everybody to bring home a similar calendar, so we let you alter the layout and theme of every page of your calendar. You could choose a theme and layout for your 2021 desk calendar from our pre-designed templates or create your own customized one from scratch.
Read More : 25 Cool Ideas To Display Family Photos On Your Walls
4. Add Heart-warming personalized Messages
Especially if you're planning to give a calendar as a gift – you could include personalized messages as each page's highlight. In case you're just adding a couple of pictures for each page, you'll have the choice to add messages and notes at the base. Consider mentioning where every photograph was taken or incorporate uplifting travel adventures for every month.
5. Print Your Calendar
When you're done, you can now check out and send your calendar off for printing. Our printers guarantee that your desk photo calendar will come out precisely as you want it to be, delivered to your doorstep. Before finishing, just make sure to go through your 2021 desk calendar and ensure everything looks how you want it to be.
Your customized photo calendar online will be a welcome expansion to your office or home. Consider the following desk calendar ideas:
Read More : 8 Creative 2021 Calendar Design Ideas
Wrapping up
Making a desk photo calendar can make for a fantastic gift as you enter the new year. If you have more photographs than the number you would prefer to use in the calendar, Picsy offers a full range of photo printing products to help you cherish your favourite moments. From customized photo books and photo albums to exquisite canvas prints, utilize your photographs to make excellent custom photo products for your special seasons as customized adornments. Make sure to check for the most recent deals and promotions we at Picsy are running. So don't wait any longer. Download the Picsy app now and tell your photo story.
Ready to hold your memories in hand?