6 Easy Steps to Create a Perfect Personalized Photo Calendar for 2022
Dec 30, 2019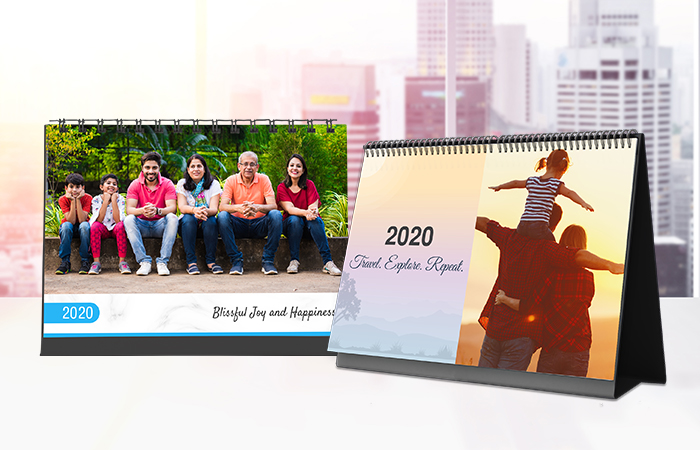 Looking for a fun way to showcase your favorite photos? Need to get structured for the coming year? We've got you covered! You just need to blend your favorite photos with our charming designs to create an alluring and classy photo calendar to rock the new year.
Why Photo Calendar?
As the year 2019 is about to end and so does the remanence of the moments enjoyed this year, our thoughts naturally begin to reflect on the photographs we've clicked during the year. No matter whether it's family snaps or fine art landscapes, creating a photo calendar for 2020 is a far better use of your images than letting them languish on a hard drive somewhere - and they make great gifts too. And, as luck would have it, we've got a great guide to the best photo calendars right here to help you choose which service to use!
1. Select 13 Star Snaps
Pick up 12 of your assorted and high-quality snaps, each one for the corresponding month and a 13th one for the front cover of the calendar. To simply this, even more, decide on a story in your mind prior to selecting and assigning pictures to each month. The choice of the photos being selected depends on the aim in your mind for which you're creating the calendar; motivational, remembrance, or scheduled. You can also set small goals in each month through the photographs
Creating this for yourself? Choose photos of your favorite faces to raise a smile, or photos of your pet (we know you've got a lot of them…). If you're creating this as a gift, you could select photos of faraway places, travels or adventures you've been on with this person to offer them a sense of escape from the everyday.
2. Upload and Edit Photos
Once you've finalized your photographs, all that's left to do now is to upload them and edit the calendar's look. You can change the size and placement of your photo, add or remove clipart, so make sure you've got the time to get creative! You can always go for a photo collage, use a big picture as the background or insert small pictures into the month grid cells to mark special days of the year. Add, replace, crop and delete photos that seem out of place using the editing tools. You can add spark to your photos by applying fancy filters or stylish frames.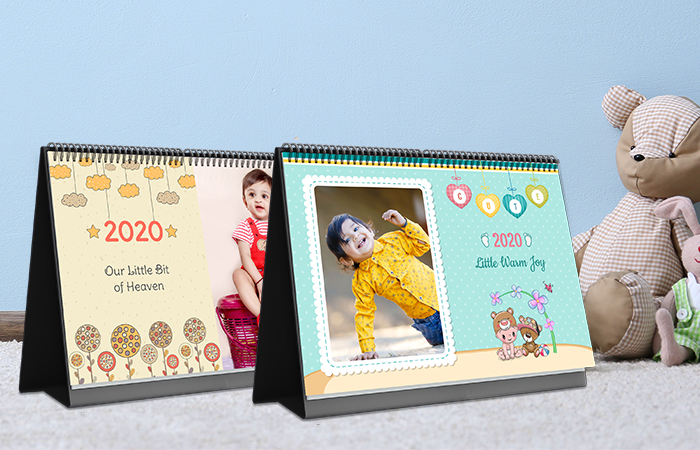 3. Enter The Start Month and Year
This is the fun part! Firstly, choose which month you'd like to start from, our calendars can start from any month you'd like, so they're perfect if you're stuck in a bit of a mid-year slump. Make your own picture calendar and personalize it as you wish to. You need not do much of data entering or editing the fonts, style, color, etc. We at Picsy already have an immense option of preset layout, color, and style you can choose from. So, the hefty task of putting every element into the right place is just a click away.
4. Click On The Select Theme
Next, get creative. Select your theme: do you go for a classic black or white, crafty linen or paper effect, or bright or bold color? With lots of different themes to choose from, you can select one that complements the color of your photos and really makes them pop. Download Picsy App and select the type of calendar you are planning to make; love, family, wedding, travel, kids, birthday, classic, friends. For each type, you will find a wide choice of horizontal and vertical templates in the Calendar theme section. Pick the one that meets your needs and adjust the rest of the settings.
5. Add Text And Emojis
Whether you choose your favorite song lyrics, quotes from your heroes, excerpts from a book you love, or just a few words to cheer you up – this is the part that will really brighten your day. You can match each quote up to a certain picture, or just throw them all together in any order. What matters most is the words. If you're a little stuck for inspiration and can't quite find the words to motivate, places like Instagram and Pinterest are great for motivational quotes.
6. Select The Printing Style
You can choose the printing style. Keep it glossy or make it matte, the choice is all yours. Click the Finish button and Dayum! You're all set to get the printed version of your craftsmanship within 5-6 working days absolutely at any corner of the globe.
A personalized photo calendar is the best way to use the enormous GBs of photos you've collected throughout the year by converting them into a photo calendar. These personalized photo calendars could be a Desk Calendar, a Wall Calendars, or even a poster calendar. So, hit the ground running with one of our many themes, then customize as much as you want to and Don't forget to cherish those memories you created!
Hopefully, you're now feeling inspired to create a thoughtful and practical gift that will show your loved ones just how much they mean to you! At the very least, they'll stop forgetting your birthday.
If you're not tempted by any of the above, why not spoil yourself and create your own dream calendar? Mix it up with your favorite snaps (last year's picnic with the kids) and holiday photos (sunbathing in Goa), and choose a design that goes well with your home decor.
Still, Got Doubts? Chat with us!
Want to Explore More . Download Picsy App.
Ready to hold your memories in hand?