An Essential Guide on How to Make a Photo Calendar Online
February 16, 2022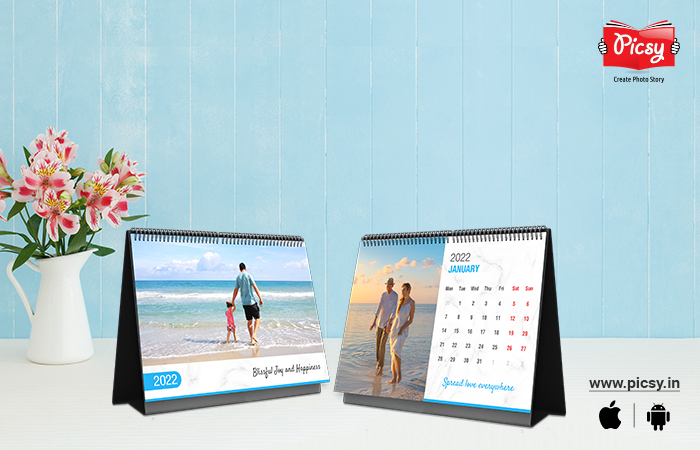 You might be extremely exhausted by keeping track of dates and important events. Don't worry, custom photo calendars are at your rescue. Customized calendars fill up the world of emotions, sentiments, and décor, enabling us to celebrate lovely moments we spent with our loved ones. To keep it minimal and elegant, you can design a beautiful custom calendar comprising all your beautiful pictures.
And we cannot shun off the fact that we all love preserving and cherishing our lovely memories. Create a beautiful 2022 calendar to mark the onset of great emotions and events that are close to your heart.
If you wonder how to deal with creating a custom photo calendar, then let us take you on this wonderful journey of making a custom photo calendar. Let us dive into the blog to familiarize ourselves with how to make a photo calendar online.
Why Make Your Own Photo Calendar?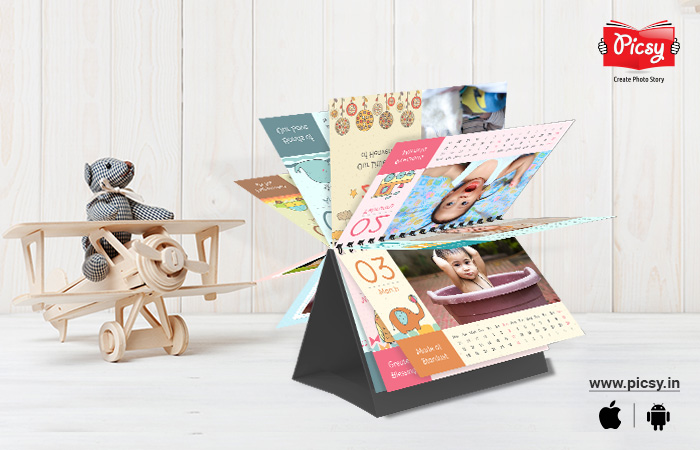 We are well aware of how monotonous it is to spend the entire year. So, revamping your desk calendar into a personalized photo calendar is indeed a great idea. A personalized photo calendar induces life to the monotonous space. In addition to being a lovely keepsake, it serves as a great medium to initiate a conversation.
And if you have a big family, then cherish your lovely spent moments with this beautiful keepsake. If you are a travel freak, then let this custom calendar feature the important dates of your trip. And if your cousins or friends are planning to get married this year, let this 2022 calendar witness the excitement and major dates.
Personalized photo calendars are capable of taking your heart away. You can even include your favorite motivational quotes for every month, or you can even include little side notes along with your pictures to mark the association with the pictures.
Read More : 6 Easy Steps to Create a Perfect Personalized Photo Calendar
Types of Photo Calendars
Personalized calendars are a great piece of art for those who love to narrate their stories. It is a compact art piece to keep all the memories intact. Here are the following types of photo calendars.
Wall Calendar Design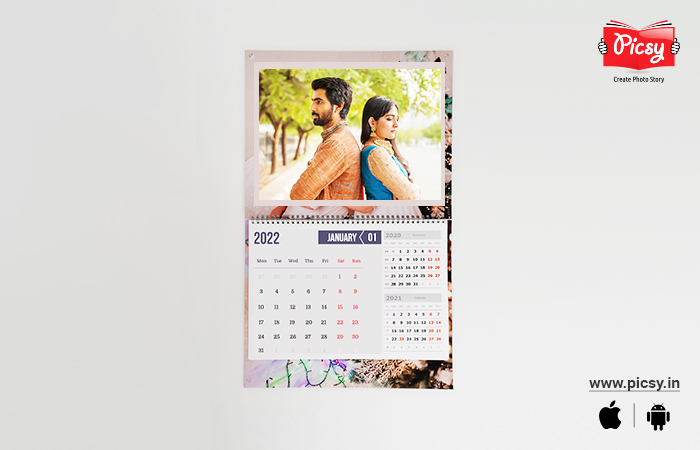 One of the conventional calendars is a wall calendar that is hung on the wall to beautify them. A monthly bifurcated calendar could be hung anywhere in the house: kitchen, living room, or your bedroom. A beautiful custom calendar hung on the wall is the best for busy families to keep a record of the important events in one place.
A Cute Poster Calendar
Use your creative calendar design ideas and create a cute poster calendar. They serve as an asset to the house. You can use the cute picture of your kid playing and posing. It will not only serve as a reminder of important dates but also will cheer you up on your gloomy days. It is a dramatic way to emphasize on one or two favorite photos in a highlighting mode.
Desk Calendar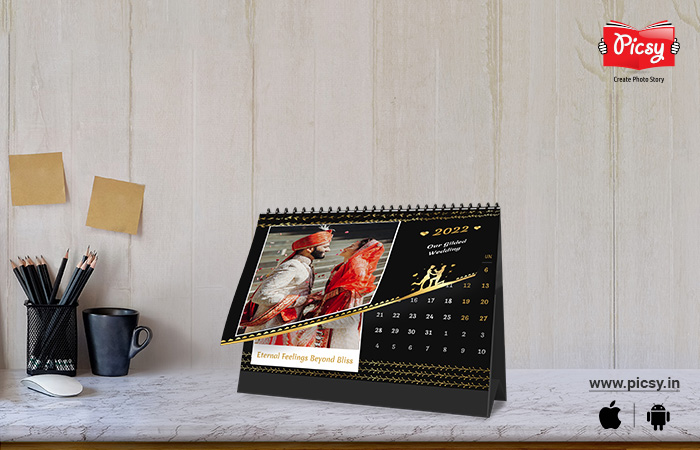 If you are someone who tends to forget the meeting schedule, then making a desk photo calendar is your rescue. Custom desk calendars are a wonderful way to mark the important dates in your workspace. You can use one picture for every month in your desk calendar.
Read More : 5 Easy Steps To Make a Personal Desk Calendar
Celebrate your family bond with a wonderful family photo calendar. Choose your favorite photograph and flaunt it.
Ideas for Your Personalized Photo Calendar
Here are a few ideas you can use while designing your personalized photo calendar.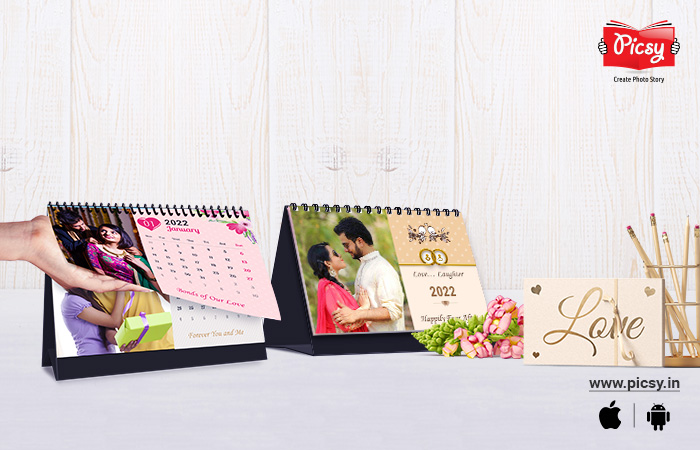 Make your own calendar and relive the wonderful moments of your wedding day when you both tied knots and promised each other to support each other for the rest of your lives. Nothing is better than sprinkling beautiful romantic moments in your life with the help of a beautiful custom calendar.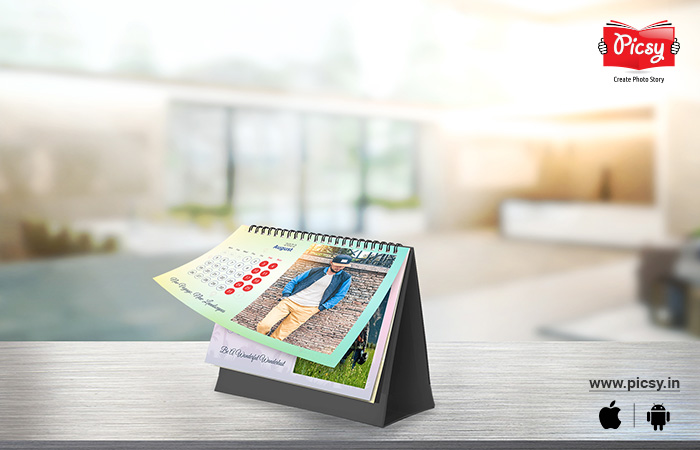 Who does not like to cherish their favorite trip? Create a wonderful travel photo calendar celebrating your favorite moments of the trip. And do not forget to pen down the name of the destination, so whenever you plan to visit the same beautiful place, you can click more such pictures.
Which Photo Calendar is Right For You?
We cannot neglect the fact that photos are very special for us. They bridge the gap between the past memories and the present, and that happiness it gets on our faces.
With the help of the 2022 calendar, you can give life to your best moments spent with your loved ones. Along with this, you can be creative and use your creative calendar design ideas and flaunt your creativity. The various photo calendars that could be right for you are as follows:
Monthly Planners
Now, you do not have to stress out about forgetting the dates or appointments. Get your hand on the monthly planner that will help you to manage your monthly schedule. And you would not have to get worried about missing out on an important event or meeting.
Mouse Pad Calendars
A mouse pad is a convenient section to carry a cute calendar. Add a personal touch to your custom calendar and flaunt your favorite moments.
Want to be prim with the custom photo calendars? Picsy is at your rescue!
How to Make a Custom Photo Calendar Online?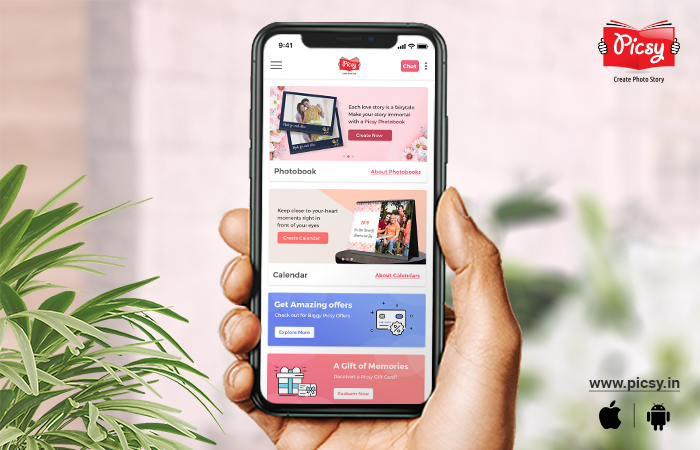 Are you wondering how to make a custom photo calendar online? Please do not fret. All you have to do is follow the simple steps.
Select a theme: Ranging from colorful to basic, there are so many designs you can choose for your custom calendar.
Upload your best shots: With the help of technology, we can easily upload photos. Be it on your mobile phone or your computer, shortlist your best shots and upload them.
Customize the monthly pages: Be creative and select the monthly pages. You have the option of managing twelve pages according to twelve months.
Select your background: Choose the background that suits your taste and aligns with your photographs.
Select the embellishments: Every theme you choose will have a different kind of embellishment to it. Select the embellishment you seek to have in your custom calendar.
How to Make a Mini Calendar Online?
These cute little calendars are really convenient aspect to make your day. So, celebrate your year with a love-coated mini calendar that you can carry wherever you want. Be it carrying while you are at your work or when you go for shopping with your best friend. Not only this, these cute mini-calendars serve as wonderful gifts. You can gift them to your loved ones, and they are surely going to love it.
Bring your Digital Photos to life with Picsy.
Download the app and get started!
How Much Does It Cost to Print Photo Calendars?
We tend to give importance to memories and not to expenses. They come at a very nominal price, of ₹500 depending on the category of photo calendar you choose. And ₹500 is definitely a menial amount when it comes to our memories. Let Picsy serve you the best price for your custom photo calendar. Picsy takes care of the expense and delivers the best quality of the custom photo calendar.
Conclusion
There are a lot of reasons for us to click thousands of pictures. And indeed, including them in your custom photo calendar is surely a wonderful idea. Get in touch with a company that is proficient in online photo calendar printing.
And when you have already made up your mind to the photo calendar maker app, please allow Picsy to serve you. Picsy offers affordable photo calendars with utmost proficiency. You just have to download the Picsy app and relax till we deliver your memorable keepsake to your doorstep.
Ready to hold your memories in hand?