Creative ideas to gift someone a personalized calendar 2021
February 11, 2021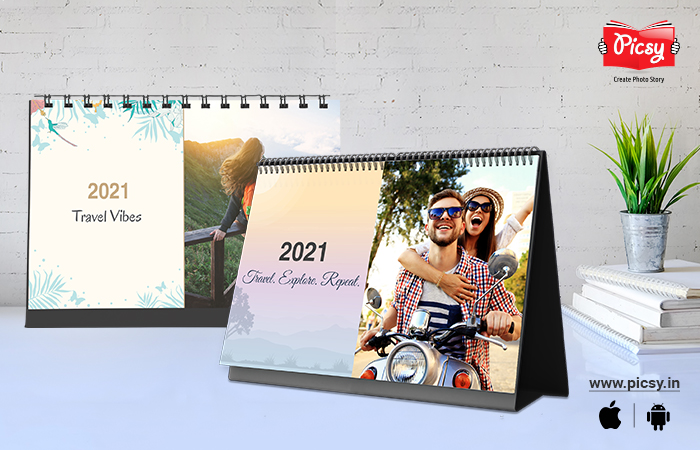 Valentines is near, and searching for something as beautiful as it is precious, but can't decide what to gift your partner?
Got so many options but lacking time?
Here's what you can do to make the love of your life happy and affectionate.
A personalized gift is one of the most thoughtful choices among all. Whatever the present is, customization adds a personal touch to your gifts and adds value to them. There are endless options for you to customize your gifts and shower your love on your partner with them.
Mark your love week on a personalized calendar 2021 from Picsy and show off your love by imprinting your love journey on it. It would be the classic keepsake with premium quality and smooth finishes. Choose your designs, pictures, size, and finish to add that extra special touch and make your partner go in awe of your gift. Turn your timeless memories alive with a personalized calendar and relive those times every moment you walk past it.
What is a personalized calendar?
A personalized calendar is the same as the original calendar but with a twist. It is full of love, care, notes, and a lifetime of memories. You can add your choice of month, date, and cute messages, along with all the memorable pictures in your personalized calendar gift.
But before you customize the calendar, make sure you choose the right platform that will provide you all the options required. From size options to templates and other editing options, ensure all of these options are offered to you. However, the little details make a gift beautiful, and your partner cherishes it for a lifetime.
Ideas for personalized photo calendar 2021
Personalized photo calendars are equally fun to create as they are fun to receive. You get to pick everything as per your choice and get it delivered to your doorstep without stepping out of your home. In this article, we have entailed few such ideas to create a calendar for you to gift your loved ones.
1. Pick the theme of your choice
Choosing the theme is the utmost step while creating a photo calendar gift. From colored to classical and prints, picking one single theme among so many might get hectic. But when you already know about your partner's favorites, you indeed will select them without any hassle. Just make sure the theme you choose interests your partner and help you two bring out the best of your love story.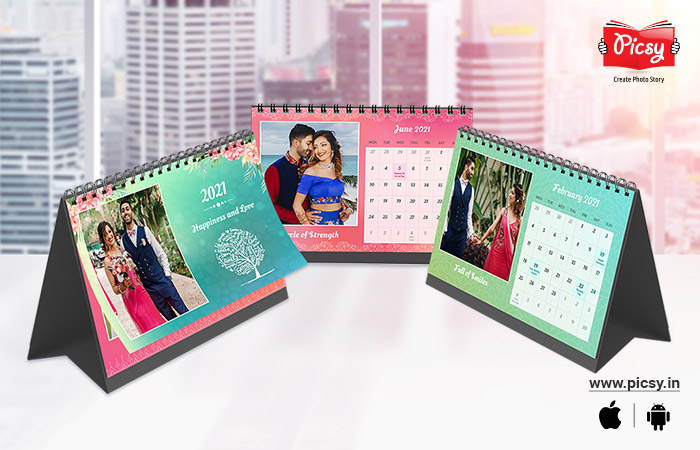 2. Select your favorite pictures
With Picsy, you need just a few clicks to upload your picture. Be it your phone gallery, Instagram, Facebook, or any other device; upload your photos from anywhere and leave the ball on Picsy's court. Once you choose and upload a picture, resize, crop, and adjust it on the layout, you chose earlier, and you are done!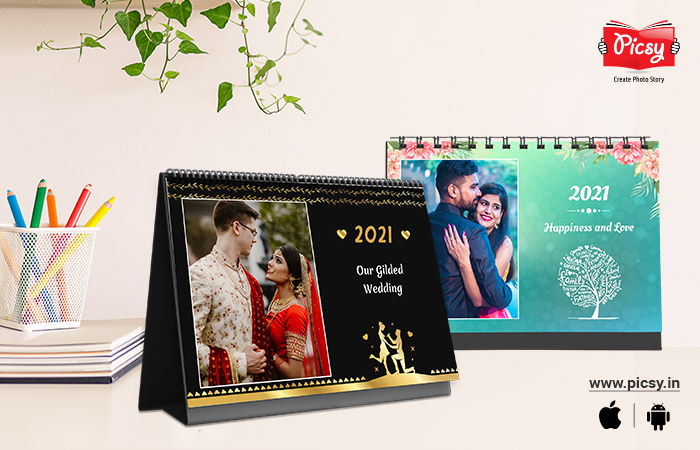 3. Choose a size and printing style/finish
You won't get a variety of calendar sizes, but choosing from a very few of them would be enough. If you are getting it for the office desk, choose a small size to look beautiful. But if you want to gift it to someone, then choose a moderate size along with the paper finish you would like. Go for a glossy finish if you need a shimmery touch, whereas matte finishes for that soft and elegant look.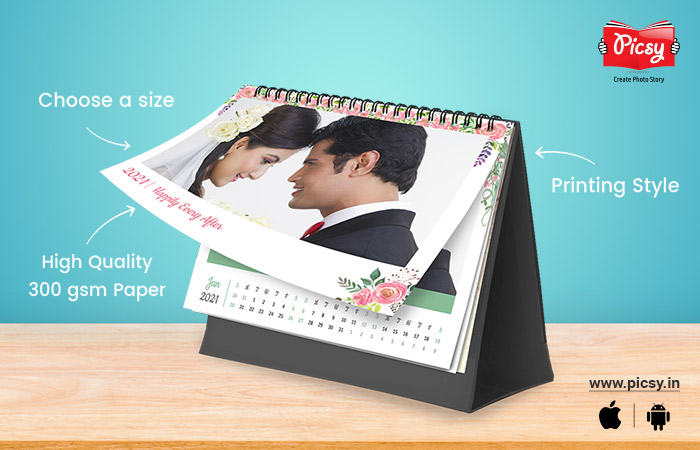 Read More : Glossy VS. Matte - Which One Is Best For Photo Prints?
4. Choose a text or note you want to add
To give a touch of love, add a cute note or stickers to your personalized calendar 2021. Just make sure you add the other things in such a way that match your calendar's theme and enhance the beauty of it.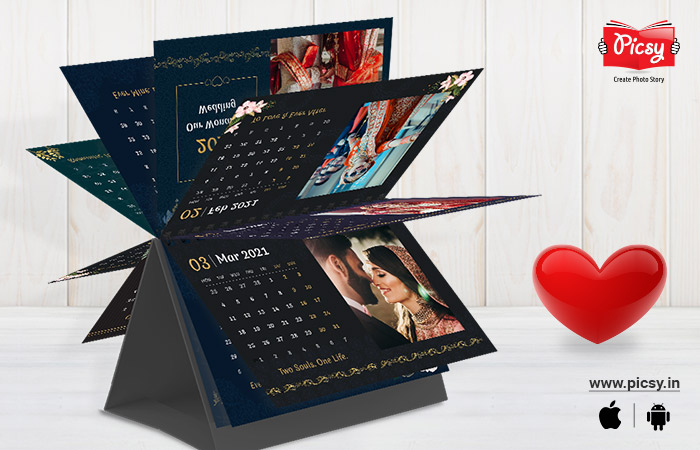 5. Sprinkle your favorite colors
Want your partner to love that perfect gift you created? Make sure you know what their favorite shade is. Therefore, add those colors to your personalized calendar, and you are ready with a great keepsake full of vibrant colors and endless memories.
Now you know the ideas to create a perfect customized calendar to gift your partner and we hope you will give your best to showcase your love.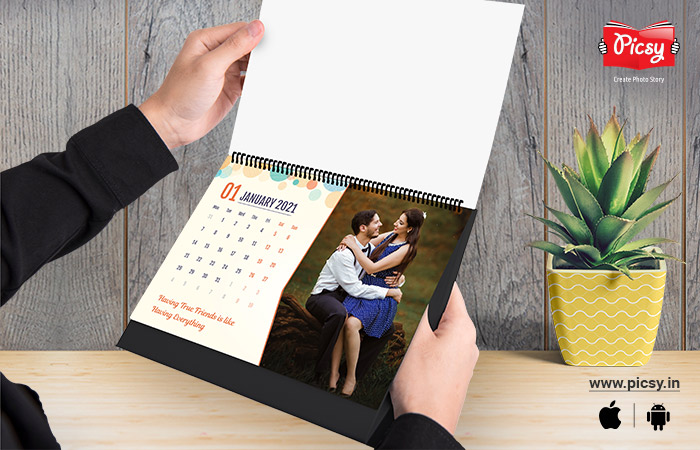 Read More : 6 Easy Steps to Create a Perfect Personalized Photo Calendar
Artistic ideas to create Custom Photo Calendar 2021 for your loved ones
Since it's valentine's week, we have entailed a few stunning ideas/themes for custom calendar 2021 for you to gift your partner and adore them with your love and affection.
Velvety valentine calendar as a gift is the ideal customized gifts for you and your partner. Feel the essence of love and narrate your love story by marking how far you both have come against all odds.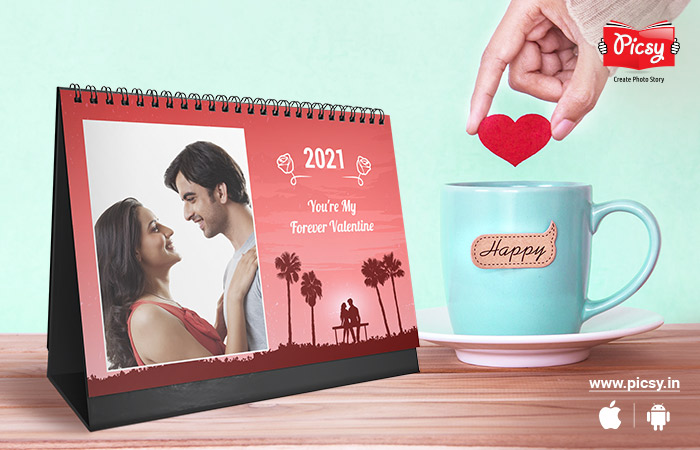 The only thing that matters in a relationship is how far your bond has grown beyond everything. All the stages you have been through, along with love by your side, are what make your love journey worth it.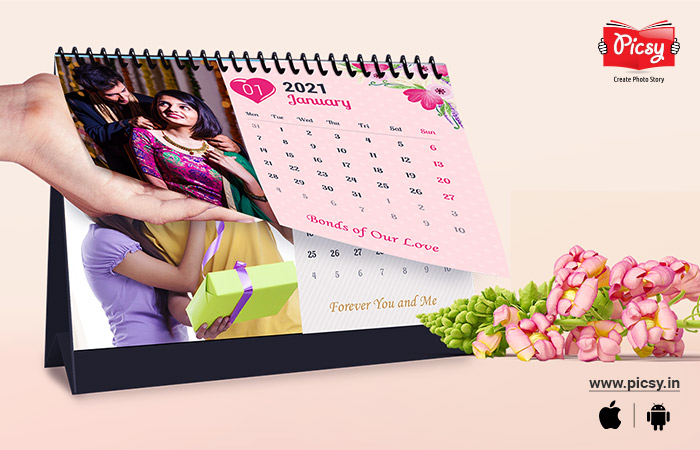 Create a personalized calendar for 2021 full of romantic and endless memories. Manifest your love along with adorable pictures with the help of Picsy. Choose the theme, colors, size, finishes, and style of your choice, and create a stunning photo calendar for your dear one.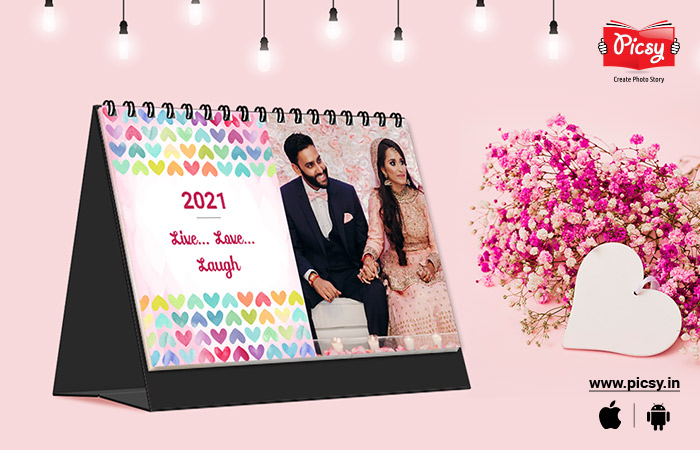 Include all the moments from your D-day calendar as a gift and create a beautiful storybook full of important dates and anniversaries. Create a keepsake you both will cherish for life and live more such beautiful moments in the years to come.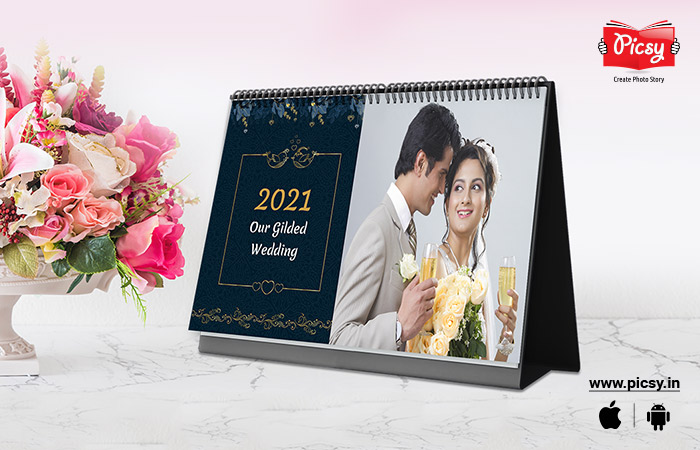 Read More : Creative calendar design ideas to preserve your special memories
So end the wait and pop out your color of love this valentine by downloading the Picsy app now. Its easy and hassle-free features will enable you to create a pleasing calendar as a gift and get it delivered to their doorstep. Be it traveling, wedding, anniversaries, birthdays, or love; it enables you to create a photo calendar for every occasion of yours with its wide assortment of theme selections and styles. All you have to do is select your favorite pictures, choose a theme, size, finish, and your job is done!
Ready to hold your memories in hand?