110+ I LOVE YOU QUOTES AND MESSAGES FOR YOUR LOVED ONES
Last Updated: Sept 20, 2023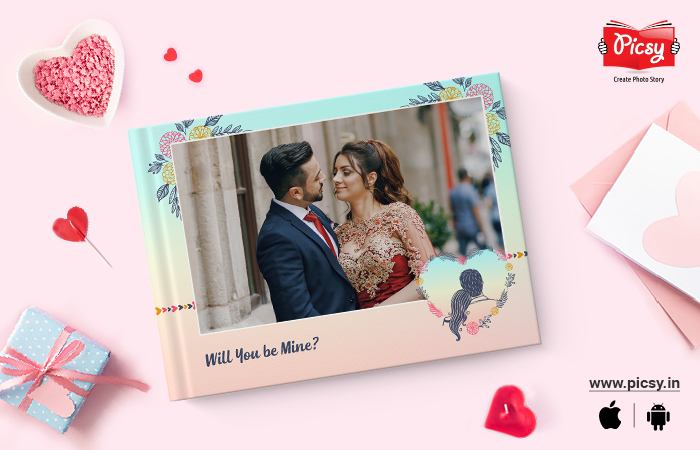 Have you ever been in love? It is not bound by languages. It calls for freedom. It shows us an unimaginable path where the unreal meets reality. That is exactly what Bollywood has taught us, right? And being influenced by Bollywood romance, we love showcasing our love to our partner; be it a love message for a loved one or a romantic quote. Isn't it amazing how a small gesture such as sending a note can make them feel loved? So today tell them what they mean to you. I will help you express your feelings. Don't hold your emotions no matter how cliché it sounds, inhale and express.
This blog is all for that, numerous examples of romantic messages to send to your loved ones. So, without burning daylight, let us dive into the blog.
Celebrate Love and Romance with Picsy
Present your love with the best gift ever! Picsy's range of photo products includes durable, stylish, and romantic sets of personalized gifts.
I Love You Quotes for Him
Do you remember the last time you were expressive about your love for him? Even though men do not say it out loud, but they love being pampered and taken care of. So, why not make him feel loved by penning down a few I love you messages for him to make him feel special? The following are the love quotes you can refer to. And the best thing is, these love quotes could be included in your Valentine's photo book as well.
Love Quotes for Husband
It always feels good when you write romantic messages for your husband and send those to him. Use your wedding photos and write a sweet love note on it. Isn't that a creative way to preserve your wedding memories – by adding more memories to it? Here are a few love quotes that you can refer to: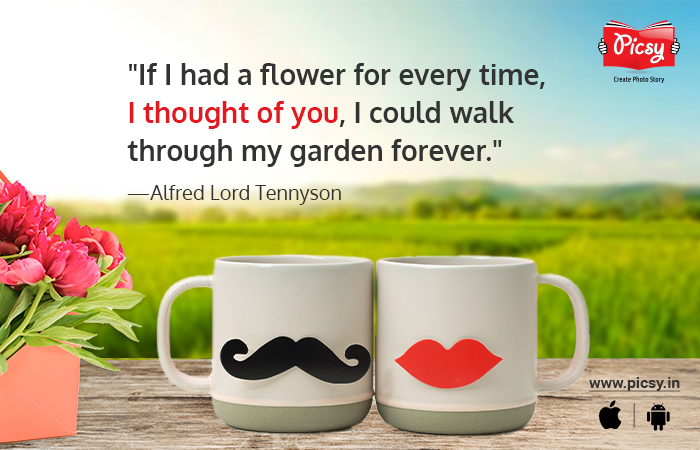 "If I had a flower for every time, I thought of you, I could walk through my garden forever." — Alfred Lord Tennyson
"You are the prince charming of my fairytale." — Unknown
"I know we are imperfect individually, but we are perfect together." — Unknown
"You entered my life and made it worth living." — Unknown
"You are the finest, loveliest, tenderest, and most beautiful person I have ever known, and even that is an understatement." —F. Scott Fitzgerald
"I love you the way you are." — Unknown
"I wasn't expecting you. I didn't think that we would end up together. The single most extraordinary thing I've ever done with my life is fall in love with you. I've never been seen so completely, loved so passionately and protected so fiercely." —This Is Us
"He's more myself than I am. Whatever our souls are made of, his and mine are the same." — Emily Bronte
"I would rather spend one lifetime with you than face all the ages of this world alone." – J. R. R. Tolkien
"True love is rare, and it's the only thing that gives real-life meaning." ― Nicholas Sparks
"We loved with a love that was more than love." — Edgar Allen Poe
"I saw that you were perfect, and so I loved you. Then I saw that you were not perfect, and I loved you even more." – Angelita Lim
Surprise your love with a beautiful Acrylic Print from your first date.
Love Quotes for Boyfriend
Your man deserves to be loved. So, why not send I love you messages to your boyfriend and make his day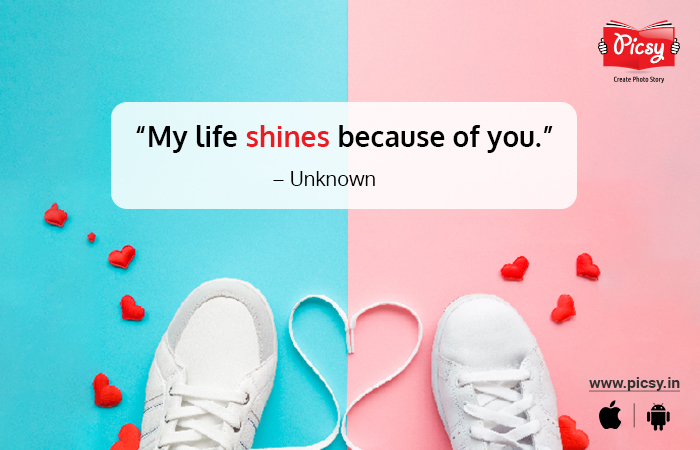 "My life shines because of you." – Unknown
"We loved with a love that was more than love." — Edgar Allen Poe
"True love is rare, and it's the only thing that gives real-life meaning." ― Nicholas Sparks
"I saw that you were perfect, and so I loved you. Then I saw that you were not perfect, and I loved you even more." – Angelita Lim
"I am my beloved's, and my beloved is mine." – Song of Solomon 6:3
"And in your smile, I see something more beautiful than the stars." — Across the Universe
"It was love at first sight, at last sight, at ever and ever sight." ― Vladimir Nabokov
"You are, and always have been, my dream." ―Nicholas Sparks
"I love that you are the last person I want to talk to before I go to sleep at night." — When Harry Met Sally
"Love is composed of a single soul inhabiting two bodies." — Aristotle
"What is love? It is the morning and the evening star." — Sinclair Lewis
"If you find someone you love in your life, then hang on to that love." — Princess Diana
I Love You Quotes for Her
Girls like to be pampered, right? A great way to express your romance to her is by sending I Love you messages to your girl. Staring with the wives.
Love Quotes for Wife
Wives like things that would make them feel special. You can't hand an amazon gift card and say buy what makes you happy. You have to think and buy something they would like. And something they can never disregard is what you feel for her. So why not make your beloved feel loved by writing romantic messages?
And it would be cherry on top if you merge the messages with a thoughtful gift. And what would be more thoughtful than a beautiful photo book for couples consisting of your love memories and shower them with love.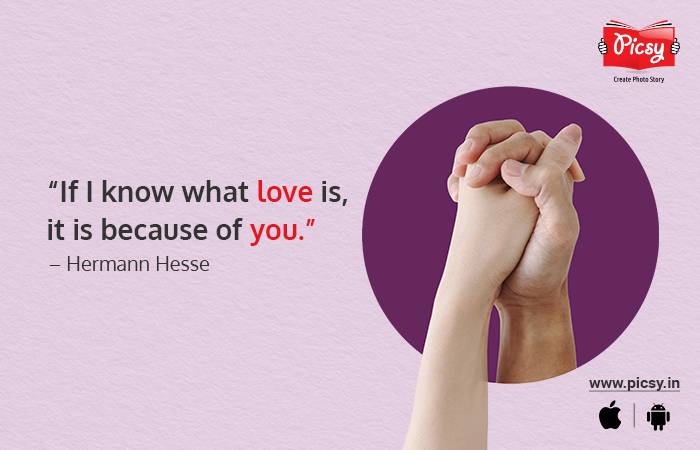 "If I know what love is, it is because of you." – Hermann Hesse
"I swear I couldn't love you more than I do right now, and yet I know I will tomorrow." – Leo Christopher
"I love you as certain dark things are to be loved, in secret, between the shadow and the soul." – Pablo Neruda
"Women are meant to be loved, not to be understood." – Oscar Wilde
"To love is to burn, to be on fire." – Jane Austen
"In the end, we discover that to love and let go can be the same thing." – Jack Kornfield
"Pleasure of love lasts but a moment. The pain of love lasts a lifetime." – Bette Davis
Love Quotes for Girlfriend
You might get scared of your girlfriend when she gets mad at you, complaining you do not express love to her. You can use these I love you messages for your girlfriend to comfort her.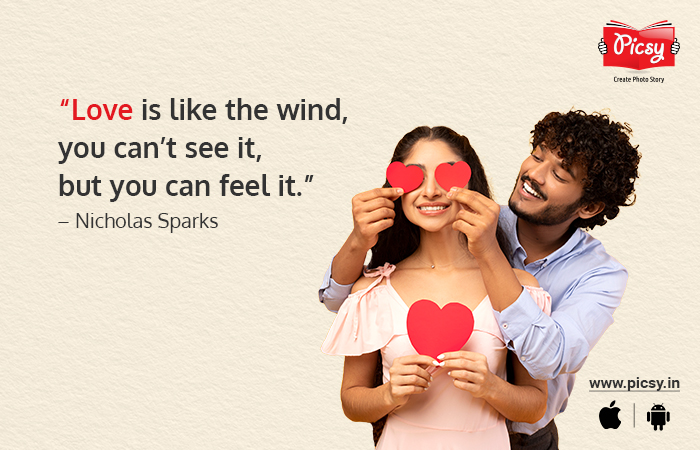 "Love is like the wind, you can't see it, but you can feel it." – Nicholas Sparks
"Love is the magician that pulls man out of his hat." – Ben Hecht
"My wish is that you may be loved to the point of madness." – André Breton
"Romance is the glamour which turns the dust of everyday life into a golden haze." – Elinor Glyn
"Love is the strange bewilderment which overtakes one person on account of another person." – James Thurber
"One word frees us of all the weight and pain of life: that word is love." – Sophocles
"When I say I love you more, I don't mean I love you more than you love me. What I mean is, I love you more than the bad days ahead of us; I love you more than any argument we will ever have. I love you more than the distance between us. I love you more than any problem that could try and come between us. I love you the most." – Unknown
"I love you not only for what you are but for what I am when I am with you. I love you for what you have made of yourself and what you are making of me. I love you for the part of me that you bring out." – Elizabeth Barrett Browning
Read more: How To Propose A Girl? 15 Romantic Proposal Ideas
Cute Love Quotes and Messages
Sending I love you quotes to your beloved with a love photobook is a great way to shower your love for them. Try quoting these messages to reignite your spark.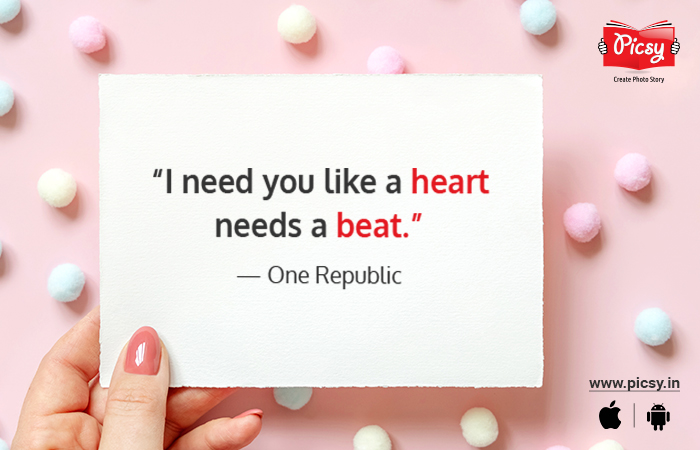 "I need you like a heart needs a beat." — One Republic
"Come near now, and kiss me." – Genesis 27:26
"Our love is like the wind. I can't see it, but I can feel it." – A Walk to Remember"
"Loving you never was an option. It was a necessity." — Truth Devour
"It's always better when we're together." – Jack Johnson
"I would rather spend one lifetime with you than face all the ages of this world alone." – J. R. R. Tolkien
"My love for you has no depth; its boundaries are ever-expanding." – Christina White
"When I see your face, there's not a thing that I would change, 'cause you're amazing – just the way you are." – Bruno Mars
"Because of you, I can feel myself slowly, but surely, becoming the me I have always dreamed of being." – Tyler Knott Gregson
Want to propose to your crush in a unique way? Try Picsy's Love Photo Album.
Love Yourself Quotes and Messages
I Love you sayings are not just for others; you should love yourself to fall in love with someone else.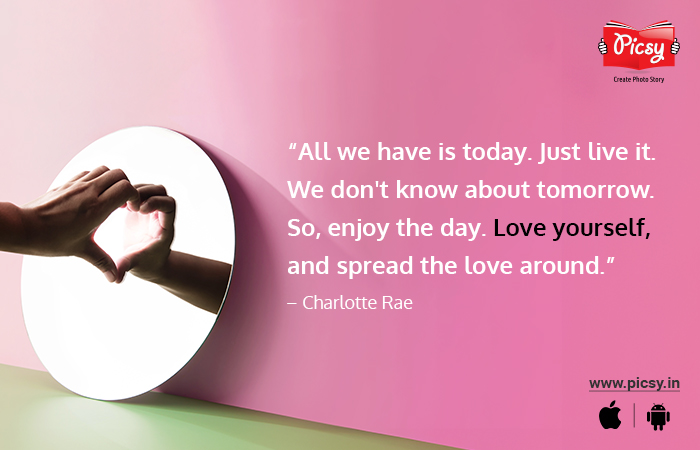 "All we have is today. Just live it. We don't know about tomorrow. So, enjoy the day. Love yourself, and spread the love around." – Charlotte Rae
"Love who you are, embrace who you are. Love yourself. When you love yourself, people can kind of pick up on that: they can see confidence, they can see self-esteem, and naturally, people gravitate towards you." – Lilly Singh
"Laziness is my biggest pet peeve of all time. Get up, make a plan, do the work, and love yourself, people!" – Dove Cameron
"It sounds like a cliché, but I also learned that you're not going to fall for the right person until you love yourself and feel good about how you are." – Emma Watson
Short Love Quotes and Sayings
Valentine's day is an appropriate excuse to spark up the glooming romance. Then why not make use of these Valentine quotes to make your partner feel loved? Oh and of course don't forget about romantic personalized gift ideas that go best with these quotes and sayings.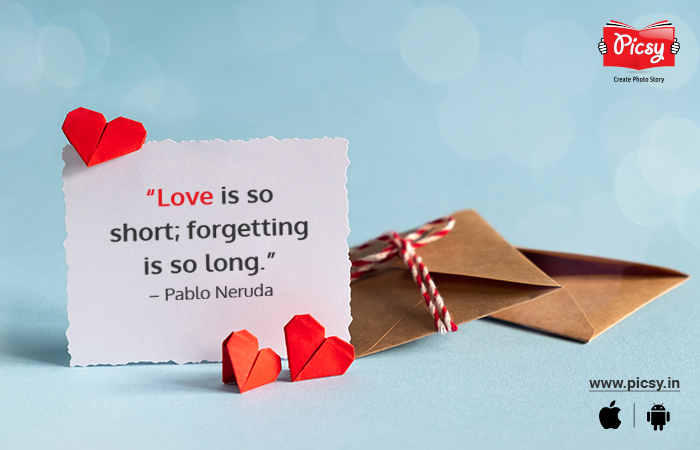 "Love is so short; forgetting is so long." – Pablo Neruda
"Love is a thing that is full of cares and fears." – Ovid
"Love does not love until love's vulnerable." – Theodore Roethke
"You know you mean the world to me." —Unknown
"We are better together." —Unknown
"I love you, and that's the beginning and end of everything." —F. Scott Fitzgerald
Funny Love Quote and Sayings
Do you also get stuck in deciding Valentine's day gifts? Try embracing these funny love quotes to make the photo book a bit quirky.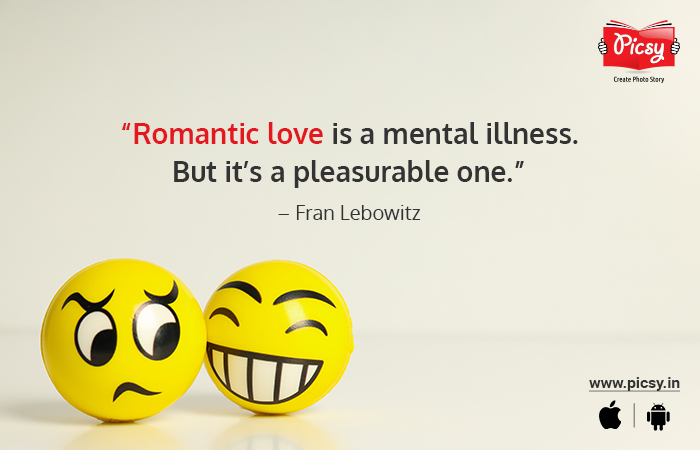 "Romantic love is a mental illness. But it's a pleasurable one." – Fran Lebowitz
"Love is a two-way street constantly under construction." – Carroll Bryant
"Sincerest love is the love of food." – George Bernard Shaw
"When you fish for love, bait with your heart, not your brain." – Mark Twain
Romantic Love Quotes and Saying
Write romantic love quotes and keep them secretly on his desk. Use your pre-wedding photo shoot images to express your love. Give him a reason to recall all the sweet memories with you.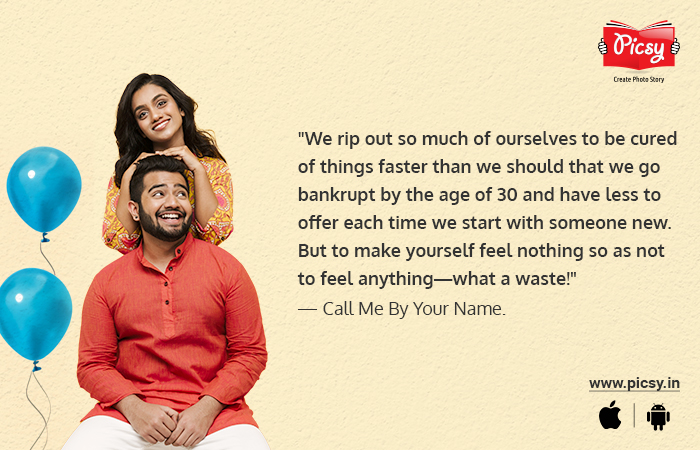 "We rip out so much of ourselves to be cured of things faster than we should that we go bankrupt by the age of 30 and have less to offer each time we start with someone new. But to make yourself feel nothing so as not to feel anything—what a waste!" —Call Me By Your Name.
"I knew that when I kissed this girl I would be forever wed to her. So I stopped. I stopped and I waited. I waited for a moment longer. Then I just let myself go." —The Great Gatsby.
"What do you want? You want the moon? Just say the word and I'll throw a lasso around it and pull it down. Hey, that's a pretty good idea. I'll give you the moon." —It's a Wonderful Life
"I love you. You annoy me more than I ever thought possible. But I want to spend every irritating minute with you." — Unknown
"You're the first boy I ever kissed… and I want you to be the last" — Sweet Home Alabama
Sweet Love Quotes and Sayings
Make your wedding memories count with wedding canvas print ideas and these romantic sweet love quotes and sayings.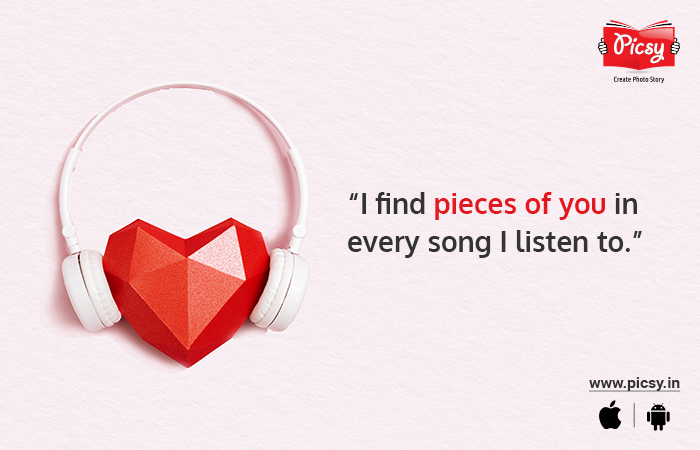 I find pieces of you in every song I listen to.
I may never find words beautiful enough to describe all that you mean to me but I will spend the rest of my life searching for them.
So, I love you because the entire universe conspired to help me find you.
My heart is so full of you, I can hardly call it my own.
You look like the rest of my life.
All my better days are the ones spent with you.
Short I love You Quotes
Not sure what to do with your wedding photos? They are actually the best gifts to write a short love message on it. Write what you feel and surprise your better half. Here are a few examples of what you can write.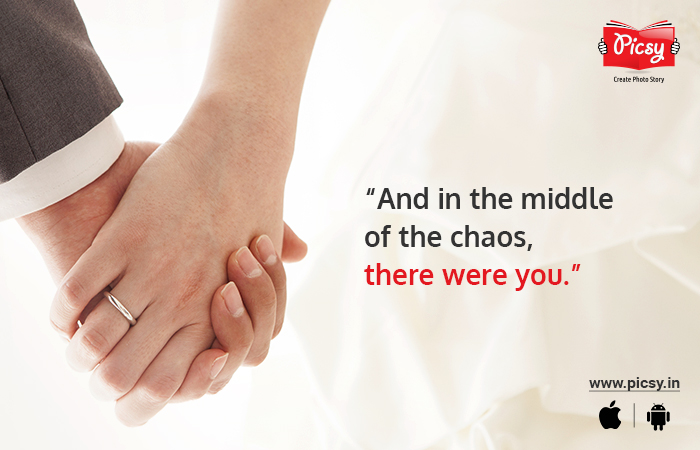 And in the middle of the chaos, there were you.
Something about you made me feel a little more alive and a far less lost.
I like it when you smile, but I love it when I am the reason.
I told the stars about you tonight.
I still love it when I catch you looking at me.
From the first moment that we touched; your arms felt like home.
Sad Love Quotes
Not every love story is two sided or has a happy ending; does it mean you won't write quotes to yourself? Add these sad love quotes to your diary and feel the depth of love again.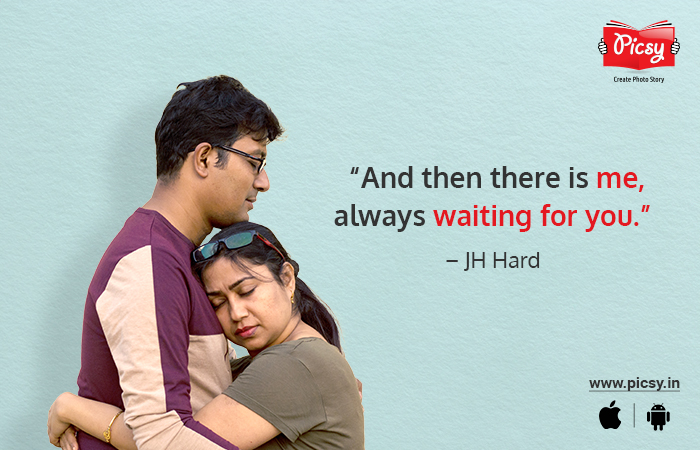 "And then there is me, always waiting for you" – JH Hard.
"I am trapped somewhere between wanting to forget and wanting to hold on"
"I am not sure what I am afraid of anymore – to see you again or to never see you again"
"Losing you was the becoming of myself"
"I could be anything in this world and I wanted to be his and he wanted to be hers."

I Love You Quotes from Movies
You agree or not we get all these sky-high love expressing ideas from movies. So why not express it with movie quotes directly? Romantic letters in fact count as the best wedding gift ideas. So, do you have a partner to feel loved at home?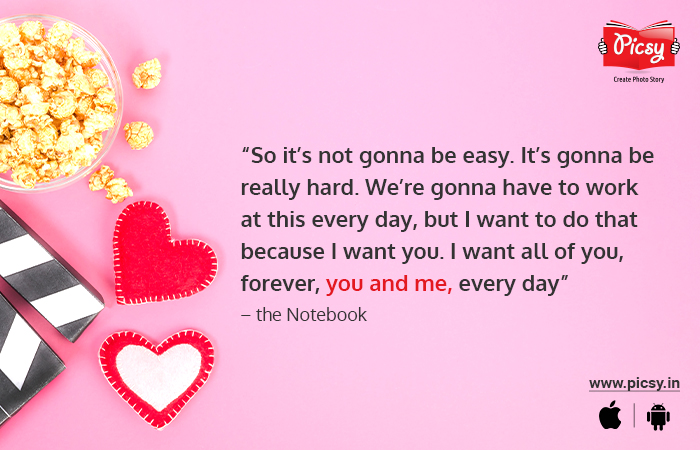 "So it's not gonna be easy. It's gonna be really hard. We're gonna have to work at this every day, but I want to do that because I want you. I want all of you, forever, you and me, every day" – the Notebook
"I can't see anything I don't like about you" – Eternal Sunshine of the Spotless Mind.
"You had me at 'hello'" – Jerry Maguire
"I wish I had done everything on earth with you" – The Great Gatsby
"I came here tonight because when you realize you want to spend the rest of your life with somebody, you want the rest of your life to start as soon as possible" – When Harry Met Sally
I Love You Quotes from Songs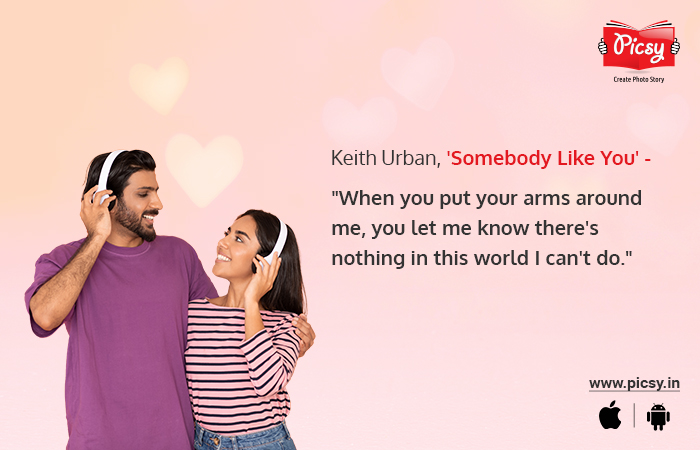 Looking for a professional to write a love letter to your partner? Here's a trick, use lyrics from love songs. They are romantic, catchy and perfect to write in a romantic letter.
Keith Urban, 'Somebody Like You' - "When you put your arms around me, you let me know there's nothing in this world I can't do."
Cyndi Lauper, 'Time After Time' - "If you fall I will catch you, I'll be waiting...time after time."
Bruno Mars, 'Just the Way You Are' - "And when you smile, the whole world stops and stares for a while..."
Elvis Presley, 'Love Me Tender' - "Take me to your heart, for it's there that I belong."
Elton John, 'Your Song' - "I hope you don't mind that I put down in words how wonderful life is while you're in the world."
Michael Bublé, 'Close Your Eyes' - "Here's to you, the one that always pulls us through, always do what you gotta do. You're one of a kind. Thank God you're mine."
Famous Love Quotes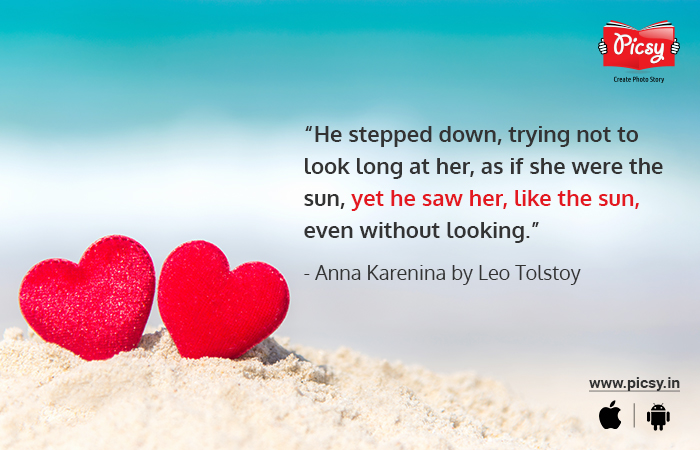 "He stepped down, trying not to look long at her, as if she were the sun, yet he saw her, like the sun, even without looking." - Anna Karenina by Leo Tolstoy.
"The minute I heard my first love story, I started looking for you." – The Illustrated by Jalaluddin Rumi.
She was more than human to me. She was a Fairy, a Sylph, I don't know what she was – anything that no one ever saw, and everything that everybody ever wanted. I was swallowed up in an abyss of love in an instant." – David Copperfield by Charles Dickens
"If I loved you less, I might be able to talk about it more." – Emma by Jane Austen
"If you remember me, then I don't care if everyone else forgets." – Kafka on the Shore by Haruki Murakami
I Love Your Quotes in Hindi
There is nothing like expressing love in your own language. Here is some of the most romantic I love you messages in Hindi.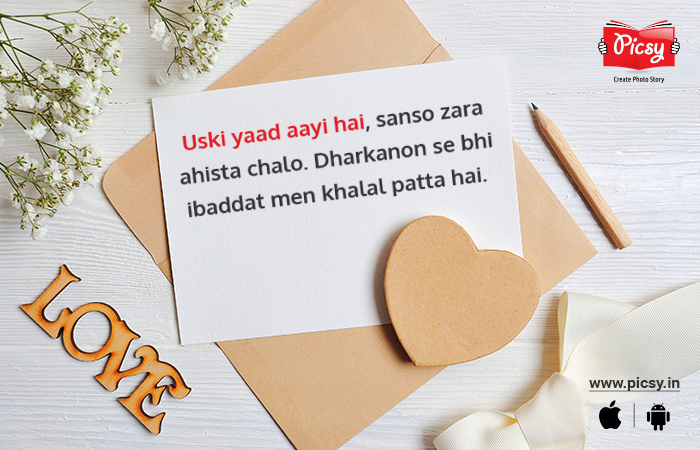 Uski yaad aayi hai, sanso zara ahista chalo. Dharkanon se bhi ibaddat men khalal patta hai.
Ishq ne ghalib nikamma kardiya, warna humbhi admi the kaam ke.
Mohabaat mein nehi hae fiqaar jeene or marne ka, usi ke rah mein chalte hae bs baki jo waqt ne tayr kiya hae, wohi hoga.
Chupke chupke raat ko ansun bahan yaad hae, aj bhi mujhe ishq ka zamana yaad hae.
Jeene bhi de duniya hume ilzam na laga. Ishq toh tufa hae gunah nehi.
Short Quotes About Love and Life
What do you say when there is nothing that you think of in your life other than your partner? Love! Here are some love and life quotes for you to share with them.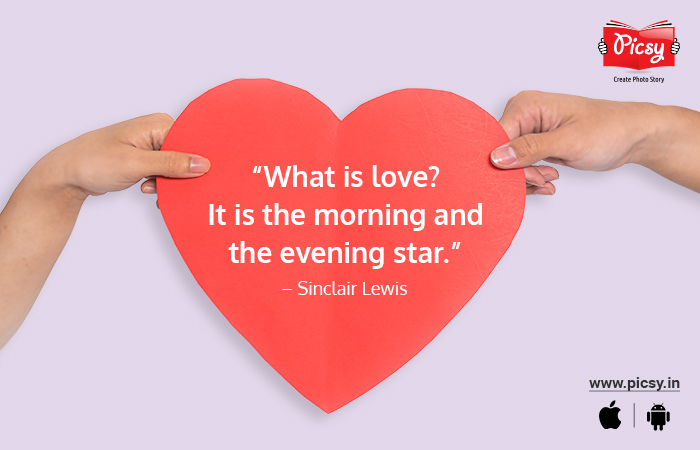 "What is love? It is the morning and the evening star." – Sinclair Lewis
"Love is not love until love's vulnerable." – Theodore Roethke
"Pick me, choose me, love me." — Meredith Grey, Grey's Anatomy
"It wasn't love at first sight. It took a full five minutes." – Lucille Ball
"Love is what makes the ride worthwhile." – Franklin P. Jones
Conclusion
We hope this extensive list of love quotes for the family members has served as a guiding light for you in dealing with lovey-dovey messages. Don't you think a printed photo book is a good way to relish your love messages with your beautiful pictures? Definitely yes, right? Then why delay and contemplate when Picsy is at the rescue. Relax! Do not get overwhelmed. Picsy will deal with all your concerns regarding photo books and canvas prints. But be quick, the clock is ticking. Download Picsy app and sit back till you receive your photo book.
Bring Your Love Memories Alive with Picsy
The memories of love are the best memories of life. Keep them safe with Picsy's durable photo products. From photo albums to wall decors, we have it all. Check them out.
FAQs
1) What are the best love quotes to propose to your partner?
Remember to choose quotes that are genuine, that express what exactly you feel for your partner. Here are some references that you can use:

From this day forward, let's write the most beautiful love story together. Will you be my love forever?
Every moment with you is a beautiful dream I never want to wake up from. Will you be my wife/husband?
In you I find the greatest love and the best companion. Will you mind growing old together with me?
2) Which are the best love quotes to express your feelings?
Expressing love is something very personal and deep. Check which of these quotes are driving your emotions and use them to express your feelings.

"My love for you is beyond words, it is a feeling, a passion and a beautiful reality."
"You complete me ways I never knew were possible, and I am grateful for that."
"With you, every moment feels like a love story waiting to be written.
3) How to express love in simple words?
Simple meaningful words can be a huge gesture of love. Here are some heartfelt ways to express your emotions:

You are my everything; my home and my soulmate.
With you time flies by like the waves of an ocean.
You make my life a better place to be.
Ready to hold your memories in hand?